On the Road is a weekday feature spotlighting reader photo submissions.
From the exotic to the familiar, whether you're traveling or in your own backyard, we would love to see the world through your eyes.
UncleEbeneezer
Our third day in HCMC/Saigon was one of the most jam-packed and exhausting days of my life.  In addition to the airfare and lodging in Saigon and Da Nang our trip prize included a daylong guided tour of downtown HCMC including Notre Dame, the Post Office, the Reunification Palace, the War Museum, a temple and then a cooking lesson in the evening.  This post covers the first two.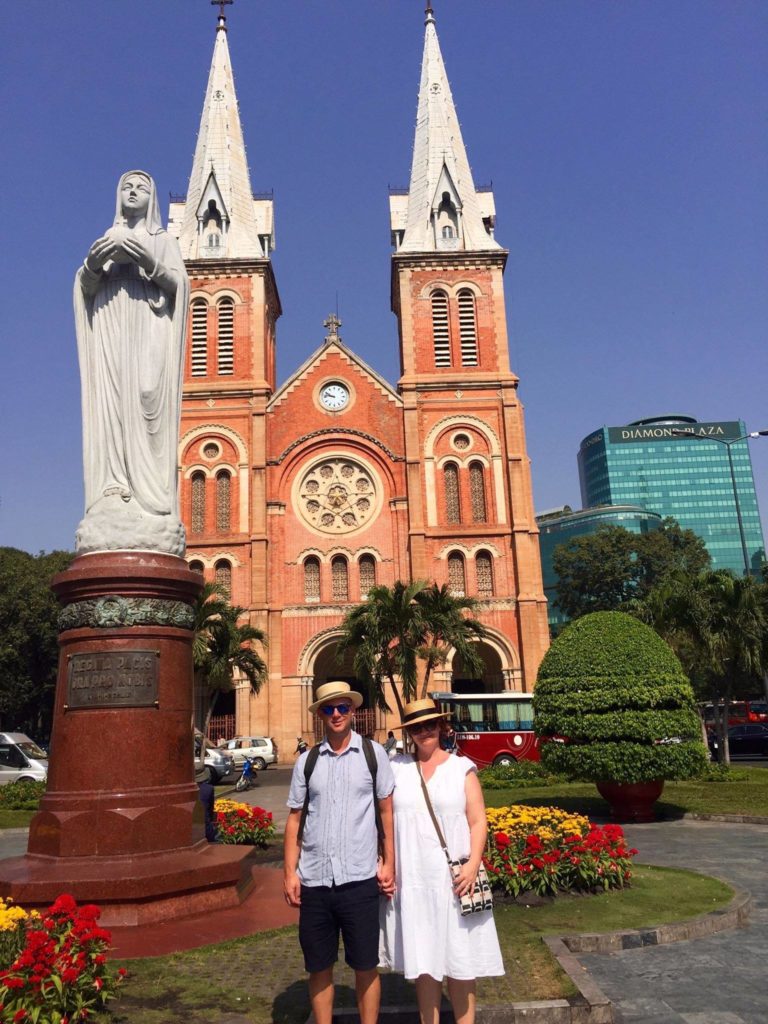 Saigon, VN
February 16, 2016
Our taxi/shuttle van arrived early and we hopped in, meeting our tour guide.  He told us all the cool places he was going to take us and asked our impressions of Vietnam so far and if there was anything in particular we wanted to see or try.  We told him we would like to try some Com Tam (broken rice, with pork chop, egg) and he insisted we probably needed to try Vietnam's famous/infamous civet coffee but those would have to wait until later.  We arrived downtown and our first stop was at Notre Dame cathedral.  Per Wikipedia: "Cathedral Basilica of Our Lady of The Immaculate Conception (Vietnamese: Vương cung thánh đường Chính tòa Đức Mẹ Vô nhiễm Nguyên tội; is a cathedral located in the downtown of Ho Chi Minh City, Vietnam. Established by French colonists who initially named it the Church of Saigon (French: l'Eglise de Saïgon), the cathedral was constructed between 1863 and 1880. The name Notre-Dame Cathedral has been used since 1959. It has two bell towers, reaching a height of 58 meters (190 feet)."  It is a really stunning building both inside and out.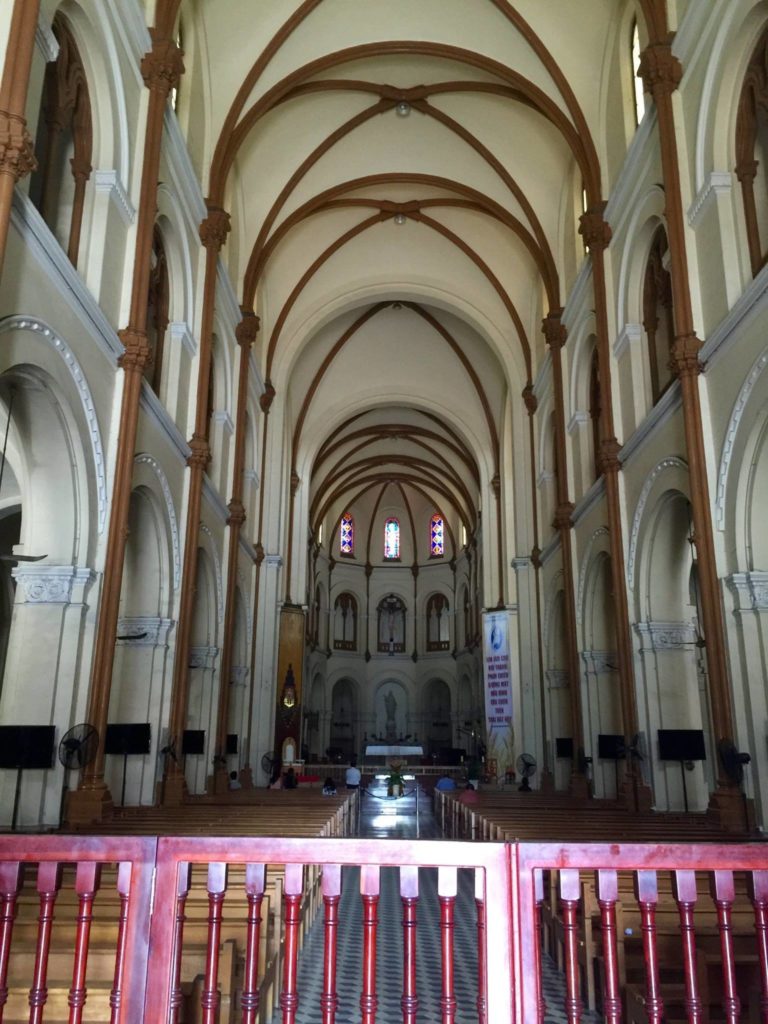 Saigon, VN
February 16, 2016
Here you can see the impressive vaulted ceilings.  This place is HUGE on the inside.
Saigon, VN
February 16, 2016
One of the great aspects of Vietnam is the preponderance of amazing tile patterns.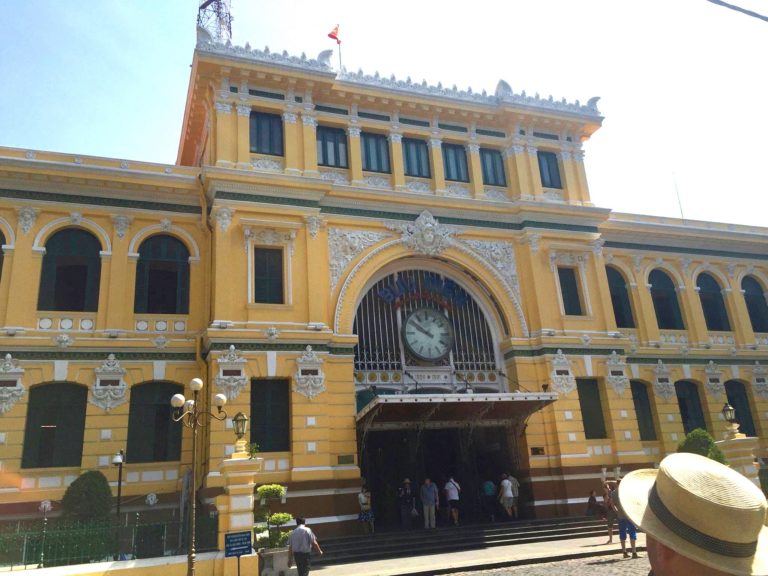 Saigon, VN
February 17, 2016
Next we headed to the Saigon Central Post Office:
"The Ho Chi Minh City Post Office, or the Saigon Central Post Office (Vietnamese: Bưu điện Trung tâm Sài Gòn, French: Poste centrale de Saïgon), is a post office in the downtown Ho Chi Minh City, near Saigon Notre-Dame Basilica, the city's cathedral. The building was constructed when Vietnam was part of French Indochina in the late 19th century. It counts with Gothic, Renaissance and French influences. It was constructed between 1886 and 1891 and is now a tourist attraction.[1]
It was designed by Alfred Foulhoux,[2] but is often erroneously credited as being the work of Gustave Eiffel or a collaboration between Foulhoux and Hanoi-based Auguste Henri Vildieu."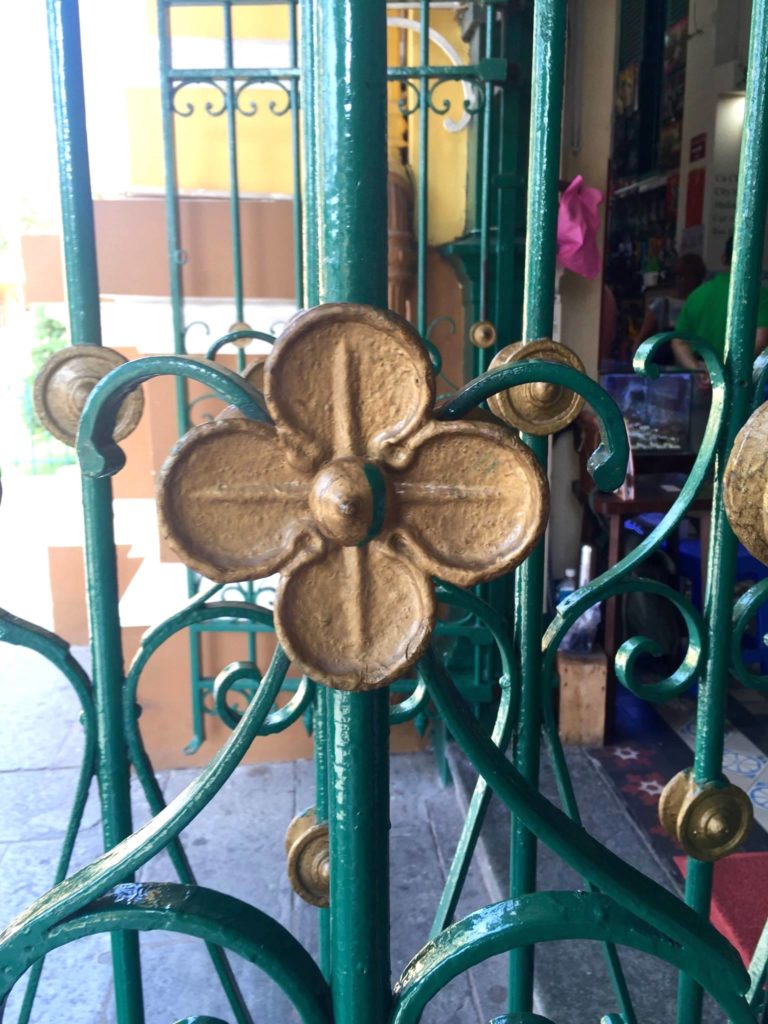 Saigon, VN
February 17, 2016
More lovely, colonial iron-work.  This stuff is EVERYWHERE in Vietnam.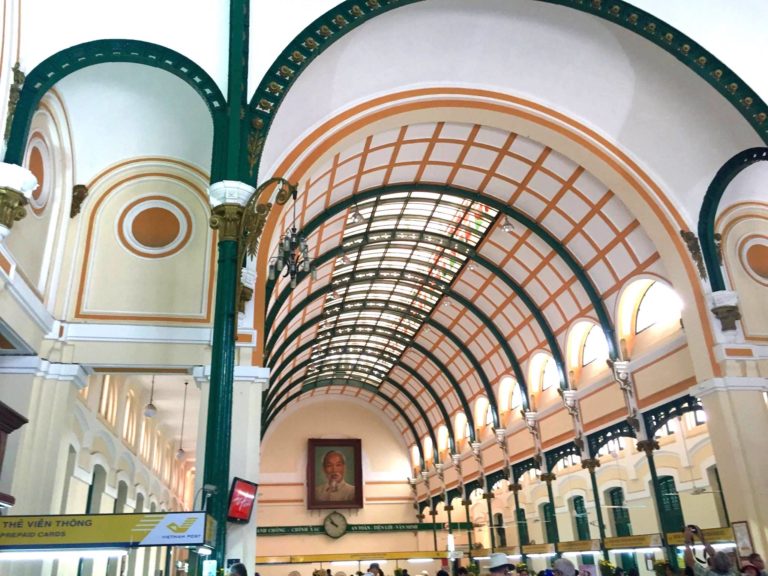 Saigon, VN
February 17, 2016
View looking up, inside the post office.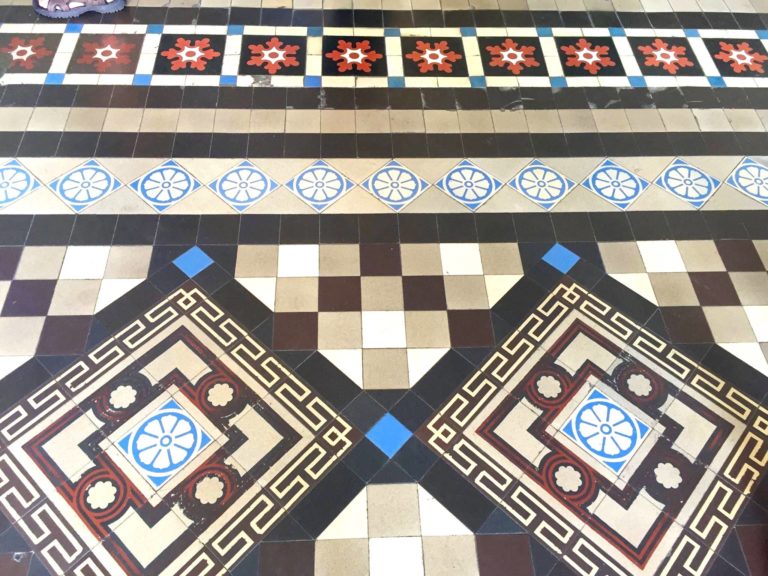 Saigon, VN
February 17, 2016
More gorgeous tile patterns.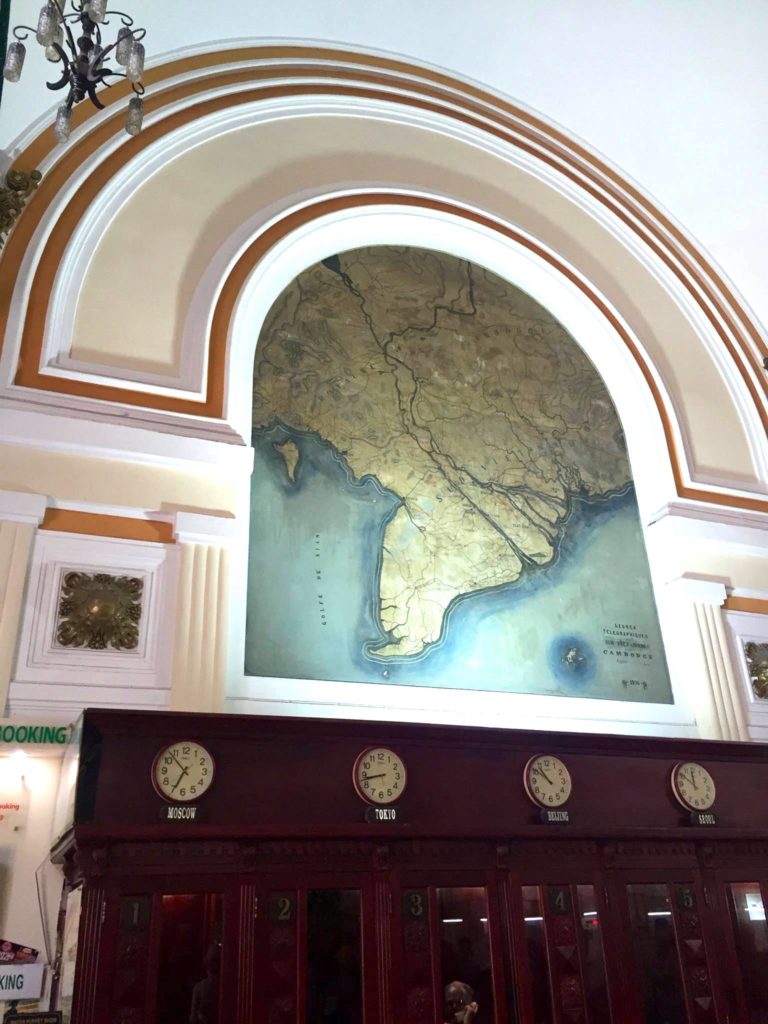 Saigon, VN
February 16, 2016
Neat world map atop a string of old phone booths.  So COOL.  I posed for a pic inside one of them.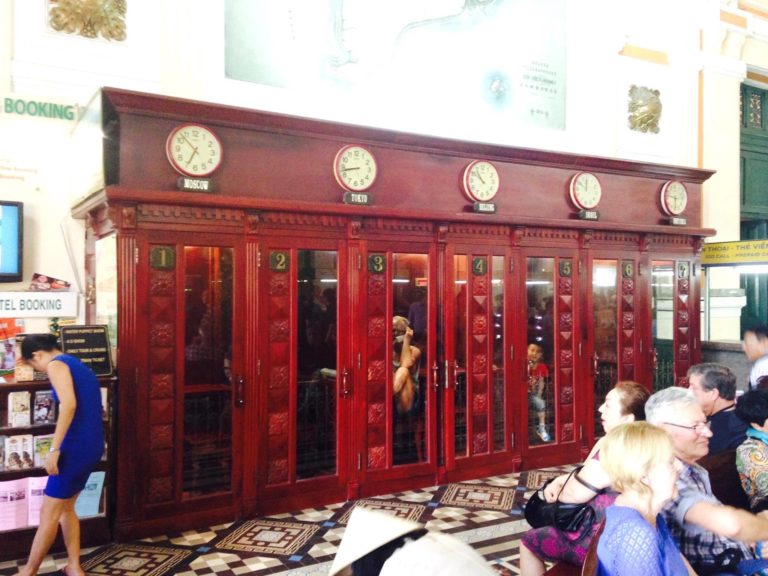 Saigon, VN
February 17, 2016
That's me in the middle being silly.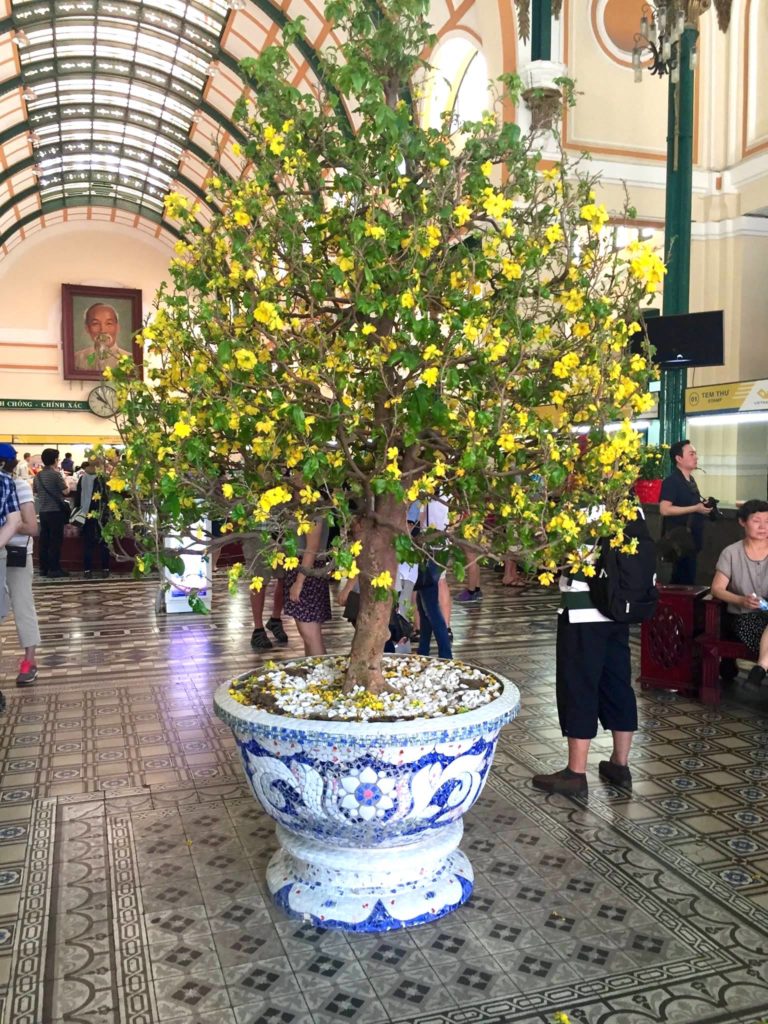 Saigon, VN
February 17, 2016
Another thing that is lovely about SE Asia is that the climate allows for the use of wonderful plants everywhere.