The American Rescue Act (ARA) significantly lowered the amount of money everyone has to pay for the benchmark plan that they purchased on Healthcare.gov for all of 2021 and all of 2022.  Healthcare.gov is not automatically processing subsidy redeterminations at this time.  Individuals need to go into their accounts and refresh their data to force a subsidy redetermination through.  This process opened up yesterday, April 1st and will be available throughout the year.  It is a forward looking process and it can be quite large.
I am a insurance agent in NC – just processed my first enrollment on https://t.co/WeCWs0xJ0n with APRA subsidy change. Small biz owner's premium for him and his fam went from $ 1672 to $ 25.

— Christopher Smith (@042377_LedZep) April 1, 2021
The case in the tweet is for a family of three with two people in their mid-50s who had a Bronze plan see a 98% reduction in premium. That is a bit extreme. But for people who are in their mid-50s who earned just over 400% FPL and who bought a plan priced well below the local benchmark, these types of premium reductions are plausible. For more people, the reductions are going to be smaller. However, ASPE, the Department of Health and Human Service policy and evaluation team, has projected a massive increase in the availability of zero premium plans for people who are currently uninsured.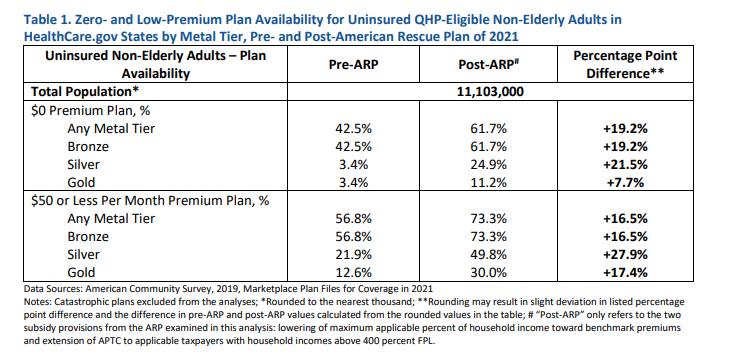 Updating your Healthcare.gov profiles will lead to an immediately decrease in premiums for anyone who does not have a zero premium plan already. The process is currently forward looking only, so for people who bought Exchange plans that started before April 1, 2021, you should see a significant reconciliation payment on your taxes next spring to make you whole.
For people who live in states that operate their own marketplaces (California, New York, Pennsylvania, New Jersey etc) each state exchange is doing their own thing. It will never hurt to go in and update your account but don't rely on doing that as a one time thing. You may need to monitor your premiums to see if they change.