On the Road is a weekday feature spotlighting reader photo submissions.
From the exotic to the familiar, whether you're traveling or in your own backyard, we would love to see the world through your eyes.
evap
Myanmar has been in the news lately and I have been thinking about a trip I took there in 2016. My spouse and I got married in January, 1987, in Hawaii, where we were living at the time. We discovered the joys of Thai food in Hawaii — in those days it was hardly a blip on the radar in most of the U.S. — and decided to go to Thailand for our honeymoon. While there, we were chatting with a fellow traveler who had just returned from a week in Burma, and we decided we would take a side trip and see it for ourselves. Alas, in those days it was very difficult to visit Burma and we were unable to set up a trip.
Fast forward 30 years and we decided to return to SE Asia for our 30th anniversary, and this time we were determined to visit Burma/Myanmar. Thanks to the country opening up, and the existence of the internet, we easily booked a one-week package tour Myanmar. It was a glorious trip, the people, the sites, and the food were wonderful.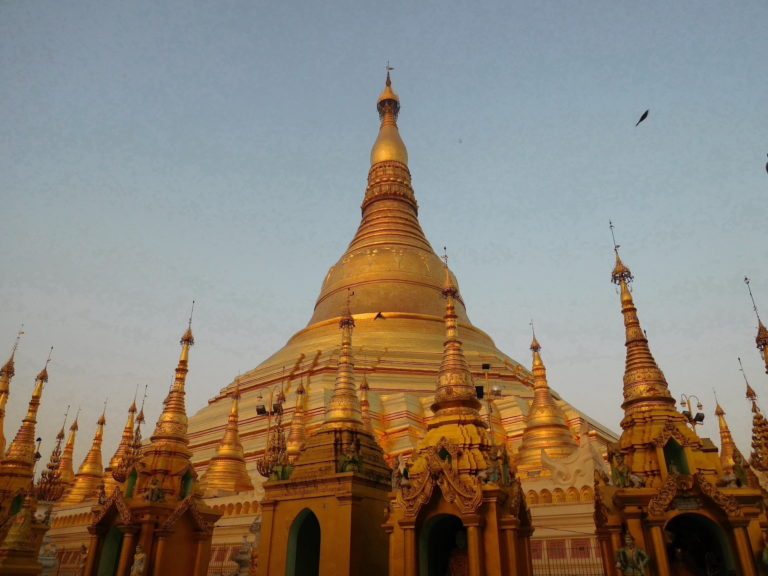 Shwedagon Pagoda, Myanmar
Our trip started in Yangon (formally known as Rangoon). On our first full day there we visited several famous pagodas (temples). As an aside, "temple" is a general term, "pagoda" refers to Buddhist or Hindu temples, and in Myanmar, a "stupa" is a spire-like part of a pagoda that usually cannot be entered. Someone correct me if I'm wrong!
The most spectacular site we saw in Yangon was Shwedagon Pagoda, which we visited in the late afternoon; our guide told us it is best viewed as sunset. The site is huge, with an enormous golden stupa surrounded by many mini-temples. The setting sun lighting up the stupa was spectacular.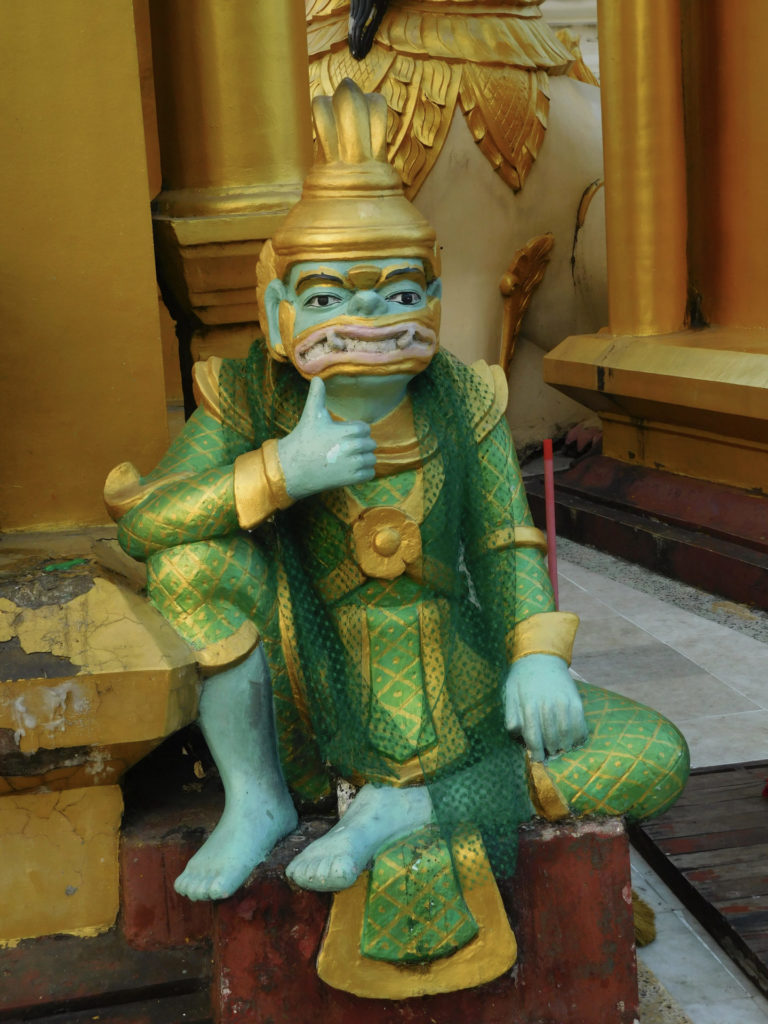 Shwedagon Pagoda, Yangon
There are hundreds of mini-temples around the main stupa, and many of them had statues of strange human-like creatures. Our guide told us these are temple guards.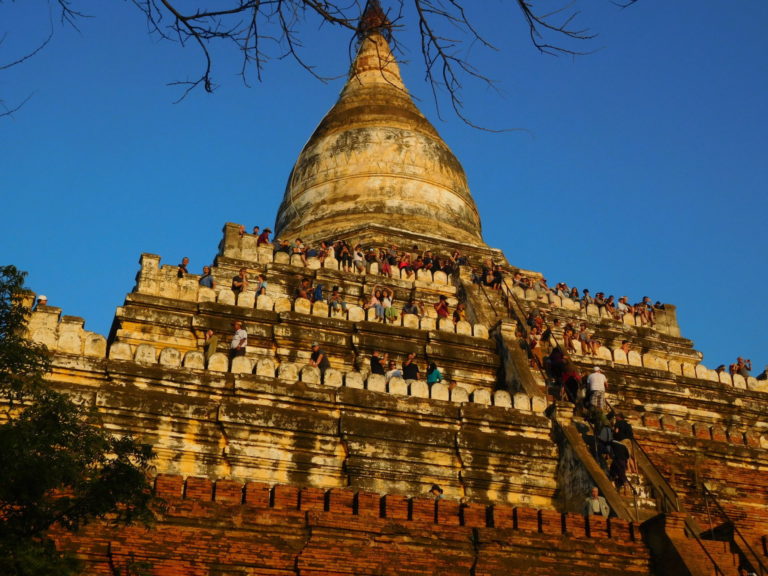 Shwe San Daw Pagoda, Bagan
After a short stay in Yangon, we headed to Bagan, where the main industry is tourism. Bagan was the site of the first Burmese kingdom, from the 11th to the 13th century. It is basically a flat plane surrounded by mountains, and there are about 3000 temples scattered around the area. The iconic tourist thing to do in Bagan is to go up in a hot air balloon, but we said "no thanks" –too expensive and to high above the ground. We did experience the second most touristy thing to do in Bagan – watch the sunset from Shwe San Daw Pagoda. There are four levels of terracing where you can sit, I snapped a photo before we climbed up.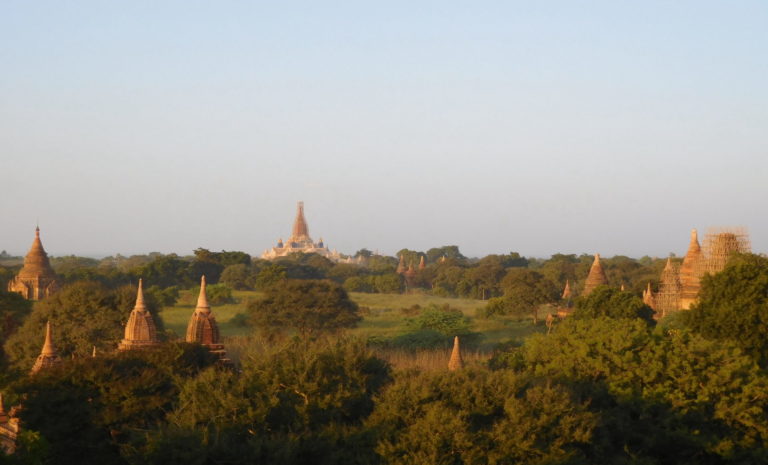 Shwe San Daw Pagoda, Bagan
The view from the top was amazing. You can see some of the many temples scattered around the area.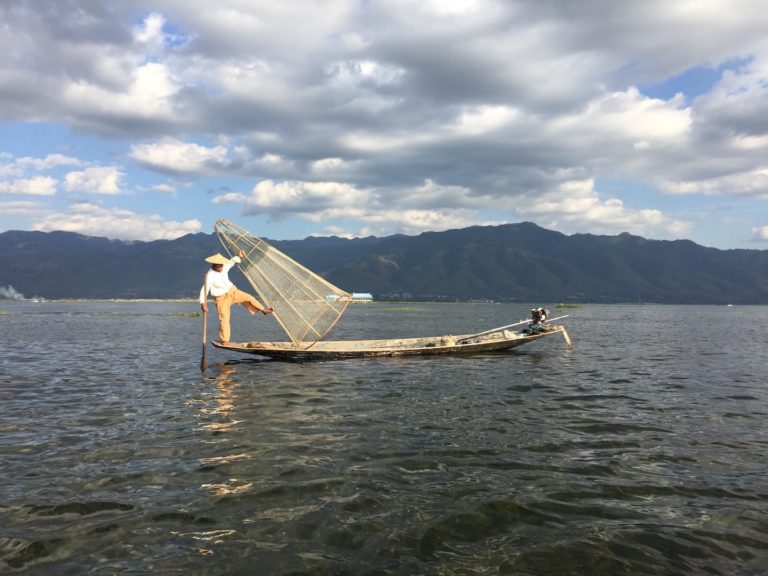 Lake Inlee
Next we visited Lake Inlee, a large fresh-water lake with floating villages and gardens. Fishing is an important industry here, although tourism is also big. We took a boat trip on the lake, where we saw fishermen in the traditional long, narrow boat (powered by a small motor). They use cone-shaped nets that they manipulate with their feet. This fisherman pictured was posing for tourists and not actually fishing!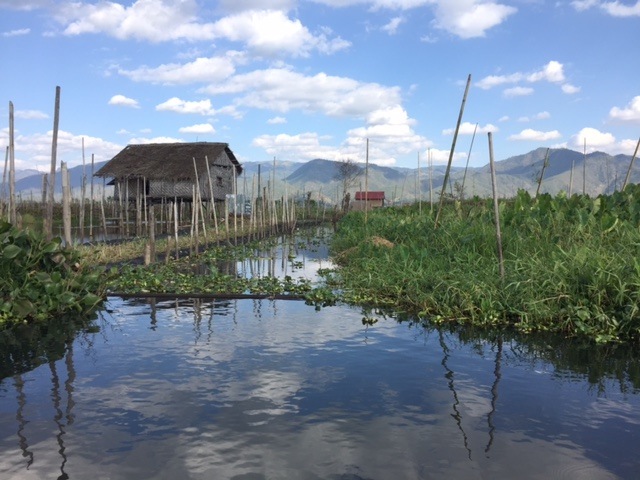 Lake Inlee
There are amazing floating gardens around the lake. The gardens are make from water hyacinths and seagrass, secured in place with bamboo poles staked into the bottom of the lake. The farmers glides around them in a boat. We saw lots of different things growing, including flowers and vegetables like cucumbers and squash that grow on vines.