On the Road is a weekday feature spotlighting reader photo submissions.
From the exotic to the familiar, whether you're traveling or in your own backyard, we would love to see the world through your eyes.
On the Road: Week of April 12  (5 am)
Albatrossity – Spring 2021 in Flyover Country #1
Christopher Mathews – An eruption in Iceland
?BillinGlendaleCA –
Kody Kastel – California Photos
Elma – South American Fauna
? I bumped one of our regular submitters that I had scheduled for Tuesday (sorry Steve!) so we could have recent pics on the active volcano.  They were submitted just a day or two ago, but it's very timely, hence being moved to the front of the line.
Also, is anyone else planning to send in Paris pics?
Albatrossity
I have several more sets of pics from Brazil, and I am slowly working to get those selected and organized for future On The Road submissions. But right now winter has just moved out and made room for spring, birds are moving, flowers are popping, and it just seems like time for the 2021 version of Spring in Flyover Country. Brazil can wait!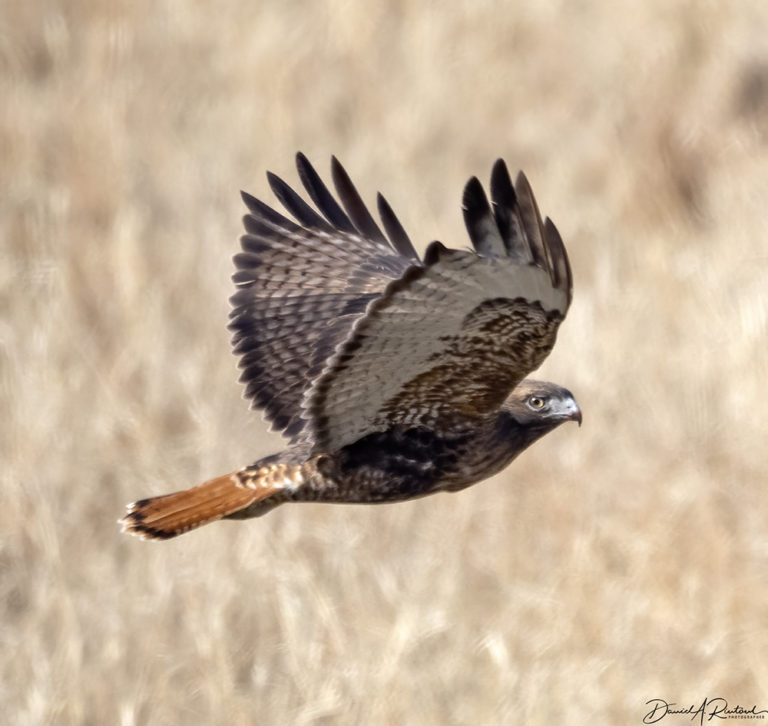 Near Manhattan KS
March 31, 2021
The appearance of spring migrants here also means the disappearance of some of our more notable winter residents. These include, naturally, dark Red-tailed Hawks, who grace the plains states only in the winter season. So farewell to this lovely adult western Red-tailed Hawk (Buteo jamaicensis calurus), who may be in Alberta or British Columbia by the time you read this. This one is even more interesting that usual; it has a light-colored iris. Usually by the time a bird is in its second winter, the iris has darkened and become very brown. For some reason I've seen a lot of second-year birds with a light iris this season, and many of them have been of the western subspecies.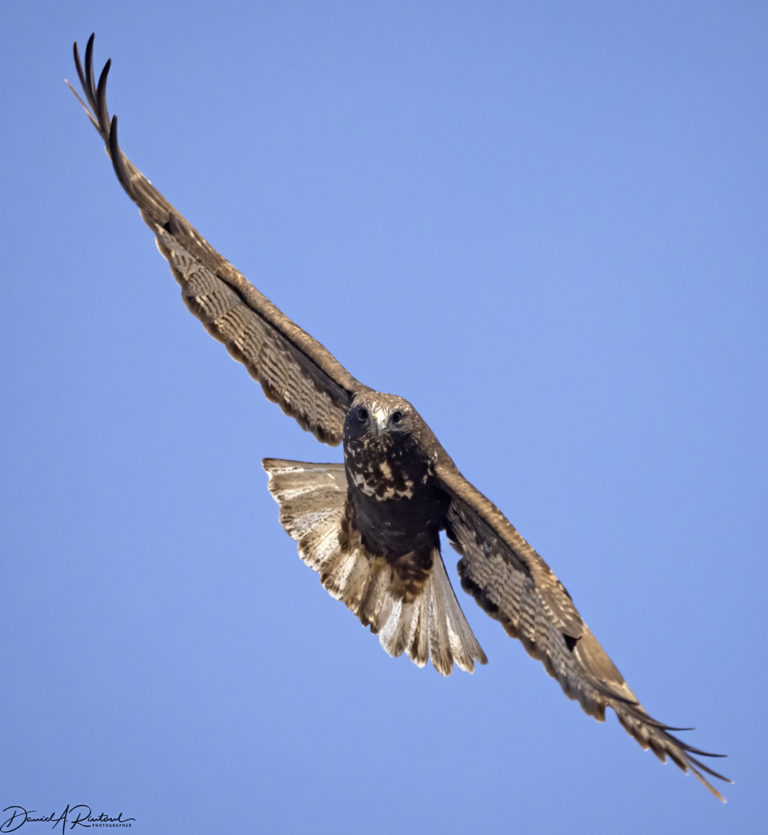 Near Manhattan KS
April 1, 2021
The other dark northern hawk, of course, is Harlan's Hawk (B. j. harlani). This is a bird that has been here all winter, and lingered longer than most. Usually by April these guys have all zipped north, but he had to give me one final glare before heading out, I guess.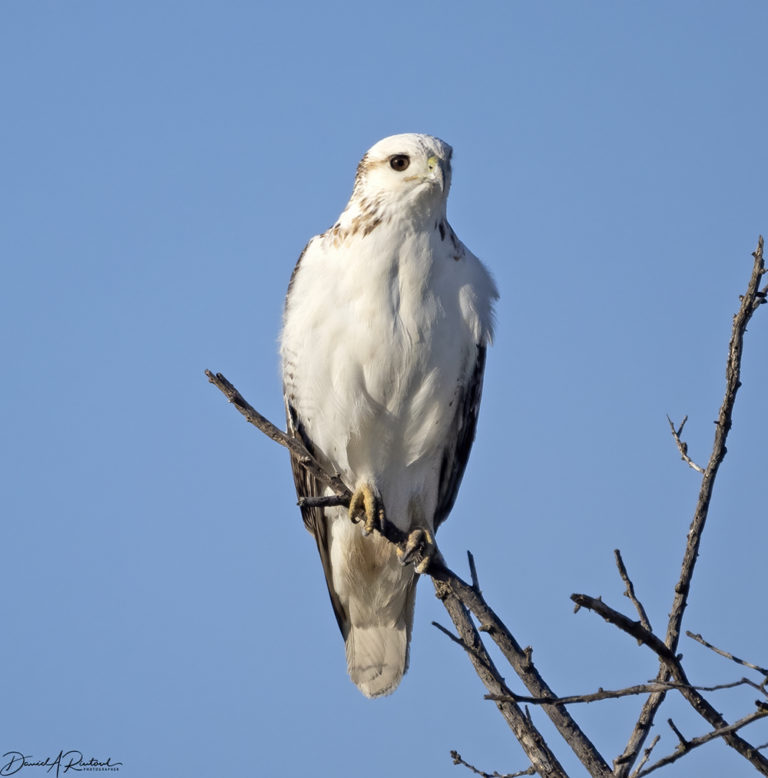 Near Manhattan KS
March 28, 2021
Dark hawks are not the only attraction for winter hawk-watchers in Flyover Country. Here is a bird at the other end of that pigment spectrum, an adult Krider's Red-tailed Hawk (B. j. kriderii). The subspecies has a limited breeding range in the northern Great Plains (central Alberta to South Dakota), and is declining due probably to colonization of that breeding range by eastern Red-tailed Hawks (B. j. borealis). A "pure" adult Kriders is pretty rare in my experience here; I may see one or two a year, but can go a couple of years without seeing one at all. I don't think that this bird wintered here; it is so striking that I might have noticed it earlier. It is likely a migrant from OK or TX, and I am glad it stopped by for a portrait.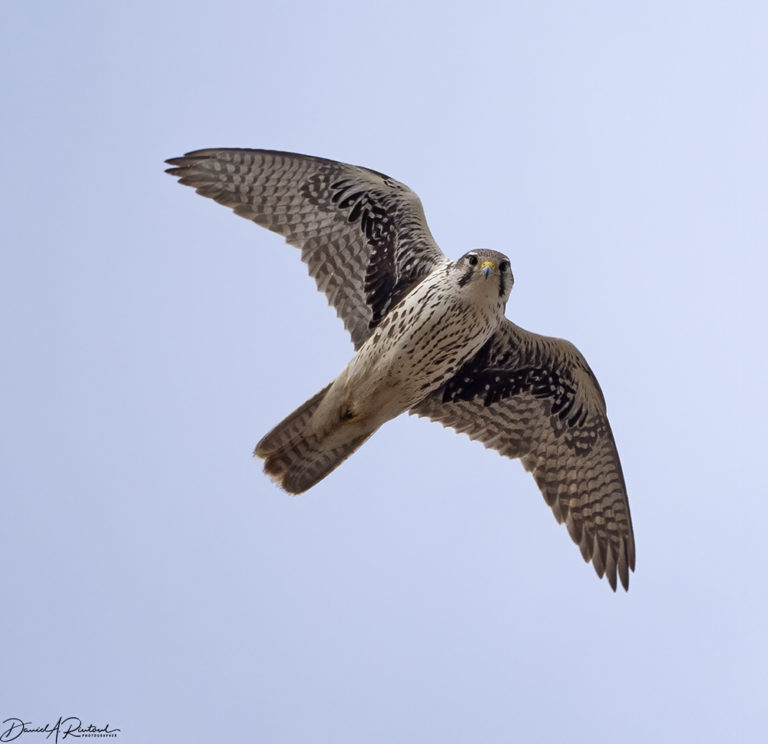 Near Manhattan KS
March 27, 2021
Another winter resident in these parts is the Prairie Falcon (Falco mexicanus). These pale birds migrate here from the western states (Idaho was the source of at least one satellite-transmittered bird in recent years), feast on flocks of longspurs and Horned Larks (or starlings near cattle feedlots), and head back west in March. This is one of two I found on the same day, and as it came over to check me out I was able to get a shot that shows the dark "armpits" that are the best field mark for this species.
Near Manhattan KS
March 25, 2021
Bald Eagles (Haliæetus leucocephalus) in this part of the country in March can be residents or migrants. There are currently over a hundred active eagle nests in the state of Kansas, but we also have many winter visitors from the north, This one was feeding on a road-killed deer, fending off competitors that included a few crows and one Harlan's Hawk; it flew off with that crowd as my car passed the spot.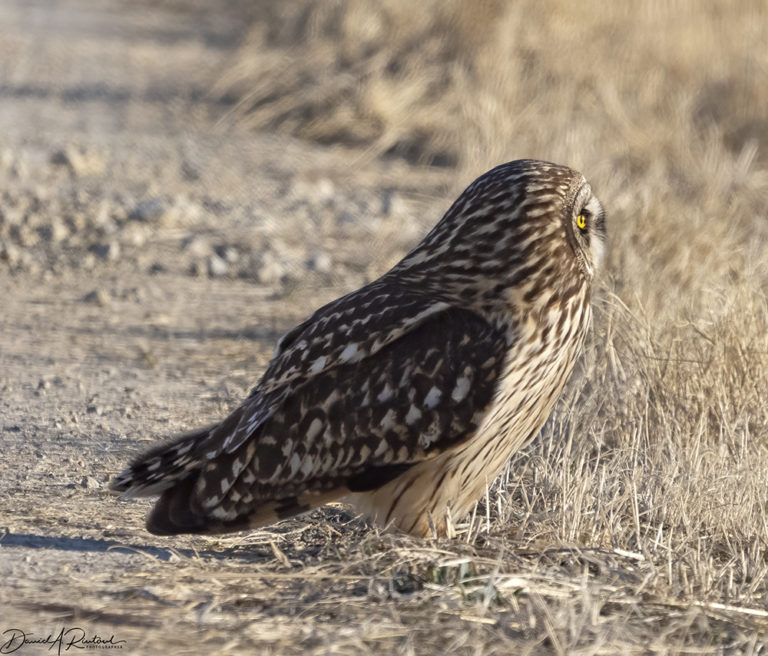 Quivira National Wildlife Refuge
April 1, 2021
Short-eared Owls (Asio flammeus) were seemingly more common than usual this season. But by April they too have disappeared back to the north and west. I like this shot because the bird is gazing into the sunrise, and it shows the bullet-headed look of this species pretty well.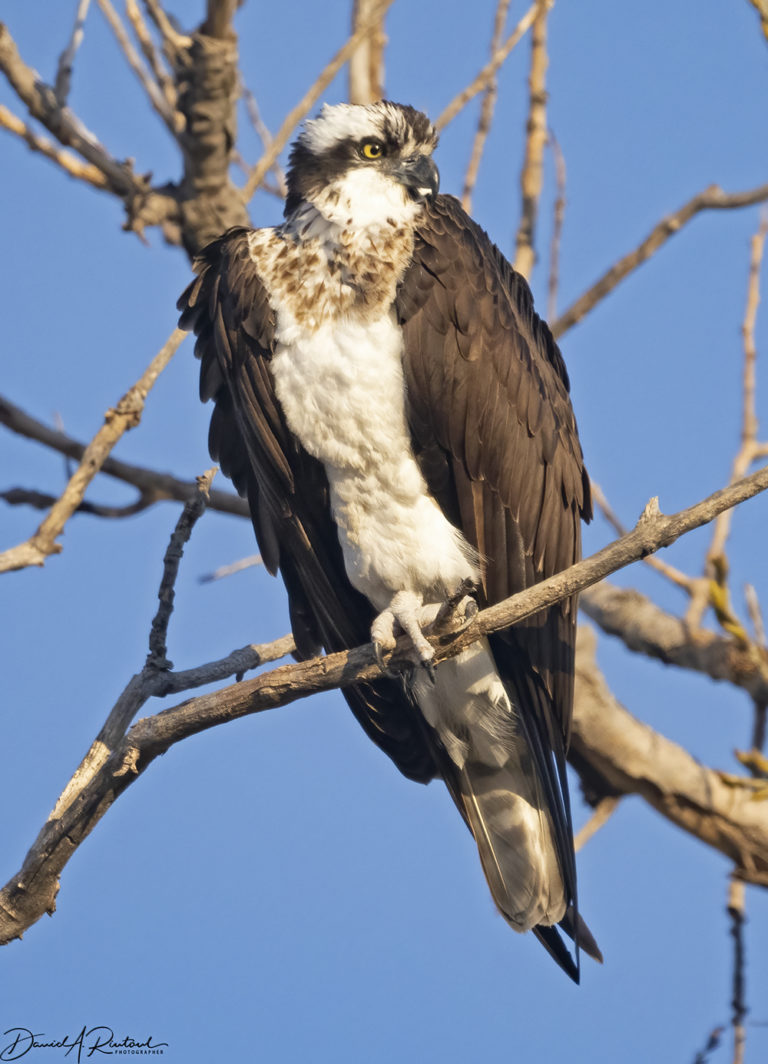 Quivira National Wildlife Refuge
April 1, 2021
Ospreys (Pandion haliæetus) are passage migrants here in spring and fall, wintering to the south of us and summering to the north. There have been sporadic attempts to persuade Ospreys to stay in the state for the summer; the big federal reservoirs provide ample habitat and food. But so far they have resisted, and continue to believe that Kansas is just Flyover Country for them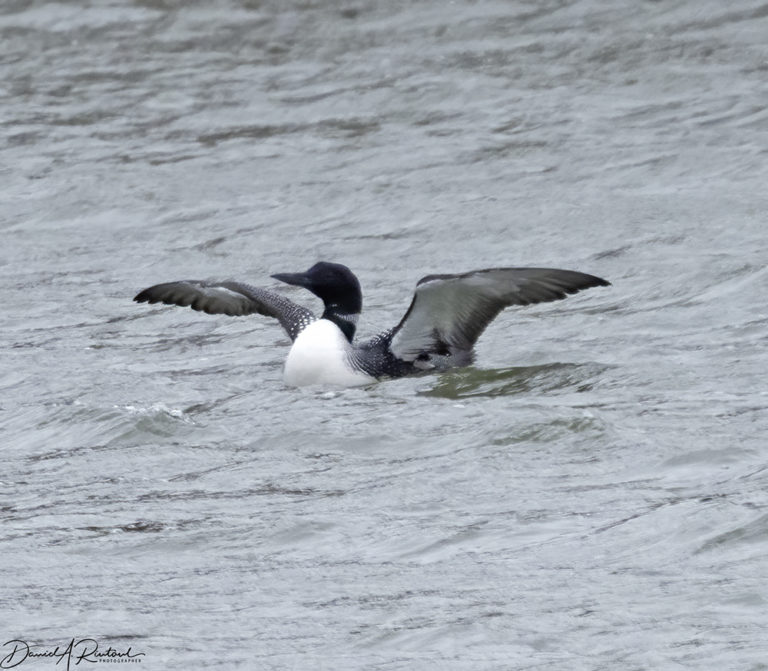 Near Manhattan KS
March 30, 2021
Another passage migrant is the Common Loon (Gavia immer, also known as the Great Northern Diver in the eastern hemisphere. Unlike the case with Ospreys, there are a few records of this species spending the summer in KS, but those were single birds without mates. In migration here these birds do vocalize, and this one was yodeling for a while when I was watching it. What a magical sound!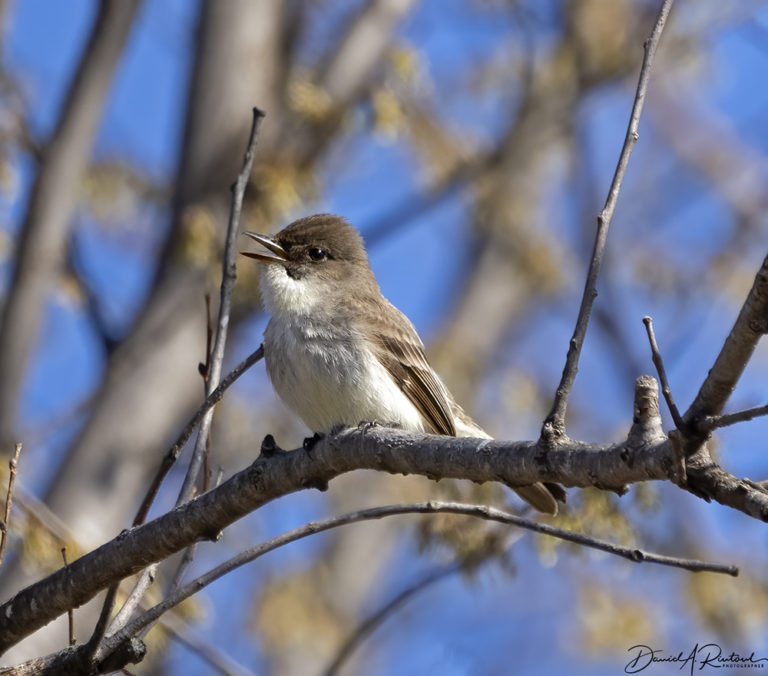 Near Manhattan KS
March 28, 2021
The first flycatcher of the spring season here is the Eastern Phoebe (Sayornis phoebe), which like the Say's Phoebe (Sayornis saya) in the western part of the state, arrives in mid-March just like clockwork every year. They are hardy birds, and often have to handle late cold snaps when they get here. But their appearance in March, and their cheery "song", are always welcome signs of spring's arrival.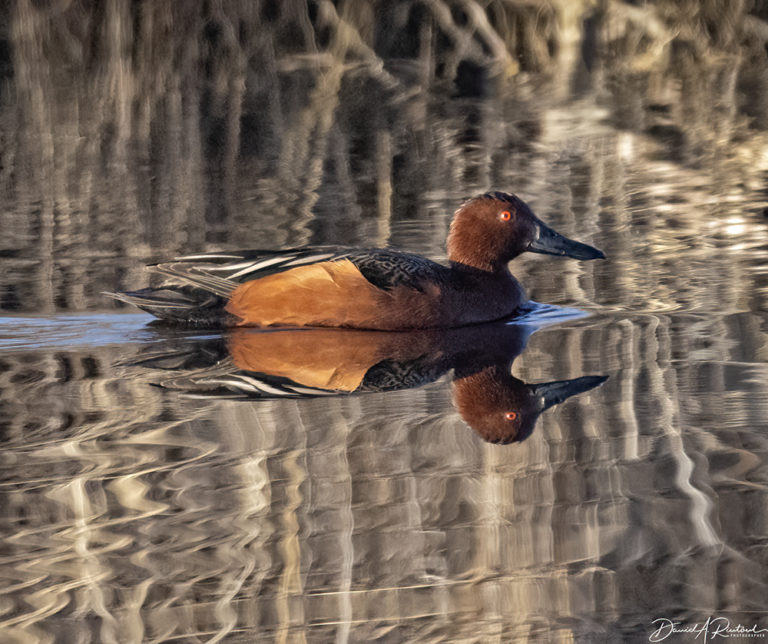 Quivira National Wildlife Refuge
April 1, 2021
Waterfowl migration begins in March and continues through April here. One of the most sought-after ducks here in the spring is the Cinnamon Teal (Spatula cyanoptera) This drake was with his much more sensibly-plumaged mate on a small pond at Quivira, and seems to be admiring his reflection…