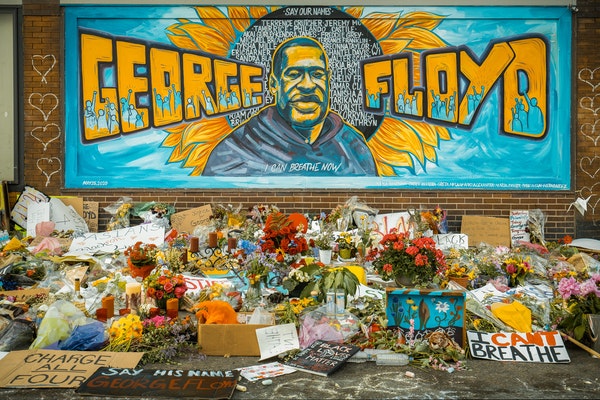 I asked Laura Too, who lives in the heart of the troubled area in Minneapolis, if she had any thoughts she would like to share with us.  For now, this is what she wants to share.
Here is a brilliant post from a local group I belong to.  It was written by Jay Escobar, who is part of Stand Up Minnesota.  We all have permission to share it.  ~Laura
There may be more from Laura as events play out, and Jay Escobar may join us in the comments.
Written by Jay Escobar, with permission to share.

A lot of you are going to scroll past the worst takes by the worst people you know.

HERE ARE SOME FACTS:

When another black man is killed by police, people are going to peacefully protest.

When people peacefully protest, the police deploy all of their resources to confront the protesters.

That creates a vacuum where other people can take advantage of the police not doing their job of stopping actual crimes;

and they can go rob and loot stores knowing that the police have busied themselves trying to handle a peaceful protest.

The protestors are not looting and stealing.

The ones looting and stealing are not doing it in the name of the slain black man.

If the cops didn't kill someone there wouldn't be a protest that they then have to use all their resources to maintain.

Therefore the police are much more culpable for the looting and stealing than any protester.

Because, again, the protesters are not the ones looting and stealing.

It's the people the cops are ignoring that are doing the actual criminal activity.

And that doesn't mean some of those looting and stealing don't experience racialized trauma.

They just decided that they'd rather grab some "free" stuff when the cops aren't watching, than put their lives at risk confronting systems of power and oppression.

Police prefer putting all of their attention on agitating and instigating confrontation from folks peacefully exercising their 1st Amendment rights, and allowing the looting and stealing to happen;

because that can be used to discredit the protest.

Don't let your QAnon uncles hijack the narrative by conflating protesters and looters.

Even some well meaning people will post "this is not the way…."

Just no. Nope . Bad take.

Because, again, the protestors are not the ones looting.

We can't just ignore the trolls, we have to stop them in their tracks [and keep them] from winning hearts and minds of the uninformed with more lies..
* I added a few commas, plus a few extra words in the final sentence, for clarity.  ~WaterGirl