The Kaiser Family Foundation estimates that Medical  Loss Ratio (MLR) rebates are going to be big again this year:
Insurers are expecting to issue some big $$$ consumer rebates later this year, under the Affordable Care Act's Medical Loss Ratio rule: https://t.co/pBry6oObNQ

— Cynthia Cox (@cynthiaccox) April 12, 2021
Under the ACA, insurers are required to spend at least 80% of qualified premiums on qualified claims and quality improvement activities. If, over a three year rolling period, an insurer that has less than 80% of premiums going out the door for claims or quality improvement activities has to send policy holders to make up the difference.
We've talked about MLR fairly extensively here. MLR rebates in the ACA market were very light in 2014-2016 as almost every insurer paid way more in claims than they had collected in premiums. In 2017, premiums were about right with claims in MLR terms. Since 2018, premiums hav ebeen too high for claims.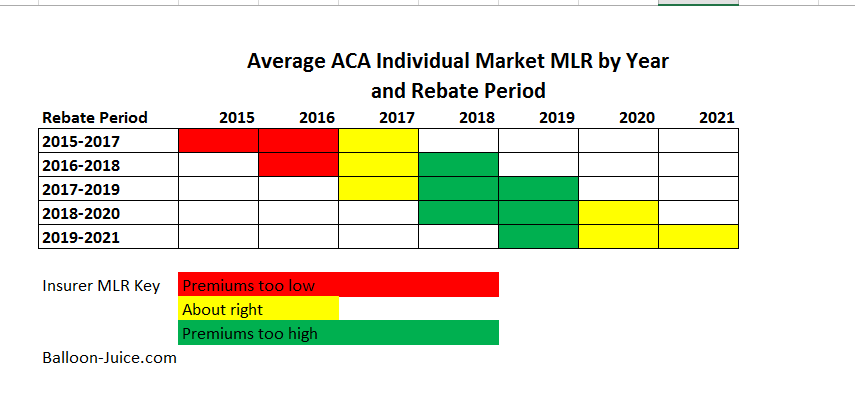 I think that in a counterfactual world of no COVID, 2021 would have been priced roughly right for claims to be matched to premiums. However COVID basically wiped out claims for a quarter of the year and bounceback services had not equalized the lost spring services. Insurers also waived cost-sharing for a lot of COVID related services and made mid-year premium rebates to get ahead of the MLR rebates. Even with all of those actions, MLR rebates for the individual market are likely to be about $300 per member year for insurers that have to write checks (this is about $25 per month in premium).
Rebates are calculated in the summer and payments have to flow in September. Payments from an insurer go in proportion to the share of gross premium paid by people insured in the last year of the three year reporting cycle. If an insurer is still covering that person in September 2021, the insurer will knock off future premium obligations with the MLR rebate. If the person left the insurer for any reason, the insurer will try to send a check.
We should continue to expect modest MLR rebates for the 2019-2020-2021 reporting cycle and likely smaller rebates for the 2020-2021-2022 reporting cycle as well.