I had an early dental appointment this morning. Getting a deep cleaning of my teeth since I have not been in for almost two years because of the pandemic, and last Friday I woke up and discovered the crown on my molar was missing and is presumably now with the mustard somewhere in the aether. At any rate, I was out of the house bright and early, and as I opened the front door I observed that the Penthouse Suite nest on the front porch had been demolished: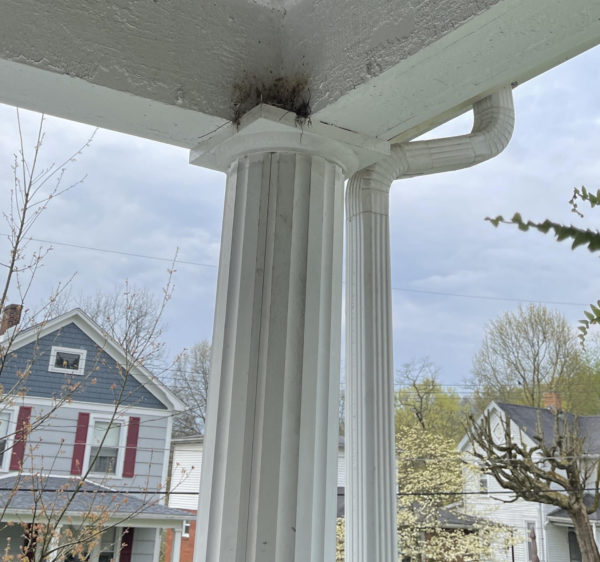 All that remains are some straw and cotton lying in a pile on the porch: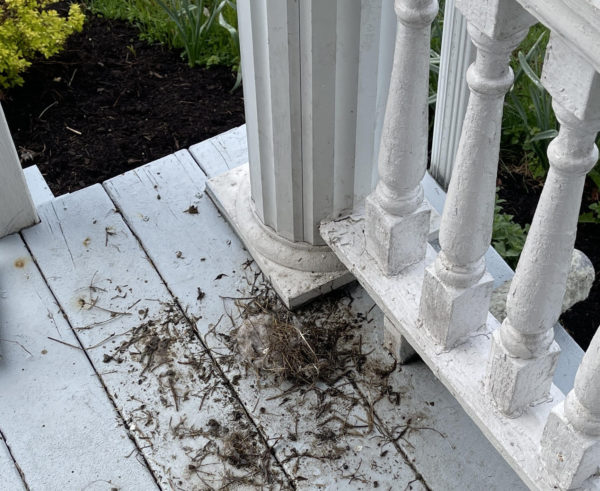 I don't know if the nest (which I leave up every year so they know they are welcome back) was destroyed as part of an annual remodeling, or if perhaps there is about to be a vicious turf war for nesting privileges. Regardless, it made me happy because spring is here. The cycle of life, they say.
***
It was on this day, a year ago, that the Balloon Juice community received the shocking and horrible news that Alain had died in his sleep. It feels like it was both just yesterday and a lifetime ago, but nonetheless, it has been a year. Now that the initial shock and grief are over, it's so much easier to remember who Alain was as a person.
Oddly enough, I was in the basement the other day grabbing some of the remaining cans of peaches and pears, and I grabbed the last jar of peach jam and ginger that Alain had made and sent me. He'd sent me several different types of jellies and jams- peach/ginger and grape are the two I remember the most, and while I don't recall the specific details, I do sort of think I remember the peaches were a special kind grown in Colorado. I stared at the jar for a while and looked at the thoughtful label, then went upstairs and ate it. It was so good I finished it in two meals, the second a sumptuous peanut butter and jelly sandwich with a heaping of the jam and an ice cold glass of milk. The classics never go out of style.
The peach jam really sums up who Alain was. He'd sent it to me because I had been making a bunch of jam and talking about it, and he was also making jam, and with his omnipresent thoughtfulness, decided he would send some to me. Alain was kind that way. He was generous with his time, spending thousands of hours on this website simply because he loved you all so much. And he was thoughtful- doing the little things, the generous things, the kind things, the things that make this crazy world bearable. Not because he wanted something in return, but because being kind made him happy.
In a world full of little men acting like big shots, throwing around money on grotesque buildings that are little more than vulgar vanity projects, or slapping their names on schools so that THEY WILL HAVE THEIR LEGACY AND THEY WILL BE REMEMBERED, we're so lucky to get to know people like Alain. Buildings crumble, but the ripple effect of Alain's kindness will be passed down by those who received it for generations.
Now that's a legacy.