We've complained about it in this space before, but it bears repeating: National political gossip rags like Politico seem absolutely determined to fluff Florida's terrible governor all the way to the fucking White House. Steve M. of No More Mr. Nice Blog summed it up on Twitter this morning in response to the latest egregious puff piece:
You're going to publish this article every fucking week until he's president, aren't you, @politico? pic.twitter.com/onyOLvuFCX

— Steve M. (@nomoremister) April 16, 2021
Steve was not exaggerating. Here's a summary of Politco's DeSantis hagiography just in the last month: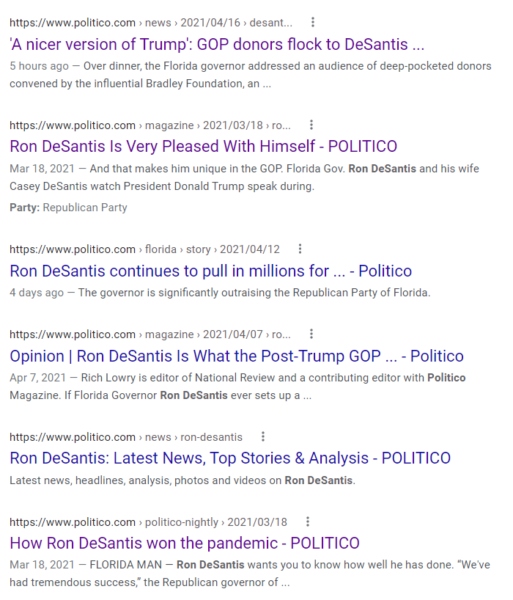 That's just one outlet, and while Politico is the most obvious "DeSantis for President" operative, they aren't alone. To quote Beto O'Rourke: "Members of the press, what the fuck?"
I do want to note that the major Florida dailies have done a wonderful job of puncturing the DeSantis bubble. They're the ones who exposed the governor's vaccines for wealthy donors scheme, raised questions about how Florida is cooking the books on the pandemic, documented the utter failure of the state's unemployment benefits system and the culpability of Rick Scott and DeSantis, etc.
That said, it is the gossip rags like Politico, which seems to have inherited the Drudge Report's role as the publication that rules the Beltway hackdom world, that create the environment in which toxic creeps like Trump and DeSantis thrive.
Our best chance to short-circuit the gathering DeSantis juggernaut will come next year. This Parkland survivor gets it:
The most important race in 2022 is the one that few people are talking about.

If we do not beat the Governor of Florida, Ron DeSantis in 2022 he is going to run for president and has a sizable chance of winning.

We need a strong Dem to beat him.
Before we get Trump 2.0

— David Hogg (@davidhogg111) April 15, 2021
Alas, that plan relies in part on the state party getting its shit together, and those of us who live here have been trying to make that happen since the 1990s without success. Absent that, maybe we'll get lucky in one of two ways:
1) Trump keeps seeing himself compared to DeSantis unfavorably, and, in a fit of pique, he decides to take his protégé down a peg or ten. He's certainly petty enough to think and act that way. I'm pretty sure I care more about the long-term prospects of the GOP than Trump does, and I hate that party with the white hot heat of ten thousand exploding supernovas. But one of the joys of 2021 — Trump's spectacular fall from the absolute center of attention to relative obscurity — might hinder his ability to damage DeSantis.
2) DeSantis becomes the next presidential election cycle's Pawlenty, a guy who looked "good" on paper and was met with Beltway hosannas only to melt under the klieg lights of national media exposure because he has the charisma of a bowl of stale, unseasoned instant grits. That's a possibility, but DeSantis has a mean streak where his personality should be, and he has reflexive hostility toward reporters. Republicans find those qualities compelling, even if DeSantis comes off as a snarling asshole to normal people.
I don't know how it will shake out, but DeSantis bears watching, and so does the Beltway press. The attempt to foist DeSantis off as a "nicer" or "more competent" Trump, as if the worst president in American history sets a meaningful standard, is a symbol of how broken everything still is.
Open thread.