Frankensteinbeck mentioned in the comments the other day that he has a book coming out soon, so I asked if he would be willing to write something up for a Celebrating Jackals post.  He graciously agreed, and what he wrote could lead to some good conversation, I think.
Read on and see for yourself!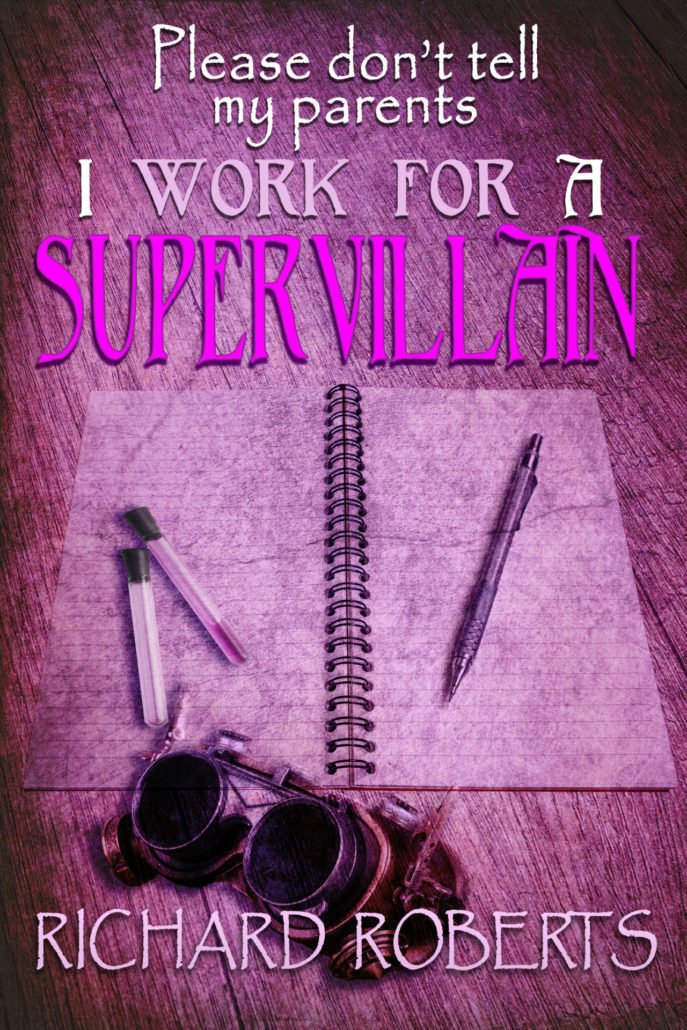 Frankensteinbeck

I have a book coming out on May 4th!

Many of you know that my most successful set of books are the Please Don't Tell My Parents I'm A Supervillain series.  I'm finally back to it, which raises a topic worthy of a post:

Selling out, and money vs art.

This is a tough one, folks.  Author gotta eat.  My previous publisher stealing from me nuked my career.  But the topic went back to before they went bad.  A writer is an artist, and an artist needs to make money, but also care at least two figs, preferably an entire cargo ship's worth of figs about his art.  It's hard to do that and keep it from wedging itself sideways in the canal of your career and blocking…

I think I've stretched that metaphor too far.

When Please Don't Tell My Parents I'm A Supervillain took off, I was faced with a problem.  I hate story creep.  Open-ended series end up wrecking themselves.  But again, author gotta eat, and here was my chance to live the dream and support myself on writing!  So, I made a deal with myself.  I'm not going to write the same book twice.  I could make a longer series out of Penny's story, but it would have an ending, period, decided on before I started.  I wrote book two knowing generally what would be in book five.

Now I need to bring my career back to life, and the dark, exotic fantasy I write for passion ain't gonna do it.  A Supervillain book had to happen.  What to do, without compromising my need to create stories I am proud to tell?  I decided to go the Discworld model.  I will write books about different characters in the same world, branching out as each book gives me more people to write about.  Maybe some of those characters will deserve more than one book.  This I can do while keeping things fresh, although I mourn that I don't have the freedom of time and creative resources to write the freaky stuff in my heart.

I'll add an extra twist, that's on topic for art vs money.  I don't like repeating myself.  I wanted individual ridiculous names for each book.  My original title for the second Supervillain book was At Least I Didn't Blow Up Our Moon.  But… artistically, titles and cover art don't matter.  They're marketing.  They're the thing that's supposed to get someone to take a peek so you have a chance to snare them with your writing.  So my initial publisher insisted on the Please Don't Tell My Parents title formula, and since I badly need to reclaim my former fan base, I stuck with it here.  Similarly, my new publisher goes way cheaper on cover art (Watergirl said she was going to attach this book's cover) so what I worked out with the artist is something that thematically resembles the covers of the previous books.  What I need for this book is a sense of continuity.

As an ironic twist, after writing this new 'back to the Supervillain world' book, I needed a break, to write something purely for me.  It… turned out to be another Supervillain world book.

And so, on May 4th enjoy Please Don't Tell My Parents I Work For A Supervillain, about a teenage girl who wants to be a heroine, finds out she doesn't have what it takes, and finds a kind of adventure and fame that does suit her.

And then once I get through the beta reader phase, my publisher and I will put up Please Don't Tell My Parents I'm Queen Of The Dead, about a teenage girl (get used to that in my books) who finds out being the only necromancer in a generation means trouble.  Lots of trouble.

Enjoy, and may your art be meaningful and profitable!
If you have something to celebrate, don't be shy.  Let us know in the comments or send me an email message.