When I did my post and analysis of the body camera footage of the extrajudicial killing of Daunte Wright, I referenced some of the really problematic education and training that is available to law enforcement officers in the US. Specifically that of Bill Lewinski and his Force Science Institute and LTC (ret) Dave Grossman who has pioneered the concept of killology. This is what Grossman is teaching:
And here's a slightly longer treatment of Grossman:
LTC (ret) Grossman, who appears to be falsely stating, or allowing others to falsely state his military experience by referring to himself as either a retired Green Beret or US Army Ranger, he is neither (please see the update below for clarification). is either a retired Green Beret/US Army Special Forces or US Army Ranger depending on who is stating his military credentials He is also often referred to as a psychologist. Largely because he has a masters in education in counseling psychology from the University of Texas and is self proposing that what he is teaching and researching is an unrecognized field within the discipline of psychology. These credential are not what we really mean when we refer to someone as a psychologist.
Grossman didn't invent the concept of killology, he took the idea/argument from the work of Brigadier General S.L.A. Marshall, who conducted a study during World War II that posited that the majority of Soldiers do not fire their weapons in combat because they cannot fire their weapons in combat because they cannot overcome their innate and socialized aversion to killing. If this argument sounds familiar it is. In the 1990s an Emory historian wrote an entire book on this topic, won a prestigious award within the discipline of history, and was then viciously attacked by economist John Lott who claimed he simply fabricated his evidence. Based on Lott's accusations the Emory historian was stripped of his award, he was driven out of academia, and last I had heard he was tending bar in New Orleans. It turns out that Lott had largely fabricated the evidence he used in his attack and, interestingly, made the same claim that the historian did to defend himself: that there was a flood in his campus office that destroyed his notes/evidence. This whole sad affair is documented in Adam Winkler's Gunfight.
Grossman's killology, rooted in Marshall's work from World War II is, however, historically inaccurate. Actual military historians have debunked Marshall's work and drawing a line from it to Grossman's argument have also debunked Grossman's assertion: (emphasis mine)
Grossman has become a serious contributor to popular knowledge on military psychology, and his popularity owes much to the wide acceptance of his theories on the human act of killing. These theories are highly revisionist, and claim that normal, healthy human beings – including trained soldiers – are physiologically and psychologically incapable of killing one another. For Grossman, this translates into a belief that "everything you think you know about war is based on 5,000 years of lies."4 Only since the end of the Second World War have the Western nations discovered ways of psychologically conditioning their soldiers to kill others in face-to-face combat, Grossman claims. Prior to that, only a tiny fraction of the most elite (or psychotic) soldiers were capable of overcoming their innate resistance to killing.

Curiously, these works have elicited no serious response by military historians, in spite of the author's provocations regarding the discipline being founded upon lies. Instead, Grossman's theories have achieved great acceptance and are defining new popular understandings of killing, combat, and military history.

As a military historian, I am instinctively skeptical of any work or theory that claims to overturn all existing scholarship – indeed, overturn an entire academic discipline – in one fell swoop. In academic history, the field normally expands and evolves incrementally, based upon new research, rather than being completely overthrown periodically. While it is not impossible for such a revolution to take place and become accepted, extraordinary new research and evidence would need to be presented to back up these claims. Simply put, Grossman's On Killing and its succeeding "killology" literature represent a potential revolution for military history, if his claims can stand up to scrutiny – especially the claim that throughout human history, most soldiers and people have been unable to kill one another.

I will be the first to acknowledge that Grossman has made positive contributions to the discipline. On Combat, in particular, contains wonderful insights on the physiology of combat that bear further study and incorporation within the discipline. However, Grossman's current "killology" literature contains some serious problems, and there are some worrying flaws in the theories that are being preached as truth to the men and women of the Canadian Forces. Although much of Grossman's work is credible, his proposed theories on the inability of human beings to kill one another, while optimistic, are not sufficiently reinforced to warrant uncritical acceptance. A reassessment of the value that this material holds for the Canadian military is necessary.

The evidence seems to indicate that, contrary to Grossman's ideas, killing is a natural, if difficult, part of human behaviour, and that killology's belief that soldiers and the population at large are only being able to kill as part of programmed behaviour (or as a symptom of mental illness) hinders our understanding of the actualities of warfare. A flawed understanding of how and why soldiers can kill is no more helpful to the study of military history than it is to practitioners of the military profession. More research in this area is required, and On Killing and On Combat should be treated as the starting points, rather than the culmination, of this process.

This article will analyze two major areas of evidence for Grossman's theory: his biological-psychological theories on human nature, and his citing of military history to substantiate his extraordinary claims. I am not an expert in biology or psychology, but even a layman's reading of the literature turns up credible works that clash with Grossman's interpretations. And in terms of military history, Grossman's over-reliance upon S.L.A. Marshall's famous "ratio of fire" data represents a serious shortcoming. These matters must be discussed in some depth.
Click across to read the entire review.
Unfortunately, as you can see in the videos above, Grossman has been teaching his argument in search of evidence to law enforcement officers across the US for around twenty years. And what he is teaching is not only based on a historically inaccurate premise, but also runs counter to the vast majority of the criminological, criminal sociological, and criminal psychological research regarding human aptitudes for violence, including killing. Some of what you see Grossman gleefully present in the videos above, however, is accurate in regard to snipers.
Effective snipers are highly self contained and have a very high ability to compartmentalize. They have to in order to be able to effectively do their jobs. If they can't then the parts of the human they are targeting stop being a target to put a bullet through and start being human beings. That's why there are numerous marksmen who, on a range, can shoot just as effectively as snipers in terms of accuracy over short, medium, and long distance, but why very few of them would make effective snipers.
However, this is NOT what we want from law enforcement officers in the US. What Grossman is teaching is, for lack of a better term, techniques of dehumanization. He is teaching law enforcement personnel to mentally and emotionally dehumanize their fellow citizens in order to make them more effectively lethal. As someone who has been working for and with the military since 2007, I would argue that this may be appropriate for preparing Soldiers, Sailors, Airmen, and Marines for war. It is not appropriate for preparing law enforcement personnel for patrolling traffic to regulate traffic for safety purposes, to respond to emergencies arising from alleged/suspected criminal activity, and to prevent or investigate crime.
There is a reason we do not use the military to police the citizenry in small "l" small "d" liberal democracies. The military is used to defend the nation-state if it is attacked by a hostile foreign power and/or wage war against the nation-state's enemies should all other elements of national power (diplomatic, information, economic, financial, intelligence, and legal) fail to resolve an interstate conflict or dispute. We train and educate the military to treat the nation-state's, in this case America's, adversaries as the enemy. This is not what police are, do, should be, or should be doing. According to the American Bar Association, the purpose of policing is:
In assessing appropriate objectives and priorities for police service, local communities should initially recognize that most police agencies are currently given responsibility, by design or default, to:

(a) identify criminal offenders and criminal activity and, where appropriate, to apprehend offenders and participate in subsequent court proceedings;

(b) reduce the opportunities for the commission of some crimes through preventive patrol and other measures;

(c) aid individuals who are in danger of physical harm;

(d) protect constitutional guarantees;

(e) facilitate the movement of people and vehicles;

(f) assist those who cannot care for themselves;

(g) resolve conflict;

(h) identify problems that are potentially serious law enforcement or governmental problems;

(i) create and maintain a feeling of security in the community;

(j)) promote and preserve civil order; and

(k) provide other services on an emergency basis.
What the police do is not what the military does. It should not be. And we should not want it to be. Conflating the two communities, let alone doing what Grossman is doing based on his own experience in US Special Operations, which is taking the characteristics of military personnel who conduct Special Operations, especially kinetic/lethal Special Operations (the snake eaters/meat eaters to use the community's slang), and placing those characteristics under the label of what police should be, makes Americans into enemies to be pursued, not citizens to be protected. Notice the language he uses. Police are warriors. Just like America's Soldiers, Sailors, Airmen, and Marines.
I understand why the military started to use the term "warrior"; it was partially about building esprit de corps and morale. My preference, as a civilian practitioner who has done both operational and educational work for the military, is for Soldier (or Sailor, Airman, or Marine), Scholar, Athlete, but warrior as a term and concept is more accurately applied to US military personnel who, actually, are prepared to and do wage war on behalf of the Republic. But being a Soldier, Sailor, Airman, or Marine who is referred to as a warrior does not happen in a vacuum. Each service has a creed and values statement, which places all of these concepts – warriors, Soldier (or Sailor, Airman, or Marine), Scholar, Athlete – in context. Here's the Soldier's creed. Here's the Sailor's creed. Here's the Airman's creed. Here's the Marine's creed, which is a bit funky as it is the Marine's Rifleman's Creed. And here's the more useful, for this discussion, Marine's values statement. There are even creeds for Service civilians. Here's the Army's version of that. And here's the Army's Warrior ethos:
I will always place the mission first.

I will never accept defeat.

I will never quit.

I will never leave a fallen comrade.
There is nothing in the US Army's Warrior's ethos about taking joy in killing. There is nothing in there about dehumanizing the citizenry or even the enemy. There is nothing in there about killology.
Grossman is not teaching and training law enforcement personnel to be more effective. He is not teaching them to actually be warriors in terms of how the US military understands the concept of warrior. He's teaching and training them to dehumanize their fellow citizens so that they can more easily kill them.
As long as Grossman is allowed to continue to educate and train law enforcement personnel, as long as others like Bill Lewinski who teach similar concepts are allowed to continue to educate and train law enforcement personnel, American policing will continue to be degraded. At the macro level, it will continue to produce bad systemic outcomes. At the individual level, police officers will continue to quickly escalate up through the force continuum because Grossman has convinced them that they – the police – are killers, that they are supposed to be killers, and that they should take joy in being killers because the people they are killing aren't their fellow citizens, because they aren't really even human. Lewinski has convinced them that if they do not immediately escalate force that they will themselves be killed. Lewinski's training teaches law enforcement to be afraid all the time as a justification for the use of rapidly escalating to lethal force. Grossman's training teaches law enforcement to be joyful killers because the people they've killed needed to be killed, deserved to be killed. When you put the two together you get police who have been educated and trained to be afraid of everyone they encounter, that to protect themselves they must immediately escalate up the force continuum to survive, and that they should take joy in doing so because they are killers who are warriors.
If you want to quickly, effectively, and positively change law enforcement, then you remove Grossman, Lewinski, their fellow travelers, and their materials from police and law enforcement academies and from in-services and continuing education programs. And you replace them with concepts based on legitimate, empirically validated, methodologically appropriate criminological, criminal sociological, and criminal psychological materials, as well as with instructors and subject matter experts who can teach and train law enforcement to competently undertake community based law enforcement and deescalation. Unless or until this happens, even when lethal force by police is justified by education, training, policy, and circumstances, we will see more and more and more of these bad, lethal outcomes.
Fiction speaks truth to power.
Updated at 11:45 AM on 23 APR 2021:
Grossman's military bio has been bugging me for a while. A close friend who is a SWAT sniper asked me about him a while back, I looked at his bio, and my response was: "I don't think this guy is really a Green Beret, there's no mention in his professional bio of which Special Forces Group he served with." Frankly, I've never seen a Green Beret's professional bio that doesn't mention this. So I started poking around and asked someone who'd know who confirmed he was conventional infantry who'd done the Ranger course, served only in conventional line units, and never saw combat. This was fully confirmed when the Marine vet who tweets as The Warax tweeted Grossman's DD 214: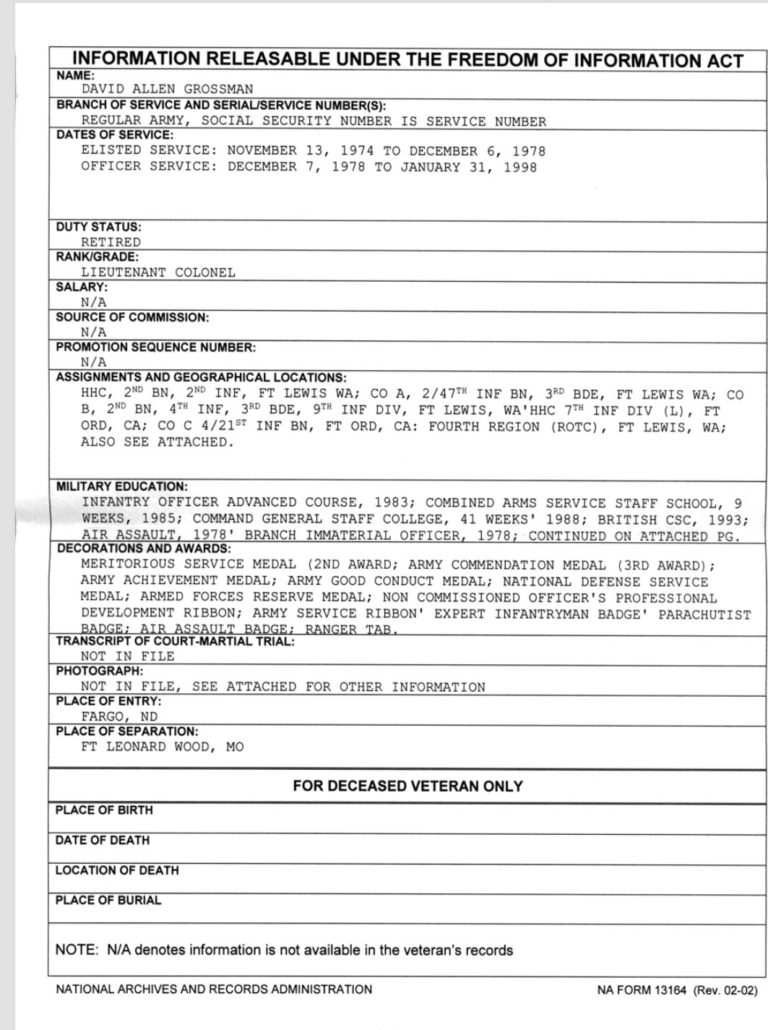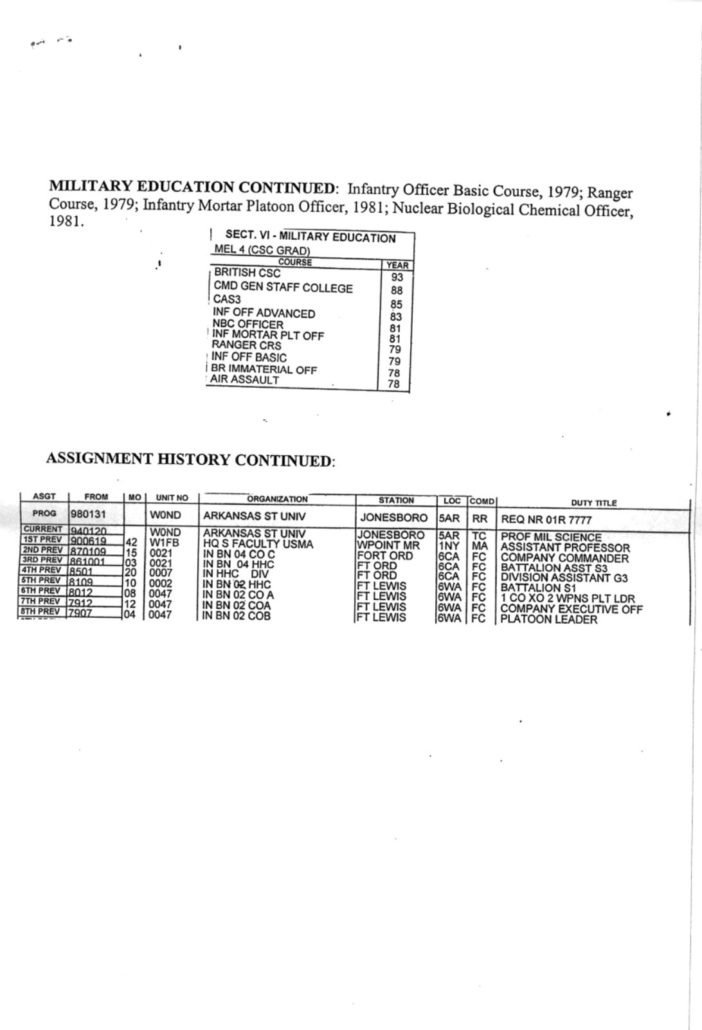 For the uninitiated, LTC (ret) Grossman is a conventional infantry officer who only ever served in conventional Army assignments. He attended and completed the Ranger course in 1979, meaning he is Ranger tabbed. He never served in the Ranger Regiment, he was never a Green Beret/Special Forces. He wasn't even Army Special Operations. He was not branch qualified as a major and not selected for battalion command. He has no combat experience or deployments at all. This guy has never killed anyone, at least not while in uniform.
I've now done a separate post covering all of this.
Open thread!