A while back one of my closest friends, who is a SWAT sniper, asked me about Grossman, specifically because I've spent a fair amount of time working with US Army Special Operations Forces (ARSOF). I said I didn't think he was SOF, especially not a Green Beret as I've never seen a Green Beret not mention which Special Forces Group they've served with in their professional bios. After yesterday's post I emailed a friend who'd have a better idea and he responded that Grossman was conventional infantry who'd done the Ranger course, served only in conventional line units, and never saw combat. This was fully confirmed when the Marine vet who tweets as The Warax tweeted Grossman's DD 214, in this case the National Archives Form 13164 (NA 13164), which is what is released when someone makes a FOIA request for someone else's military service record: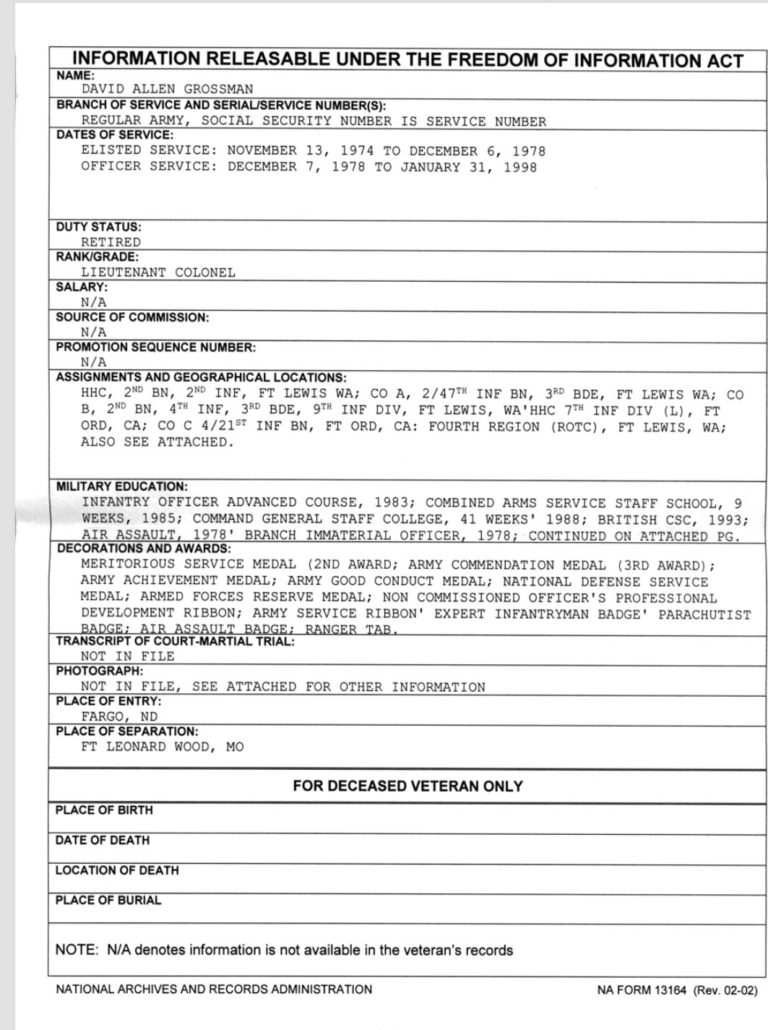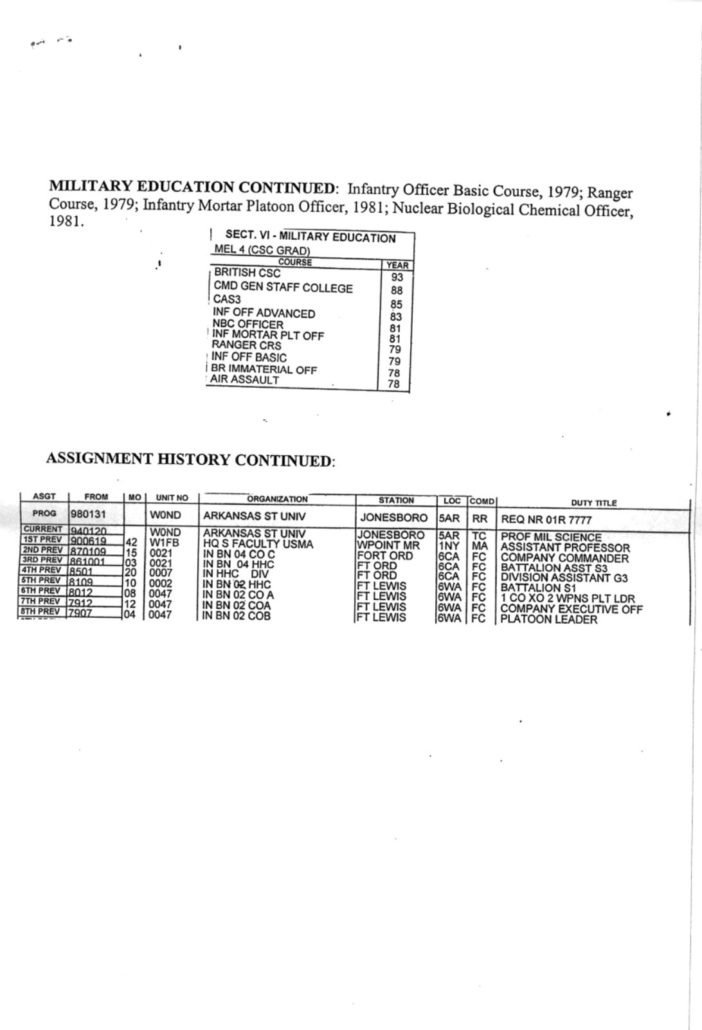 For the uninitiated, LTC (ret) Grossman is a conventional infantry officer who only ever served in conventional Army assignments. He attended and completed the Ranger course in 1979, meaning he is Ranger tabbed. He never served in the Ranger Regiment, he was never a Green Beret/Special Forces. He wasn't even Army Special Operations despite listing himself in his bio as a US Army Ranger. He was not branch qualified as a major and not selected for battalion command. He has no combat experience or deployments at all. This guy has never killed anyone, at least not while in uniform.
Failing to properly vet people's actual credentials, experience, and expertise as opposed to their claimed credentials, experience, and expertise is a HUGE problem in the US. I've spent years fighting this problem within different US Army programs. I've managed to expose more phony PhDs than I can shake a stick at. Unfortunately, some of them are dug in and protected and can't be gotten rid of. So I'm not surprised that law enforcement has the same problem.
Grossman is a fake and a fraud in terms of what he is promoting himself to be versus what he has actually done and is qualified to do.
He's not a psychologist in the sense that anyone who is a psychologist in the civilian world of practitioners or academics would use the term. He's qualified to be a high school guidance counselor. Don't take my word for it, here's how the University of Texas at Austin's Department of Counselor Education describes the masters in counselor education:
Graduates of our program will be prepared to:

Pursue employment as academic advisers, career counselors and student affair officials in colleges and universities
Pursue doctoral studies in counseling psychology or other related fields
Pursue certification as a Licensed Professional Counselor or School Counselor (with additional requirements / coursework – see Program Details for more information).
He's not Army Special Operations Forces (ARSOF) in the sense that anyone within the various communities that make up Army Special Forces would use, he's just Ranger tabbed. This is an accomplishment in itself as the course is brutal. It makes him Ranger qualified. But to those who haven't served or haven't worked with the Army/military, the way he presents the qualification is meant to imply something that he is not.
He has no experience in combat as he's NEVER ACTUALLY BEEN IN COMBAT! He has no experience, that we know of, in actually killing anyone. And certainly not while in uniform in the US Army. He certainly has no law enforcement experience.
LTC (ret) Grossman is a combination of the death of expertise and a dearth of expertise pretending to be the expertise in order to run a very lucrative grift at taxpayer's expense on both the front end (what he gets paid to teach this bullshit) and on the back end (when municipalities have to pay out in the lawsuits because law enforcement practiced what Grossman preaches).
I've placed a correction and an update to yesterday's post to reflect this new, accurate information regarding Grossman's misrepresentation of himself.
Open thread!
Just in case anyone decides they want to know who this Adam L. Silverman guy is to say such things, here's my credentials:
I have a PhD in criminology and political science (awarded by the Department of Political Science with a specialty in Criminology) from the University of Florida. I have taught in several criminology programs and was the undergraduate and graduate core curriculum – epistemology, research design and methods, theory, and statistics – coordinator in an applied criminology and security program. In 2007 I was recruited to go to work for the US Army. First in a supervisory contract position, which included my deployment to Iraq in 2008. This was followed by a civilian mobilization under the Intergovernmental Personnel Act of Title IV of the Federal code, where I served as a supervisory GS 15 assigned as the Cultural Advisor to the Commandant and Professor of Culture, Strategy, and Policy at the US Army War College, as well as the staffer acting as the Deputy to the Director of the Army Culture and Foreign Language Directorate. During this assignment I served, under temporary assigned control, as the Cultural Advisor to the following: the Commanding General of US Army Europe, the Commanding General of III Corps, the Director of the Institute for NCO Professional Development, the Branch Chief of Civil Affairs. I also provided subject matter expertise support to SOCOM, CENTCOM, EUCOM, Army Special Operations Command, Army Central Command, the 101st Airborne Division, SOCOM's Civil Affairs Capability Based Assessment, SOCOM's Joint Civil Information Management Test Development, JIEDDO, and the Near East Desk at the Department of State. My subsequent civilian mobilization was with the Office of the Secretary of Defense for Security Dialogue in the Middle East and my assignment was as the Cultural Advisor to the Commanding General of US Army Europe. Following that I served as Senior Fellow for Special Operations, which was a contract position, at SOCOM's Joint Special Operations University. My training to work for the US Army as a cultural subject matter expert was overseen and conducted by retired Green Berets, Civil Affairs, and Psychological Operations Soldiers.