I feel terrible, I completely missed Dorothy's publication date, even though I knew it was coming up! I blame raising ducklings. So delayed, but welcome, here's Dorothy Winsor on her latest novel:
================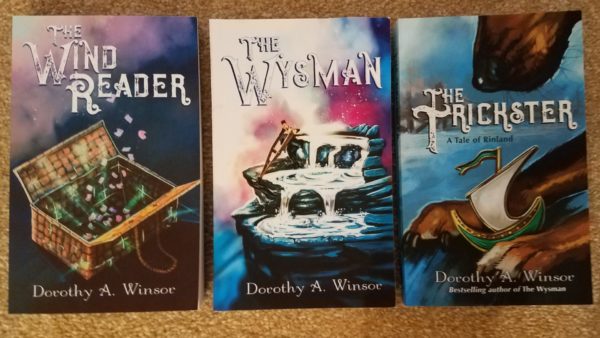 Last weekend, Frankensteinbeck told us about how his new books spin off characters into books of their own. I did the same thing with the three-book series I just wrapped up. The Wind Reader was about a kid who was stuck in a city far from home and hanging out with two other street kids. The Wysman takes one of his friends, a kid with a crutch, and gives him his own story. The Trickster, which came out last month, is about Dilly, the pickpocket girl of the original trio.
Writing about Dilly was made easier because I knew some things about her ahead of time. As The Trickster opens, she's gone home to Lac's Holding and is a lady in waiting for the lord's daughter. I knew Dilly had always admired this woman and was thrilled just to be near her. So obviously, I had a chance to spoil that. Yay!
Also I'd never set a story in Lac's Holding, but I knew it was a port city and I'd always thought of it as being like New Orleans. So I set the story during a festival like Mardi Gras because story possibilities are built into people in masks amid drinking and chaos.
I knew that in The Wind Reader, Dilly was on the streets of Rin City because a man took her and her mother there and abandoned them. From a scene in the The Wind Reader I knew the man had groped Dilly. So she's a sexual assault survivor and that shaped her actions.
Reusing a character also meant I was stuck with some things that were hard to manage. In The Wind Reader, I'd given Dilly a dog named Tuc for the very BJ reason that I like dogs. In Trickster, Dilly is the central character, so she's on the page much more, which meant Tuc was too. I had to write "DOG" at the top of each page so I'd remember to include things like "Tuc scratched his ear." It was a pain, and I finally realized it was also boring. So I decided to make more of Tuc rather than leaving him as just Dilly's companion. I don't want to spoil the book by saying what that "more" was, but once I started working with it, writing about Tuc was a lot more fun.
Both The Wysman and The Trickster came out while we were locked down. All writers had trouble spreading the word about their books with no bookstores and no in-person events. I had an especially hard time because my publisher is tiny. I love them for a variety of reasons, including that they're a registered social enterprise in the UK. That means they turn part of their profits back to the community. Right now, for instance, they donate a book to homeless shelters every time they sell ten books from their website. They usually pick out a book with an LGBTQ character. They're awesome, but their promotion is limited.
So my timing was terrible. But The Trickster is out now. I'm proud of it, and I hope people enjoy reading it.
 Finders Keepers (Zharmae 2015)
Deep as a Tomb (Loose Leaves 2016)
The Wind Reader (Inspired Quill 2018)
The Wysman (Inspired Quill, 2020)
The Trickster (Inspired Quill, March 2021)
================
TaMara again – I'm in awe of this trilogy because Dorothy has created such rich and vibrant worlds that draw me in (note: I've only read the first two, Trickster is on my list). I highly recommend them. Dorothy should be around to field any questions in the thread, so ask away. Publishing, promoting, creating an entire world for your characters to frolic in, or how she became a writer would all be a good place to start a fun conversation.
I'll try to stick around, but if things go as plan, the duckteens will not only spend the day outside, but the night in the coop for the first time, so I'm going to be cleaning the house from top to bottom because it looks like I had a down pillow explosion in every room…not to mention ducks are filthy creatures in general (lovely, but filthy, LOL). But I'll keep popping in and out.
Let's talk books!