Cole asked what the takeaways are from The New York Times reporting on a leaked tape of an interview with Iranian Foreign Minister Zarif. As I put in a comment in that post, there are four. I'm going to copy and paste them below, but then I want to really focus on the fourth one because I think that's the real tell.
There are three possible leakers of the tape: Israel, Russia, or Iran's Quds Force. All three don't want the nuclear deal back on the table for different reasons, though some of them overlap. In the case of Israel, Bibi is desperate to maintain a foreign threat that only he can safely lead Israel against. And he definitely does not want Iran to be incentivized to open up to the west, which will have profound impacts on Iranian society, economy, and ultimately politics. Without Iran, Israel has no foreign threat for Bibi to rail against as an existential problem that requires his experienced leadership to survive. Russia doesn't want the deal because it also doesn't want an Iran incentivized to come in from the cold in order to get out from under sanctions. Doing so would open up Iran, which would have profound impacts on Iranian society, economy, and ultimately politics. An isolated Iran needs Russia. The Quds Force is working this angle from the other direction – internal to Iran instead of external. Anything that potentially empowers the more moderate reformist elements, that potentially leads to a relaxation of sanctions, that potentially leads to Iranians actually being able to interact with Americans and Europeans on a more regular basis weakens the Quds Force. Because if real, legitimate political reform ever comes to Iran, it has to come at the expense of the Quds Force.
While all of these three have means, motive, and opportunity to have gotten the audio and leaked it, the leak was done to make it harder to reach a deal to get Iran either back into the JCPOA or into a new, revised version of it.
If Israel is the leaker on this, the Quds Force and the other elements of Iranian security and intelligence are fully puckered right now. Being able to get hands on to this indicates a level of Israeli intelligence penetration into Iranian elite circles that is beyond what we know and suspect based on reporting.
Someone really wants to dirty up John Kerry. Given that Putin has been working this angle, as I've covered here repeatedly on the front pages, since May 2014 when the initial agitprop plant of misinformation was placed in RIA Novosti against Biden, Kerry, and Cheney, via attacks on their children, because all were being discussed as possibly running for president in 2016. Is this an indicator that Russia is the leaker? I don't know. I just find it curious that Russia has previously tried to ensure that Kerry looks bad, so this might be a two birds, one stone type of thing. Especially as Putin does not want to see any action on climate change because of his own strategy to leverage its effects to the benefit of Russia. And yes, I know, that strategy is stupid and its objectives are not achievable.
This is the specific portion of The New York Times reporting dealing with Secretary Kerry:
Former Secretary of State John Kerry informed him that Israel had attacked Iranian interests in Syria at least 200 times, to his astonishment, Mr. Zarif said.
While it follows a section about how the US, presumably US intelligence, knew about the Quds Force's reprisal strike on US forces stationed at the Balad Air Base in Iraq before the Quds Force informed Zarif, the sentence about Kerry just sticks out like a very out of place sore thumb. It is completely out of context and contextless. Did Kerry do this when he was Secretary of State, pursuant to a strategy of confidence building with Zarif around the JCPOA negotiations that was deconflicted and cleared with the Director of National Intelligence and Director of Central Intelligence or was this Kerry just shooting the breeze with Zarif sometime after the change of administration between January 2017 and January 2021? We don't know because the reporter, in his reporting, doesn't provide us any context.
There has been a concerted effort by Putin, via his active measures campaign, to dirty up very specific American politicians who he believes are or would be detrimental to his interests. Hillary Clinton, Joe Biden, John Kerry, and Dick Cheney. As I wrote way back in November of 2019, Putin first planted the agitprop about Hunter Biden in a Russian state backed news outlet- RIA Novosti – as part of a black PSYOP strategy to launder the misinformation through legitimate, or perceived to be legitimate outlets, to dirty up potential presidential candidates. You'll notice the three names in the highlighted portion below: Biden, Cheney, Kerry in the question from the RIA-Novosti reporter to a peace activist no one has ever heard of outside of the people that read his blog.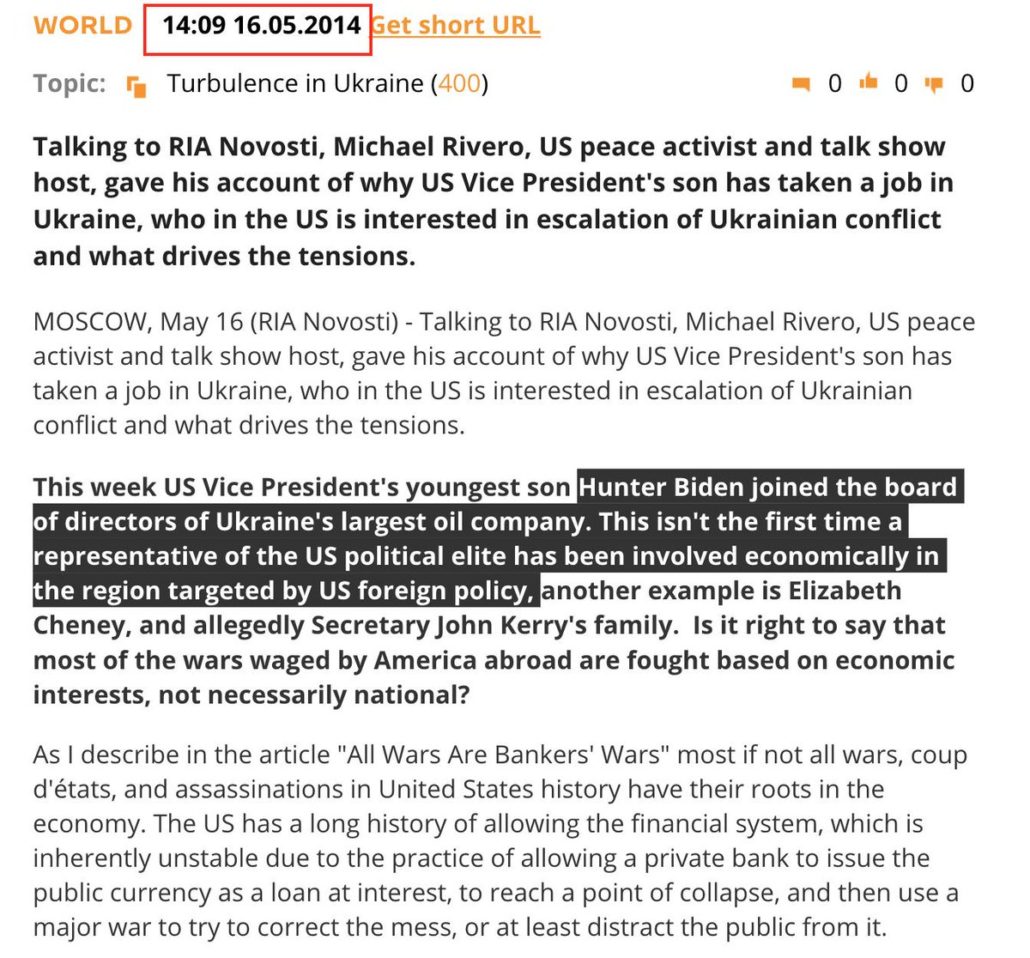 And right on time, the usual people in the US bit on what seems to be a singular contextless throw away sentence about Secretary Kerry. All of these below, with the exception of the two Brad Moss tweets and the Stefanik tweet courtesy of commenter Jim, Foolish Literalist, are from just doing a keyword search for "John Kerry" using Twitter's search function. There are dozens and dozens I'm not including here so as to not gunk up the front page, but this is now on fire in Republican and conservative political, news, and social media circles. The Daily Wire, that's Shapiro's agitprop outfit, has picked it up, which means it is now all over Facebook where he's got dozens of sock puppets pushing his garbage into everybody's feeds, so the real purpose of this leak in terms of US politics, policy, and strategy is completely successful.
Here's the link to the search if you want to copy and paste it and see for yourself: https://twitter.com/search?q=john%20kerry&src=typed_query
All these conservative figures are taking the word of the Iranian foreign minister without an ounce of skepticism. https://t.co/ktHqYaitil

— Bradley P. Moss (@BradMossEsq) April 26, 2021
This is a criminal act and John Kerry must be immediately investigated and PROSECUTED.

President Biden must immediately remove John Kerry from any government or advisory position.https://t.co/lO7ReFVCZS

— Elise Stefanik (@EliseStefanik) April 26, 2021
Iran foreign minister reveals John Kerry kept in touch about Israeli covert operations https://t.co/hjsG94mjp9 pic.twitter.com/HlsUVa0bpn

— New York Post (@nypost) April 26, 2021
Current Trump spokesman:
Wow wow wow – why is John Kerry so beholden to Iran???

"Iran's foreign minister says John Kerry told him about Israeli covert operations in Syria" https://t.co/o4vKRLQe1j

— Jason Miller (@JasonMillerinDC) April 26, 2021
Former Trump spokesman:
So John Kerry has been tipping off Iran? Anyone think that's an issue? https://t.co/QyjsphOfmi

— Sean Spicer (@seanspicer) April 26, 2021
The National Review:
Never Tell John Kerry Anything https://t.co/0XuEEc90bx

— Jim Geraghty (@jimgeraghty) April 26, 2021
Zarif is a totally credible witness, no doubt. I'm sure he'll be called to testify any day now. https://t.co/UoNXZMbQL0

— Bradley P. Moss (@BradMossEsq) April 26, 2021
Amazingly enough Fox News almost gets it right:
New York Times 'buried' bombshell that John Kerry told Iran about Israeli covert operations in Syria: Criticshttps://t.co/7NBloXI44i

— Fox News (@FoxNews) April 26, 2021
By Fox almost gets it right, I mean that they recognize that the real news in the reporting about the leaked tape is this one out of place, contextless sentence about John Kerry. It is a bombshell because it was intended to be a bombshell. It is a piece of contextless information placed in the middle of an article about an oral history interview given by Iran's foreign minister that largely confirmed what all of us who actually pay attention to Iran for professional reasons already know. And we already know it largely because of open source reporting, not even anything classified. I can think of over three dozen news reports about Israel striking Iranian targets in Syria without expanding much effort. So this isn't exactly a state secret in the US, Israel, or Iran.
And this brings us back to the real purpose of the leak. A lot of people are going to focus in on it undermining Zarif and the other members of his reformist party in the civilian facade government ahead of Iranian elections. Others will focus on it undermining attempts by the Biden administration to either get Iran back into the JCPOA or into a new, revised JCPOA. But the Quds Force attempting to prevent that, let alone Bibi or Putin attempting to prevent it, are also not a state secret. The only thing Bibi hasn't done to tell everyone that's one of his objectives is host a 24 hour global telethon with that as the theme like Jerry Lewis used to do for MDA every year.
The real purpose of the leak was to get that one, contextless sentence about John Kerry into the reporting. It sticks out like a sore thumb visible from space because it is supposed to stick out like a sore thumb visible from space! The objective here is two fold. The first is to undermine Kerry, who is currently the Special Envoy for Climate Change so that he has to either step down or be fired. That really won't stop the Biden administration's efforts on climate change as President Biden will just appoint someone else. The second is to damage President Biden and his administration. So far nothing, and I do mean nothing, has been able to stick. Nothing about Hunter Biden has stuck. Major Biden's nipping didn't stick. President Biden has dementia and is being manipulated by VP Harris hasn't stuck. President Biden is a tool of the Chinese Communist Party, which is the term now doing business for Republicans and conservatives for the People's Republic of China and everything to do with the People's Republic of China which is scary because it's communist, ooga booga! So now, it is going to be all about how President Biden failed to vet John Kerry properly before appointing him the Special Envoy for Climate Change. John Kerry is clearly working for the Iranian government, there's collusion, we HAVE COLLUSION, IT's IRANIAN COLLUSION WITH THE DEMOCRATS!!!!! And, finally, can we really say that President Biden didn't know all the time and that he's not also, secretly colluding with Iran?
That's the real news here. This was a hit job on John Kerry, and through John Kerry on President Biden and his administration, masquerading as a leaked oral history interview. That one, contextless, seemingly throw away sentence about John Kerry was the whole point. A perfectly executed black PSYOP. And everyone in Republican politics, the conservative movement, and conservative news, digital, and social media is going to hammer it until they can't get any further use for it. You all thought Senator Cotton was obnoxious for stating he was holding up all US Attorney appointments, you ain't seen nothing yet. Just watch, he'll be holding up all the nat-sec nominations as a result of this too.
Open thread!