Now that the news has broken that the DOJ executed search warrants at Rudy Giuliani's home and office, as well as for Victoria Toensing's electronic devices from her office in DC, here's what I think is going under the water line. This is connecting the known, through open source reporting national-security dots. It is not a legal analysis of what the warrants and their execution means in terms of potential criminal prosecutions. For that, I recommend Ken White, who tweets as Popehat. His excellent legal analysis is in this thread. And Ryan Goodman's excellent analysis in this thread, which has a much more national-security approach to the news.
Back in October 2019, I laid out what Rudy Giuliani, Victoria Toensing, and her husband Joe DiGenova were doing in Ukraine, especially in terms of where the national security and political implications overlapped. And this context is important to review and keep in mind in regard to today's news. Pay specific attention to the second and third parts of the operation:
That larger operation, which is a domestically focused Black PSYOP, has three lines of effort, each with multiple parts, and they all are now interconnected.

1) The Ukrainian deliverable.
A) The real deliverable wasn't manufactured dirt on the Bidens. Rather, it was getting Zelensky to go on CNN to announce the opening of an investigation into the Bidens, because CNN is a mainstream news outlet and is in opposition to the President in its reporting. As soon as that happened, the President's team would have campaign ads running 24/7 with this. They'd be pushing the reporters they often use, or who are primed for this type of cheap high like Ken Vogel, at mainstream outlets to get all over Zelensky's announcement, thereby further laundering it and disseminating it through mainstream and legitimate outlets.
B) The fallback, when Zelensky wouldn't play ball, was to have Hannity interview Shokin – the disgraced, corrupt prosecutor who was forced out under pressure from the US, EU, the IMF, and others. From the reporting over the past two or three days, Parnas and Fruman and Giuliani were all going to Vienna to arrange for this to happen the next night, which would be the night after Parnas and Fruman were arrested. It was also the night after Barr both returned to the US from his "fact finding trip", met with the SDNY, and then had dinner with Rupert Murdoch.
C) The Romania and China gambits are also fallbacks. The President's senior advisor for trade issues, Peter Navarro refused to answer CNN's Jim Sciutto's questions yesterday about whether the PRC had been told that in order to get a trade deal they had to manufacture dirt on Hunter Biden. I think it is reasonable to conclude that his refusal to answer should be taken as a yes. NBC/MSNBC had new reporting on Hunter Biden and Romania earlier this evening.
D) Barr's criminal investigation is another fallback here. In this case it turns the DOJ into the propaganda laundry.

2) The Firtash initiative. Firtash wants off house arrest in Vienna and out from under the extradition order to send him to the US to face the Federal crimes he's been indicted for. The reason Firtash wants this done is because he's Putin's man in Ukraine's natural gas industry. If Firtash can get back to Kyiv he can then once again try to take over Ukraine's natural gas sector, suck it dry of profits, and fuck up its operations, which will force the Ukrainians to buy natural gas from Russia while removing Ukrainian natural gas as an alternative to Russian natural gas for the rest of the EU market. This all benefits Putin, who is Firtash's krysha (roof/ceiling) in the Russian mob. Just as he is for every other one of these oligarchs aligned with him.
A) Firtash's efforts weren't going very far, so he fired his US attorneys and hired Toensing and DiGenova. They then hired Parnas to do their translation work despite it being reported that Firtash and most of his staff speak fluent and/or functional English.
B) Firtash was laundering manufactured dirt and conspiracy theories about the Bidens, about the Democrats working with Ukraine to steal the 2016 election, etc through Parnas and Fruman and Toensing and DiGenova to Giuliani. Giuliani who was being paid/worked for Parnas, but also somehow also Parnas's boss.
C) Toensing and DiGenova are also working for free to assist Giuliani with manufacturing dirt on the Bidens.

3) The lift Russian sanctions initiative. Here's where it all ties together, by laundering these conspiracy theories, especially that the Democrats and the Ukrainians, in conjunction with DNI, CIA, FBI, NSA, and DOJ, conspired to steal the 2016 election by running a false flag (maskirovka) operation to make it look like Russia was actually conspiring with Trump, his campaign, Republicans, and major conservative movement organizations to steal the 2016 election, it provides a fig leaf for Trump to order the lifting of US sanctions against Russia that went on after the seizure of Crimea and the invasion of Donbass and were expanded as a result of Russian interference in the 2016 election.
A) Manafort, through his attorney, was feeding Giuliani this conspiracy theory from jail and then prison.
B) This provides cover to pardon Manafort and Flynn and several others.
C) It was reported today that DiGenova and Toensing are the attorneys representing the conspiracist masquerading as an investigative journalist John Solomon who was (finally) just fired from The Hill. And here is where #3 wraps back into #1. Solomon was laundering all of these conspiracy theories, from Uranium 1 to the Democrats conspired with the Ukrainians, the DNI, the CIA, the FBI, the NSA, and the DOJ to frame the Russians for trying to steal the 2016 election in order to steal the 2016 election for the Democrats to the Biden bullshit.

A couple of final points. Giuliani and Toensing and DiGenova are now claiming that Parnas, Fruman, and now, I suppose, Solomon cannot be deposed, questioned, etc by investigators since they were either working for Giuliani and/or Toensing and DiGenova or are represented by them and therefore everything they know is either attorney-client privilege or attorney work product. So you can't ask Giuliani about what Toensing or DiGenova are doing. Or what Parnas or Fruman are doing. You can't ask Toensing and DiGenova about what Giuliani, Parnas, and/or Fruman are doing. You can't ask Parnas and Fruman what Giuliani or Toensing or DiGenova are doing. You can't ask Toensing and DiGenova what Solomon is doing. You can't ask Soloman what DiGenova and Toensing are doing. You can't ask Firtash what Giuliani, Toensing, DiGenova, and/or Parnas and Fruman are doing. You can't ask Giuliani, Toensing, DiGenova, and/or Firtash is doing. And because Giuliani claims all of this is on behalf of his client, the President, you also can't, because of executive privilege, ask Giuliani, Parnas and Fruman who are working for him and who he is working for, and/or Toensing and DiGenova who are assisting him pro bono and employing Parnas anything because they are all covered from having to divulge anything or answering any questions under executive privilege.

If this sounds familiar, it is similar to how Roy Cohn handled his legal representation of the organized crime families he represented in New York. They'd hold all their business/decision making meetings in his dining room with him present or with him on the phone in case of an emergency, so it was all covered under attorney-client privilege. Nobody, from any angle of inquiry, can say nothing about nothing and no one because everything is privileged.
It is important to note that John Solomon, who was laundering disinformation and agitprop through The Hill and Fox News is referenced in the warrant for Giuliani and Toensing's phones/electronic devices.
Giuliani's lawyer tells WSJ that search warrant seeks "communications between Mr. Giuliani and individuals including John Solomon."

WSJ, NYT, CNN point to investigation of activities with Ukraine.

Reminder of Giuliani-Solomon-Devin Nunes Timeline?https://t.co/6LmTrXJ7My

— Ryan Goodman (@rgoodlaw) April 28, 2021
(Do read Goodman's entire thread)
Now that we've refreshed ourselves on the context, here's what I think is going on:
Parnas, recognizing that his only way out is to give up people more important, more powerful, and more well connected than him, which is basically everyone, agreed to cooperate early on and has given the Feds what they need to work their way up the network.
All of this is going to wind up connected back to Firtash, who, again, is Putin's guy in Ukraine's natural gas sector, and, likely, several other pro-Putin Ukrainian oligarchs.
A Federal magistrate seems to have decided that the Roy Cohn gambit – that every one of these people's communications regarding Ukraine was covered under attorney-client privilege because they were working for Giuliani who is Trump's lawyer or for Toensing who is a lawyer and was assisting Giuliani for free as he was assisting her for free while working for Trump for free – is not in play here. Hence, the specific reference to communications regarding John Solomon and others.
Trump world has just an astounding level of connections to pro-Putin Ukrainian oligarchs. The Philadelphia lawyer they brought into the campaign to advise on Pennsylvania's recount rules is the attorney for Igor Kolomoiski. So is Bruce Kasowitz, who is one of Trump's other personal attorneys. Just off the top of my head, Giuliani is tied to Kolomoiski, Derkach, Firtash, and several others. Toensing is tied to Firtash. And there's plenty more that would take too long to list.
I expect that the Feds will play the bigger fish off of each other as the investigation moves forward. If part of that is playing Toensing off against Giuliani, she's going to eat him alive to save her, her husband's, and her son's tuchases as she's still very sharp, despite being way through the map, whereas Rudy is Rudy.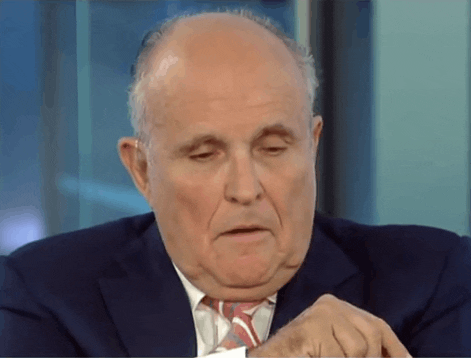 50/50 Rudy makes a foolishly incriminating statement by close of business

— VealBeerHat (@Popehat) April 28, 2021
Rudy Giuliani deleted his tweet saying he would speak live on WABC at 3 pm ET. So much for that, I guess.

— Jan Wolfe (@JanNWolfe) April 28, 2021
If you want in on the "will Rudy Giuliani be able to stay off of Sean Hannity's show tonight" action, please see Ann Laurie on the mezzanine level between the concession stands and the merchandise shop. While you're waiting to get in on the action, I recommend the nachos and the Balloon Juicers hockey jersey. Pro tip: spring for the authentic one with the tie down strap, it comes in handy in a fight…
Open thread!