I've been mentally composing a piece on Police Reforms for quite some time now, and will get to it in a day or so, but I want you all to start thinking about it in the frame of "What needs to be done" and "what can we do" and not get all wrapped around the axle with bullshit like petty squabbles about how calling it defunding the police was stupid. I'm not worried about selling the policies, that can come later. I'll talk more about this in a couple of days.
Watergirl and I had a conversation today about the website and the various things that need to be fixed, and she started in on me about the ads again, and I guess a number of you have had complaints. Please use the damned complaint forms so I can see them. Hell, my email is there, and I believe it or not have a pretty good response rate to your emails. Watergirl and I will be contacting the developer and the ad guy in the upcoming weks, so in a few days I will also be posting a complaints/issues thread (don't clog this thread with your bitching, pls, save it for the appropriate thread).
I started watching Resurrection: Ertugrul the other day on Netflix, and I just love that streaming services have opened up my viewing world to so many overseas dramas. All the people are so beautiful, and the foreign languages sound so exotic and mystical, even when they say mudane things. It's fun.
I have decided that one of my favorite snacks is to refrigerate bell peppers (red, green, yellow, orange), cut them into strips, lightly salt them, and eat them raw. They are just so good- sweet and salty with a nice crisp crunch, and so juicy. They just feel and taste so good. And they are guilt free.
Steve goes to the groomer on Friday. I am not doing it on my own again. Fuck that.
Look at this fat bastard: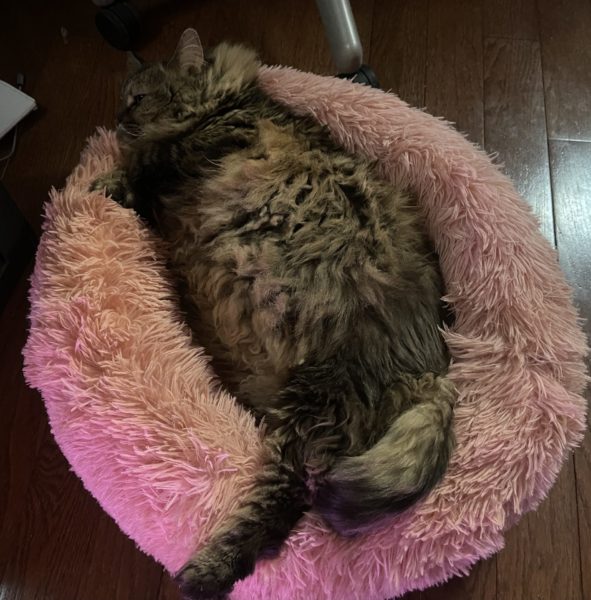 His coat is such a mess and he battles me when trying to brush him.