In the most recent issue of Health Affairs, Feher and Menashe write about a recent randomized control trial to improve choice quality on the Covered California individual health insurance marketplace.  Covered California had, in 2019,  roughly 20,000 households earning under 200% Federal Poverty Level (FPL) who were qualified for Cost Sharing Reduction (CSR) subsidies for either the 94% or 87% actuarial value silver variants.  However these households bought either gold or platinum plans.  Gold or platinum plans will offer worse cost sharing at the same or higher net premiums on the same network/insurer as the silver variant.   This is a very similar analytical set-up that Petra Rasmussen and I are using as we looked at households earning over 200% FPL in 2018 while Feher and Menashe look at under 200% FPL in 2019 to identify households in dominated plans.
Covered California allowed for a three arm trial:
Control group with regular mailings and notices
E-mail notification of a dominated plan
E-mail and paper letter notification of a dominated plan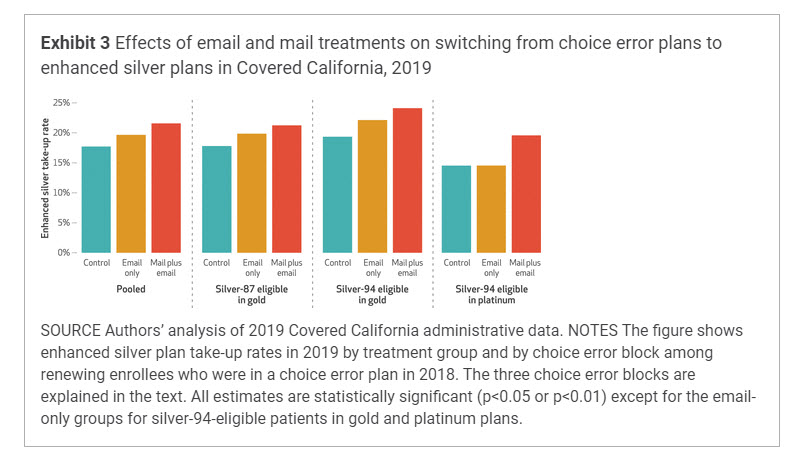 The two intervention arms had a statistically significant effect.  People switched out of their dominated plans more often than the control arm.
At the end of the open enrollment period, 17.7 percent of the control group had switched to enhanced silver plans (exhibit 3). This baseline rate of switching is an important reminder of inertia in health insurance markets, where most consumers do not change plans during renewal, even when doing so would lead to substantial cost savings without any change in insurers or provider networks.17 Relative to the control group, assignment to the email-only treatment group increased the enhanced silver enrollment rate by 2.0 percentage points (p<0.01), which represents an 11 percent increase in plan switching relative to the control group. In addition, assignment to the mail-plus-email treatment group increased the enhanced silver enrollment rate by 3.9 percentage points (p<0.01), which represents a 22 percent increase in plan switching relative to the control group. 
Without intervention about 1 in 6 people in a strictly dominated plan would switch. With the intervention, about 1 in 5 people in a strictly dominated plan would switch to the superior option.  And these switches have meaningful differences in both significantly lower monthly premiums (net of subsidies) and exposure to cost-sharing as the CSR silver plans have both much lower co-pays for common services like primary care appointments and notably lower deductibles.
So YAY!?
This modest nudge produced more effective choices that saved low income households money on premiums and conditional on any utilization, on cost-sharing.  More effective and efficient choice probably made the markets work slightly more effectively and efficiently as dominated choice is a market distortion.
But this soft nudge still has ~78% of the population making the objectively bad and expensive choice.  Sure, this is an improvement over no nudge which had ~82% make the objectively bad and expensive choice but more than 3 out of 4 people in this choice scenario messed up in a predictable and expensive fashion.  78% of the population made an expensive and wrong choice:
The premium and out-of-pocket savings for consumers who took up enhanced silver plans for the 2019 enrollment year were substantial. On average, consumers saved $84 per month, or more than $1,000 annually, on their health insurance premiums relative to what they would have paid if they had remained in a choice error plan.
For a single individual making 200% FPL, $1,000 per year is about 4% of their pre-tax earnings or about 2 weeks worth of pay going to an objective mistake.
Nudges might improve the choice environment at the margin, but the underlying rate of objectively inferior choice is very high, so the nudged, improved marginally improved rate of bad choice is still very high. We may be able to improve our nudges a little.  This paper suggests both e-mail and letters work better than e-mails alone.  That might help marginally improve choice quality going forward, but nudges may be limited in their efficacy.
The other alternative, if we as a society think that there is a reason to intervene to avoid dominated choice, is to change the defaults.  Setting up systems so that people are not placed into objectively dominated choices is a strong default.  This system is way more paternalistic and activist as a technocratic geek behind the curtain is intentionally manipulating the choice environment to achieve ends that consumers as a group have a revealed preference of not choosing with the assumption that the technocratic geek knows what is better for the consumer.  In this case, switching people into the superior, dominating plans is likely to produce a significant improvement in overall welfare as the California individual marketplace is a set of very clean comparisons that allows for fairly simplistic decision rules to be applied in a transparent manner.  Most of the country's individual marketplaces are not that neat and clean.
If we rely on choice of the individual with all the known cognitive biases and reliance on inertia and heuristics to make decisions, then we either should expect a lot of objectively bad choice even with modest nudges occurring in the background, or encourage paternalistic shaping of the choice environment to eliminate the absolutely worst choices.