Question: On Healthcare.gov from 2014-2020, how many silver plans does the insurer that has the cheapest silver offer?
I asked that question this morning as I was sipping my coffee due to a conversation about my point that the ACA choice environment is messy. Jenny Chumbly Hogue is an insurance agent in Texas with a focus on the ACA market. She raised a very good point. There is a tremendous amount of variation and deliberate gaming in the practice that I call "silver-spamming." Insurer strategy varies by insurer type and over time as well as a response to competition.
It's not metal tiers. It's 50+ choices in the large counties, where my "favorite" carrier makes sure they fill up 2 pages of choices with plans that are super close in benefits and have a premium differential under $5.

— Jenny Chumbley Hogue (@kgmom219) May 6, 2021
I am doing a quick and dirty regression to start pointing me in the right direction to start thinking this problem through:
# of Silver Plans offered by cheapest Insurers = F( Benchmark Premium Spread + # of insurers in the county + Cheapest Insurer Characteristic (Blue Y/N, Co-op Y/N , Medicaid Y/N) + Centene Y/N) with Year fixed effects + error term.
This is quick and dirty and nowhere close to right. There are endogeneity concerns between # of insurers and benchmark premium spread and collinearity with Centene and Medicaid. I should also throw in county population, and state fixed effects plus state policy variation over time (Silverload Y/N, Medicaid Expansion Y/N, 1332 reinsurance waiver Y/N) and corporate parent fixed effects but for something built over the course of a cup of coffee, I think this is interesting and useful: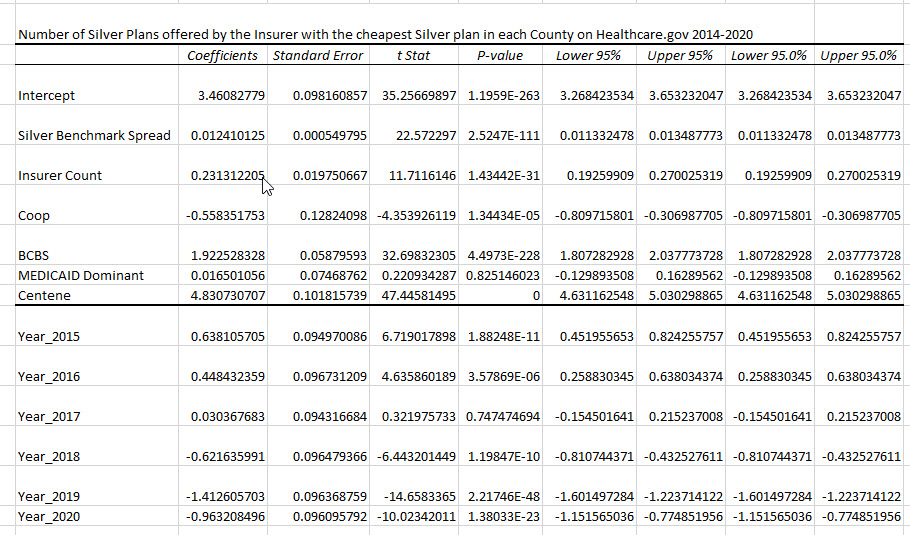 So what is going on here?
We have a couple of interesting points here.
About 3.5 silver plans is the baseline number of silver plans before any other controls are added.
Less competition leads to fewer plans being offered by the cheapest insurer (see this in both the Silver spread (bigger spread is a negative number and big spreads are likely in low competition regions) and in the Insurer Count
Co-ops offered fewer plans when they had the pole position early on
Blues offered almost 2 more plans if they were the cheapest silver.
Medicaid managed care plans as a class were a nothingburger both pragmatically and statistically conditional on having a Centene specific control
Centene controlled insurers have almost 5 more Silver plans being offered if they are the least expensive Silver plan in a county.
This does a nice job of picking up Silver-spamming strategies by Centene. I was a little surprised by the results on the Blues and Co-ops, but not shocked.  I am a bit surprised with the Year effects trend— fewer plans are being offered over time when we hold everything else constant.
So what is useful here?   The choice situation for silver plans is likely getting worse as there are far fewer co-ops out there, and Blues and Centene have expanded their footprints over the past couple of years.  We are also seeing significant increase in competition at the county level (and associated compressed spreads) so this will be a strong hip check for the cheapest insurer to keep on offering more plans.  With the new ARP zero premium benchmarks to 150% FPL, there could be strong incentives for the cheapest silver plan to offer a bunch of near clones to dominate the benchmark and the attention space around the benchmark plan in 2022.
I need to scratch my head and ponder on this for a while more, but I find this interesting and challenging as the choice environment has always been and is still likely to be messy.