Three women.  Hillary Clinton.  Zoe Lofgren.  Stacey Abrams.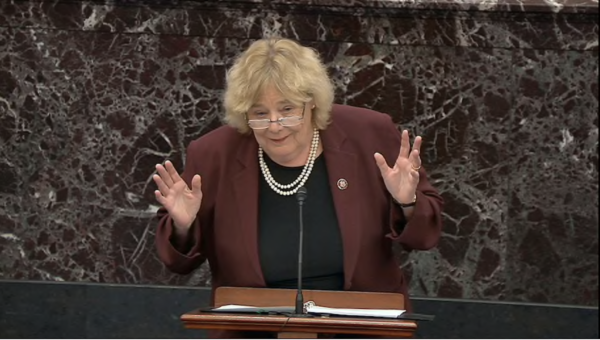 The three biggest threats to our democracy:
Rampant disinformation.
Jan 6 insurrection amnesia.
Voting restrictions.
Hillary Clinton: There has to be a global reckoning with disinformation.  (The Guardian)
Her bid for the White House was engulfed by a tidal wave of fabricated news and false conspiracy theories. Now Hillary Clinton is calling for a "global reckoning" with disinformation that includes reining in the power of big tech.

The former secretary of state and first lady warns that the breakdown of a shared truth, and the divisiveness that surely follows, poses a danger to democracy at a moment when China is selling the conceit that autocracy works.
Zoe Lofgren: Rep. Zoe Lofgren embarrassed Republicans with their own words. Now they seek to silence her.  (Washington Post)
Rep. Zoe Lofgren (D-Calif.) earned kudos from truth-tellers in March when she released a report simply documenting the social media posts of Republicans "who voted to overturn the 2020 presidential election." She compiled their words, revealing a hodgepodge of conspiracy-mongering and lying about the 2020 election. This was too much for the snowflake Republicans.

They have now filed a complaint, a copy of which I have obtained, with the Communication Standards Commission, an obscure body in the House formerly known as the Mailing Standards Commission, as it historically dealt primarily with franking issues.

The complaint, filed by Rep. Earl L. "Buddy" Carter (R-Ga.), whines: "At its core, the so-called report repeatedly violates the Commission's rules of decorum and civility by personalizing and politicizing attacks on more than 100 Members of Congress for public statements they made on social media." Actually, it simply recorded Republicans' own words, thereby embarrassing them. He claims the report "engages in speculation as to the motivation or intent of the Members," but it does no such thing.
Stacey Abrams: Stacey Abrams Has a Plan to Dismantle the Filibuster and Protect Voting Rights   (Mother Jones)
As Republicans in the Georgia state legislature passed a series of voting restrictions over the past 10 days, Stacey Abrams, the state's leading voting rights activist, saw an ever more pressing need to reform the filibuster in the US Senate. And she has a plan for how to do it…

In the same way that Democrats can pass budget bills and confirm judges and Cabinet members with a simple majority, legislation protecting voting rights should also be exempt from the 60-vote requirement, Abrams says.

"The judicial appointment exception, the Cabinet appointment exception, the budget reconciliation exception, are all grounded in this idea that these are constitutionally prescribed responsibilities that should not be thwarted by minority imposition," she says. "And we should add to it the right to protect democracy. It is a foundational principle in our country. And it is an explicit role and responsibility accorded only to Congress in the elections clause in the Constitution."

Story and link to the podcast interview are at the link above.
These women will not be silenced.
These women and many more.  Nancy Pelosi.  Madame Vice President.  Who else?  Let's name some more, and talk about how we can be more like them.
Update:  Just after posting this thread, I went back to the previous thread to catch up on comments, and this is what I found:
And what would they want me to do, in support of their efforts?