On the Road is a weekday feature spotlighting reader photo submissions.
From the exotic to the familiar, whether you're traveling or in your own backyard, we would love to see the world through your eyes.
On the Road: Week of May 17  (5 am)

Albatrossity – back to Brazil in 2013,  #3
frosty – Everglades National Park
?BillinGlendaleCA – Gold!
frosty – Everglades Birds
frosty – Biscayne National Park
?  And now, back to Albatrossity!
Albatrossity
Images for week 3 of the Brazil 2013 series – no mammals, no reptiles, no flowers, all birds!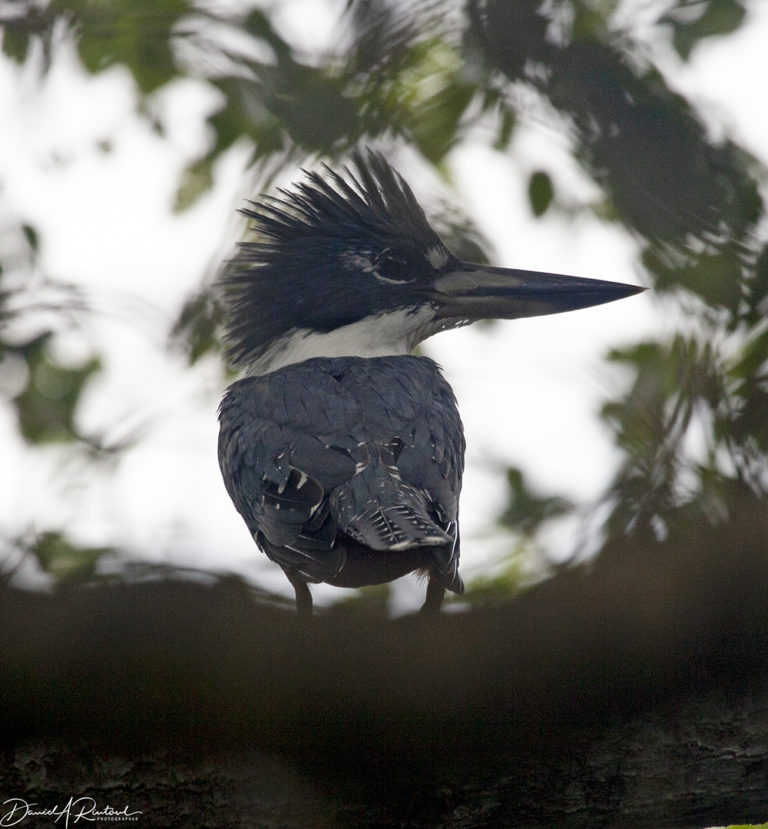 Fazenda San Francisco
May 25, 2013
Another of the kingfishers found in the Pantanal wetlands is the Ringed Kingfisher (Megaceryle torquata, or Martim-pescador-grande), the largest kingfisher in the Western Hemisphere. This is a noisy bird, and unlike other kingfishers often flies quite high, squawking loudly and behaving in a most unkingly manner.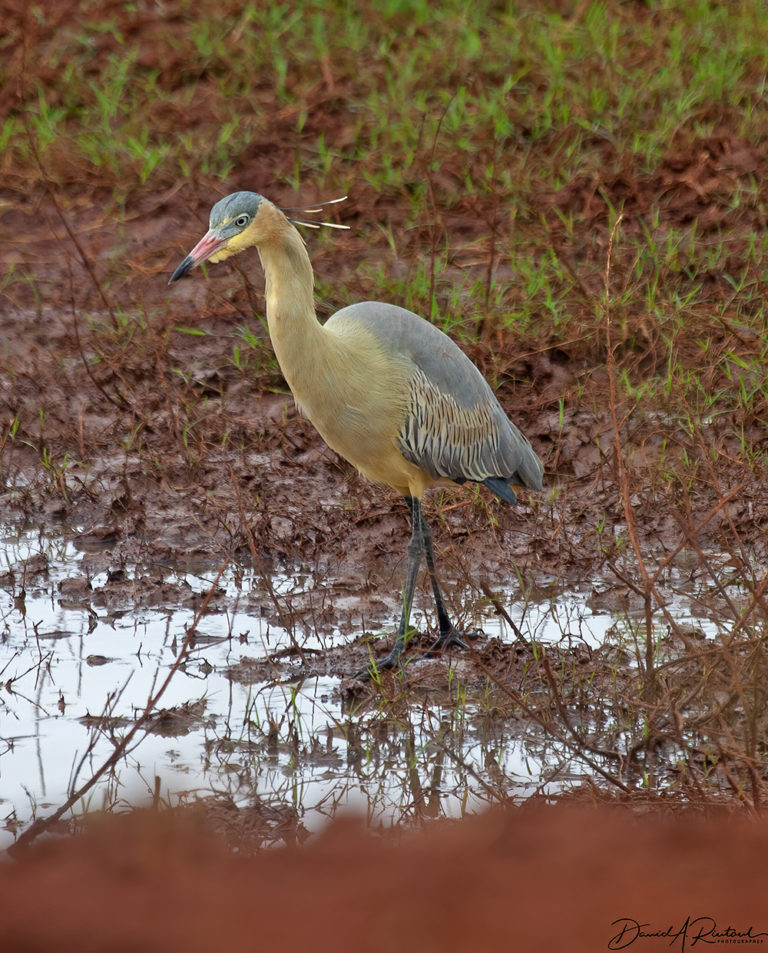 Miranda
May 23, 2013
Wading birds are abundant in the marshes as well, and one of the most striking is this Whistling Heron (Syrigma sibilatrix, or Maria-faceira). Unlike most herons they rarely wade in the water, but forage on muddy ground near water for snakes, frogs, and small fish. It is a striking heron with bare blue facial skin and funky head plumes, and it actually does whistle.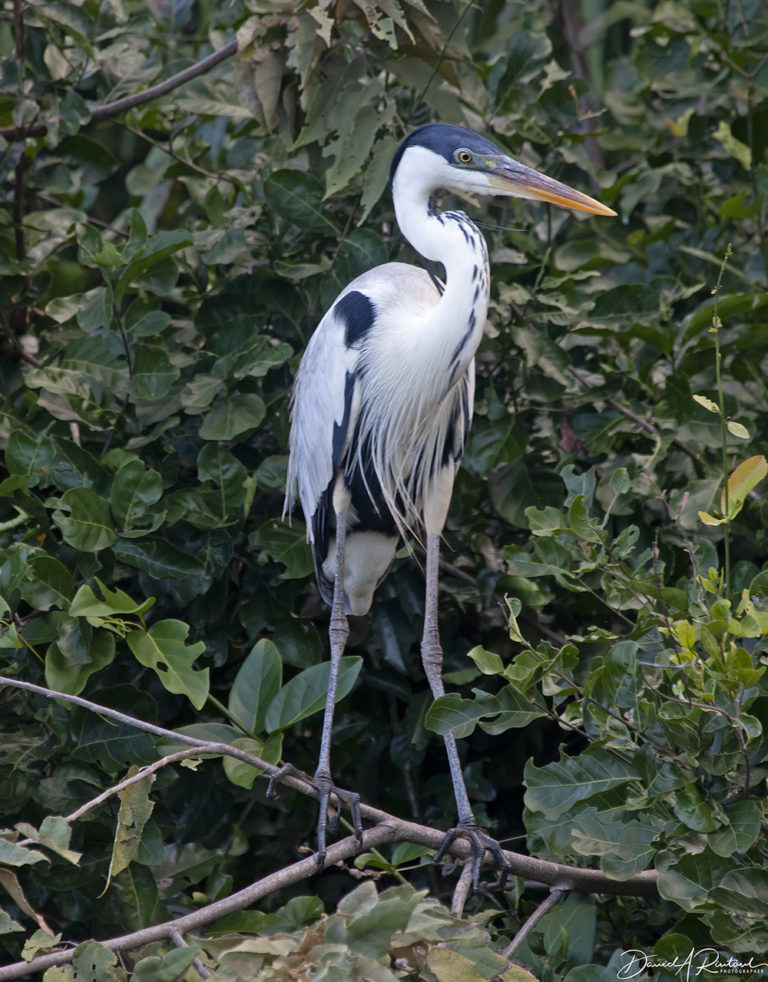 Fazenda San Francisco
May 25, 2013
This boldly marked bird is a Cocoi Heron (Ardea cocoi, or Garça-moura). It is the size of the Great Blue Heron that is familiar to most North American birders, and has much the same habits.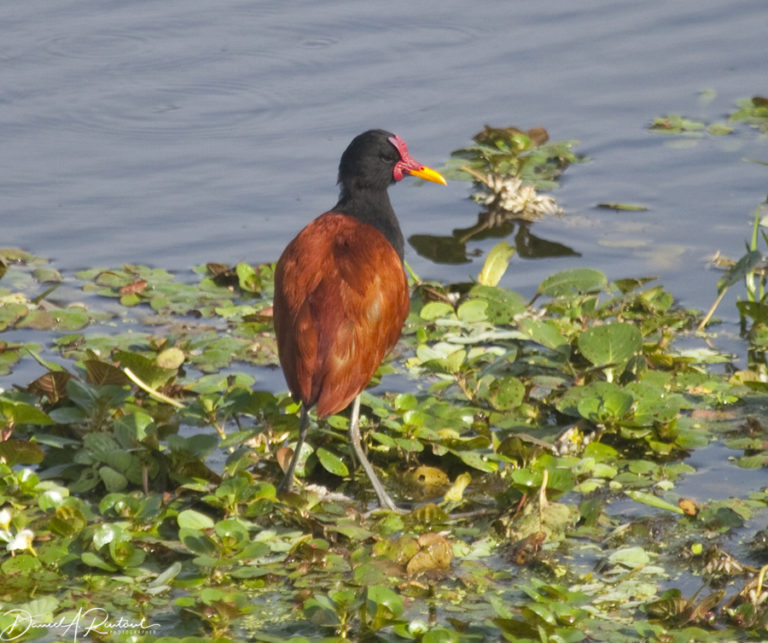 Fazenda San Francisco
May 25, 2013
Another wading (or lilypad-trotting) bird in the Pantanal is this Wattled Jacana (Jacana jacana, or Jaçanã). Their incredibly long toes enable them to walk easily on floating vegetation. They also have an unusual breeding system; several males live in the territory of one female, and the males are responsible for incubating the eggs and caring for the young. I think that's called socialism, but I could be wrong.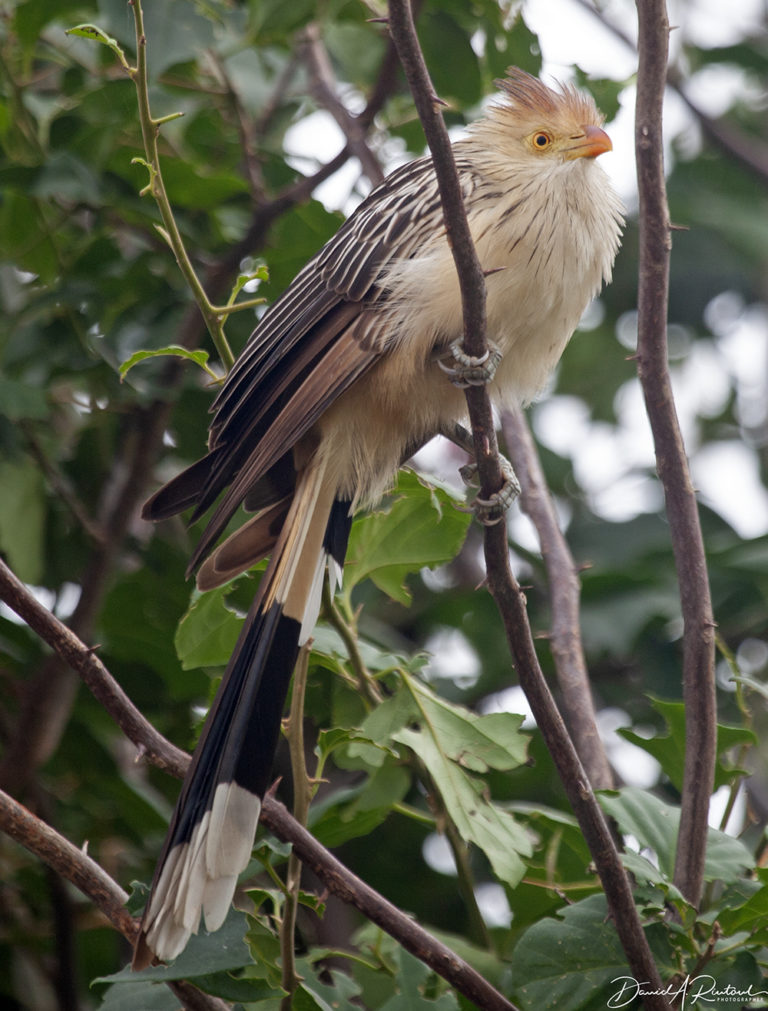 Fazenda San Francisco
May 25, 2013
This shaggy-looking fellow is a Guira Cuckoo (Guira guira, or Anu-branco). Large, vocal, and conspicuous, these usually hang around in family groups. So they are one of the easiest birds to find in the Pantanal, but I don't think I got tired of seeing them!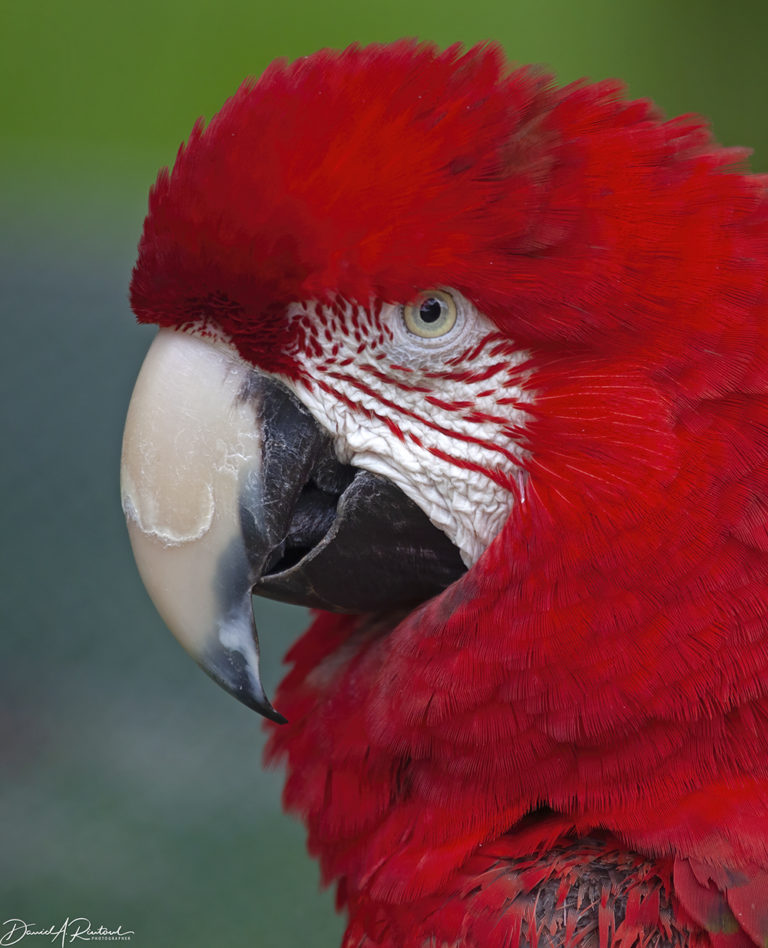 Miranda
May 23, 2013
There are a couple dozen species of parrots in this part of Brazil, and we got to see about half of those. One of the largest is this Red-and-green Macaw (Ara chloropterus, or Arara-vermelha-grande), a species of the semi-humid forests in this area. It is not common and populations are declining, mostly due to habitat loss and trapping for the pet trade.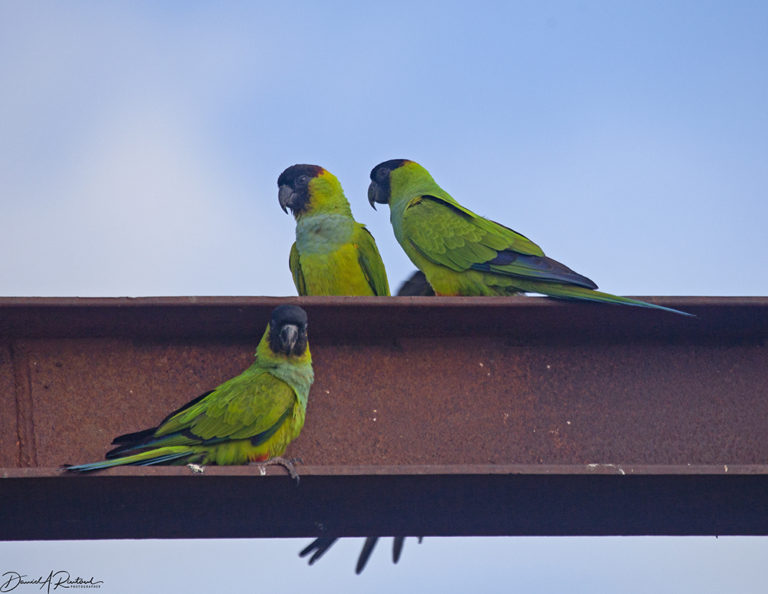 Fazenda San Francisco
May 25, 2013
Another parrot commonly found as a pet (or as an escapee feral bird in some cities in North America) is the Nanday Conure (aka Black-hooded Parrot, Nandayus nenday, or Príncipe-negro). These, like most parrots, are loud, conspicuous, and gregarious, often perching in the open in small groups. This social behavior is exactly why I cringe whenever I see a single parrot in captivity.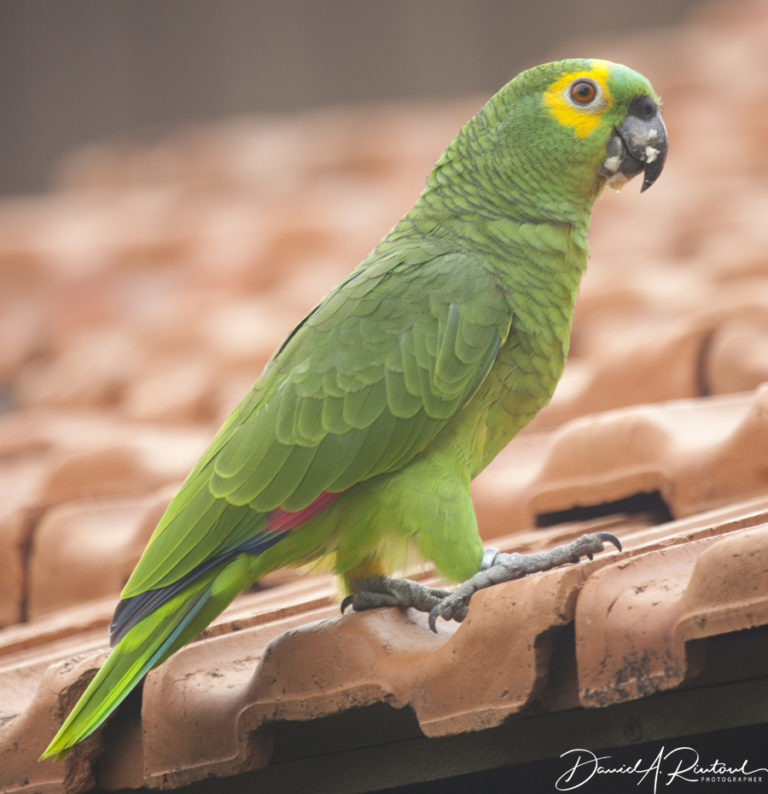 Fazenda San Francisco
May 25, 2013
The Turquoise-fronted Amazon (Amazona aestiva, or Papagaio-verdadeiro) was one of the most abundant parrots at the Fazenda San Francisco, and that is saying something, because there were a LOT of parrots seen. It is found in much of Brazil, Paraguay and northern Argentina, but populations are declining due to the double whammy of habitat loss and trapping for the pet trade. Interestingly there are now feral flocks of these birds in Rio de Janeiro, which was not part of its original range, and in Stuttgart Germany, even further afield.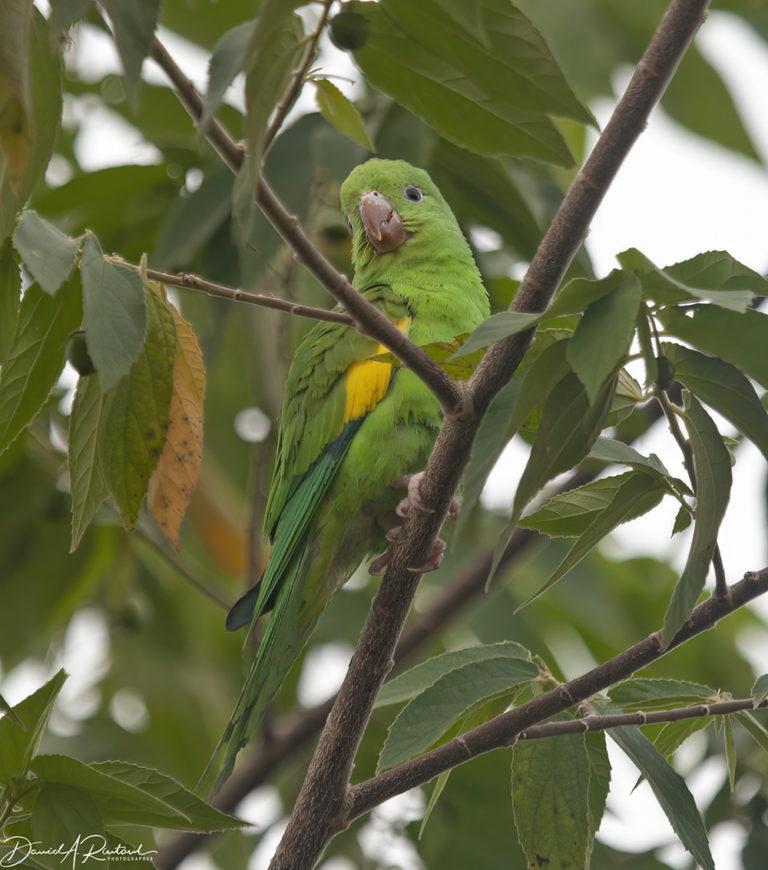 Fazenda San Francisco
May 25, 2013
A smaller and quite abundant psittacid is the Yellow-chevroned Parakeet (Brotogeris chiriri, or Periquito-de-encontro-amarelo), a species that is related to the Tui Parakeets that I became acquainted with in the Amazon. These are cute little parakeets, and if you can't travel to Brazil to see them, look for them in feral flocks in US cities like LA, San Francisco, or Miami.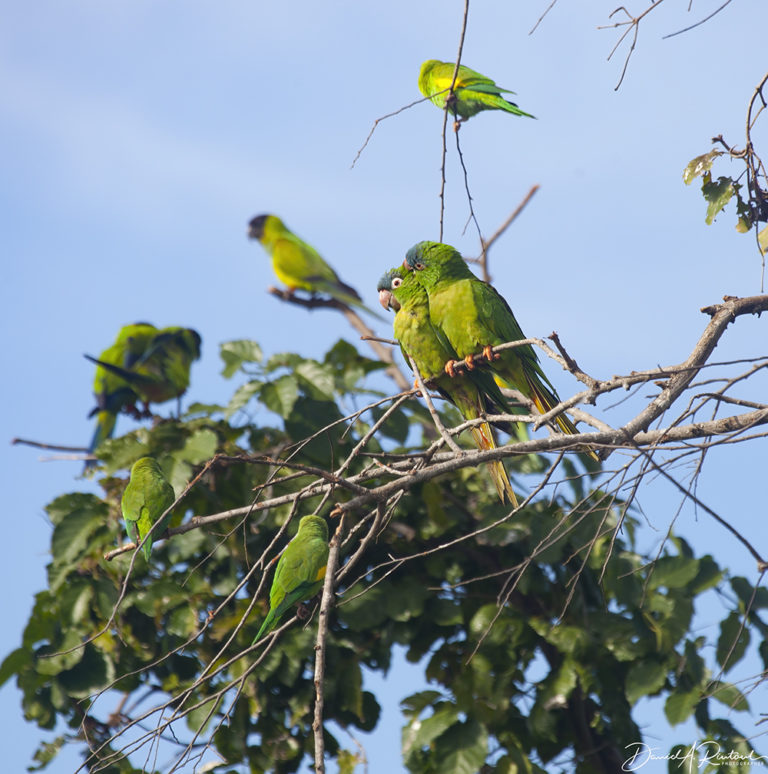 Fazenda San Francisco
May 25, 2013
Some of these parrots are even more social; they also hang out in mixed flocks. Here's a flock with three species, Turquoise-fronted Amazon, Yellow-chevroned Parakeet, and Nanday Conure.