On the Road is a weekday feature spotlighting reader photo submissions.
From the exotic to the familiar, whether you're traveling or in your own backyard, we would love to see the world through your eyes.
?  frosty has submitted several posts from his road trip this spring, and I had been saving them for a week or two of On the Road After Dark.  But submissions to On the Road have slowed considerably, so we will have three of frosty's trips this week.

For several months we had so many submissions that there were enough for morning OTR and After Dark, and people still had to wait 3 or 4 weeks before their photo sets could go up!

Are we running out of photos because travel has been almost nonexistent because of Covid? Or maybe lack of interest?   Or is this just a lull in the conversation because we couldn't go anywhere?  Let us know what you think in the comments.
frosty
I've mentioned in a few comments that we're on the road again. This is our 7th Annual Snowbird Road Trip / 2nd Annual COVID/National Park Challenge. We're going to try to see the parks we missed last year … and looking at the map I've added a few more. The itinerary will get us to at least 13 National Parks and 3 National Monuments, along with state parks in Florida, Mississipi, Texas, Arizona, Nevada, Utah, Colorado, and points east as yet undefined. We already hit the big parks years ago, and we're working on what I'd call the second tier: less popular but still great. I'll post more parks to OTR as we go.
When we made our plans last year we thought the pandemic would be less of an issue. Hah! Cases now are higher than when we bailed last year in April. Nevertheless, we've got a routine we think will keep us safe. As one commenter earlier said, paraphrasing George Carlin: "Anyone who takes more precautions than you is an idiot, anyone who takes less is a maniac."
That being said, here are some pictures from our first park this year: Everglades. There are nine different ecosystems in the park, we took two days and saw seven of them. The two we missed were Coastal Marsh, which in inaccessible by land, and Coastal Prairie, which took a longer hike than we were prepared for.
A few inches of elevation here is all it takes to make the land just a little drier to change the whole ecosystem.
Our first day was a drive along the park road, stopping at trails and overlooks. For the second day, we drove to the Flamingo Visitor Center and took a boat tour into the park a few miles up the Wilderness Waterway to Whitewater Bay. Besides birds, we saw a manatee (notoriously difficult for me to photograph) and both a gator and an American Crocodile, which is unusual, because gators live in freshwater and crocs in saltwater.
Anhinga Trail
February 8, 2021
Freshwater Slough. Our first stop was at Royal Palm, where we walked along the (boardwalk) Anhinga Trail over the Taylor Slough.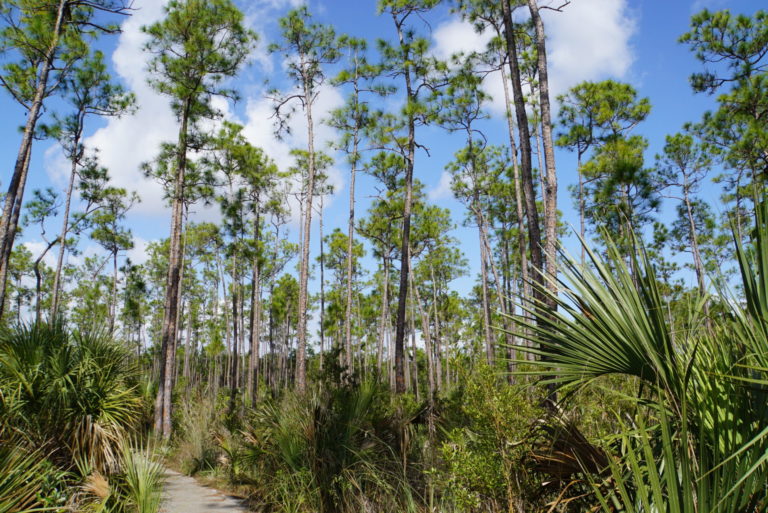 Pinelands Trail
February 8, 2021
Pineland. A little farther down the road was a short walk in Pinelands near the Long Pine Key campground. This is one of the ecosystems that requires prescribed burning to mimic natural wildfires and keep the pines as the dominant species.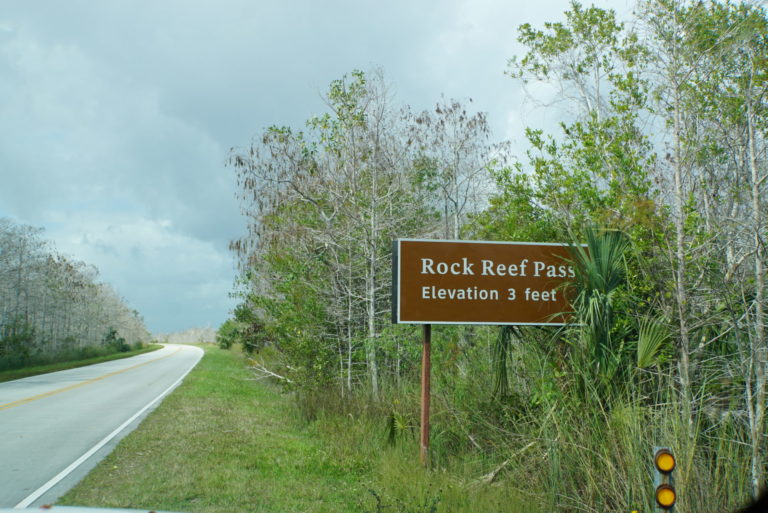 Rock Reef Pass
February 8, 2021
On the way we crossed the divide between the Taylor Slough and Shark Valley Slough. I think someone in the Park Service has a sense of humor.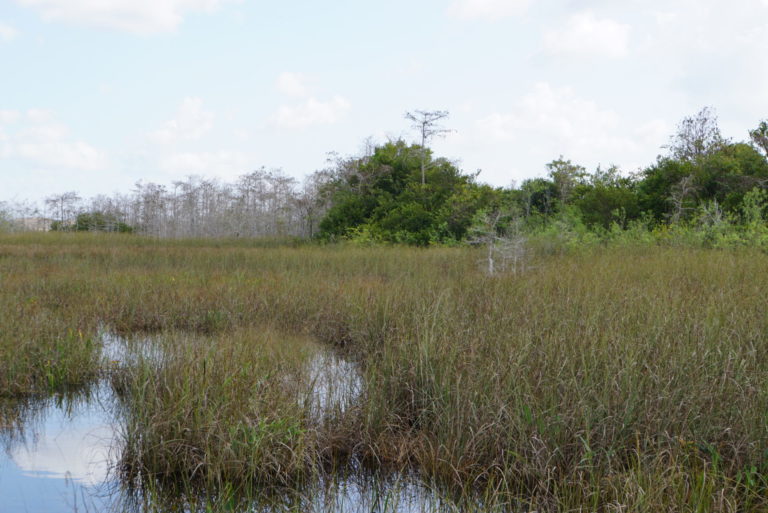 Pa-hay-okee Overlook
February 8, 2021
The access road to this overlook crossed two ecosystems: Cypress, Freshwater Prairie, and ended on another Hardwood Hammock. All three are visible in this picture.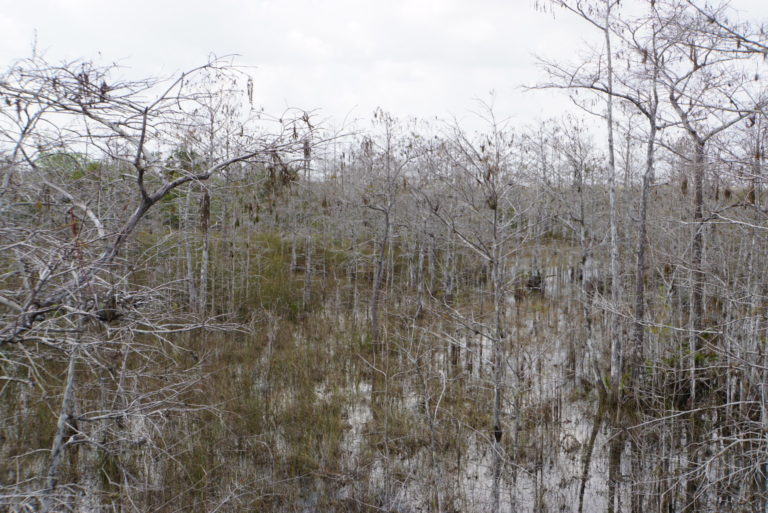 Pa-hay-okee Overlook
February 8, 2021
Cypress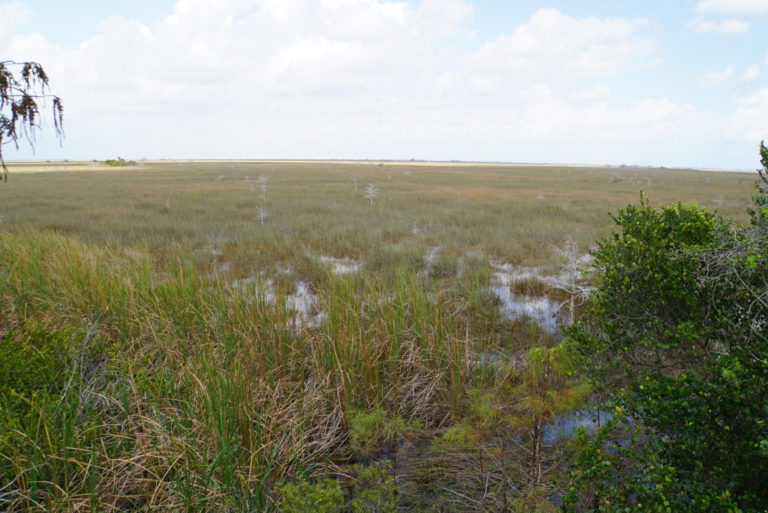 Pa-hay-okee Overlook
February 8, 2021
Freshwater Prairie, also called the River of Grass.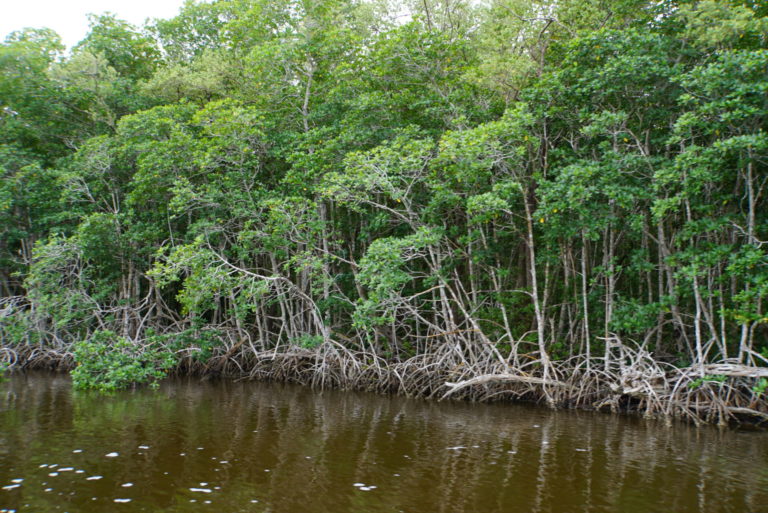 Tarpon Creek
February 10, 2021
Mangrove. This was one of the waterways on the boat tour. All of them were bordered by mangroves, as were the islands in Whitewater Bay.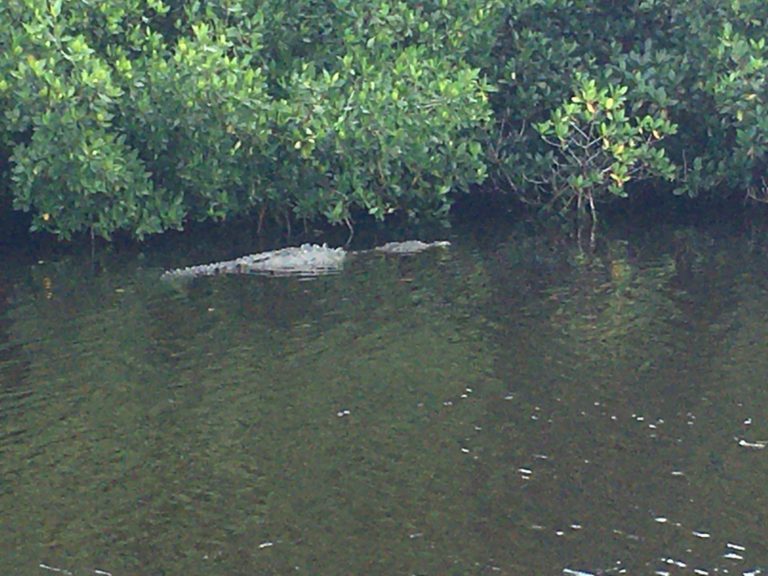 Flamingo Marina
February 10, 2021
American Crocodile. I've seen dozens of gators over the years, one much too close while canoeing on the Wild and Scenic Loxahatchee, but this was my first croc.