FOUR DIRECTIONS is the only national organization that focuses on turning out the Native American vote cycle after cycle – a very loyal voting block that casts its ballots overwhelmingly for Democratic candidates.
Because they are one of the primary groups we are looking to support this year, we asked them to participate in a Q & A with us on Balloon Juice.
Joining us today from FOUR DIRECTIONS are Oliver (O.J.) Semans, Co-Executive Director, and Lewis Cohen, Finance Director.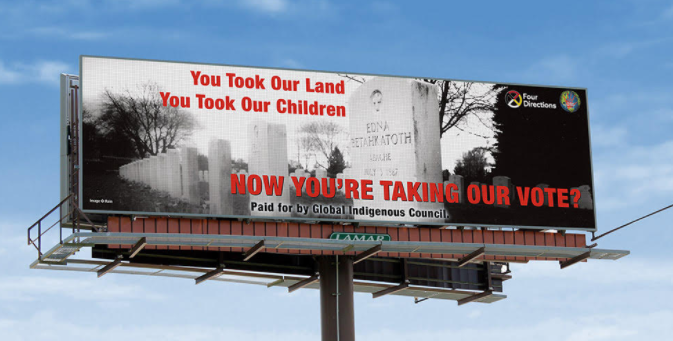 We asked FOUR DIRECTIONS to tell us more about their organization:
Our get-out-the-vote method centers on hiring First Americans in the particular state we are focusing on, who will work on mobilizing both registered and unregistered Natives. At any given time during the course of a political cycle, we can have anywhere from several hundred to over a thousand people working for us, either full-time or part-time, focusing on GOTV issues.

We do this by concentrating on these areas: voter registration, door knocking, canvassing, emails and texts, one-on-one interaction, helping Natives vote by mail, furnishing transportation to and from the polls for early and Election Day voting, and spreading the gospel of how important and consequential each and every vote really is.

As an example, the Navajo Nation in Arizona turned out in November for the Biden/Harris ticket by a margin of 95.7%, a feat which was pointed out appreciatively by former Labor Secretary Robert Reich on Twitter days after the November election.

The organization was founded in 2003 by current co-Executive Director O. J. Semans, who is Rosebud Sioux. We focus on selecting target states for a given electoral cycle and registering Native Americans en masse to take part in the next election.

Four Directions (ballot access for Native people)

In 2020, our target states were Arizona, Colorado, Michigan, Minnesota and Wisconsin.

In the 2020 election cycle, we raised and spent in excess of $1.8 million. With access to more capital this year than planned for, we would undertake identifying, researching, and preparing for potential litigation to ensure equal access to the ballot box for Native Americans in the four targeted states.

In 2020, our target states were Arizona, Colorado, Michigan, Minnesota, and Wisconsin – all states that showed a record Native American turnout at the ballot box in November and which were won by Joe Biden.

We also turned out over 73% of voting age registered Native Americans in Georgia for the January 5th special Senate run-off elections – the highest percentage of any demographic group.

FOUR DIRECTIONS has strong and enduring working relationships with tribal leaders and elders from around the country, including the four target states in the 2021/2022 cycle.

In 2022, our initial target states are Arizona, Georgia, Nevada and Wisconsin.

Arizona
We will continue to work with Tribal members and Chapter Houses of the Navajo Nation. as well as the Inter-Tribal Council of Arizona that represents 21 Tribal Nations in that state.

Georgia
We will continue to work with the Lower Muskogee Creek Tribe.  We will also continue to identify and work with Tribal Members residing in the Atlanta, Georgia metropolitan area.

Nevada
We have worked with the Intertribal Council of Nevada, which includes all 27 Tribes in the state.

We will also continue to work with the Las Vegas Indian Center  and the University of Las Vegas Native American Student Association.

Wisconsin
We will continue to work with the Midwest Alliance of Sovereign Tribes (MAST), which has membership of all Tribes in Indiana, Michigan, Minnesota, Wisconsin, and one of the Tribes in Iowa.

Based on our efforts in the 2020 pandemic influenced cycle, we believe we can register 100 Native American voters (averaged across all programs) per $10,000 increment of program specific funding. We are currently using billboards in Arizona and Georgia to highlight the tidal wave of voter suppression that is sweeping the nation.

Four Directions, Inc. (a 501(c)(4) organization) has conducted extraordinarily successful Native voter registration and get-out-the-vote drives, voter protection programs, and improved Native voter access through litigation and persuasion with local and state government officials in Nevada, Arizona, North Carolina, Montana, Minnesota, North Dakota, and South Dakota over the past 17 years. We have been able to leverage partnerships with Tribes, Universities, top Law Firms, and Civil Rights groups such as ACLU, the Lawyers Committee on Civil Rights Under Law, and the Native American Rights Fund.
What can we, at Balloon Juice, do to help – with early donations right now, in 2021?
We asked FOUR DIRECTIONS to tell us what they could do with additional funding from Balloon Juice.
Their strategy would normally be to go through the process of identifying, researching, and preparing for potential litigation to ensure equal access to the ballot box for Native Americans in their four targeted states.
With additional funding from Balloon Juice, they could start earlier, register more people to vote, and expand to other states.
There are two things we can do.
First, with a successful "match" campaign this month … Colorado, Michigan, Minnesota and Pennsylvania could be added as target states for 2022.

They have asked us to participate in the match campaign, with a goal of $10,000 in contributions from Balloon Juice.  Our $10,000 would turn into 20,000 with the match in effect, and $15,000 would turn into $30,000.

Details on the match campaign:

FOUR DIRECTIONS currently has a unique opportunity on their hands, and we can be part of that.  A frequent contributor from the Seattle area generously offered to match all contributions received through May 31 – dollar for dollar – up to a total of $50,000.  If they are able to hit that number by that date, the $100,000 in contributions will be enough to cover a sizable amount of the hiring and training in the four target states for the remainder of this year – leaving them the flexibility to potentially initiate GOTV operations in several other states, such as Colorado, Minnesota, Michigan, and Pennsylvania.
Second, early investments from us between now and the end of December 2021 will help set things in motion for the four initial 2022 target states, which in turn sets the stage for the possibility of expanding to additional states as the election gets closer.

Details for the remainder of 2021:

For the next seven and a half months of 2021, in order to get recruitment and training programs underway at the level needed for voter registration and GOTV in 2022, they need to raise $600,000 ($150,000 per targeted state). Early investments in a particular political cycle allow for more expanded ambition closer to the election. It would make a significant positive difference if that funding was available to them much earlier, as organizers like Stacey Abrams, with Fair Fight in Georgia, have consistently demonstrated.
Oliver (O.J.) and Lewis will be here with us for at least an hour.  Ask them anything!  And please chime in with your questions in the comments!
Update: I just added an open thread for anyone who wants to talk about the news of the day or anything else.