Today is National Rescue Dog Day. #rescuedog #NationalRescueDogDay pic.twitter.com/UBVckAx8yS

— Bill Albert (@November_11_9) May 20, 2021
Of course, every day at Balloon Juice is Rescue Dog Day, even for those of us who don't have rescue dogs.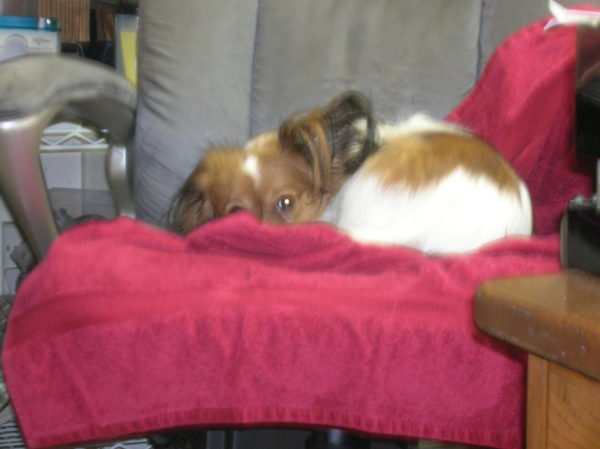 Our sole dog at the moment is Sydney, aka Stanley, aka Goat Boy (he used to climb like a cat, but he's 14 now and not as agile as he once was). Spousal Unit drove down to a Long Island shelter & back over a weekend to claim him, because he's a sucker for a sad story. 'Sebastian' — eleven pounds of puppy-mill 'purebred' — had been through at least two homes at 18 months of age. He was the ugliest supposed-to-be papillon I've ever seen, with a pit-bull head, mismatched ears, exaggerated dewclas on all four feet, whippet hindquarters & an excess of elbows. He was afraid of strangers, loud noises, children, bicycles, (most) other dogs, bicycles, being left on his own, and being startled. He broke a lot of stuff, accidentally — knocked over breakables, walked across papers, tore up clothing making himself nests, chewed nervously on things he shouldn't have been able to reach in the first place. But the real problem was that he'd picked up bad toileting habits; even though I was st home full-time, it took us over a year to get him mostly housebroken.
When we lost Zevon in September 2019, and then Gloria in June 2020, we assumed Submissive Sydney would be lost without his packmates. But he loves being the Only Dog — he got a lot less trembly, and even gave up marking every new or shifted item of furniture. Normally we (well, the Spousal Unit) would be searching for an emergency backup dog, but Goat Boy is SO HAPPY now…
I didn't realize today is National Rescue Dog Day. But it was a year ago today I brought this guy home from the Dedman Animal Shelter in Fort Benton. He was a skeleton, but has beefed up and is a stubborn pain in the butt. But he's my dog. I think he's giving me a raspberry here. pic.twitter.com/rUrnA7vTC2

— Phil Drake (@IR_PhilDrake) May 20, 2021