Breonna's parents are out of town so she is staying at my place for a couple days, so we went for a drive and just drove until we found some place she wanted to eat. She chose Olive Garden: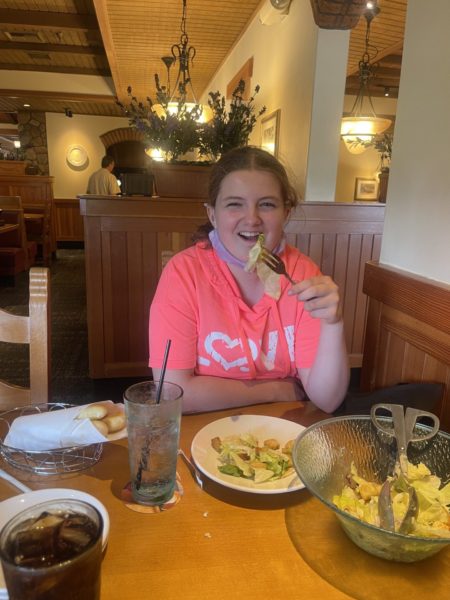 The food was bad, but she had fun, so that is all that matters. Took the back way home (and I realize full well that the "normal way" is what most of you would consider back roads), and as we were approaching a bridge we saw something on it. Slowed down, and it was a turtle in the middle of the bridge.
That is no place for a turtle, and not wanting it to get run over, I pulled the car over to the side, stopped, and got out to move it. There's a lot of snapping turtles in these here parts, so I went up and looked at it, and it had an almost flat shell that was all od green with no coloring, and a big nub on the end of it's nose, so I didn't know what it was but knew it was not a snapping turtle. Regardless, I know who I am and have 50 years of experience injuring myself in the most peculiar manner possible, and figured "bled out from a bite from a snapping turtle" was right on brand.
So I went back to the car, found some gloves, then remembered that I had a big pair of silicon oven mitts from the time I took a lasagne to the chambers house when Bob died, and forgot to bring them back in. So I put them on, went up to the turtle walking as quietly as possible so as not to spook it, leaned over to pick it up, and as soon as I so much as brushed it the fucker took off like a rocket.
It ran on the yellow line all the way to the end of the bridge and stopped, which was good, because at least he got winded before I did. I then picked up the turtle, walked him into the woods, set him down, and walked back to the car where Breanna was hysterical. "That was a fast turtle," she said, and we giggled the rest of the way home.
FWIW, the turtle was an Eastern Spiny Softshell- I looked it up when I got back home: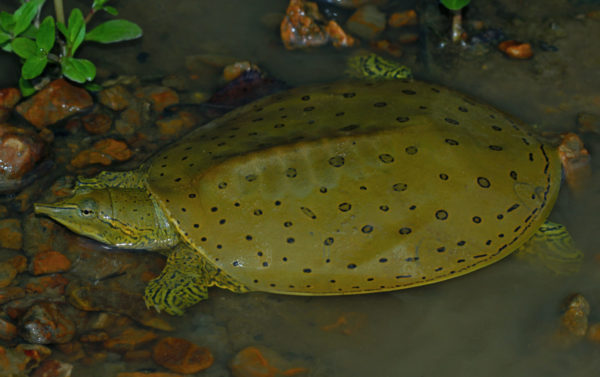 Also, as a quick FYI, there is an appropriate way to pick up turtles so as not to harm them, which for some reason I knew already (because of course I did my head is filled with worthless shit like this but ask me to remember what I went to the kitchen for 20 seconds after I go and I will draw a blank), but should you ever find yourself in this situation, remember to do it this way.