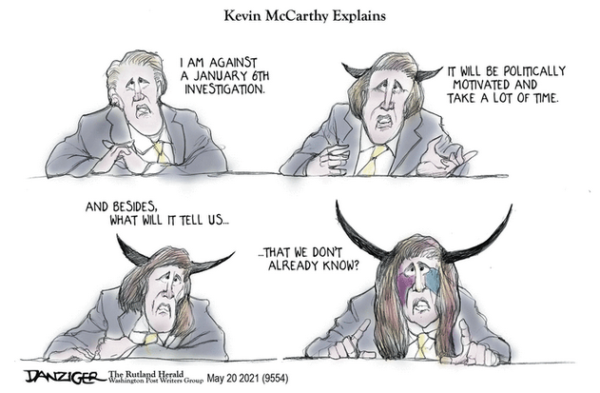 As a showdown vote nears, Senate Republicans are misrepresenting the timeline of a proposed independent commission to investigate the Jan. 6 U.S. Capitol riots, an #APFactCheck finds. https://t.co/lBIBMWQlm2

— The Associated Press (@AP) May 23, 2021

Because lying is not only their go-to tactic, it's all they've got left…
… On Sunday, Sen. Susan Collins, R-Maine, suggested that a roadblock to gaining GOP support is the commission's timing, echoing concerns from Republican leaders last week that the panel's final report could extend into the 2022 midterm election year.

That's not the case.

COLLINS, citing issues that could lead her to oppose the panel: "I see no reason why the report cannot be completed by the end of this year. The commissioners have to be appointed within 10 days. There's plenty of time to complete the work. And I'm optimistic that we can get past these issues based on recent conversations I've had with" Democrats. — interview Sunday on ABC's "This Week."

SEN. JOHN CORNYN, R-Texas, suggesting that Democratic House Speaker Nancy Pelosi will drag the commission's work well into the middle of 2022: "Well, part of the concern is that's the plan. That's Pelosi's plan … That would be the Democrats' dream." — interview with CNN on May 19.

THE FACTS: Those claims of a delayed report are untrue. The bill calls for the report to be complete by the end of this year.
Republicans in the U.S. Congress clashed over the need for an independent commission to investigate the Jan. 6 Capitol riot, with one lawmaker warning that failure to create the panel could plague the party's election prospects in 2022 and beyond https://t.co/lEE8zqc4FU pic.twitter.com/psfiWLzykz

— Reuters (@Reuters) May 24, 2021

I applaud Rep. Kinzinger's principles, while noting that he's 43, not 68. He's still got a career to salvage, unlike Susan Collins, who's apparently decided to retire-in-office-place, with the generous assistance of Maine voters.
… Representative Adam Kinzinger warned that failure to establish a commission could lead to worse consequences for Republicans.

"What's going to happen if this thing fails is that (House Speaker) Nancy Pelosi will run a select committee and this could go all the way to 2024," Kinzinger, a Republican who backed the commission and voted to impeach Trump, told "Fox News Sunday."

"This is going to the 2022 midterms anyway, particularly if us as Republicans don't take ownership for what happened," Kinzinger said.
A note to the general Repub caucus:
At least a dozen people charged in the Jan. 6 riot Capitol have cited crowd psychology to explain their behavior during the insurrection. Legal experts say judges typically don't let defendants use a blame-the-crowd defense. https://t.co/Od851huJVB

— The Associated Press (@AP) May 23, 2021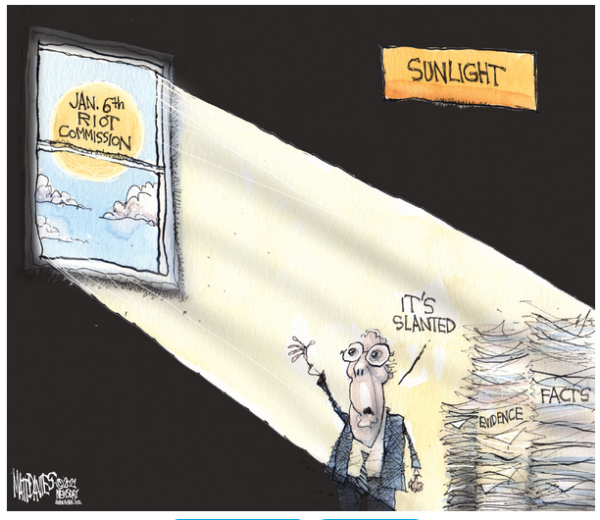 (Matt Davies via Gocomics.com)