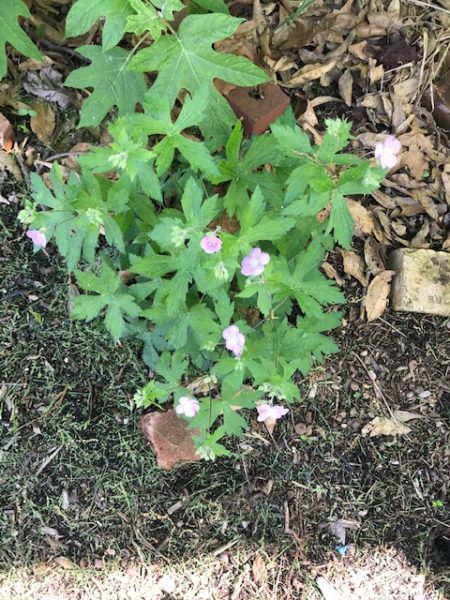 Almost overlooked this late-April message from Lapassionara:
Last year, a friend was selling her house and downsizing. She invited her friends over to get some of her plants. Who can resist free plants, so of course I accepted her kind invitation.

She had a very shady yard, and I needed shade plants, so I grabbed what I could manage. The problem is that I am not sure of the names of most of them. Perhaps the jackaltariat can help.

The plant in the top photo is a wild perennial with a small pink bloom, maybe a wild geranium? Can there be such a plant?

The photo below is several weeks old, and shows a lovely yellow bloom. Maybe a wild poppy? It is definitely a perennial, so maybe not a poppy. Any thoughts?

The plant below I thought had died, after it disappeared late last summer, but here it is again. I have no idea what it is, but I like it.

The plant below I know is a wild ginger. I tried planting a wild ginger that I had purchased from a nursery, but it did not last one year. This one seems to be faring better.

And here, below, is I think grape hyacinth. It did not come from my friends yard, but it has been here since we moved in.

Any help with the unknown plants will be greatly appreciated.
***********
Unless I missed another message, I am once again out of photos for the Garden Chat. Can't post what I don't have, so if you want more goodness next Sunday, this is your notification!
(And, of course: If you sent me pics that I haven't used, please let me know.)
Meanwhile, last weekend we got almost three inches of rain and temps in the 50s, so this weekend it's in the low 90s and extremely muggy, because New England. HHH weather, the forecasters call it — Hot, Humid, Hazy (particulate matter warning, for folks with breathing issues). Yes, I am still doggedly planting out TOO MANY mail-order tomatoes, one 40lb pouch of potting mix at a time…
What's going on in your garden(s), this week?