On the Road is a weekday feature spotlighting reader photo submissions.
From the exotic to the familiar, whether you're traveling or in your own backyard, we would love to see the world through your eyes.
On the Road: Week of June 14 (5 am)

Albatrossity – Brazil 2013, part 5
JanieM – China, Part 5 of 8
?BillinGlendaleCA – Galleta Meadows at Anza Borrego
Steve from Mendocino – Hancock Park
arrieve – The Galapagos

Paris in the Springtime: Week of June 14 (10 pm)

MollyS – Paris to Chartres — The Cathedral's Interior
randy khan – Springtime in Paris – Versailles
randy khan – Springtime in Paris (well, not really) – A Day in Giverny
MollyS – Monet's gardens at Giverny, the Clos Normand
MollyS – Monet's gardens at Giverny France, the Clos Normand #2

Inspired by the photos of Paris / France?  Send in your photos.
*A bit of poetic license this time around for "Paris".
?  And now, back to Albatrossity.
Albatrossity
The final batch of images from our 2013 trip to Brazil will have some birds, some mammals, a reptile, and an aerial view of the Amazon's Meeting of the Waters.
After our time in the Pantanal, we headed to Manaus and the Amazon for a couple of days. So here are some shots from our last days in the Pantanal wetlands, and a few from the Amazon rainforest.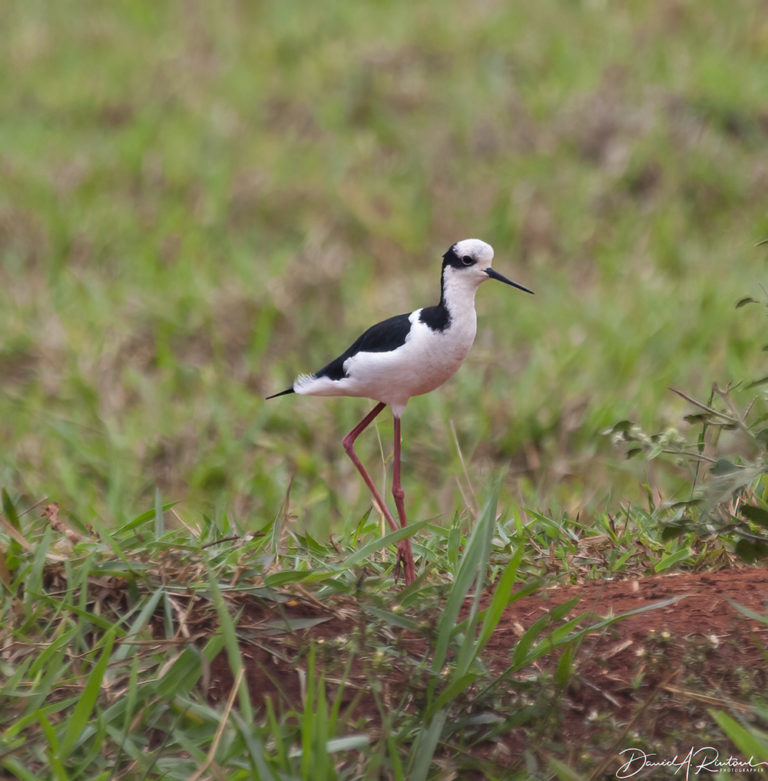 Pantanal
May 23, 2013
A close relative of the Black-necked Stilt familiar to North American birders, this White-backed Stilt (Himantopus melanurus, aka Pernilongo-de-costas-pretas) is also known as the South American Stilt. Featuring the same bubble-gum-pink legs and elegant plumage as its North American counterpart, it frequents shallow ponds and marshes in much of South America.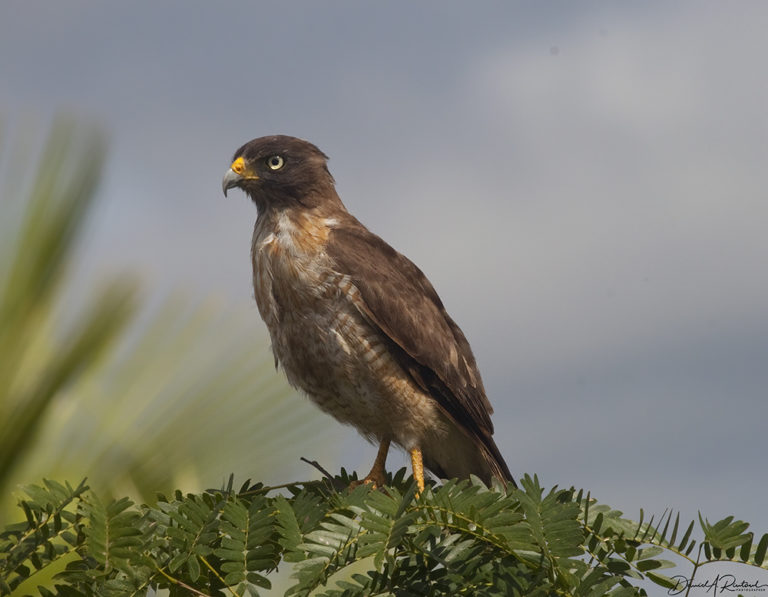 Fazenda San Francisco
May 25, 2013
A common and conspicuous bird across much of Latin America, this Roadside Hawk (Rupornis magnirostris, aka Gavião-carijó) might not be instantly recognizable for some experienced South American birders. It is a subspecies (R. m. saturatus) found only in this part of Brazil, as well as in neighboring Paraguay and Argentina). I had seen this species in other parts of South and Central America, but I puzzled over the ID for quite a while!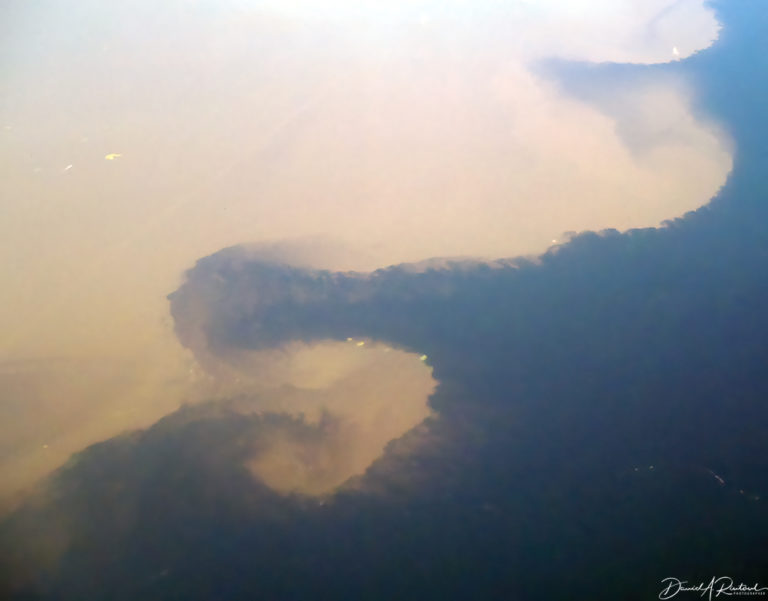 Above the Amazon
May 26, 2013
On our flight from Brasilia to Manaus, we got a great view of the Meeting of the Waters, where the cold pale sediment-rich Solimões River joins with the warm dark Rio Negro River, just east of Manaus. The waters from these two great rivers flow side-by-side for many kilometers, slowly mingling as they form the Amazon proper.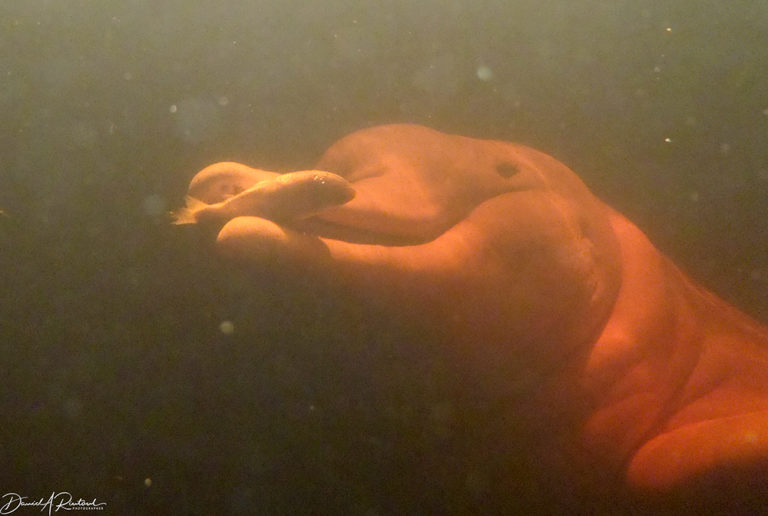 Ariau Eco Lodge
June 2, 2013
Upstream on the Rio Negro we stayed again at the Ariau eco-lodge. According to local legend, the lodge location was a suggestion from Jacques Costeau, whose 1982 cruise up the Amazon in his expedition ship Calypso brought him to this place to see the pink freshwater dolphins (Inia geoffrensis, aka Boto). The lodge, since closed, featured many wildlife adventures, including the opportunity to swim with these dolphins. One went out into the middle of the Rio Negro and waited while the guides offered fish to the boto, who were smart enough to take a free handout, and soon appeared, rising from the depths of the tea-dark waters.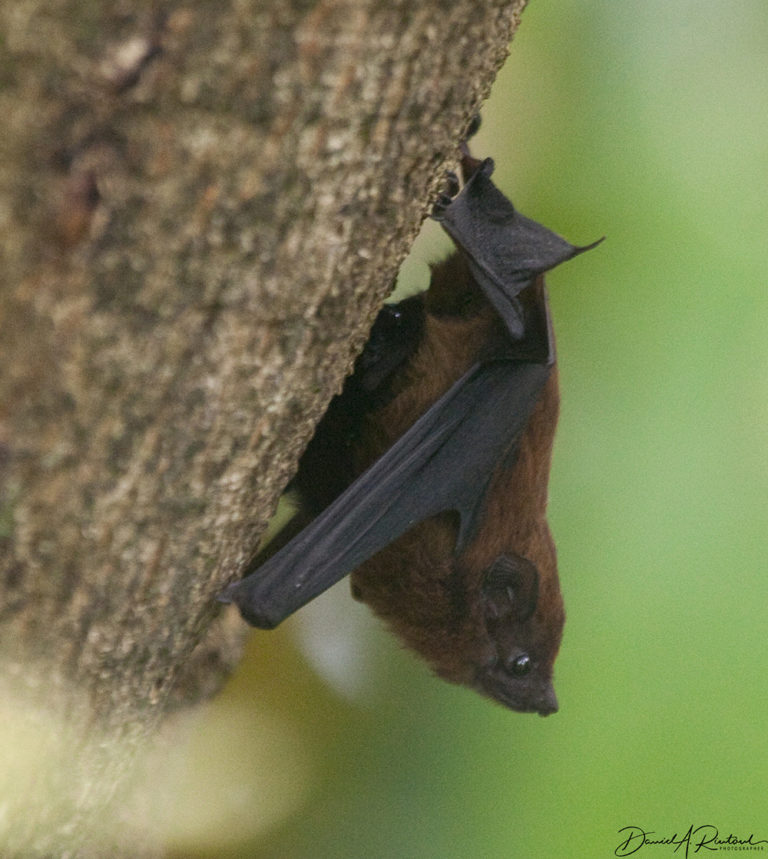 Ariau Eco Lodge
June 1, 2013
Other mammals of the region included several species of bat. This little guy was hanging out one morning along one of the boardwalks.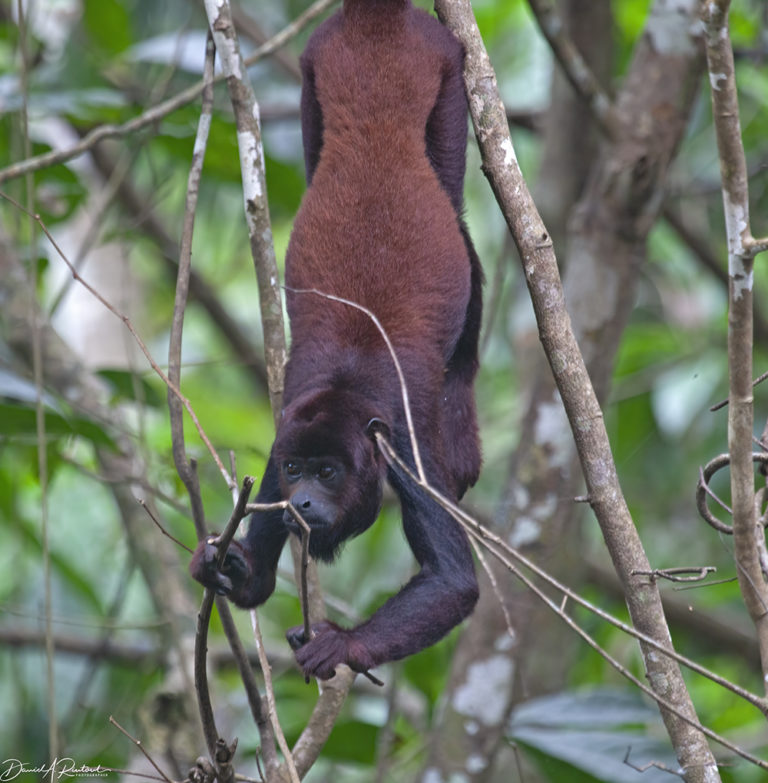 Ariau Eco Lodge
June 1, 2013
In the mornings one was often treated to a serenade by the Red Howler Monkeys from the adjacent rainforest. Here's a link to a video from a lodge in Bolivia, just to give you a hint of this weird cacophony. Generally these are heard, but rarely seen. I was lucky enough to find this large male dangling and feeding above the flooded forest.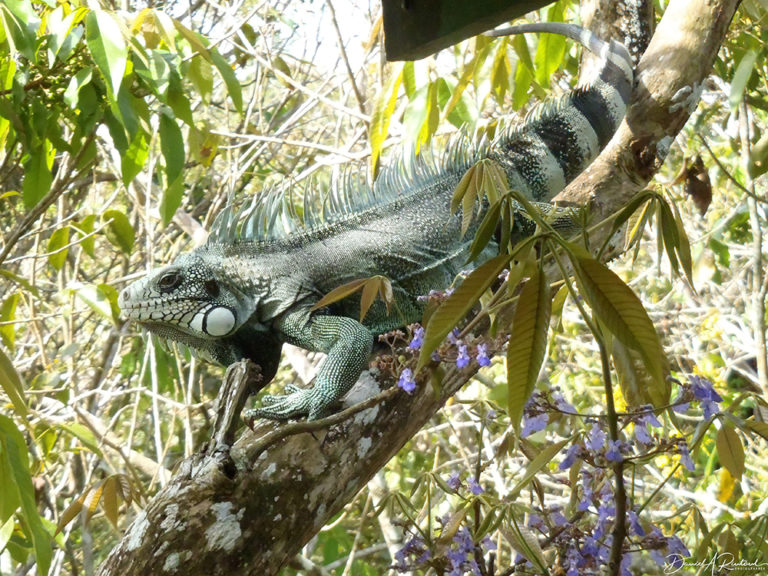 Ariau Eco Lodge
June 2, 2013
Rainforest reptiles are also impressive, although we did not see a lot of them. This substantial green iguana was sunning itself near the dining hall of the lodge, and certainly got my attention! I was hoping to see the giant anaconda that was the star of the 1997 film Anaconda (also starring Jennifer Lopez), since this lodge was the location for that pot-boiler, but no anacondas were seen on this trip, alas.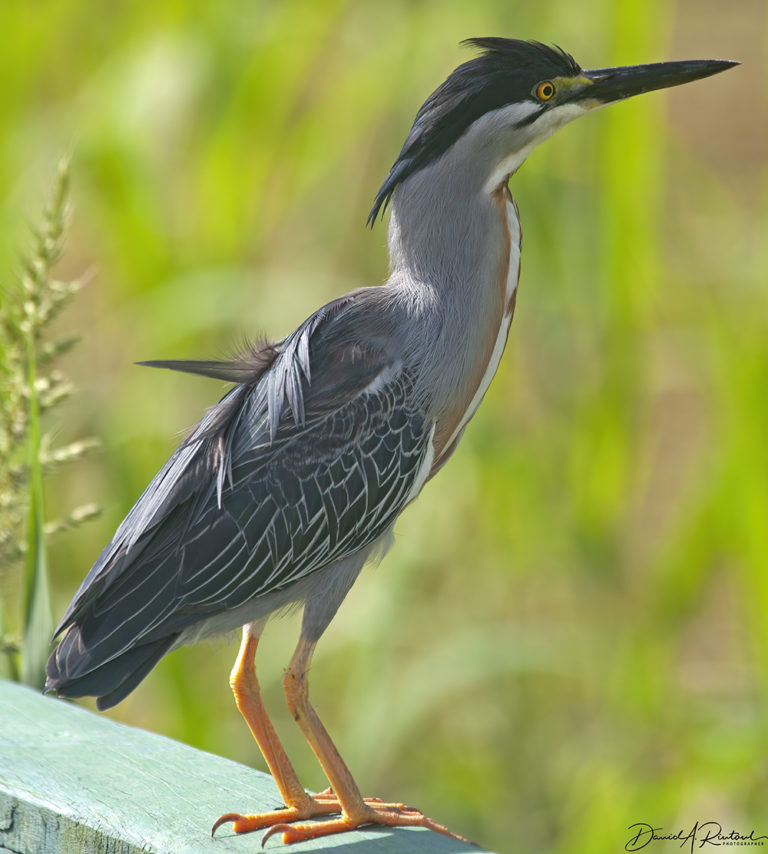 Ariau Eco Lodge
June 2, 2013
The Striated Heron (Butorides striata, aka Socozinho) is widley distributed across the entire Southern Hemisphere. The single South American subspecies (B. s. striata) closely resembles the Green Heron that is familiar to North American birders. This handsome specimen had a feather or two out of place, but was otherwise quite spiffy-looking.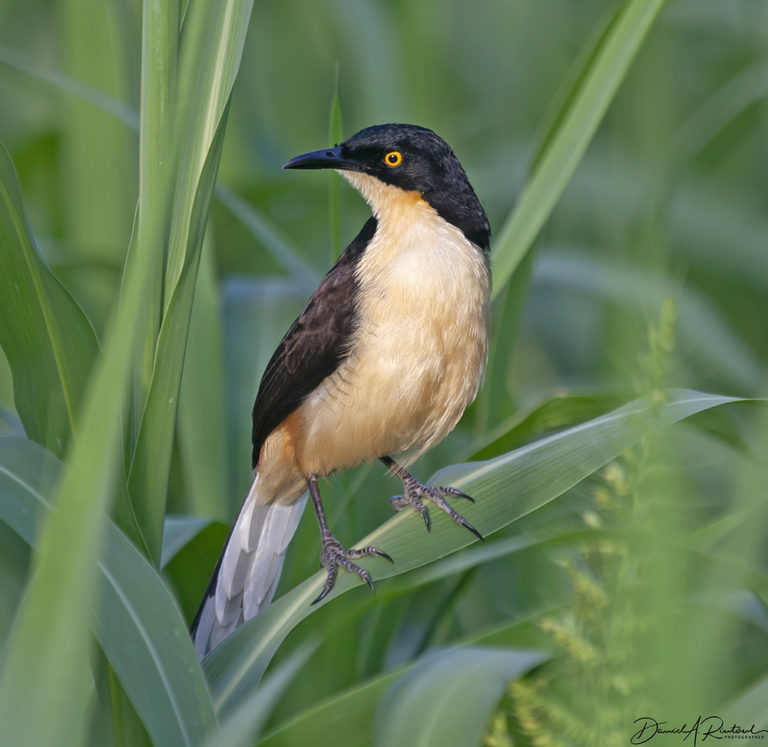 Ariau Eco Lodge
June 2, 2013
Our final bird for this series is one of my favorite birds of all time. The Black-capped Donacobius (Donacobius atricapilla, aka Japacanim) is a vocal contributor to the backdrop of birdsong in this part of the Amazon. One would think that the inclusion of the adjectival "Black-capped" part of the name means that there might be other Donacobius species to see somewhere. Nope. It is the only bird in the genus, and in fact is the sole member of a family that has been classified with other birds as diverse as thrushes, wrens, and mockingbirds. Current taxonomical thinking says that it has affinities with the Old World warblers. Regardless of its ability to confuse taxonomists, it is a strikingly handsome bird, and a good place to end our trip.