On the Road is a weekday feature spotlighting reader photo submissions.
From the exotic to the familiar, whether you're traveling or in your own backyard, we would love to see the world through your eyes.
Athenaze and Ariobarzanes
In early June 2021, we decided to take our fully vaccinated selves on a trip to Greece. We spent a large portion of our trip hiking on the island of Andros. We have spent a lot of time in Greece, but mostly on the mainland. Neither one of us has spent a great amount of time in the islands, nor had we been to Andros.
Andros, the northernmost island of the Cyclades, is only a two-hour ferry ride from Athens' secondary port, Rafina. In spite of its proximity to the capital, however, it does not host a lot of tourists, most of whom prefer to spend their time on better-known islands like Mykonos and Santorini. For that reason, it feels much more relaxed than some other islands. It feels like what it really is: a place where people actually live.
That said, Andros is now an excellent hiking destination thanks to the efforts Andros Routes (link), a volunteer organization dedicated to promoting sustainable tourism on the island. In recent years they have done a lot of work clearing, rehabilitating, and marking the island's footpaths, many of which have been used for centuries to connect the villages of the island with one another. The trail network has recently by recognized by the European Ramblers' Association. It is possible to link segments together into a through-hike, as we did; we walked for almost 100km over six days with the assistance of a local travel and adventure company that helped with route planning, hotel planning, and baggage transportation from one hotel to another.
Near Menites, Andros, Greece
June 5, 2021
We cannot overstate the amount of work that the volunteers at Andros Routes have put into marking the island's network of footpaths. Major junctions are clearly signed in Greek and in English, like this junction of Trail 1 and Trail 17a near the village of Menites in the center of the island. The individual trails are also all marked at regular intervals with numbered red and white blazes like those you see here on the signpost.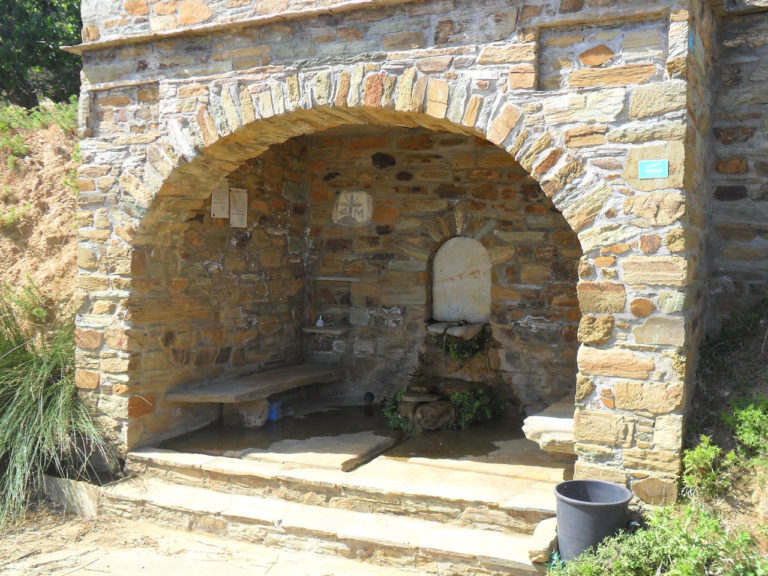 Ano Gavrio, Andros, Greece
June 2, 2021
Temperatures on Andros can soar in the summer, as they can in Greece in general. During our hike in early June, daytime highs ranged between the mid 70s and mid 80s, but the "real feel" was sometimes up to ten degrees higher. As a result, we often drank more than three liters of water each per day. Fortunately, Andros has numerous springs, which locals have exploited for centuries. This picture shows one of the many fountainhouses that draw from those springs and make water easily accessible to villagers and hikers alike.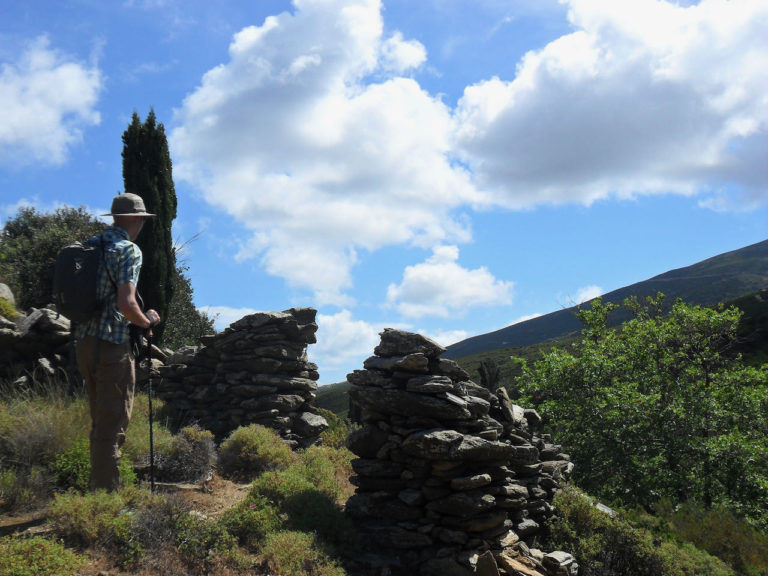 Frousaioi Ravine, Andros, Greece
June 2, 2021
Andros is the best-watered of the Cycladic islands, which as a rule can be very arid. The island's valleys in particular can be lush and green. In this photo, the path passes a break in an old field wall, where hikers (like Ariobarzanes) can look down into the Frousaioi Ravine, located in the northern part of the island.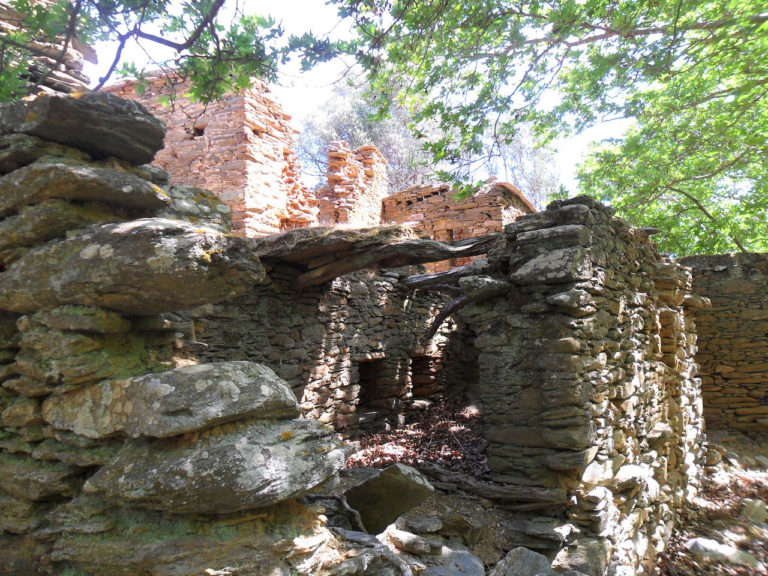 Frousaioi Ravine, Andros, Greece
June 2, 2021
Until the 1960s, the watercourse in the Frousaioi Ravine had powered a number of watermills where locals could mill their grain. There were enough of these to form a village of millers. The mills and houses are now abandoned, but Trail 14 takes visitors along the watercourse and through their ruins. This is one of the many ruined millhouses we saw as we followed the trail.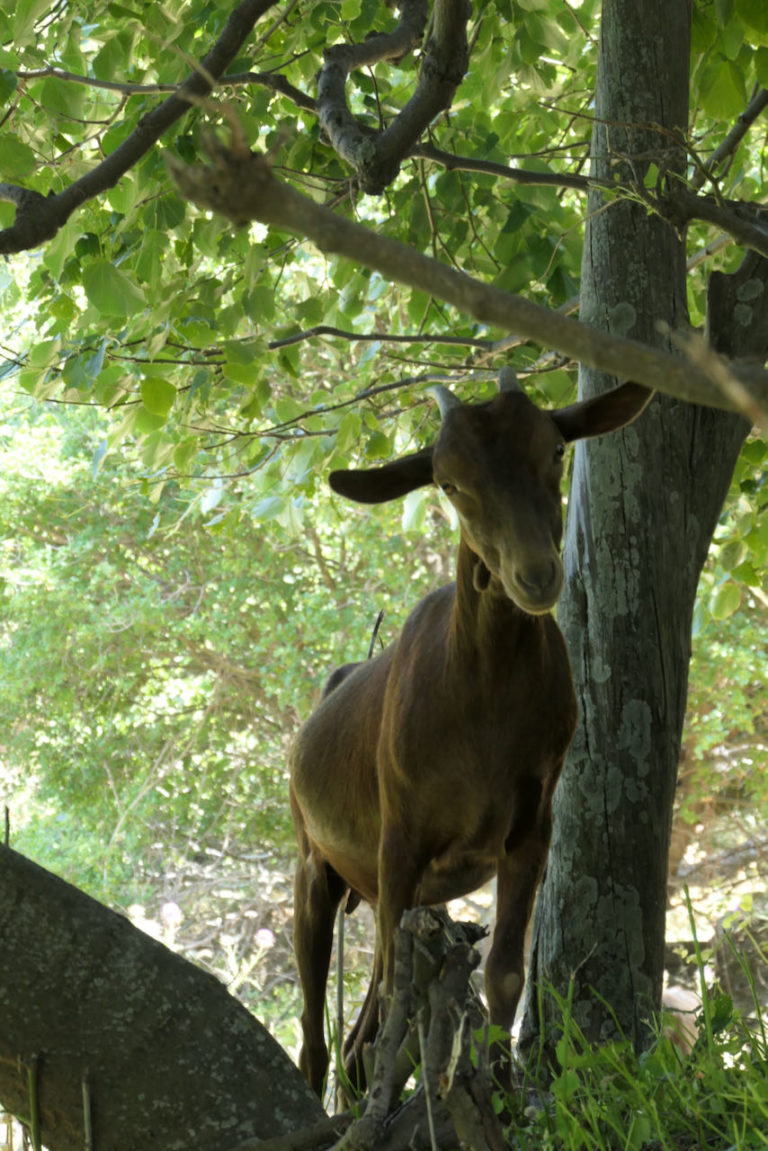 Near Arni, Andros, Greece
June 8, 2021
We saw lots and lots of goats during our hike. Most tried to avoid us by running away, especially in remote areas where they seemed semi-feral. This one, which we encountered in the village of Arni on the last day, was more inquisitive than most.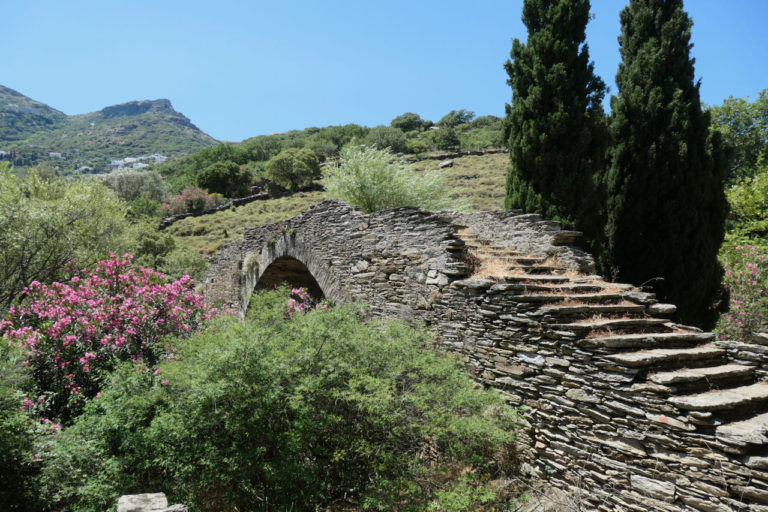 Near Menites, Andros, Greece
June 5, 2021
This stone bridge dates from the sixteenth century, and currently carries Trail 1 across the bottom of a valley in the center of the Island. Like much of Greece, Andros was occupied by both the Venetians and the Ottoman Empire at different points in its history. The Venetians were present on the island from shortly after the Fourth Crusade of 1204 until the late sixteenth century. This bridge, along with important roads once paved in broad flagstones that now serve as hiking trails, was built to connect main nodes of Venetian settlement.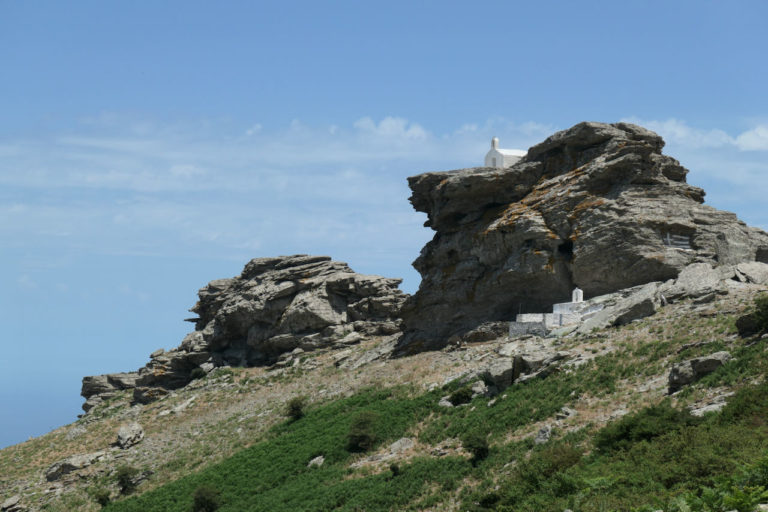 Near Arni, Andros, Greece
June 8, 2021
The chapel of Profitis Ilias (Prophet Elijah) sits on top of a rocky outcrop on the shoulder of the island's highest mountain. It towers roughly 900 meters above the valley of Arni. Dozens of small chapels like this can be found all over the island, sometimes (like this one) in very remote places. Profitis Ilias is the most common figure to whom chapels on ridges or mountaintops in the Greek islands are dedicated.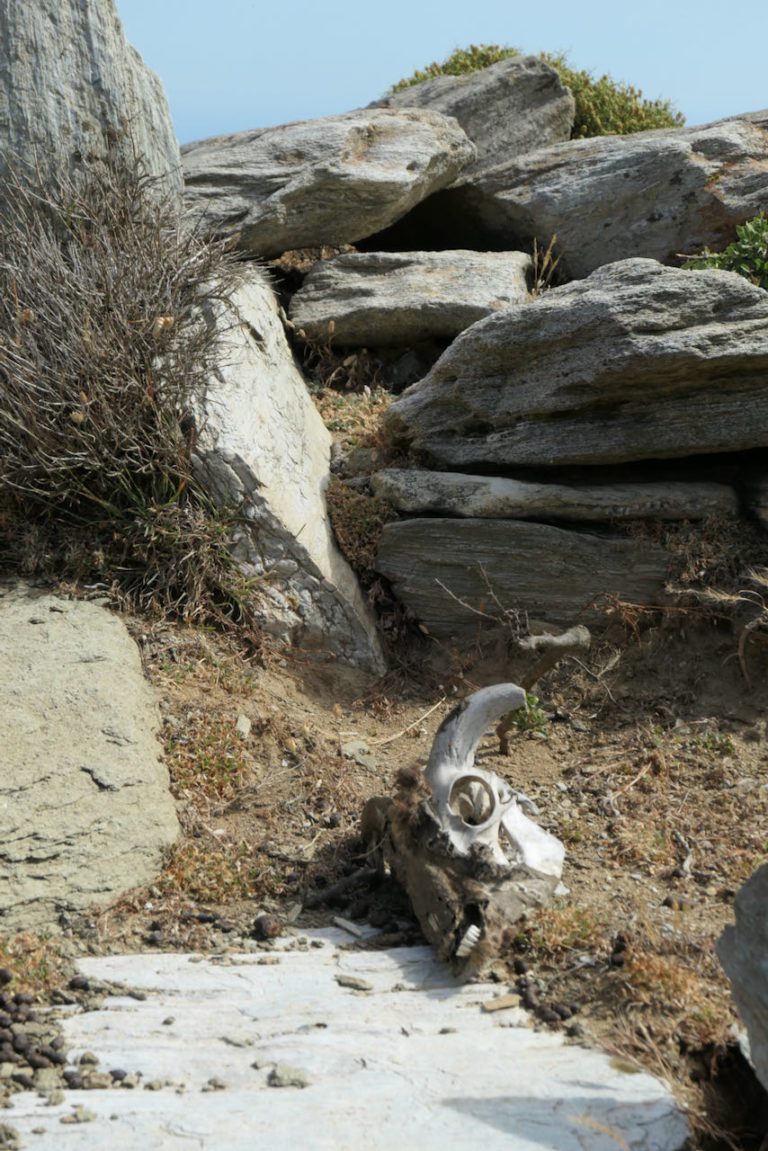 Somewhere above Katakalei, Andros, Greece
June 8, 2021
Again, we saw lots and lots of goats. Not all of them were alive. This one came to an unfortunate end on the island's highest mountain, not too far from Profitis Ilias.