On the Road is a weekday feature spotlighting reader photo submissions.
From the exotic to the familiar, whether you're traveling or in your own backyard, we would love to see the world through your eyes.
lashonharangue
Monteverde is in the mountains southwest of Arenal. To get there was a bit of an adventure.  First a short van trip to Lake Arenal (a man made lake that is a major source of hydroelectric energy for Costa Rica). We then boarded a small boat that went across the lake to the northwest. Arriving at a small landing on the far side of the lake we boarded another van for a twisting ride on some gravel roads up the mountain. Reaching the other side of a ridge after passing several wind turbines, we got onto some paved roads and headed south to finally check into our hotel in Monteverde. Much of the area around Monteverde has been taken out of cultivation and timber cutting and has been preserved for ecotourism.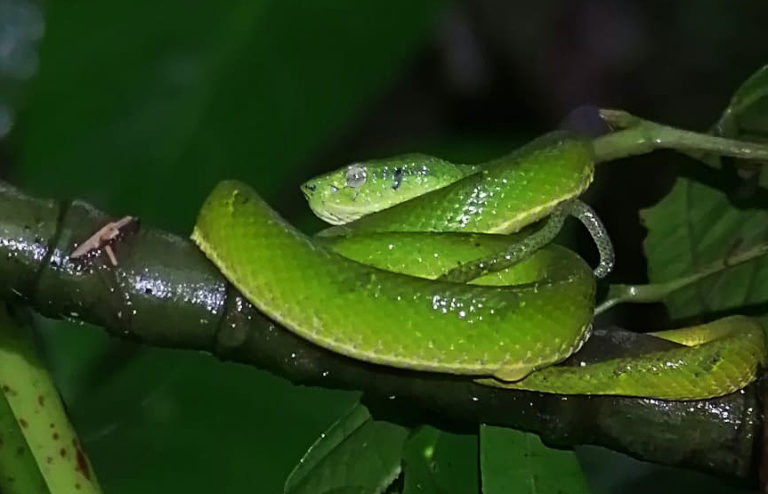 Monteverde
Despite travelling in the rainy season most of our hikes were dry. The one exception was a night hike in a private Monteverde wildlife refuge. Turned out our old rain jackets had lost their weatherproofing and soaked through. However we did get this great photo of a dripping side-striped green palm pit viper. They tend to stay in the vegetation off the ground. Yes they are venomous and do kill a few Costa Ricans each year – mostly agricultural workers who disturb them by accident as the snakes are not aggressive. This was shot with a cell phone through the guide's spotting scope. We were not very close.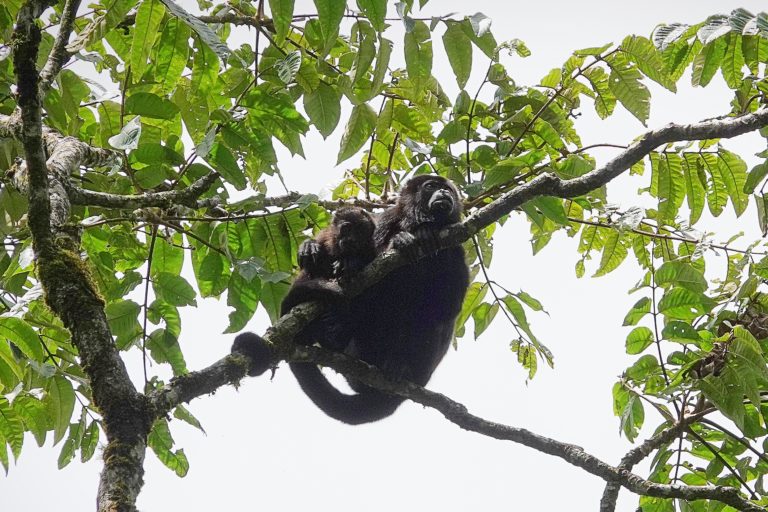 Monteverde
The next day we traveled to the Monteverde Cloud Forest Reserve. No rain and we saw a howler monkey mom with her baby.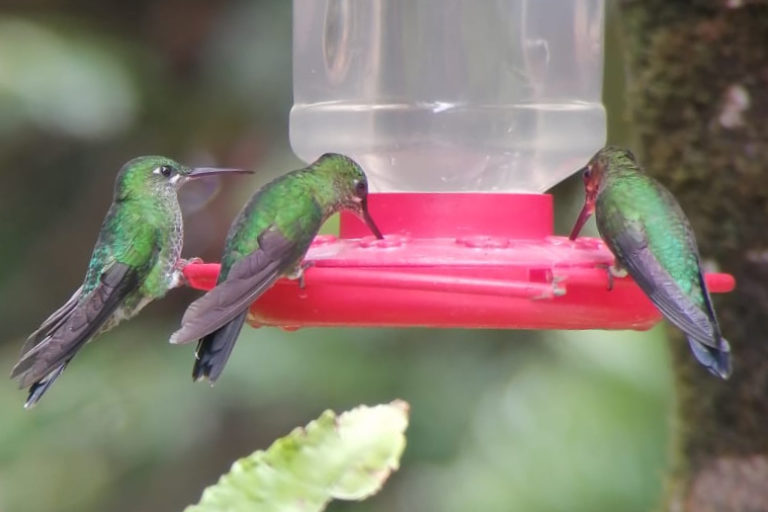 Monteverde
There was a gift shop just outside the gate of the reserve that had some hummingbird feeders.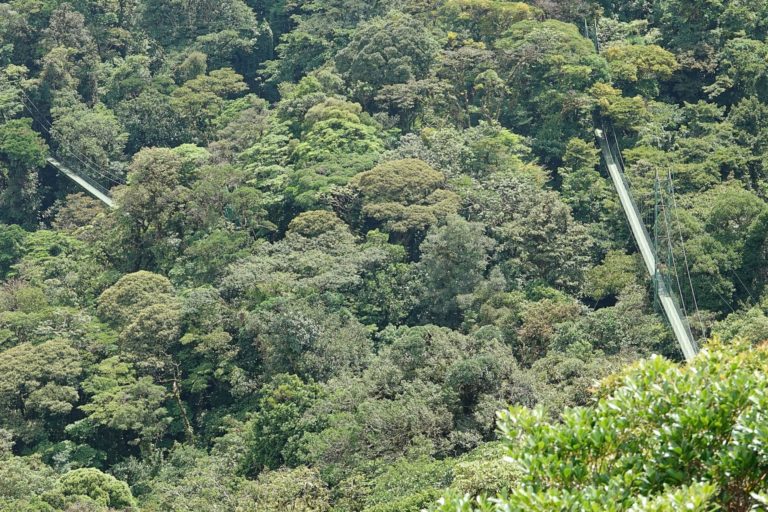 Monteverde
The next day we went to the Sky Adventures Park which has a tram above the forest canopy, a trail with hanging bridges, and zip lines (we passed on those). This photo was taken looking down from the tram line at two of the bridges. The bridges were well constructed but swayed when several people were walking on them at the same time.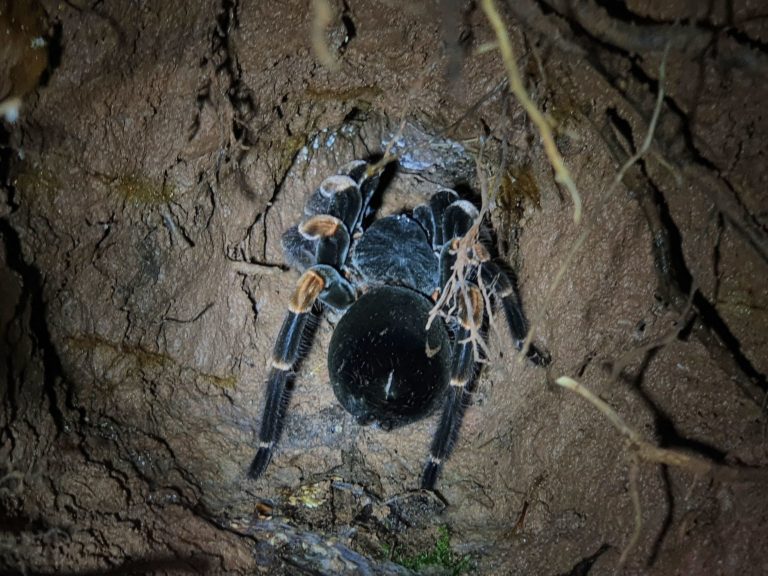 Monteverde
Hiking on the hanging bridges trail we came across this orange-kneed tarantula in a hole next to the trail.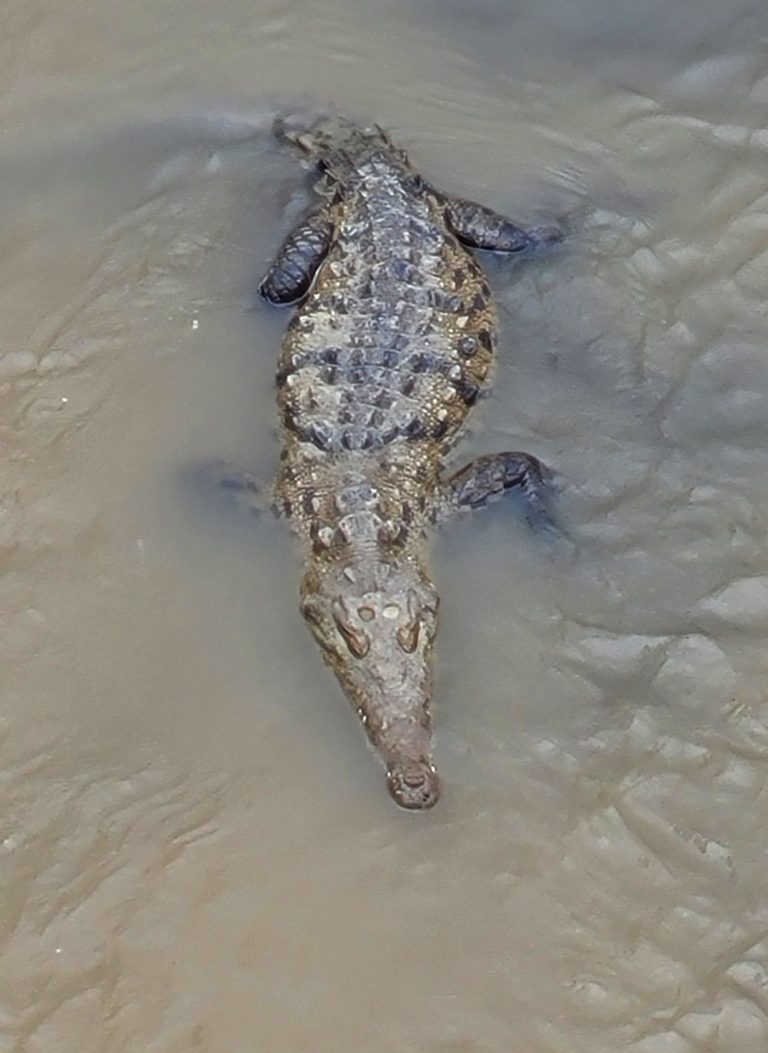 Tarcoles River
Our next destination was Manuel Antonio on the Pacific Coast. This required a long ride south past many palm oil plantations. After a couple of hours our driver pulled over into the parking lot of a somewhat run down tourist stop and encouraged us to walk out onto the bridge that carried the traffic over the Tarcoles River. Looking down we saw a few crocodiles hanging out. They seem to be the cause of the tourist business there and the bridge being known as "Crocodile Bridge." Swimming is strongly discouraged there.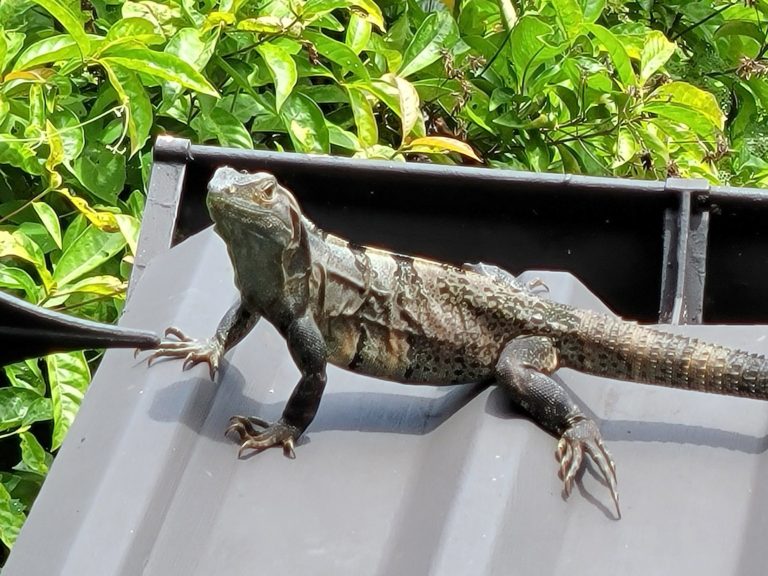 North of Jaco Beach
Continuing our drive south we stopped for lunch at a restaurant in a small fancy hotel overlooking the Pacific, Villa Caletas. While we sat eating our lunch we were joined by a couple of lizards.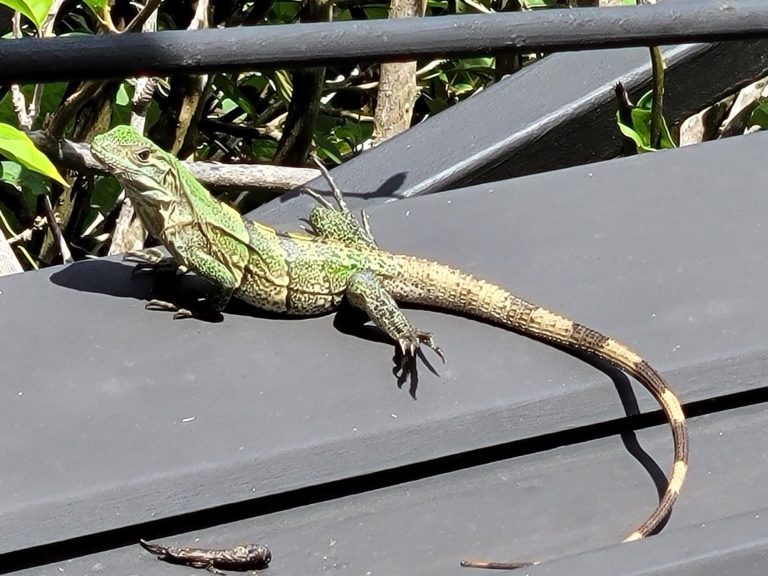 North of Jaco Beach
I think this is a juvenile of the same species as the dark lizard, or maybe a female. It is smaller and its tail color is similar.
Next Stop – Manuel Antonio