On the Road is a weekday feature spotlighting reader photo submissions.
From the exotic to the familiar, whether you're traveling or in your own backyard, we would love to see the world through your eyes.
When Watergirl asked if I would like to participate in this series, reflecting on my photographic journey, I frankly wondered if I could make a narrative out of what seems to me to be a meandering path to where I am today. I'm not a trained photographer or artist; I'm a research biologist who has dabbled in photography for decades. But with the help of some background history, both personal and familial, I decided I could make it work. At least it works for me. You, the worthy reader, will have to judge for yourself if that is true.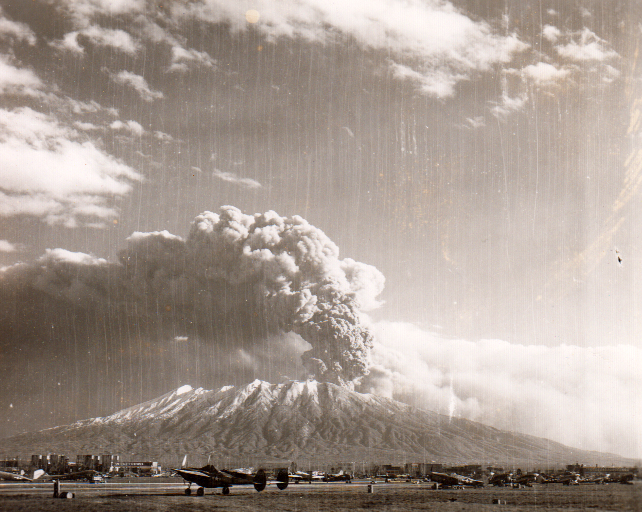 Pompeii Airfield, near Naples
My photographic journey begins before I was born, since my father was a photographer from a very early age. All of my brothers and sisters got a camera (Brownie box camera, in my case) for our tenth birthday. My dad majored in photojournalism at Kansas State University, which coincidentally is the institution where I eventually found myself as a professor in the Biology Division. He graduated in 1942, which means that Pearl Harbor happened halfway through his senior year, and just everyone enlisted in the armed forces after graduation.
After basic training, his photojournalism background got him on track to go to war not as a combat soldier, but as an officer (eventually captain) in a Army Air Force photoreconnaissance unit that was shipped to North Africa in 1943 and then to Italy. I have lots of pictures that he took during the war, mostly from Italy. This is a personal favorite: the eruption of Mt. Vesuvius in 1944. Those B-25s were not moved out of danger as the eruption started, even though this was the Pompeii Airfield… Most of them were destroyed. If you have read Catch-22, which is set in this same Italian theater, that probably sounds familiar.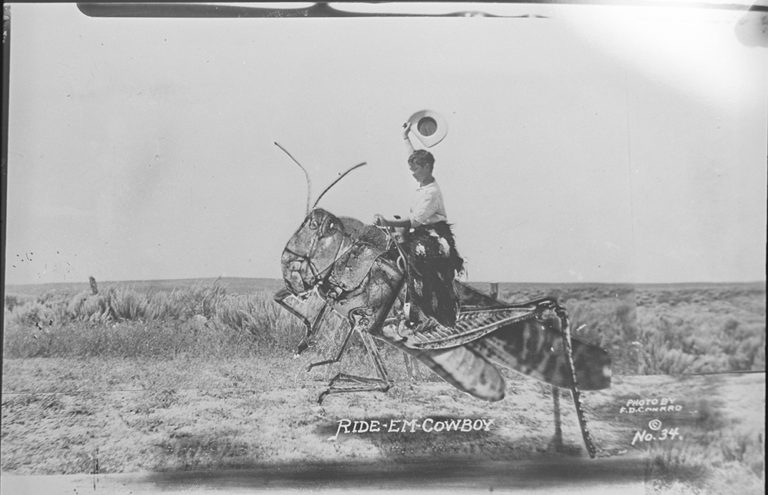 Garden City KS
After the war my dad moved back to his home town (Garden City KS), met my mom, got married, and had 6 kids. He went into the photographic business for himself and with others, but apparently was a better photographer than he was a businessman. Eventually he went to work for Frank D. (Pop) Conard, who had been running a photographic studio in that town for decades. Conard is famous for his exaggerated postcards, like this one, featuring huge grasshoppers, jackrabbits, etc. from the Dust Bowl days that hit that part of the country in the 1930's. Those postcards bring a pretty good price from collectors these days. Here is some history for Conard, courtesy of my friend Patrick Clement. I should note that this image is scanned from one of the original Conard negatives, not a postcard, and that I managed to get 5 of those negatives when the Conard/Rintoul studio closed in the mid 1980's. They are priceless to me.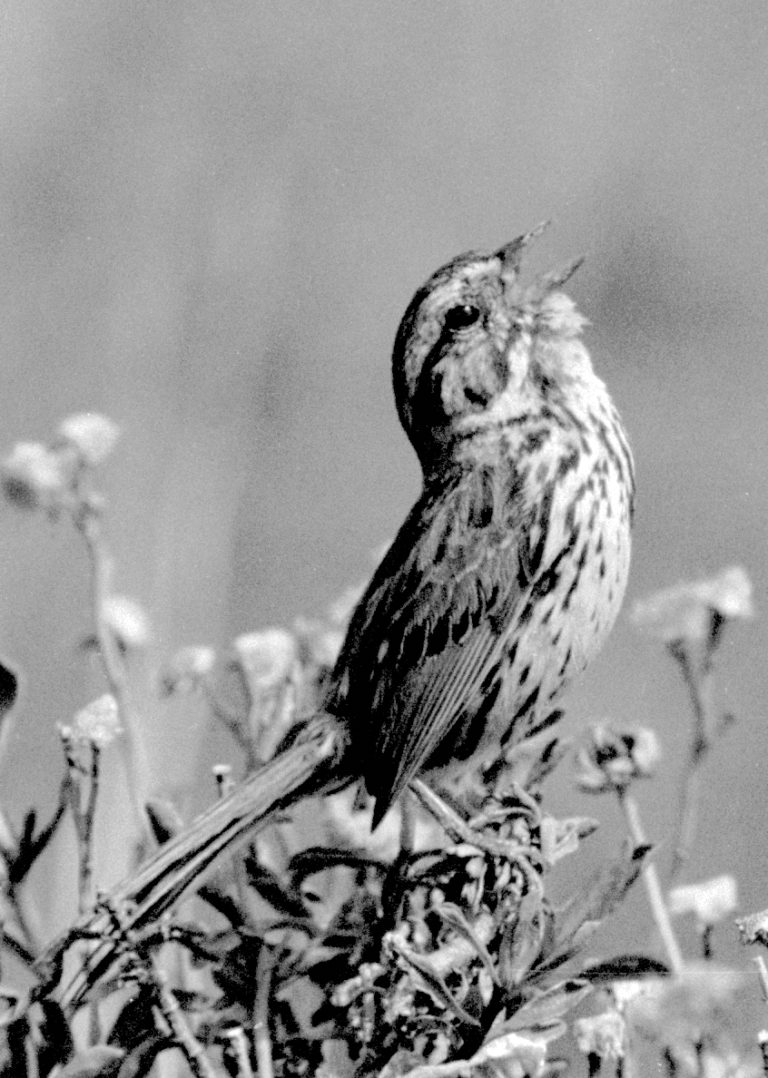 Palo Alto CA
In high school and college I kept up with photography, but my chosen career in biological research focused that a bit. I developed a lifelong interest in insect macrophotography, which was difficult to do at the time and is a LOT easier these days. I also became interested in bird photography during my time in graduate school at Stanford University, since one of my best friends there, Mark Chappell, was and still is an amazing photographer. Here is his photo site. Gaze upon these images, and if you don't come back to look at any more of mine, I wouldn't blame you.
Mark was an excellent mentor, and I had the bird photography bug from then on. After passing my prelim exam I bought a good SLR and a good bird lens, the legendary Novoflex 400 mm follow-focus telephoto. I followed Mark around and photographed birds with him, mostly with Tri-X B&W film, sometimes with Kodachrome. I spent long hours in the darkroom, which is about the most therapeutic activity I know. Here's one of those early images, a Song Sparrow in the salt marsh at the Palo Alto Baylands.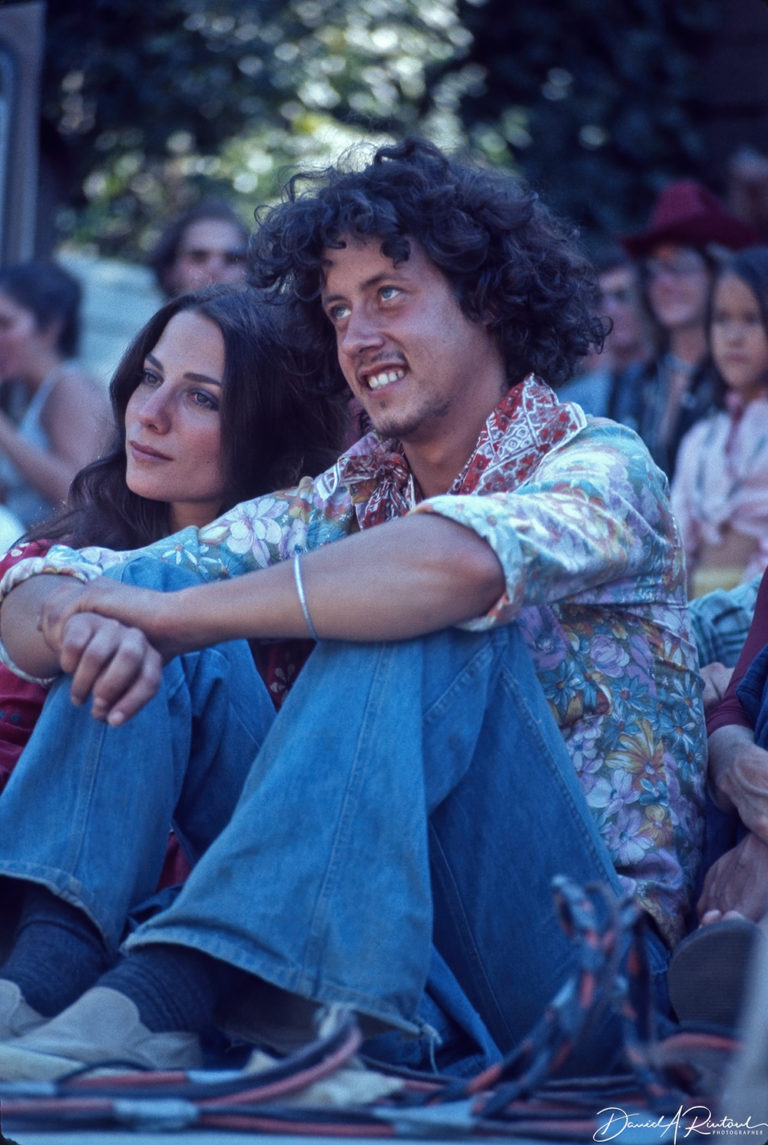 Frost Amphitheater, Stanford CA
As a graduate student in the Bay Area in the 1970s I had the opportunity to go to concerts and other events. In the summer of 1974 Joan Baez and Arlo Guthrie performed in the Frost Amphitheater on the Stanford Campus. I don't take a lot of pictures with people in them, but concerts have interesting characters sometimes. Here's Arlo on the stage, gazing up at Joan as she sang one of her timeless ballads.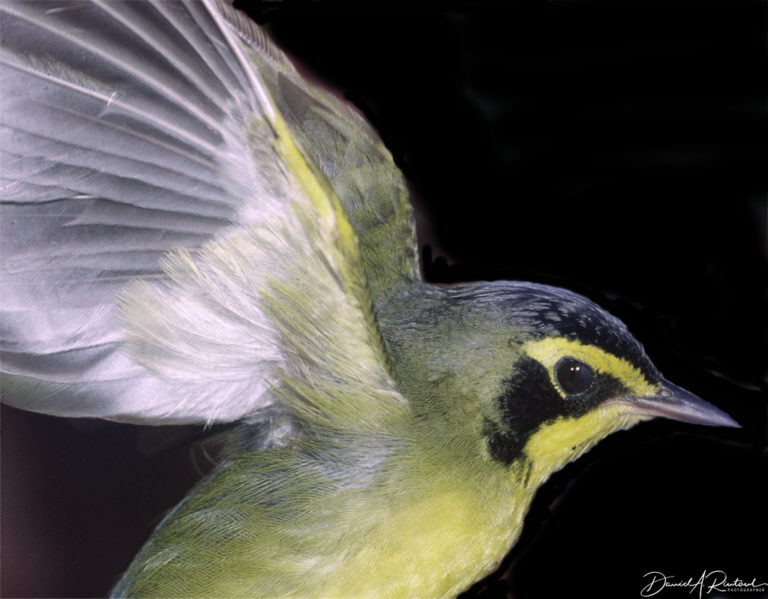 Ft. Riley KS
When I started my job at KSU and started a family, I did not have a lot of spare time for photography, but I did keep up as much as possible. Gradually B&W film gave way to color slide film, and I have several thousand slides from that period, which now live in boxes in the basement. Scanning slides to make digital images is tedious, so they are definitely not all scanned, nor is it likely that they deserve to be. One of the images from that time is this Kentucky Warbler, which gave me this great wing flapping as it was being released after being banded. Interestingly this image appeared in an issue of Science magazine, but without my permission. Some intern grabbed it off a government website where bird images from many people had been uploaded; the website had the clear caveat to contact the individual photographers before using one of them. The intern apparently failed to read that fine print. I was a bit surprised to open my weekly copy of Science and see my picture! I got an apology, a fine-print acknowledgment of the error in a later edition, and the satisfaction that I had one of my pictures published in Science!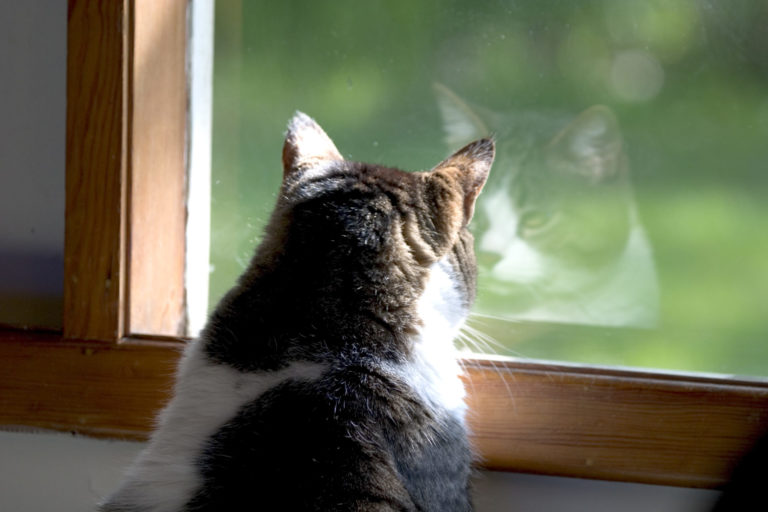 Manhattan KS
Digital photography slowly overtook film, and I took the plunge in the early 2000's. This is the very first image I took with my new digital Canon SLR as soon as I took it out of the box and charged up the battery. It is my cat, the dearly beloved and dearly departed Snickelfritz, gazing out the back window and thinking deep thoughts, no doubt.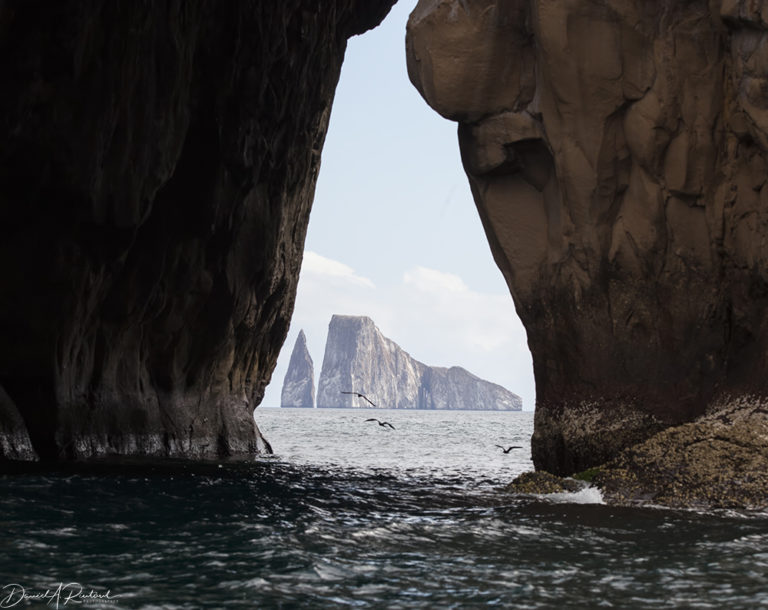 Galápagos
In subsequent years I was able to travel more and practice my photographic hobby in some exotic locations, such as New Zealand, Brazil, and Ecuador. Many of those trips were Study Abroad classes taught by my brilliant spouse Elizabeth and my brilliant colleagues Marcellus Caldas and Martha Smith-Caldas. I tagged along as the teaching assistant, paying my own way but having a great time learning and interacting with students in these foreign lands. Most of the time the photographic subjects on these excursions have been birds, but sometimes I try my hand at landscapes. This is a view of the formation known as Kicker Rock (aka Leon Dormido) on the north side of San Cristobal in the Galápagos Islands, as seen through a sea arch known as Darwin's Window. As you might notice, there are still some birds in this picture.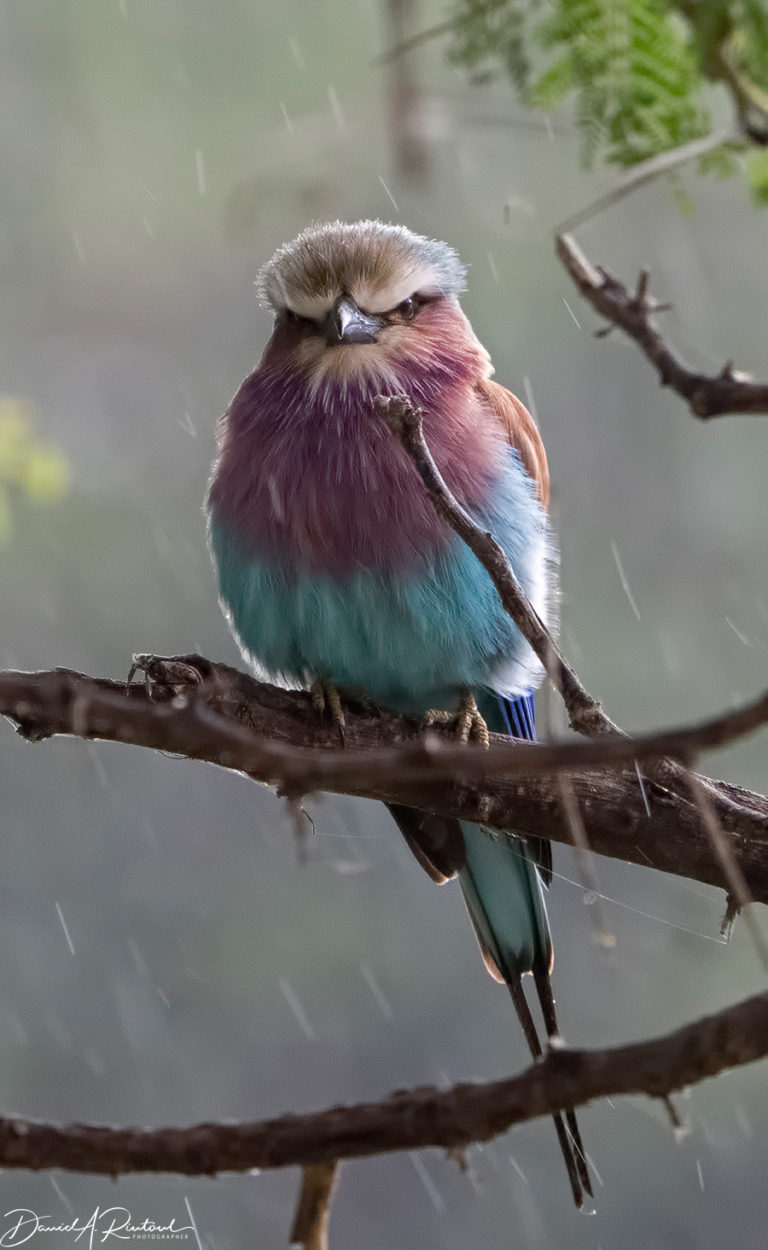 Tarangire National Park
After I retired I told Elizabeth that I was going to get serious about my photography. She giggled, but it is true that spending more time on this avocation has allowed me to grow in ways that I could not do when I was still working. One of the things on my bucket list was to go to East Africa, both for the wildlife and because it is, for all of us, our ancestral home. In 2018 I did that (Elizabeth was in the Galápagos at the same time), and I was simply blown away by all of it. Here is perhaps my favorite image from that trip, a Lilac-breasted Roller, grumpily waiting out an afternoon thundershower in Tarangire National Park in Tanzania.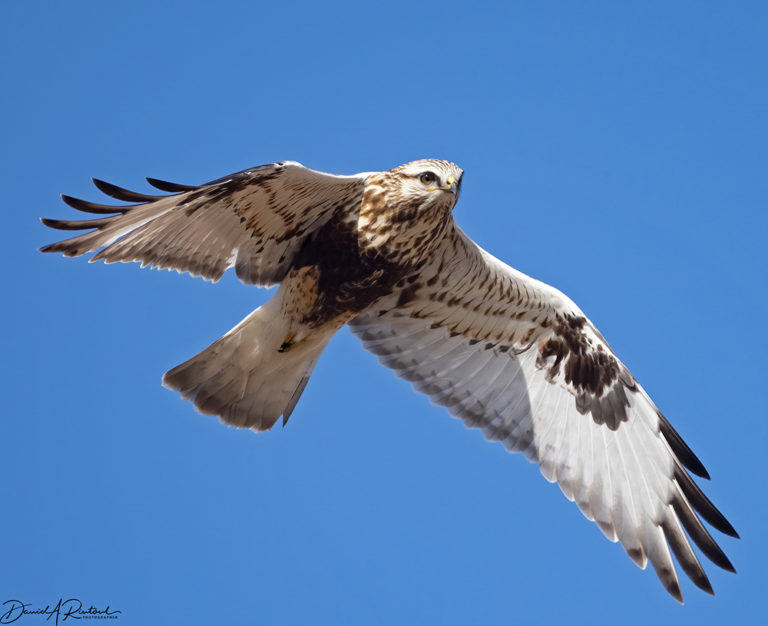 Near Manhattan KS
My other post-retirement obsession has been getting good images of birds in flight. That Novoflex lens and manual SLR from my youth, which was one of the best rigs for birds in flight, has long been superseded, so I had a lot to learn (and I am still learning). I also have learned from former biology students, some of whom have gone on to become world-class nature photographers, like Judd Patterson. Innovations in autofocus, faster lenses, image-processing programs to bring out the best in digital images – all of these help to get much better images, but all of them have some steep learning curves as well! Here's a recent shot, a Rough-legged Hawk over a snowy field here in Kansas last December.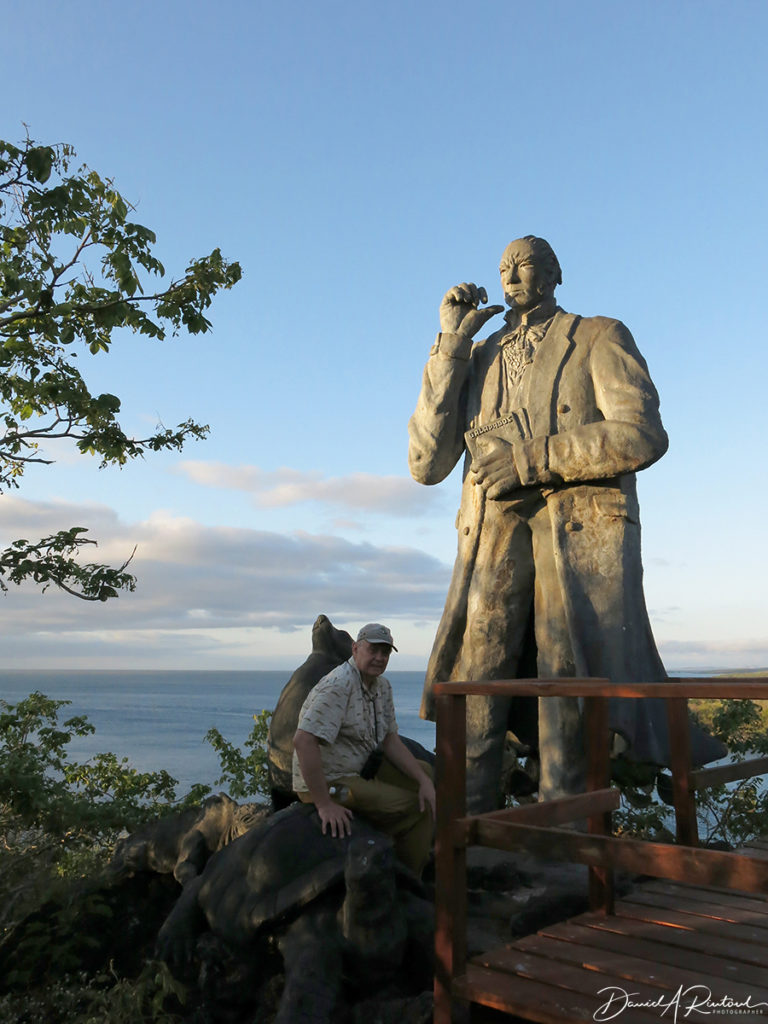 Galápagos
And, like Steve in Mendocino, I will include a portrait of the artist as an old man, sitting with a statue of Charles Darwin on San Cristobal Island in the Galápagos. If you are interested in seeing other images from the digital phase of my career, I have a portfolio site. Steve's caveat applies here as well; there are many images there, and more are added regularly. So check it out and maybe bookmark it for more looking on a rainy day in the future.