On the Road is a weekday feature spotlighting reader photo submissions.
From the exotic to the familiar, whether you're traveling or in your own backyard, we would love to see the world through your eyes.
It's still summer in flyover country.  Then we head to a national park with Mike in Oly, then we're with Bill in Glendale after dark, and we finish with a 2-day trip to the North Island in New Zealand with Paul in St. Augustine.
Albatrossity
Week 2 of Summer in Flyover Country. Images of birds in flight, young birds and old birds, as well as some shots of birds in the middle of molting, a great summertime activity. Hope you enjoy them!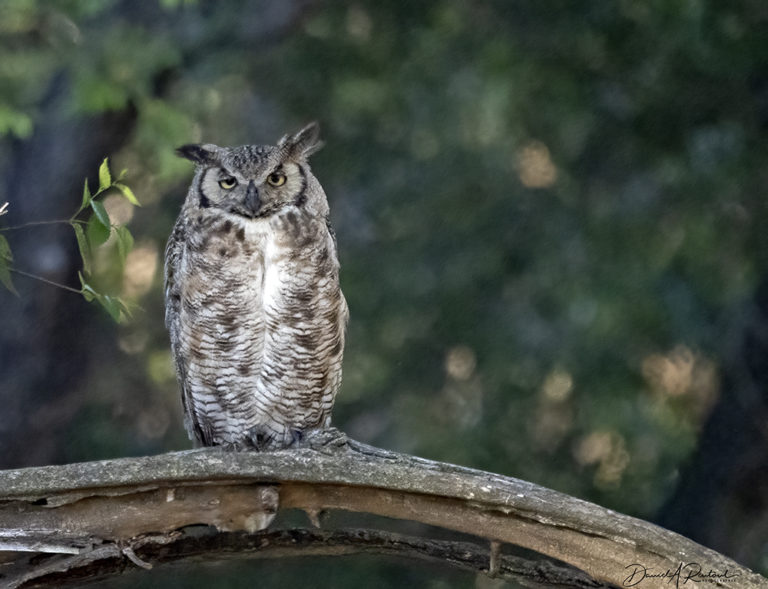 Quivira NWR
July 12, 2021
One last image from my trip to Quivira NWR; this Great Horned Owl (Bubo virginianus) seems to be sleepy-eyed and has a serious case of bed-head. Even owls have bad hair/feather days, I guess.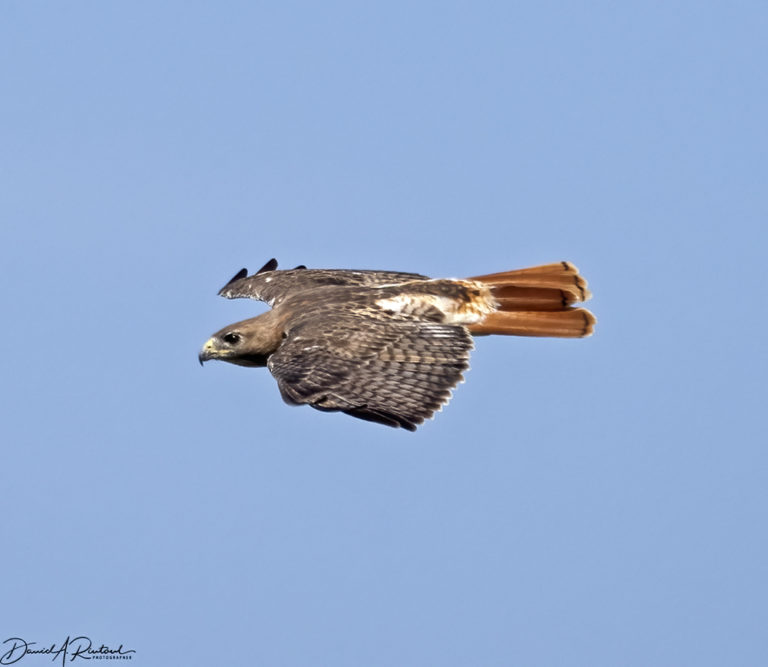 Near Manhattan KS
July 6, 2021
Red-tailed Hawks (Buteo jamaicensis) are mostly done raising young, and are now in heavy molt. This one is interesting because it demonstrates a couple of fun facts about feathers and molt. Those two darker and shorter feathers in the middle of the tail are replacing a couple that dropped out, and that pattern (loss and replacement) will continue from the middle outward on both sides until the entire tail is replaced. And the reason that they look darker is because the older feathers, which were new a year ago, have been bleached out by the sun.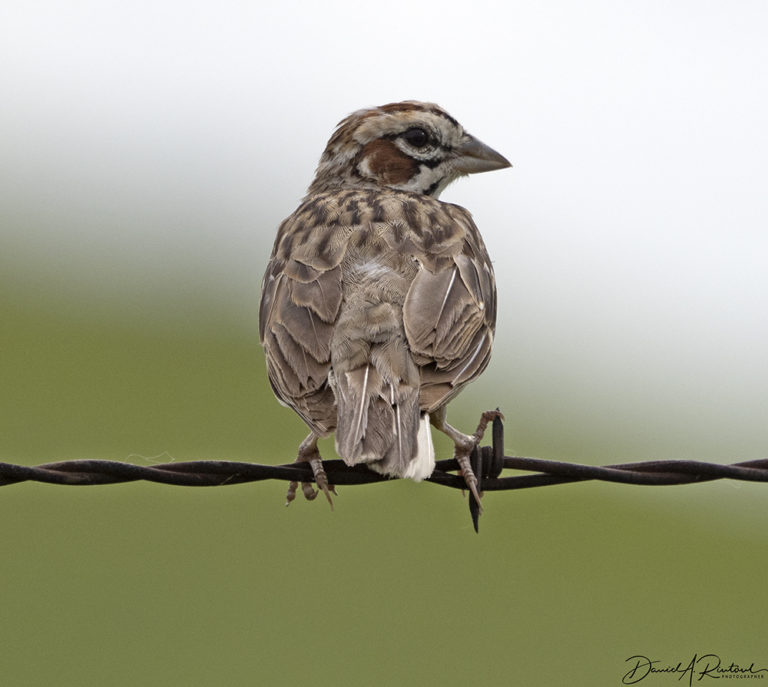 Konza Prairie
July 17, 2021
Another bird whose feathers are pretty beat up and need to be replaced. This is a Lark Sparrow (Chondestes grammacus), who will likely still have to wait a month or so before starting the molting process in earnest. Most of our sparrows have a complete molt before migrating south, fattening up on the fall seed crop while they grow those new feathers.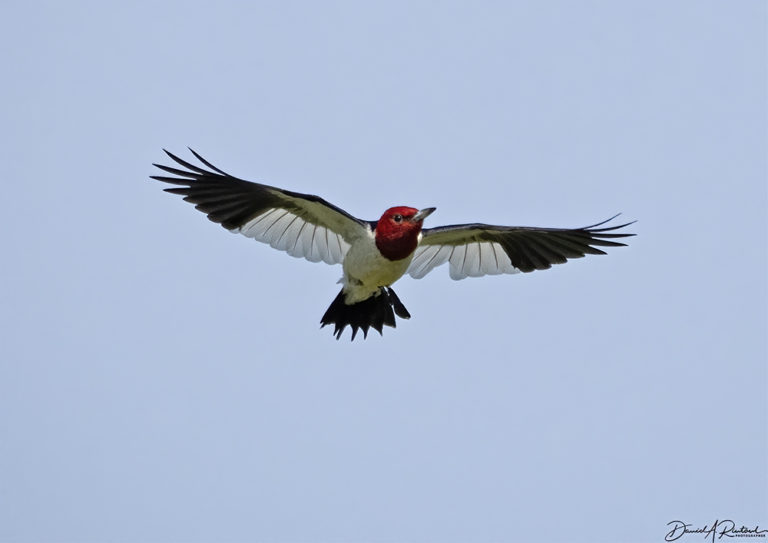 Near Manhattan KS
July 13, 2021
Here's a bird which is common here in summer, rare in winter, and a highly sought rarity in much of the rest of the country. Red-headed Woodpeckers (Melanerpes erythrocephalus) hang out in our streamside gallery oak forests, but sometimes can be found well out in the treeless pastures, hawking insects from the air. This one was doing exactly that, and allowed me to get my first-ever in-flight photo of this iconic species.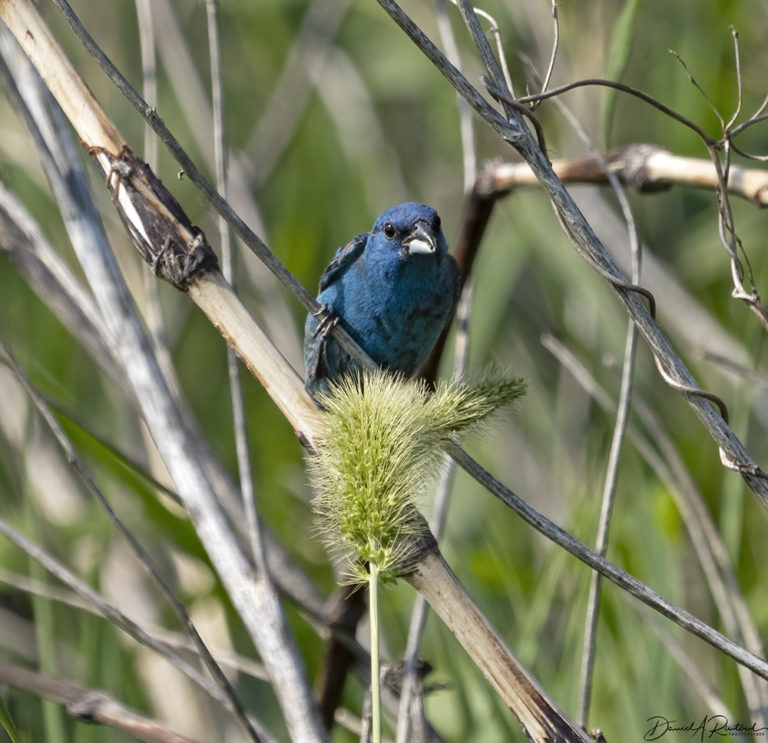 Near Manhattan KS
July 13, 2021
Indigo Buntings (Passerina cyanea) are also extremely common in my part of Flyover Country, and their cheery song can be heard just about anytime and anyplace at this time of year. This one was eating foxtail seeds, slowly but methodically, in a patch of dead sunflowers and live hemp.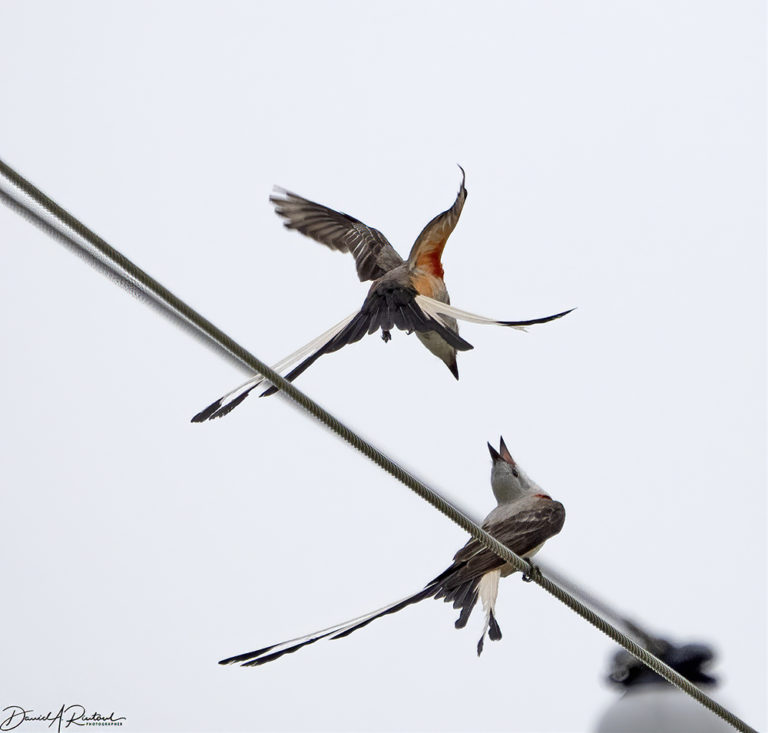 Near Manhattan KS
July 16, 2021
I didn't actually plan this shot, but I hoped for it. I knew a spot where it seemed that the territories of two territorial Scissor-tailed Flycatchers (Tyrannus forficatus) met, and hoped to find them bickering and chasing each other so that I could get some action shots. They obliged, and these two males discussed property lines quite emphatically for several minutes a few minutes after I got there. I'm not sure that they settled anything, but the bird at the top seemed to get the last word on that day, as he chased the other one back into his own territory.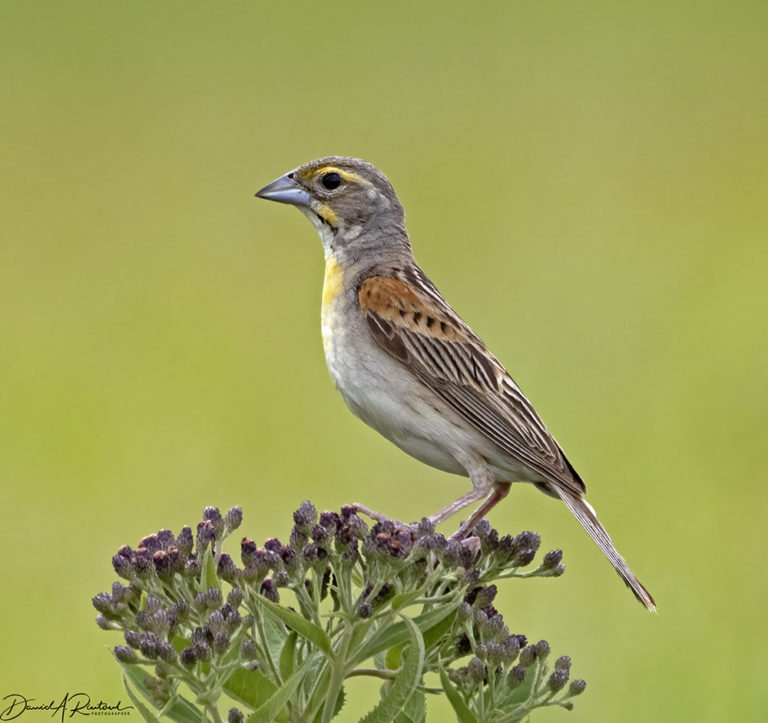 Konza Prairie
July 17, 2021
July means that the Ironweed (Vernonia fasciculata) is starting to bloom on our local prairies, and those sturdy blossoms are great perches for lots of prairie birds. Here's a female Dickcissel (Spiza americana) taking a break from hauling insects to her babies in a nearby nest.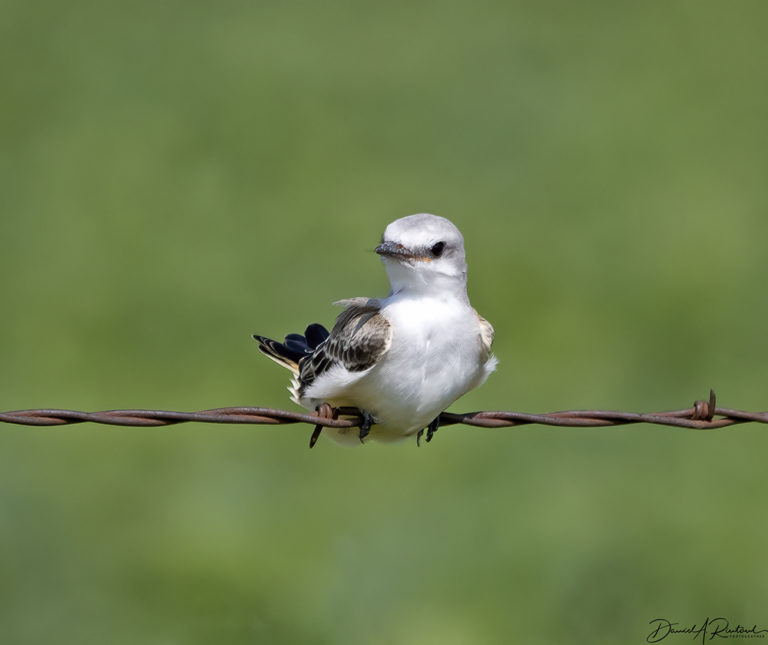 Near Manhattan KS
July 18, 2021
A Scissor-tailed Flycatcher, 2021 model year, hanging out waiting for mom or dad to bring it a tasty bug or two. It can certainly fly, it can probably forage but perhaps inefficiently, but it's tail feathers are very short. I love the freshly-minted look of this bird!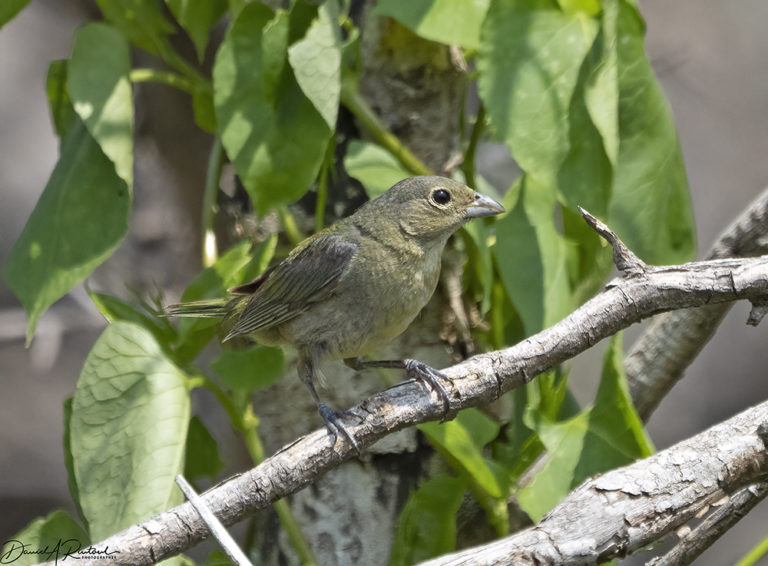 Near Manhattan KS
July 18, 2021
I've been hearing a lot of Painted Buntings (Passerina ciris) singing this summer, and this was one of those. Yes, it looks like a female Painted Bunting, but it was singing a pretty standard Painted Bunting song. Indeed, the singing attracted the attention of a male Indigo Bunting, who proceeded to chase it off.
According to the Birds of the World monograph for this species: "Males exhibit delayed plumage maturation and wear female-like plumage until the Second Basic Plumage is acquired during fall of their second calendar year. Prior to this, and after the First Prealternate Molt, about 40% of these second-year males can be distinguished from females in hand by occasional blue feathers on the head. These males are reproductively mature and often attempt to attract mates and breed. Thus, in the field these males are further distinguished from females during breeding season by behavior (males sing while females do not)."
It is possible that the Indigo Bunting was hoping to mate with this guy, who knows. The world is so confusing without the proper pronouns!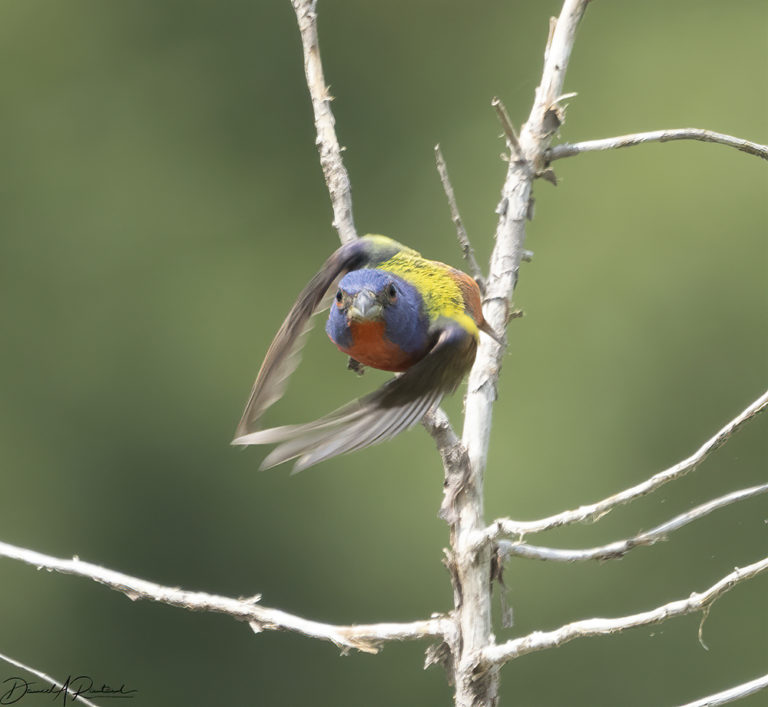 Near Manhattan KS
July 18, 2021
Another more classically-attired male Painted Bunting, in flight and seemingly with a purpose.