On the Road is a weekday feature spotlighting reader photo submissions.
From the exotic to the familiar, whether you're traveling or in your own backyard, we would love to see the world through your eyes.
Mike in Oly
We are fortunate to live within an easy hour's drive to this little corner of the Olympic National Forest (ONP), and it's a lovely drive from Olympia along Hood Canal to Hoodsport to get there as well. Only marred by the last couple of miles thru National Forest land where the road is unpaved, and never in good repair. The forest, canyon and Skokomish river are always a cool, restful retreat, without too many tourists to deal with, and the trail is an easy two miles, with further options for those inclined. My husband and I took a quick jaunt up there in mid-June and spent a beautiful summer afternoon hanging out along the river. This is some of what we saw.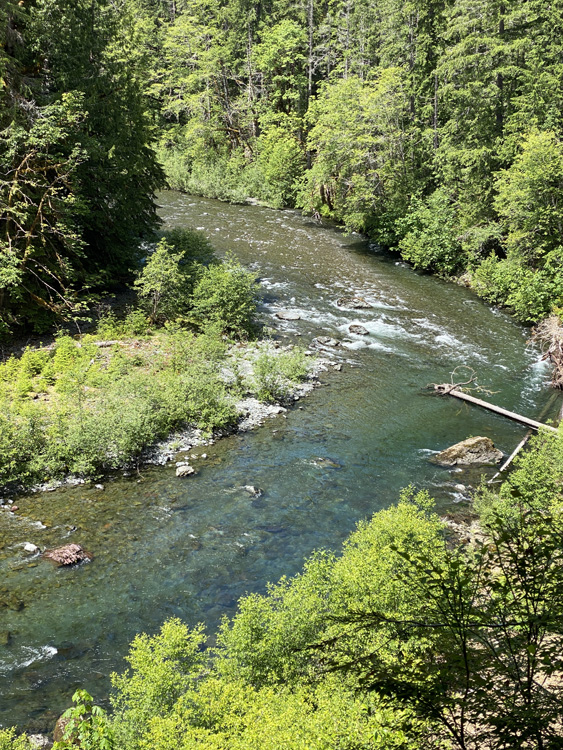 Staircase, ONP
The main trail makes a loop up one side of the river and then crosses and comes back down the other side. At this point it ascends to a bluff above the river giving a nice bird's eye view.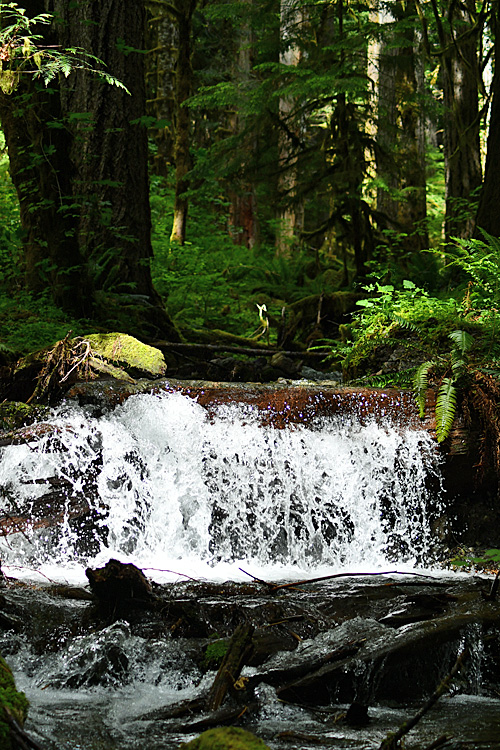 Staircase, ONP
Some areas along the valley have side creeks coming in to join the river. This one has a waterfall that was formed when a tree fell across the stream. Rocks filled in behind and the water dutifully cascaded over.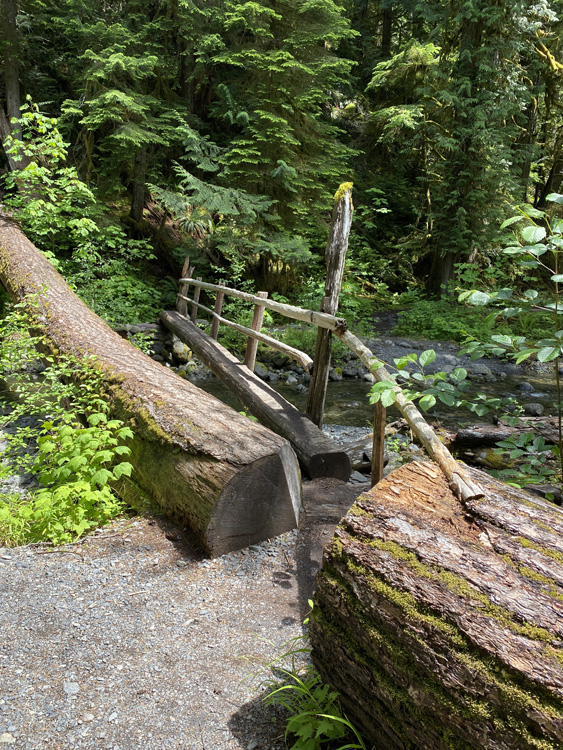 Staircase, ONP
A log bridge, next to a much larger fallen log, that traverses a small side creek. The park does it's best to allow nature to take its course. Those big logs will become nurse logs as time goes on and will nurture new forest for the future.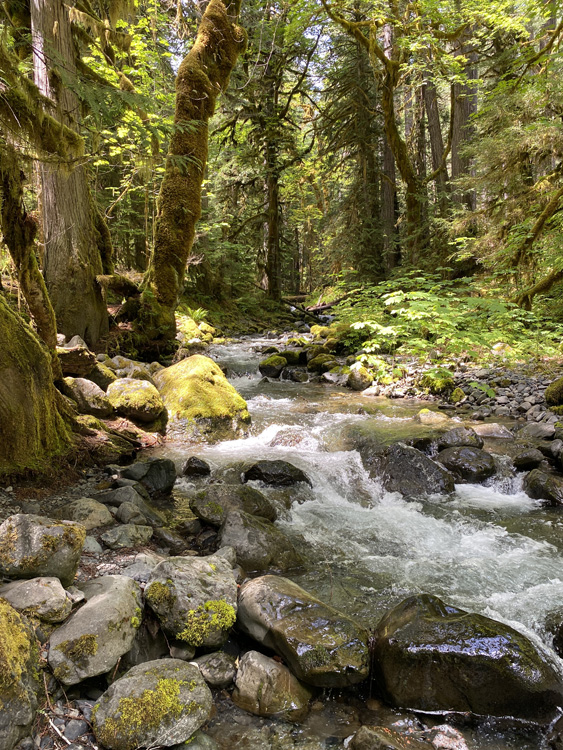 Staircase, ONP
More water rushing thru forest and over stone, on a small creek heading for the river.
Staircase, ONP
Stone stacks seem to be everywhere these days. Swollen rivers from winter rains will erase them.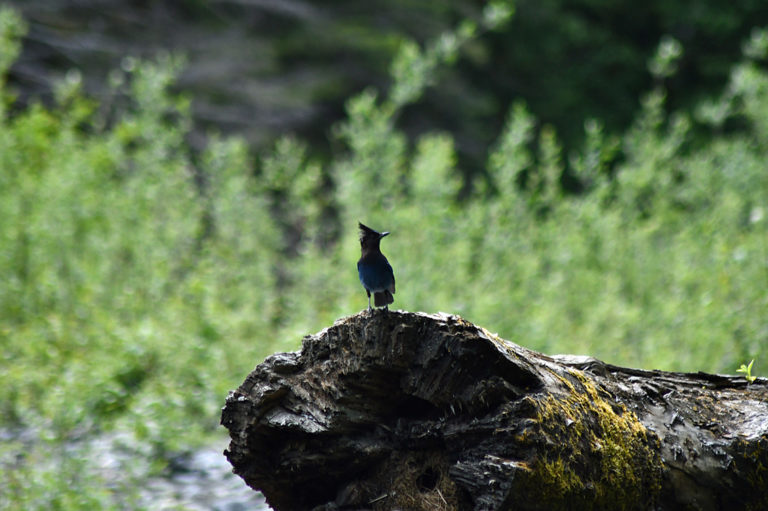 Staircase, ONP
A young Steller's jay scouts the rivers edge.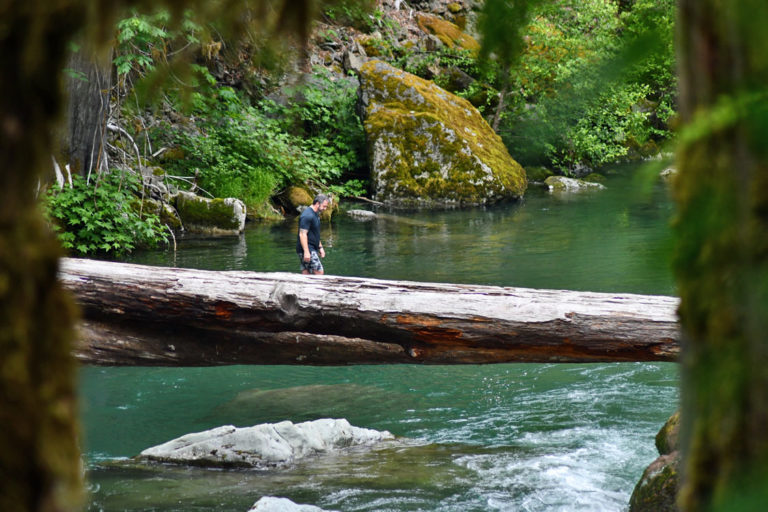 Staircase, ONP
I don't normally take photos with humans in them, but in some cases it serves to show scale. This is a mighty river.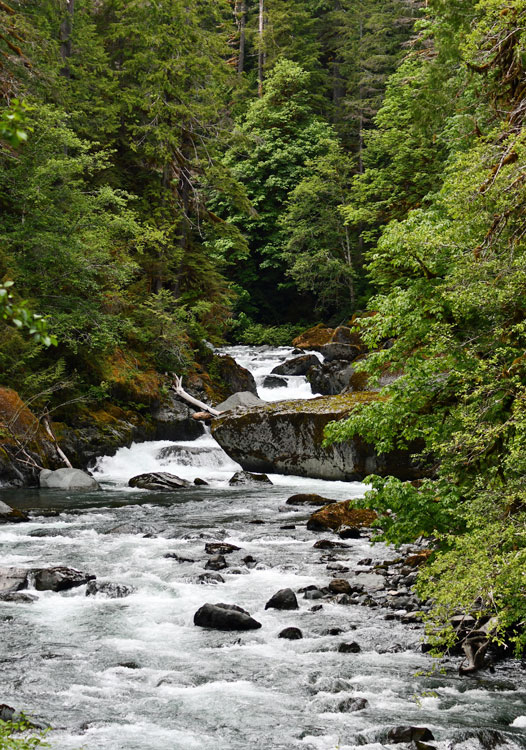 Staircase, ONP
Looking upriver. That large rock is as big as a bus.
I took some video of the creeks and the river.
Hope you enjoyed this peek into a corner of the ONP.