On the Road is a weekday feature spotlighting reader photo submissions.
From the exotic to the familiar, whether you're traveling or in your own backyard, we would love to see the world through your eyes.
Albatrossity and BillinGlendale have their usual spots, Wag will take us to the mountains of Coloredo, and arrieve takes us back to the Galapagos!
Albatrossity
Week three of images from summertime in Flyover Country features things old, things new, nothing borrowed, but lots of blue.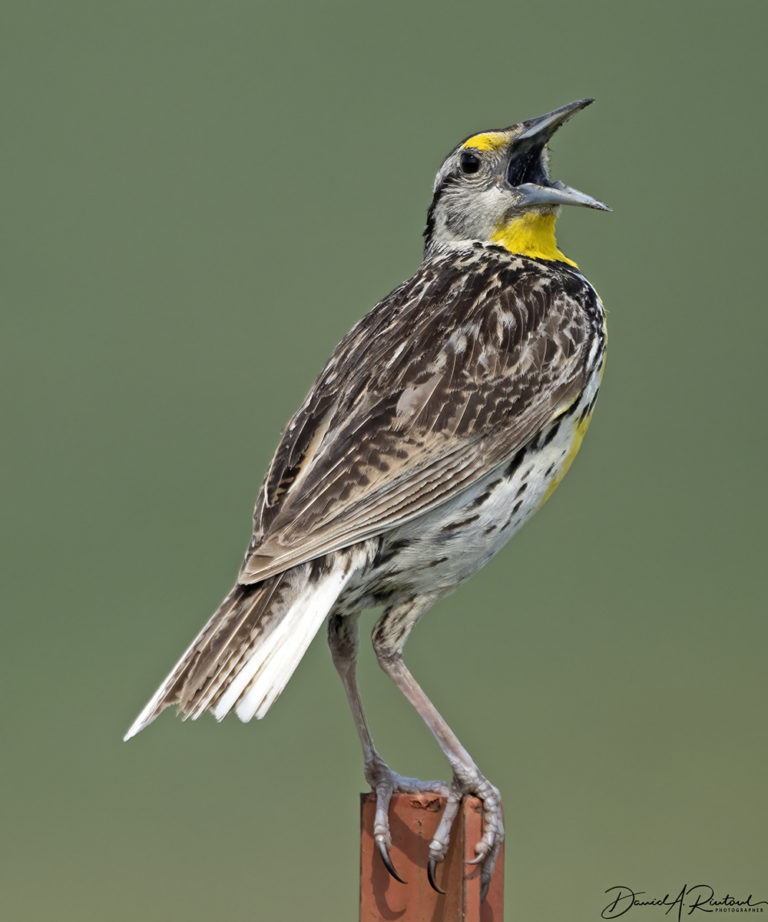 Near Manhattan KS
July 17, 2021
We have both Eastern and Western Meadowlarks (Sturnella magna and S. neglecta, respectively), in roughly equal numbers, in my patch of Flyover Country. They can present an identification challenge, but there are ways to tell them apart. They do have different territorial songs, but sometimes those are an interesting mixture of Eastern and Western, and usually are only heard during a small fraction of the year. They also make different calls (which is different from the territorial song), and since they make many of those calls year-round, that is often a better way to make the ID for a bird that is vocalizing. Here is an Eastern Meadowlark giving the "chatter" call, which is made by both males and females year-round. You can listen to this bird here.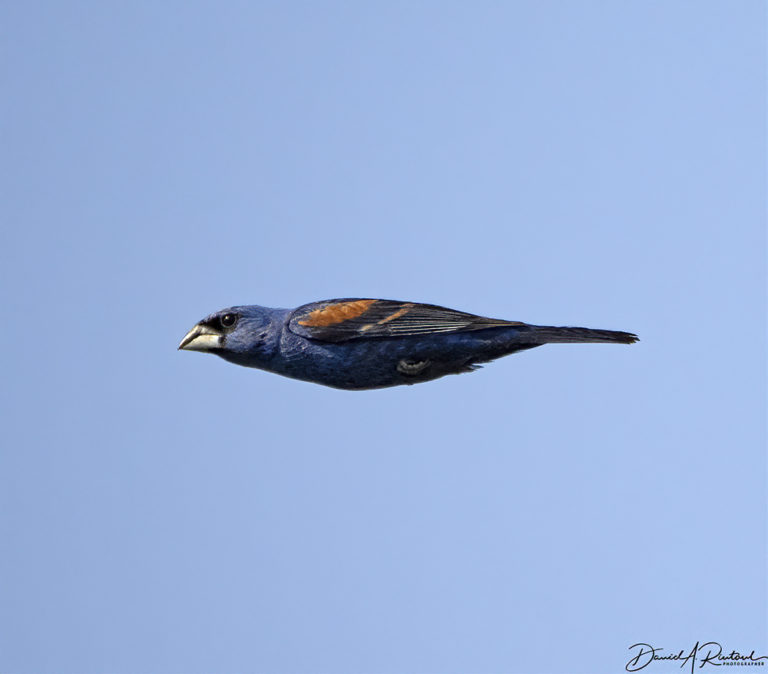 Near Manhattan KS
July 23, 2021
Birds in flight are always a challenge, and smaller birds present a bigger challenge than larger ones like hawks or herons. So I felt quite fortunate to get this in-flight shot of a male Blue Grosbeak (Passerina caerulea) as he buzzed back and forth between two favored perches.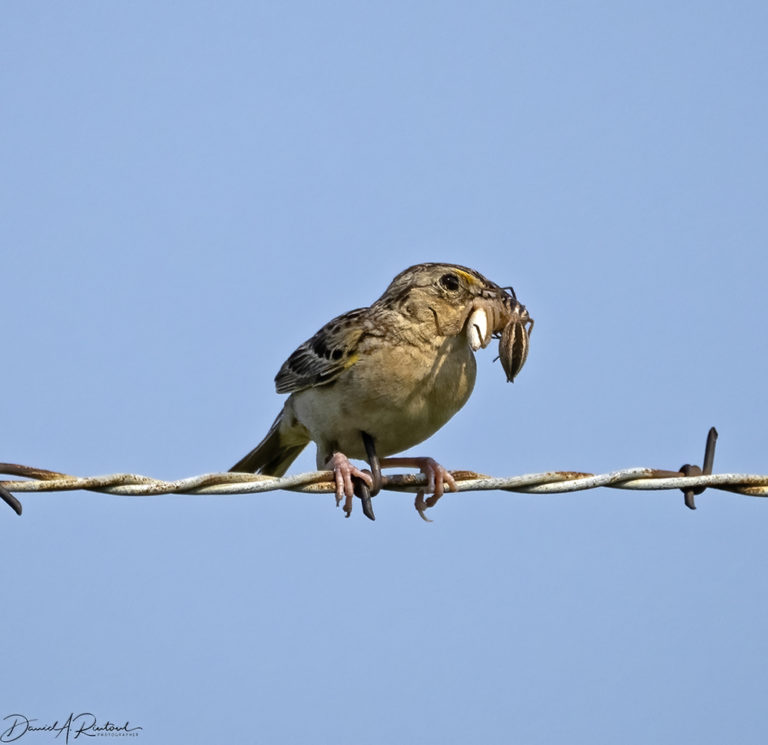 Near Manhattan KS
July 20, 2021
Some birds are still feeding babies, probably from a second or even third nesting attempt. This Grasshopper Sparrow (Ammodrammus savannarum) has a beakful of breakfast spiders for the youngsters. And that's a good thing for the babies, since predatory arthropods are often quite high in nutrients such as sterols and essential fatty acids. The arachnophobes among us probably approve of the fate of these spiders too.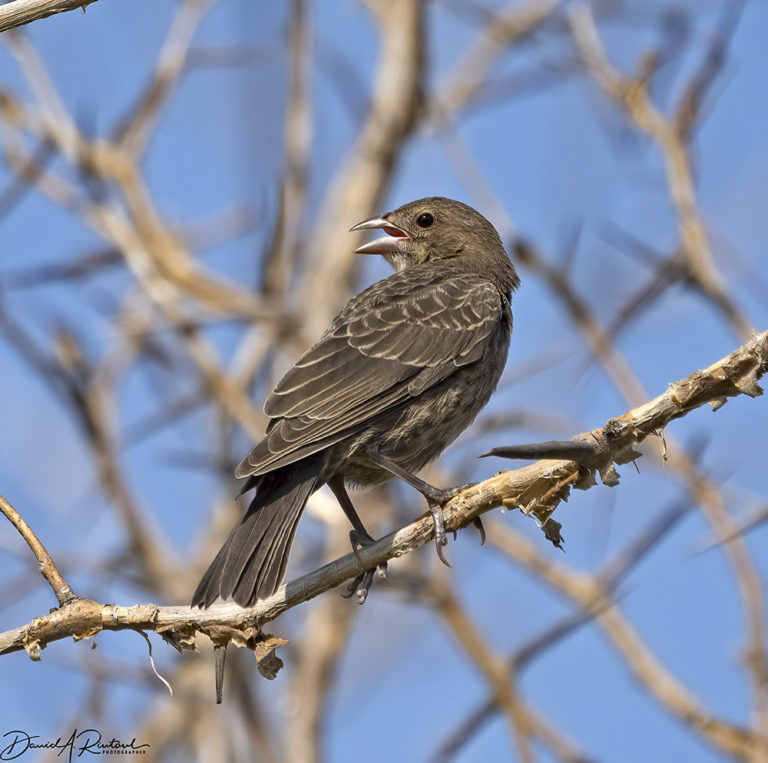 Near Manhattan KS
July 19, 2021
Some of our prairie birds also raise youngsters who are not their own, like this recently-fledged Brown-headed Cowbird (Molothrus ater). It was following a female Dickcissel, who probably raised it in her nest along with some legit Dickcissels. Many people apply human value systems to cowbirds, and despise them for their nest parasitism life-style. But if you can get past those anthropocentric blinders, you just have to be amazed by their adaptations and abilities. Here's just one example.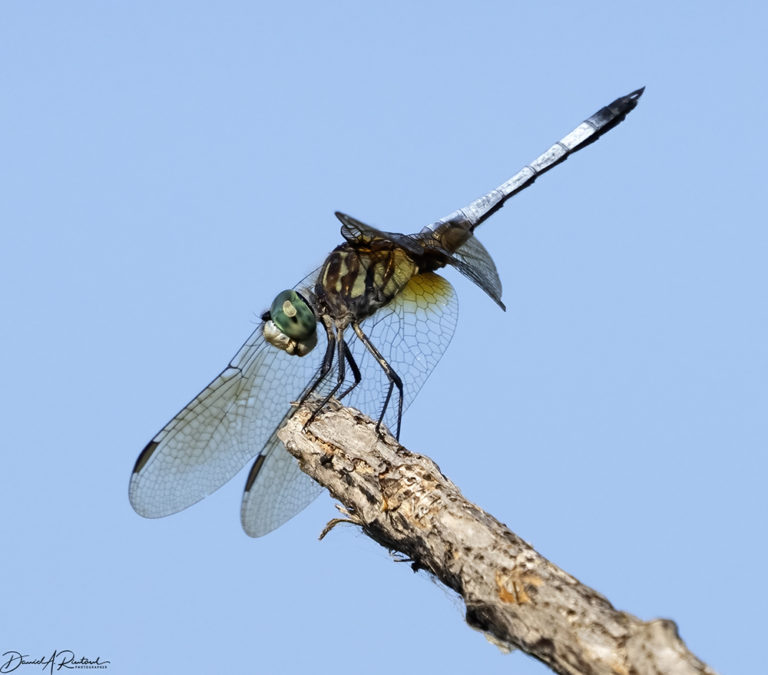 Near Manhattan KS
July 27, 2021
Birds are not the only photogenic flying critters here in summertime. We have lots of dragonflies (feeding on our abundant mosquito population this summer), including this male Blue Dasher (Pachydiplax longipennis), which can be seen across all of North America at this time of year.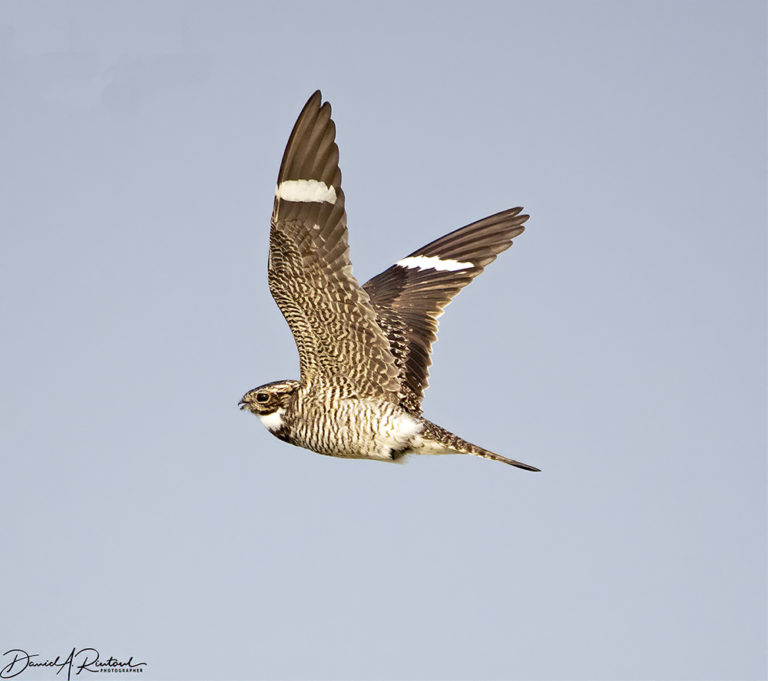 Near Manhattan KS
July 22, 2021
We are fortunate to still have healthy populations of Common Nighthawks (Chordeiles minor) here in the prairie region of Flyover Country; this species is in drastic decline across much of the continent. This handsome male was one of about 5-10 nighthawks flying and feeding over a pasture near my house; I never get tired of hearing and seeing them.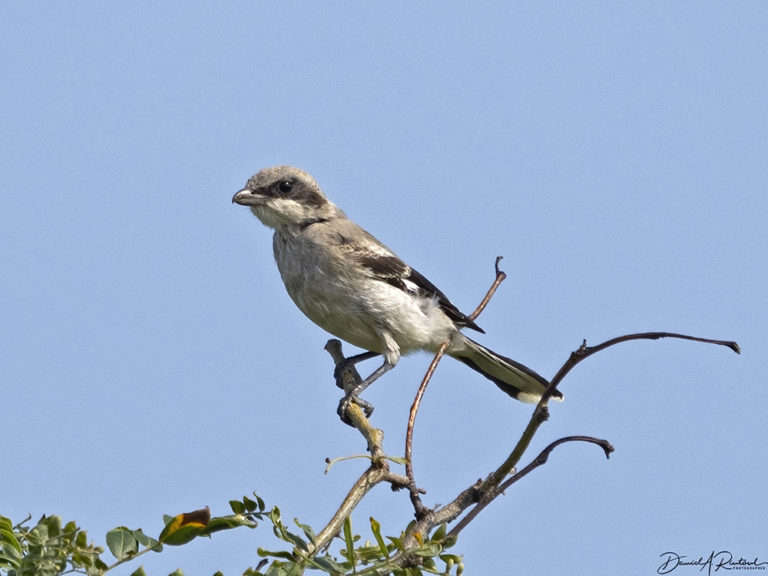 Near Manhattan KS
July 22, 2021
One of the birds which has been declining here (and elsewhere) in recent decades is the Loggerhead Shrike (Lanius ludovicianus). And the causes of that decline are, at least as far as I know, still mysterious. Nevertheless I have seen three families of shrikes in my wanderings around here this summer, including this adult bird, one of a pair which had at least three youngsters in tow when I saw them. It's been a long time since I have seen that much success for this species around here!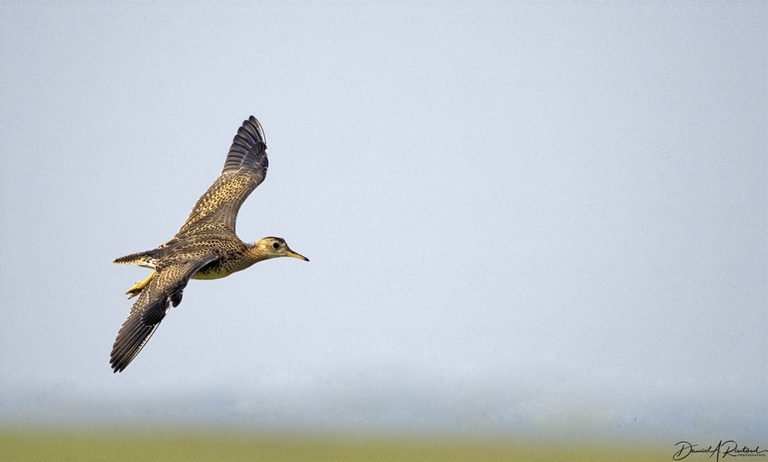 Konza Prairie
August 1, 2021
One of the iconic birds of the prairie region is the Upland Sandpiper (Bartramia longicauda). A shorebird that nests on the prairies and also flies across the equator to winter in South American prairies, their chatters and wolf-whistles are a big part of my summer birding enjoyment here. This is a recently fledged bird, probably on its own since the parents depart for South America weeks ahead of the youngsters, coming in for a landing on Konza Prairie.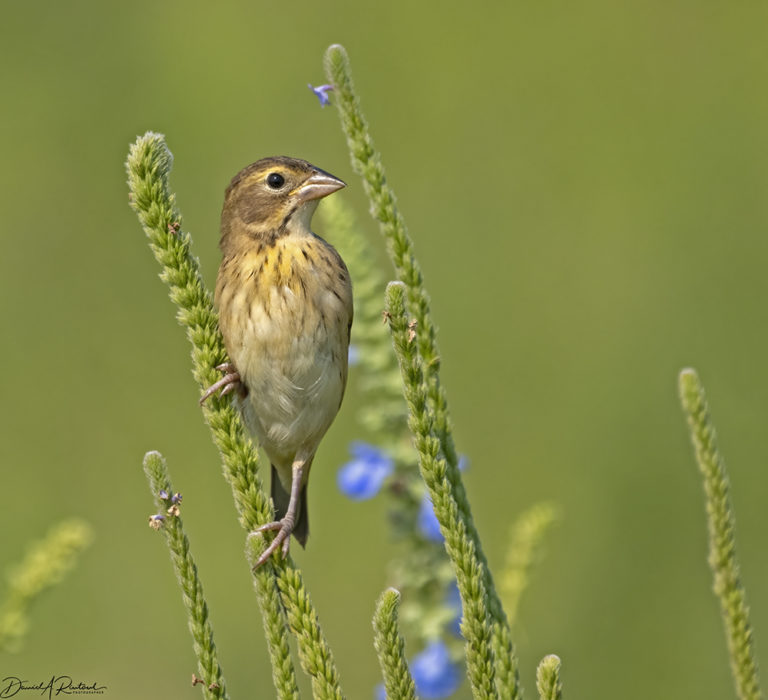 Konza Prairie
August 1, 2021
Another youngster that will be heading to South America soon, this Dickcissel (Spiza americana) obligingly perched on a batch of Wolly Verbena (Verbena stricta) with a flowering stalk of Blue Sage (Salvia azurea) in the near background. For lots of birders in lots of North America, this streaky yellowish sparrow-sized bird would be an excellent ID quiz. Until you have seen and/or banded hundreds of them, at least!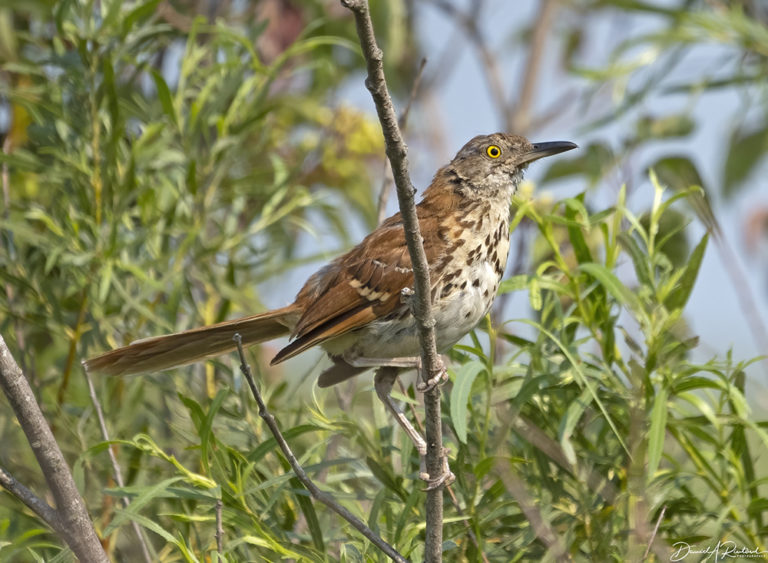 Konza Prairie
August 1, 2021
Contrast the fresh spiffy plumage of the young Dickcissel with the tattered and faded feathers on this Brown Thrasher (Toxostoma rufum). Many of the adult birds I am seeing right now are pretty beat up, having busted their butts foraging all summer long to feed a brood or two of babies. Those year-old feathers will be gone soon, but probably not soon enough for this ragged thrasher.