On the Road is a weekday feature spotlighting reader photo submissions.
From the exotic to the familiar, whether you're traveling or in your own backyard, we would love to see the world through your eyes.
As you've probably noticed I've been a regular contributor to Balloon Juice's On The Road series that appears on these pages each weekday morning. My first contribution was on photo of the view of downtown Los Angeles from the Griffith Observatory in March of 2016. My next photo was submitted a year later and I began weekly submissions after that. While Alain's mom was ill, I submitted 2 a week since Alain was concerned he might run out of content. After her passing and the resumption of On The Road, I've submitted one set a week; with a few week's break after Alain passed.
Over a thousand of my photos have been featured on these pages in the "On The Road" threads. Most of my photos feature the historical and things off the beaten path here in Southern California. I've submitted a few from other places: Sacramento, Seoul, and Yosemite. Of course some of my most popular submissions have been my landscape astrophotography pieces as well as my deep space photography attempts. I've concentrated this year more on panoramas of the early season Milky Way as it arches across the eastern sky and light painted foregrounds with the Milky Way core as a backdrop.
My interest in photography began in junior high school when I took a photography class, learning about basic camera settings and how to develop and print photos. While in high school I shot hundreds of photos, developing and printing them in my converted bathroom darkroom. My photography took a backseat to my studies while I was an undergraduate at UCLA and a graduate student at the University of Washington.
In fact I didn't take my Olympus OM-1 35mm camera to Seattle, which is one of my great regrets. Life continued to overtake photography as got my first job and life moved on. I didn't even think much about photography except in taking photos on vacation and family moments and the primary camera in the house was my wife's point and shoot 35mm Cannon. This changed when the one megapixel(mp) digital cameras first entered the market in the late 1990s. I was working in IT at the time and this seemed to be the perfect melding of my two interests.
I continued to upgrade my cameras, getting an Olympus 4mp camera, a Samsung 13mp camera, and finally the 16mp Samsung Galaxy Camera 2. The Galaxy Camera 2 runs on Android which means there was a wide variety of camera application that were available for it. Unfortunately, all of these cameras only shot in JPG or PNG file format which is a compressed format from what the camera reads from the sensor and limits what you can do in post production.
In September of 2015, I purchased the new Samsung NX500 which produced RAW files, which is what the sensor records and allows for a good deal of flexibility in post production(white balance, exposure, and noise reduction). The NX500 is a very small and light camera and is perfect for hiking. After trying to shoot infrared with the NX500, I purchased a used Samsung NX300 and had it converted for infrared shooting. In July of 2018, I purchased a used NX1, the NX500's big brother. By that time Samsung had exited the standalone camera market, focusing(excuse the pun) on their cellphone cameras.
All of these cameras(also including the Galaxy NX camera I bought in 2019) produce great photos in daylight, but are hampered a bit by their APS-C(2/3's full 35mm frame) sensor size in low light. I've spent a good amount of time and effort learning to overcome some of these limitations. While there's a good deal of information about how to take and process photos on the internet, some of it is quite good and some of it is bunk. It takes a good deal of trial and error to separate the two.
Two methods of overcoming the limitations of my cameras is taking multiple shots and stacking them to average out noise and using a star tracker that compensates for the earth's movement. All of these approaches mean more time in the field to capture the photo and more time in front of my computer at home to process the photo. When I showed a friend(who always tells me how much time I have for photography), my 360° photo of the Milky Way arch taken at Red Rock a few months ago and said how many shots and how long it took to just capture the scene, he remarked "that's a lot of work", yeah.
The past couple of years have been hard on artists, photographers included. While the government(both state and federal) have been helpful towards folk who work in the gig economy, many of those measures were not available to us. Early on, COVID did have a major impact on my shooting since many of the places I'd normally shoot(Joshua Tree, Red Rock, Griffith Park, etc) were closed. Many of these places opened back up after 3 or 4 months, but that's not much help if you're trying to capture something in the spring skies.
The other set of events that hampered my shooting last year were the disastrous California wildfires. Checking smoke conditions rivaled checking COVID conditions for the Summer and Fall last year. The final factor that limited my ability to get out and shoot was the declining health and eventual passing of my girls.
While COVID didn't affect my photography too much, it did cause financial pain. I had planned to get a seasonal job in the Fall of 2020 to help reduce the draw down on my 401k. That was when the COVID positivity rate skyrocketed here in Southern California, reaching 21% late in the year.
In March, a couple of weeks after Conni passed, I was notified by my investment guy that my distributions from my 401k would stop and I was then waiting to be eligible for the jab to start job hunting. Nikki's heath continuted to decline and that put it off until she joined her sister at the Rainbow Bridge. In June, I started working at the local Home Depot.
I set up a webstore to sell my photos in Spring of 2018 to supplement my income from early withdrawals from my 401k. I've made about $800 in profit from sales of prints. I started a Patreon in the Fall of 2019(great timing), to provided an opportunity for people who like my photos to help out. The Patreon has covered my expenses for the webstore and my Adobe software subscription.
So what will you see on my webstore? I have a number of catagories of photos grouped by type. If you want a Milky Way photo, just click on the menu and you'll get a choice of different types of Milky Way photos. If you select "On The Road", you'll get a list, by date, of every one of my photos that have appeared on "On The Road" on Balloon Juice. Every photo can be purchased in a variety of formats(paper, canvas, metal) and have options for framing. I neither print, frame, or ship items in the store, they're done by professional labs and framers via Smugmug who I run the store though. You can access my store by clicking on my nym or at the address: https://www.billinglendaleca.com/.
My Patrons get to see my photos right after I shoot and do the initial processing on them. They will usually see a set of photos, I think I've posted a minimum of one and maximum of 30, usually once or twice a week. Mostly these are newly shot photos, but sometimes I'll post photos that I've newly processed, since over time I have new tools at my disposal and learned new techniques. My Patreon is at this address(it can also be accessed via a button on the main page of my webstore): https://www.patreon.com/BillinGlendaleCA.
I really want to thank my patrons and those folk who've purchased prints, you've really helped me a great deal by showing faith in my work.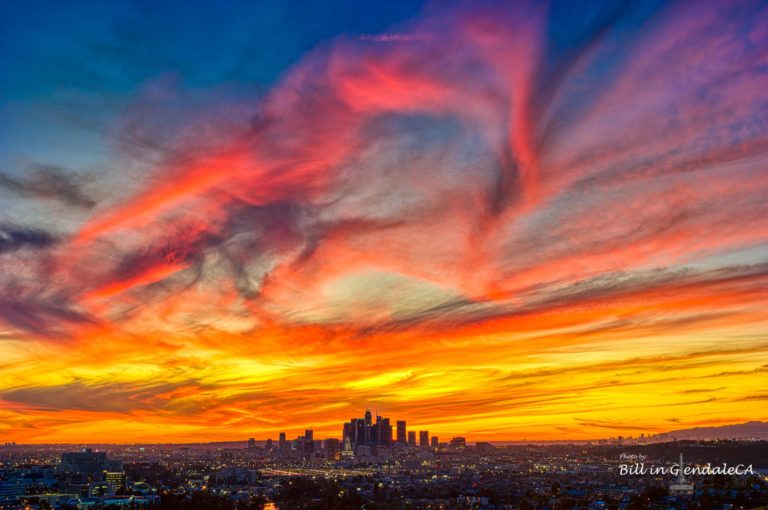 Ascot Hills Park, Los Angeles, CA
January 18, 2020
One of the main subjects of interest when I started taking photos again was cityscapes. I would hike up to a hill high above the city and get shots and try to mitigate the haze(Los Angeles is a coastal city) and yes, smog. The really nice sunsets we get in LA add to the view. Here, the sun is setting behind downtown Los Angeles as viewed from the Ascot Hills northeast of downtown LA.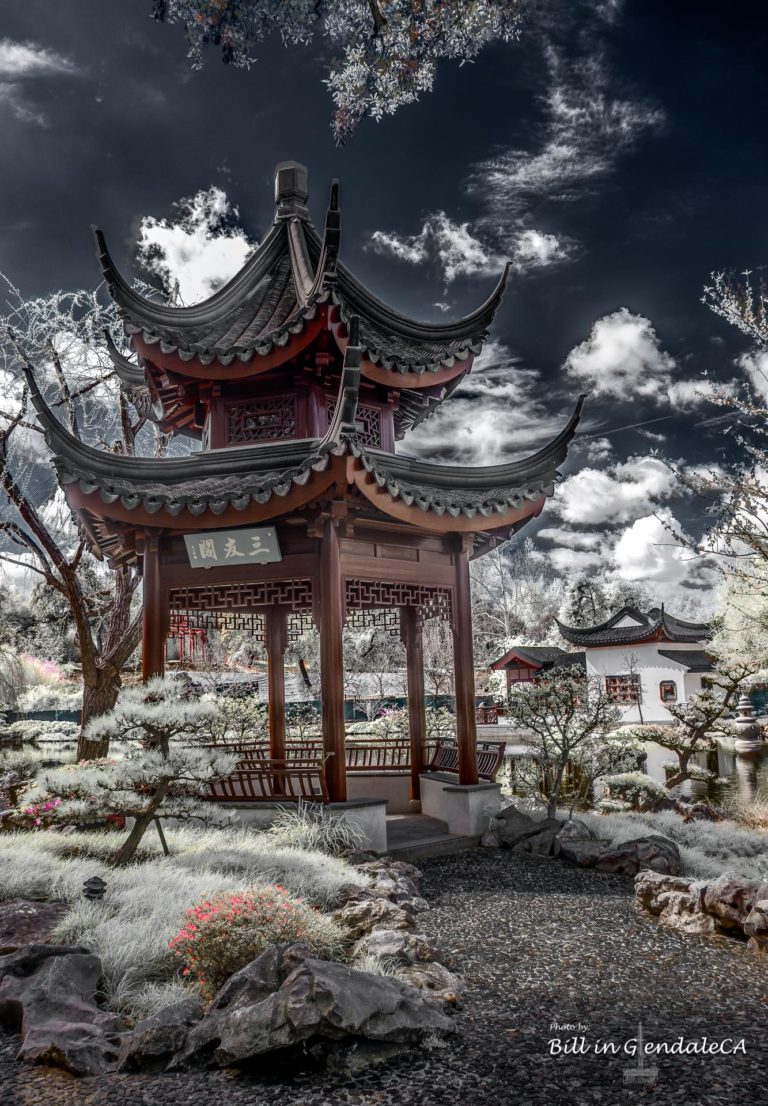 The Huntington, San Marino, CA
March 9, 2019
Having a membership at the Huntington provided a good location where I could shoot anytime(except Tuesdays, when they're closed) and experiment. The Chinese Garden was a favorite location. Here is a shot of the Pavilion for Three Friends shot in infrared on a morning visit to the Chinese Garden. While morning is not the best time to shot IR(noon is the best time), members can get early admission to the gardens on weekends; this allows for pictures with not too many people in them. Again the clouds had cleared enough for perfect skies.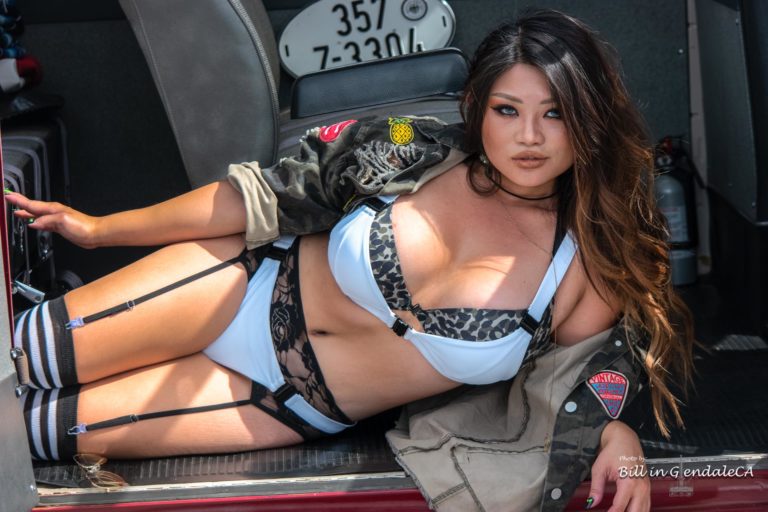 San Gabriel Valley Airport, CA
September 22, 2019
As I became more engaged with photography, I didn't shoot people all that much. Models are expensive and I was inexperienced with working with them. One of the reasons I joined the local photo group is to have some exposure to this side of photography. I joined another group that had(until Covid) monthly shoots joining models and photographers in interesting locations around LA. This shot is from one of those shoots at a local civil aviation airport. It coincided with a vintage VW show and the models would pose with or inside the cars.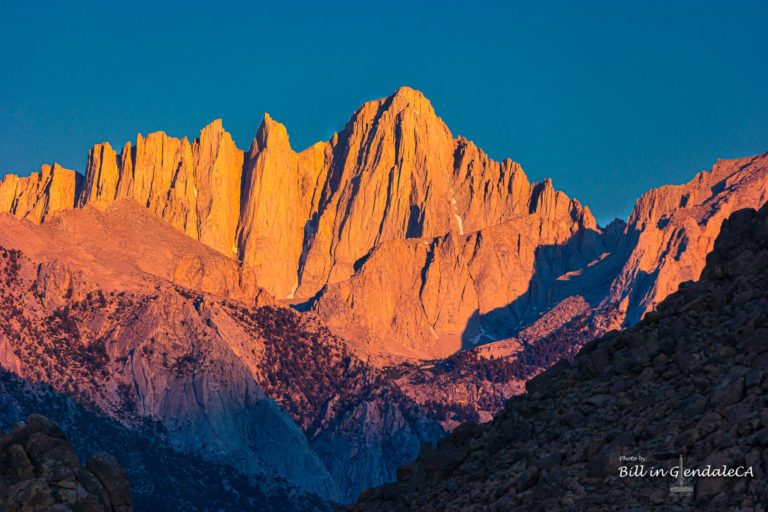 Alabama Hills, CA
July 11, 2020
I was shooting startrails and comet NEOWISE in the early morning at Fossil Falls and thought rather than fighting weekday rush hour back to LA, I'd head north about 50 miles to see the sunrise in the Alabama Hills. Here, Mt. Whitney basks in the golden glow of the Sun as the sunlight reaches it over the Inyo Mountains to the east.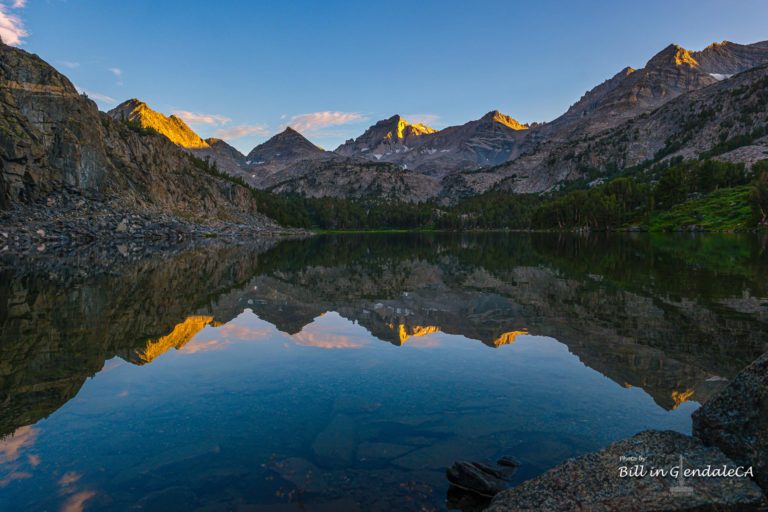 Long Lake, Little Lakes Valley, Eastern Sierra, CA
July 10, 2021
Sometimes plans just don't work out, but can still result in some great photos. I recently headed up to the eastern Sierra to Little Lakes Valley. It's about a 5 hour drive from LA and then a 2 mile hike at over 10,000 feet to Long Lake where this shot was taken. The goal was to get the Milky Way stretching vertically between the two peaks at the center of this photo with a reflection in the lake. The weather did not cooperate, clouds moved in and the wind picked up slightly and the reflection disappeared. But, just as the sun was setting I took this shot of the perfectly still lake with the final kisses of the Sun reflected off the tops of the peaks reflected in the still wasters of Long Lake.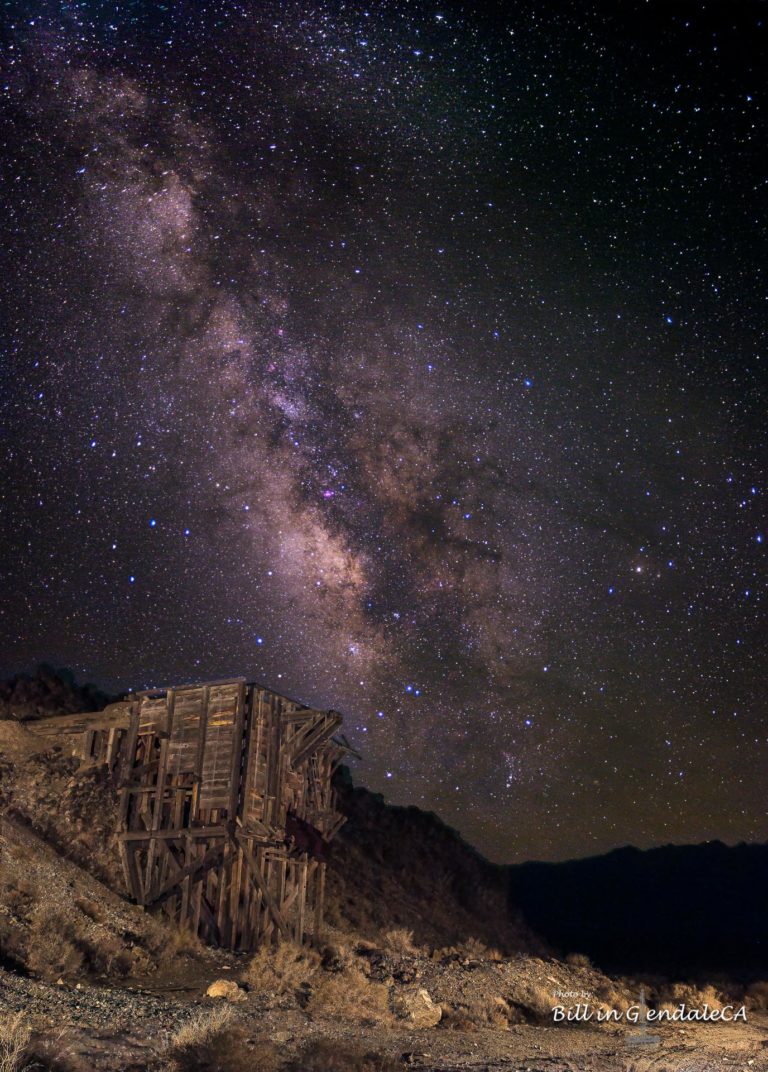 Kearsarge, CA
June 6, 2021
The most compelling part of a good Milky Way photo is a good foreground. There are two ways of finding these foregrounds: just drive around or look at Google Maps with photos turned on. I use the later method since most of the areas that the Milky Way is visible is at least a 2 hour drive from here in light polluted LA, I had the girls which limited how long I could be out, and gas is expensive. If I'm in the area during daylight, I'll check the location out and see if it will useful as a Milky Way foreground. In this case that wasn't an option, so while I was close by shooting the Milky Way arch about 30 miles to the south, I packed up early and headed north to shoot here and the old Kearsarge rail station about a 1/4 of a mile away. I've also started light painting my foregrounds using a technique that a photographer in Australia uses on his shots of interesting foregrounds down there.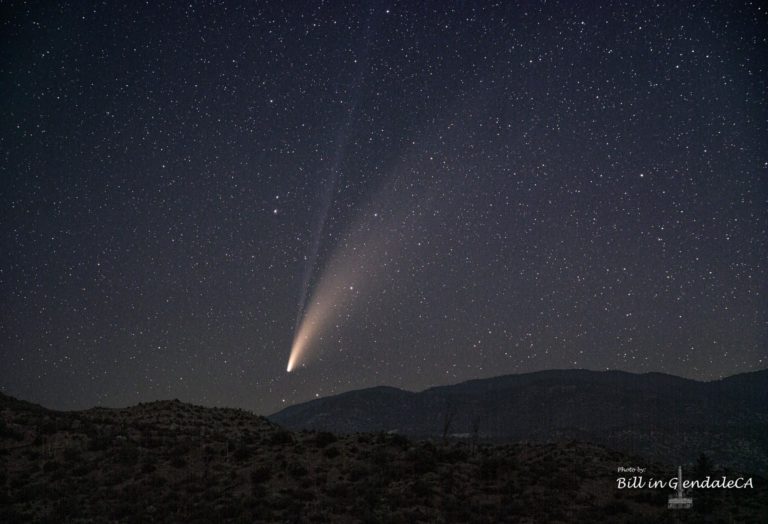 Lockwood Valley, CA
July 18, 2020
While 2020 wasn't the best year for shooting the stars due to COVID restrictions early on and the smoke from the California wildfires which made the eastern Sierra unusable as a location, we did have a welcome cosmic visitor in our skies in July. Comet NEOWISE streaked across first our morning skies in the early part of the month and graced our evening skies in the later part of the month. I went out to shoot it 4 times(Fossil Falls in the morning and Red Rock, Lockwood Valley and Joshua Tree in the evening). This is from my visit to Lockwood Valley with a tight shot of NEOWISE as it was setting just west of Mt. Pinos.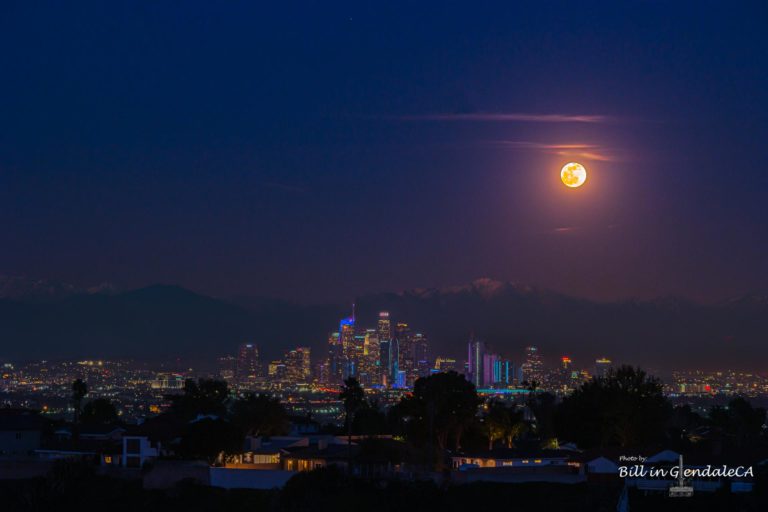 Kenneth Hahn State Regional Park, Los Angeles, CA
January 10, 2020
Taking time to plan a shot is not just limited to locations with dark skies far away from Glendale. You have to plan for occasions where there will be an astronomical even and plan the shots pretty carefully. Kenneth Hahn State Recreation Area in the Baldwin Hills in West Los Angeles is where I've shot some cityscapes with the snow covered San Gabriels as a backdrop. In January 2020, the Moon would be rising over the snow capped San Gabriels and the lights of downtown LA.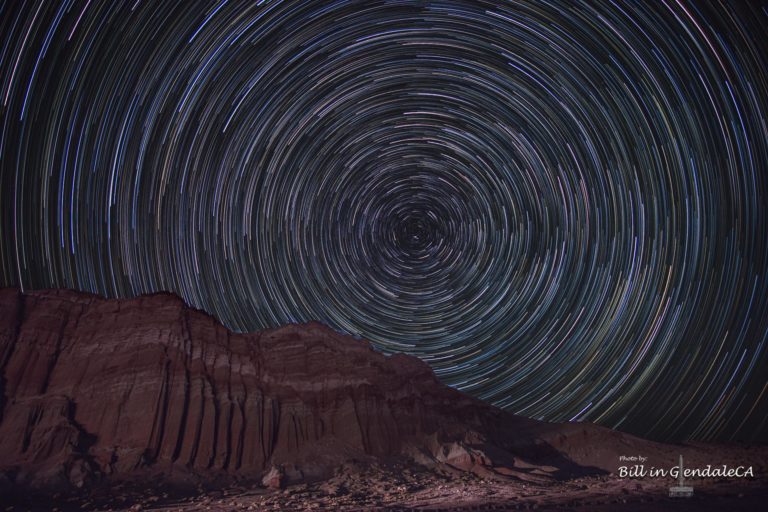 Red Rock State Park, CA
May 3, 2019
Startrails are easy to shoot, you just have the camera take multiple shots, one after the other and the software to put them together is pretty straight forward. The one error many photographers make is they overexpose the stars, ending up with all the stars being white. This star trail was shot at Red Rock State Park with the camera pointed at Polaris against the Red Cliffs. I didn't use a foreground shot here since once I'd processed the sky shot, I didn't think I really needed one. I used the stacking software(Sequator) that I used for capturing nebula and the Red Cliffs were getting enough cumulative light from the passing cars to get uniformly lit. This exposure was a series of 30 second exposures over 90 minutes.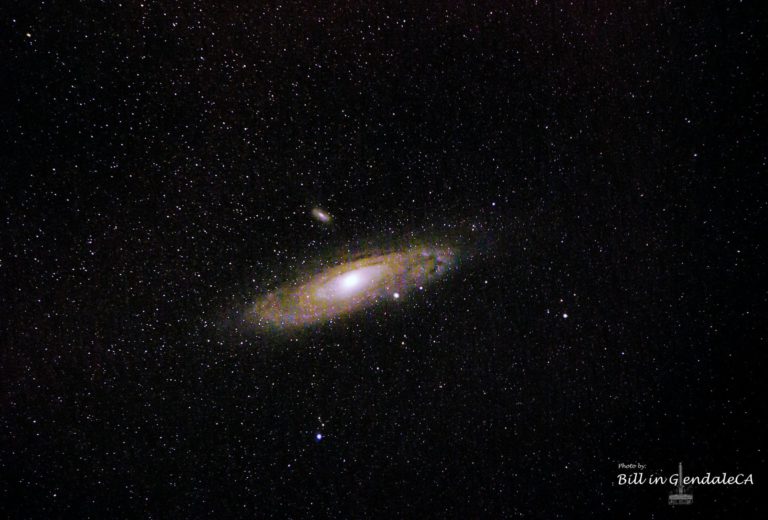 Joshua Tree National Park, CA
July 31, 2019
Deep Space photographer doesn't involve as many challenges as Milky Way photography, you don't have worry about finding a foreground, but you still need to know where the object will be in the sky and have clear dark skies. Most of the time spent with these shots is after you return home from shooting them and process them to get a final shot which can take days. This is a shot of our nearest galactic neighbor, the Andromeda Galaxy(M31). It was shot in Joshua Tree in early August of 2019 and this version was completed in October of 2020, so it can take a while to get the processing to a point that you're happy with.