On the Road is a weekday feature spotlighting reader photo submissions.
From the exotic to the familiar, whether you're traveling or in your own backyard, we would love to see the world through your eyes.
UncleEbeneezer
Our final day in Saigon we decided to simply laze about by the pool, since we had an afternoon/evening flight to Siem Reap, Cambodia.  As much as Vietnam felt like another world, it was when we reached the airport in Siem Reap when we really felt like we had left the developed world.  The airport is tiny and in the middle of nowhere.  When we exited the airport we saw a couple charming tuk-tuks waiting out front.  We had no idea that one of them was actually our ride to Palm Village Resort, where we would be staying for 3 nights.  To give you an idea of how remote this area is, I looked at the Google Map to find some street names and realized that the vast majority of the streets around Siem Reap don't have any names.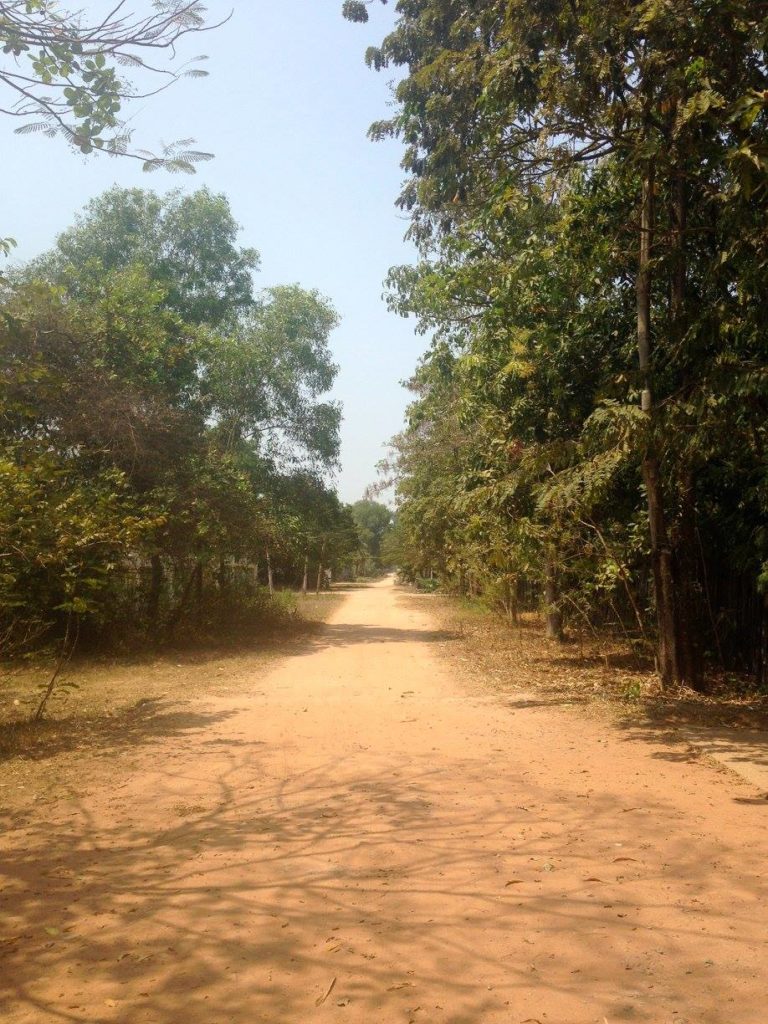 Siem Reap, Cambodia
February 18, 2016
After about a mile or two of tuk-tuking along Charles Degualle Highway (a simple 2-lane road) we turned down this dirt road that led to our Hotel.  There were stray dogs, water buffalo and local Khmer families here and there.  The sky was hazy from the early evening, nightly spraying of pesticides to help control the mosquito population.  This was also the time when many people burn their trash.  Our immediate thought was "what have we gotten ourselves into?"  Fortunately the pesticides and smoke both clear fairly fast.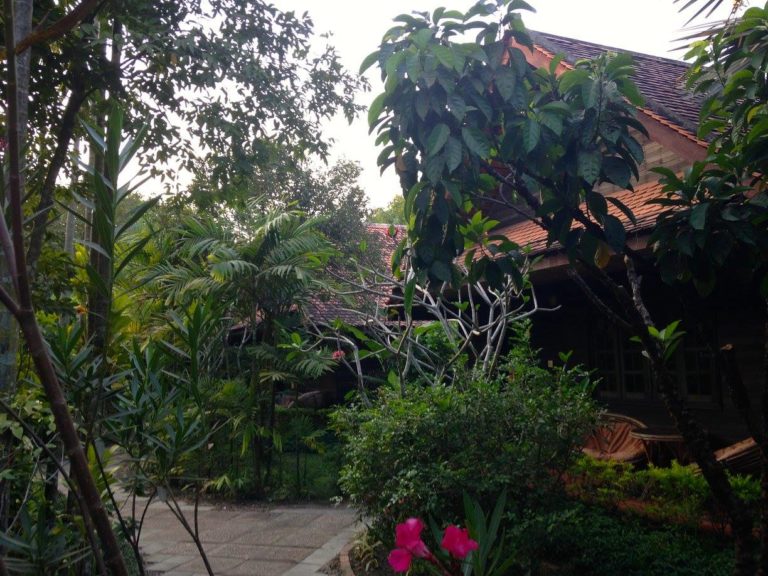 Siem Reap, Cambodia
February 18, 2016
My wife found Palm Village while researching places to stay in or near Siem Reap.  It was about 15-20 minute tuk-tuk drive from the downtown (not much bigger than a small US town) and was absolutely lovely.  PV features traditional teak huts on stilts and has a wonderful grounds, filled with incredible trees and flora.  The moment we arrived, we were in love.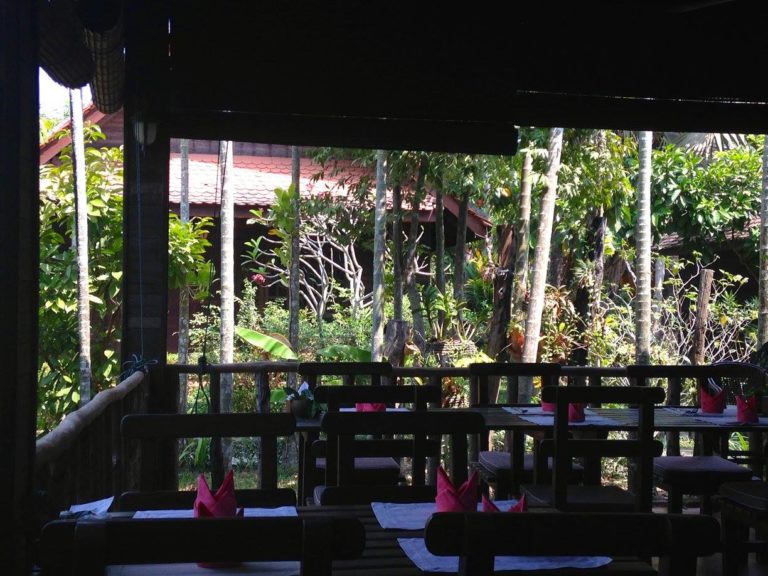 Siem Reap, Cambodia
February 18, 2016
It was dark when we arrived, and we were exhausted from the heat so we simply retired to our room and ordered some food from the kitchen.  When our meal arrived it was one of the most delicious meals I have ever had.  Our main dish was Fried Noodle Chili Pork along with some fresh fruit.  We loved the noodles so much that I actually reached out to the resort once we were back in the US and they were kind enough to share the recipe with me.  I was surprised that one of the main ingredients was regular old, ketchup.
Anyways, in the morning we finally got to see the grounds in daylight, and we were thrilled.  Here is the dining room/lounge of the main entrance, with an open air approach that lets everyone enjoy the amazing jungle vibe.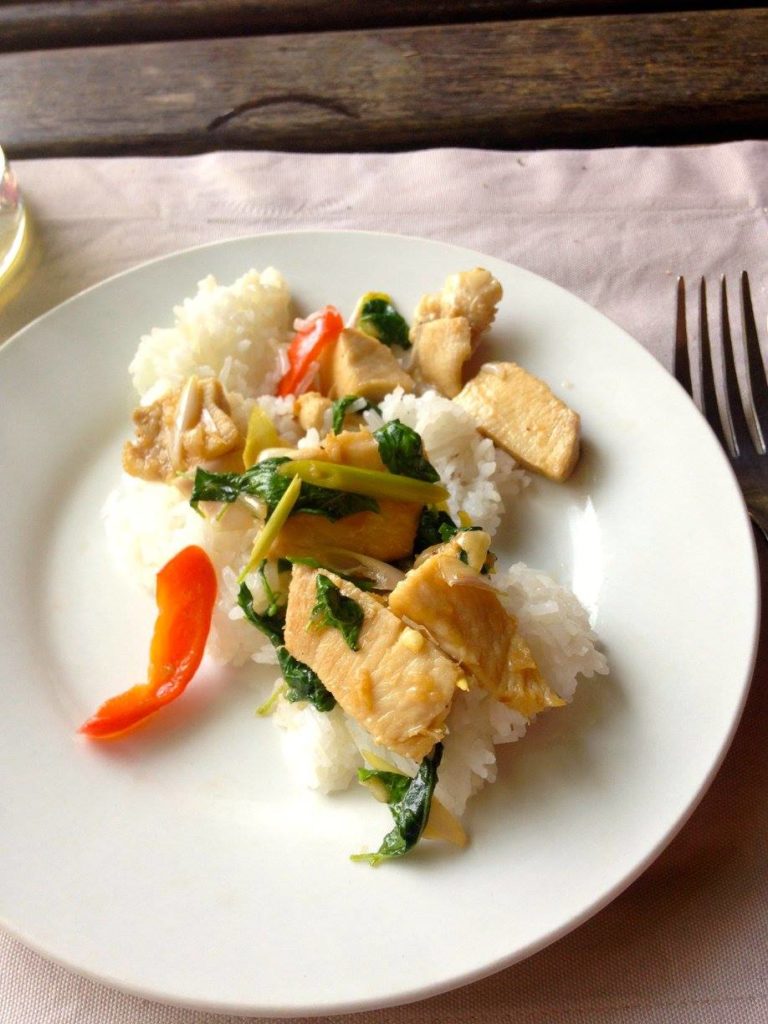 Siem Reap, Cambodia
February 18, 2021
The food at Palm Village was spectacular.  We had incredible banana pancakes and cafe sua da (iced coffee with sweet/condensed milk- a staple of SE Asia) for breakfast and yummy stir fries for lunch/dinners.  They also made a mean Gin & Tonic!  Here is a lemongrass chicken dish that blew us away.  To give you an idea of how inexpensive food/drinks are in Cambodia, by the time we left, our tab for probably 6-8 meals including lots of drinks was only $80.  Note: I will probably do a "food" post at the end since we had some amazing food and some commenters have expressed interest.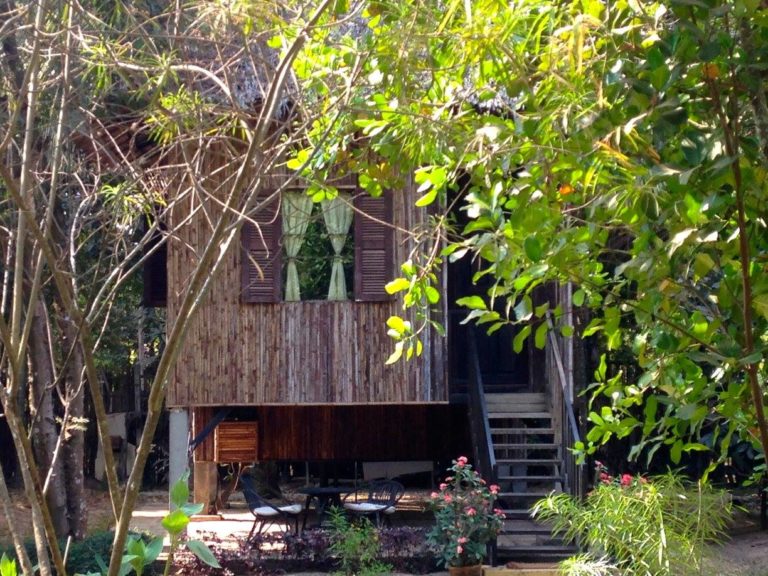 Siem Reap, Cambodia
February 18, 2016
Here is a better look at our charming, temporary abode.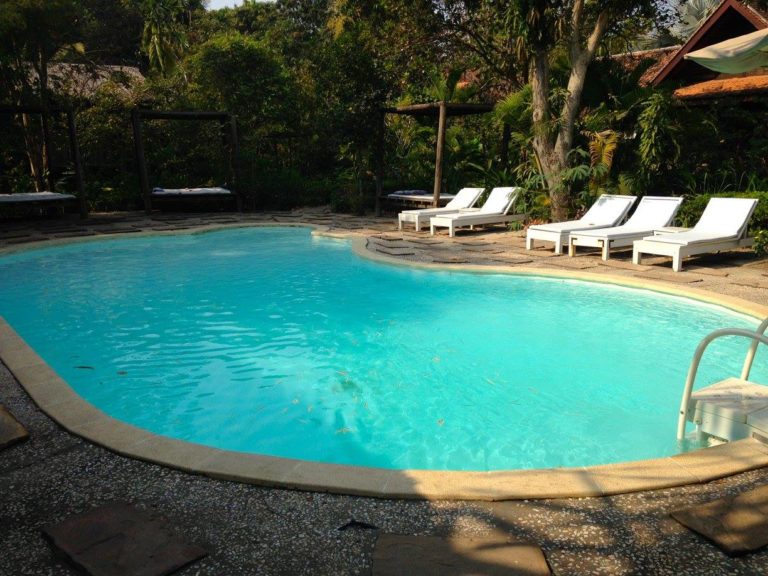 Siem Reap, Cambodia
February 18, 2016
The pool at Palm Village was simple but lovely, especially with 95 degree temps and high humidity.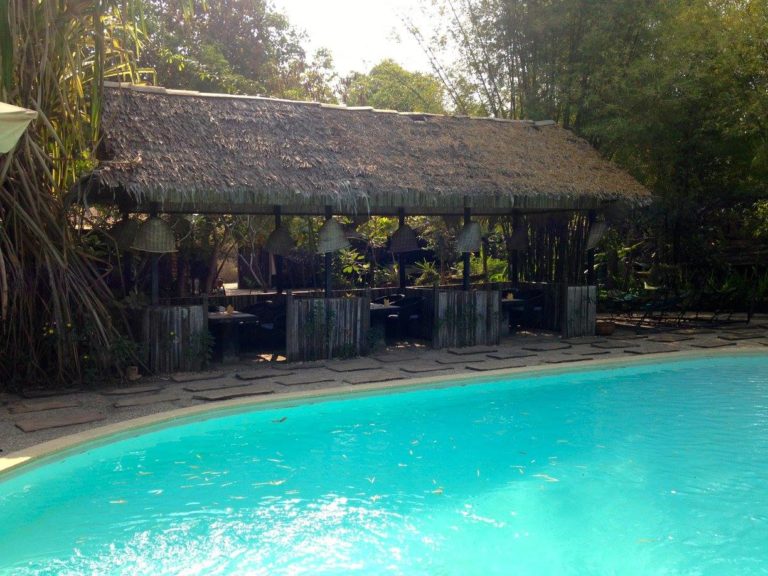 Siem Reap, Cambodia
February 18, 2016
We never got around to actually ordering drinks here, but we loved the look of this poolside bar.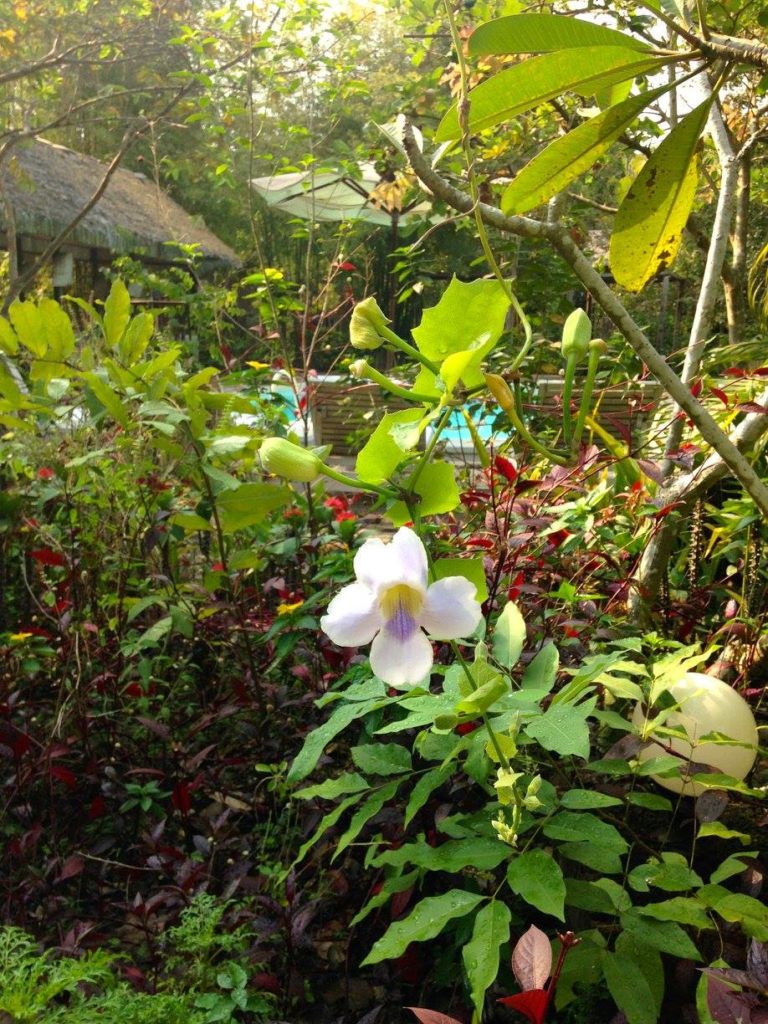 Siem Reap, Cambodia
February 18, 2016
My wife, particularly appreciated all the exotic plants and flowers around the resort grounds.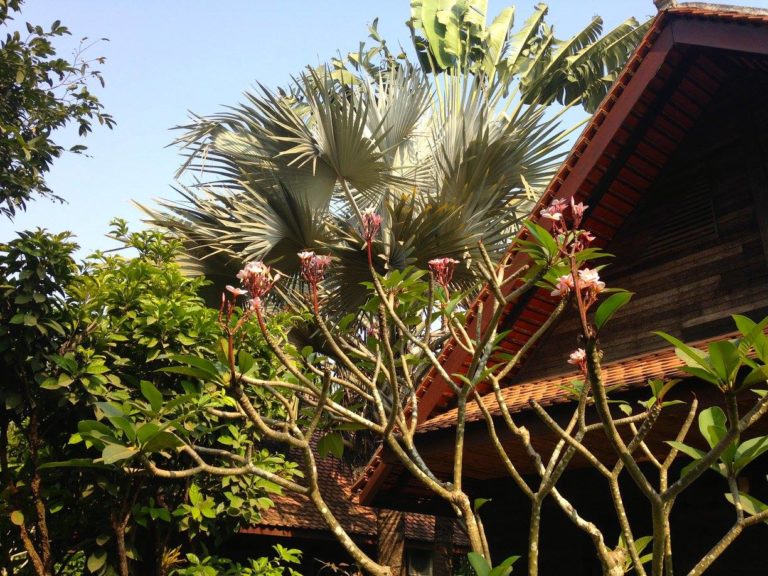 Siem Reap, Cambodia
February 18, 2016
More lovely vegetation.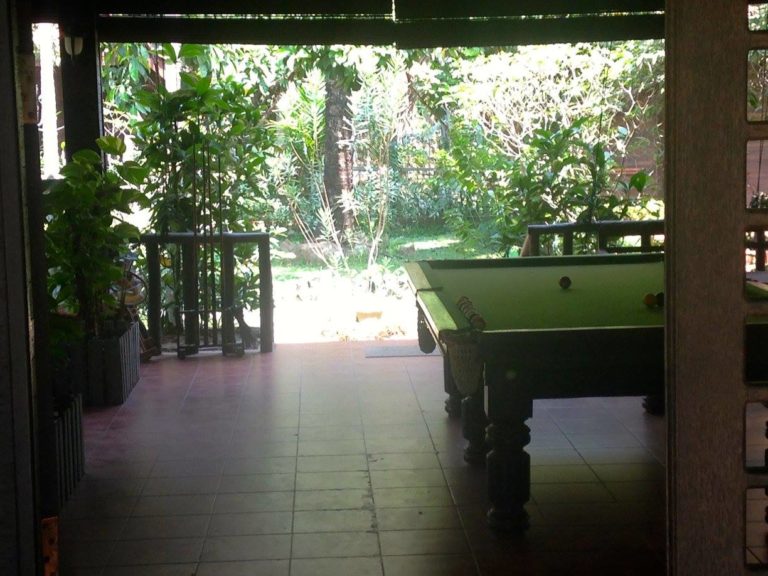 Siem Reap, Cambodia
February 18, 2016
Another look at the main lounge and pool table (that we admired but never actually used) at Palm Village.  If you ever visit Siem Reap, definitely consider staying there.  Really wonderful and inexpensive place.  We would go back there in a heartbeat.
Next Up: Angkor Watt!