On the Road is a weekday feature spotlighting reader photo submissions.
From the exotic to the familiar, whether you're traveling or in your own backyard, we would love to see the world through your eyes.
It's a holiday week, so we're going with something a little different.  We all know that frosty travelled from April to June, or thereabouts, so in honor of the holiday we're going to have a week of frosty traveling from park to park!  Which means that Albatrossity and Bill both get a week off.
frosty
This is another park like Biscayne where you need a boat to see the park. We took a day trip via Island Packers to Santa Cruz Island, one of the five islands that make up the National Park. I was here in 2013, and wanted to see it again.
There are opportunities for kayaking, snorkeling, and diving as well as hiking, which was our plan. There are several trails on the island, from short and easy to long and strenuous. We started on one of the shorter ones that went along the bluffs that overlook the harbor and Santa Barbara Channel, then went on one of the longer ones that involved a lot more uphill and downhill hiking.
Wildlife is one of the draws for this park. Along with plants and animals found on the mainland, there are about 145 other species that only exist on one or more of the islands. We saw two of these, along with dolphins and birds on the way out and back.
April 20, 2021
It's not uncommon for dolphins to track the boat part way across the channel. We had a pod of about a dozen, some of which came right next to us. Island Packers detours and slows down when they're spotted.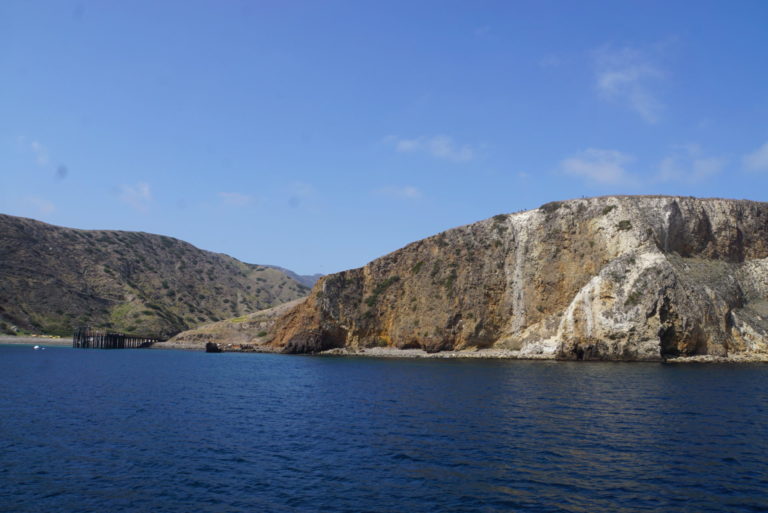 April 20, 2021
We disembarked and embarked at Scorpion Harbor on the island. The bluffs to the right were the destination of our first hike.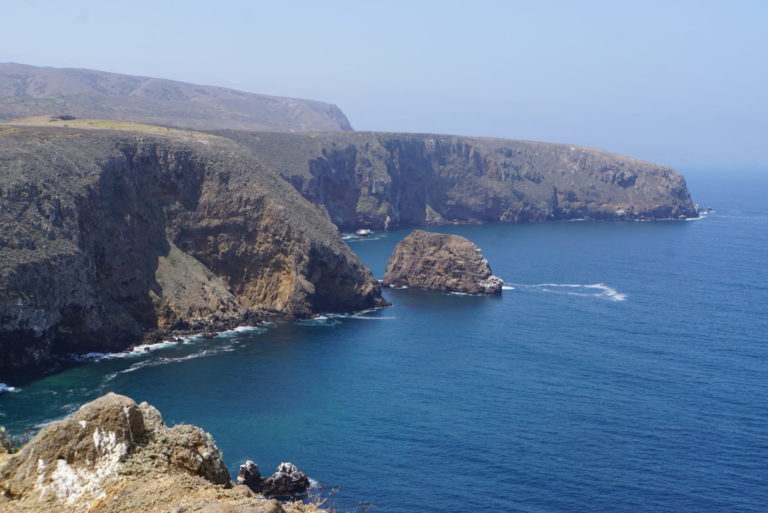 April 20, 2021
This view is from the Cavern Point Loop trail. The shore of the island on the mainland side is sheer bluffs, about 230 feet above sea level.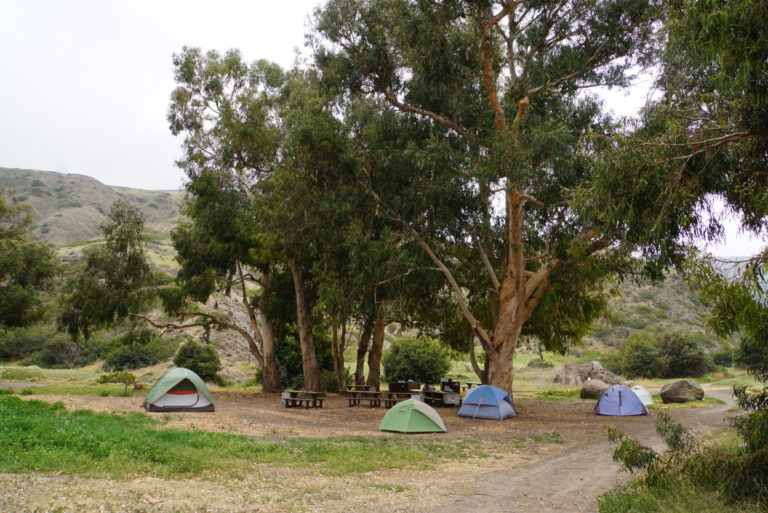 April 20, 2021
Scorpion Campground. Along with day trips, it's also possible to do overnight camping trips, packing your own gear. The only facilities are a couple of pit toilets and water supply. Each campsite has a picnic table and a locker for storing your food and gear. The rangers told us they're needed because the ravens and foxes are smart enough to open zippers.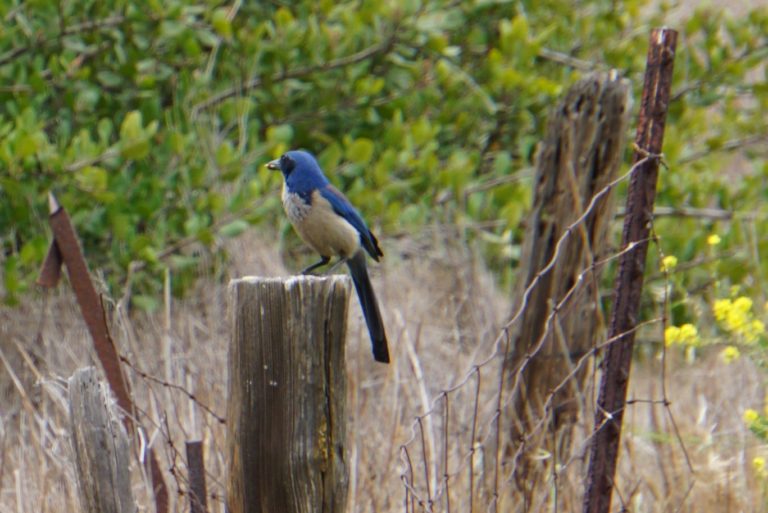 April 20, 2021
I had one major birding goal: to see an Island Scrub Jay, which only exists on the Channel Islands. This was one of the two who perched close to us.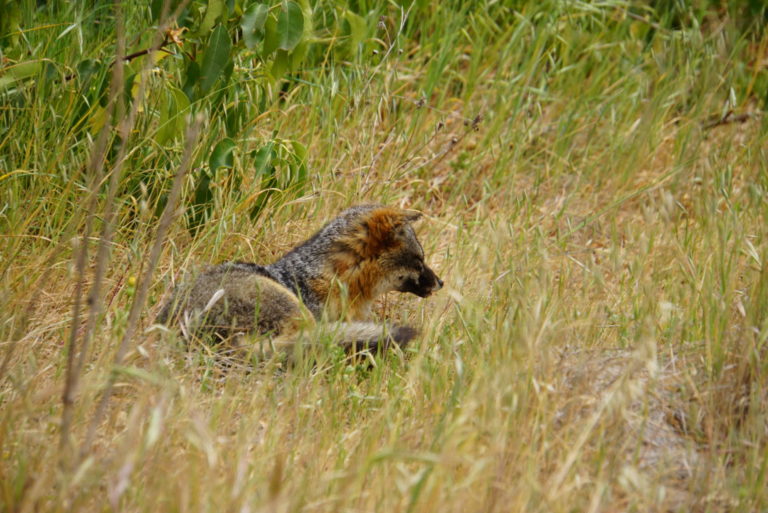 April 20, 2021
The Island Fox is one of four mammals that are only found on the islands. It was hanging out close to the campground, the same place I saw one in 2013. They are unafraid of humans. This one sat there calmly while half a dozen people were taking pictures.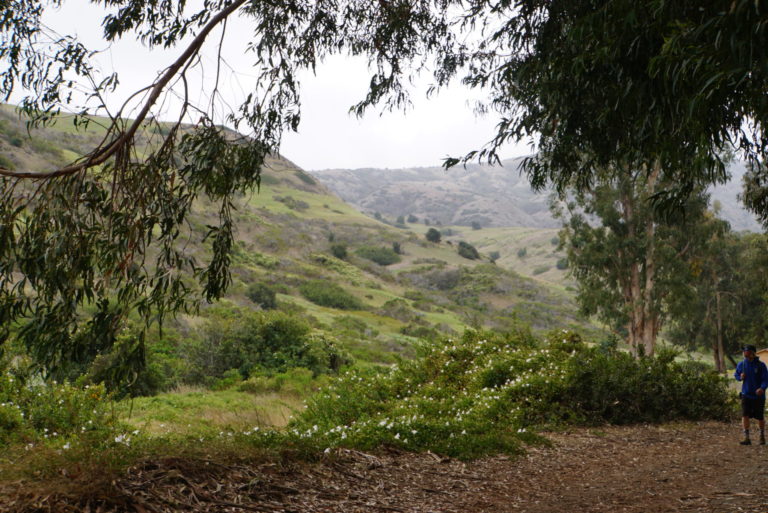 April 20, 2021
We left the campground and set out on a 4 1/2 mile walk, the Scorpion Canyon Trail. It started with a pleasant walk through this country, then made a turn for a long climb up to 780 feet, with up to 25% grades. It took awhile but we made it back in time for our departure.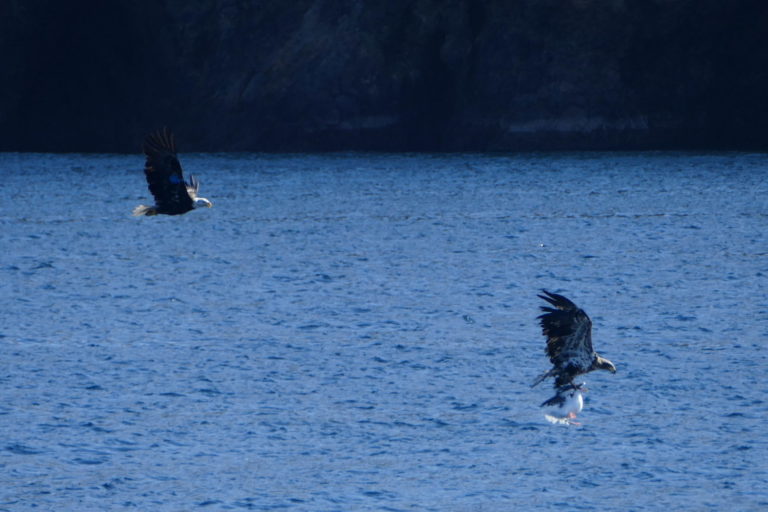 April 20, 2021
As the boat started to depart we saw two bald eagles being harassed by gulls. A moment later we found out why the gulls wanted them gone, when one of the eagles snatched a gull out of the water and flew with it to the cliffs.