On the Road is a weekday feature spotlighting reader photo submissions.
From the exotic to the familiar, whether you're traveling or in your own backyard, we would love to see the world through your eyes.
Our featured artist today is Mr. Argiope!  Spouse of commenter Argiope.  

Let's give him a warm welcome.

If you would like your talent featured in the Artists in Our Midst series, send me an email message.  Don't be shy!  This is the final Artists post in the queue, so please get in touch if you would like to be featured.
Greetings, Juicers, from the Argiope household where Mr. Argiope is hard at work making art most days.  A fully credentialed and board-certified art therapist, he was laid off from his day job teaching art to kids at area Boys & Girls Clubs during the pandemic.
To stay off the streets and out of trouble, he started spending lots more time in his studio, cutting paper, painting, taping, gluing and other mysterious processes involving a substance called gel medium.  The product is collage, not like I used to do it with magazines and paste in kindergarten, but….well, actually, kind of like that but with a lot more panache and way better results.
Mr. Argiope has a website where there is WAY MORE ART:  rjamescollageart.com, and he's on Instagram @rjamescollage.  If you're inclined, he's happy to sell it to you (and get it out of our house).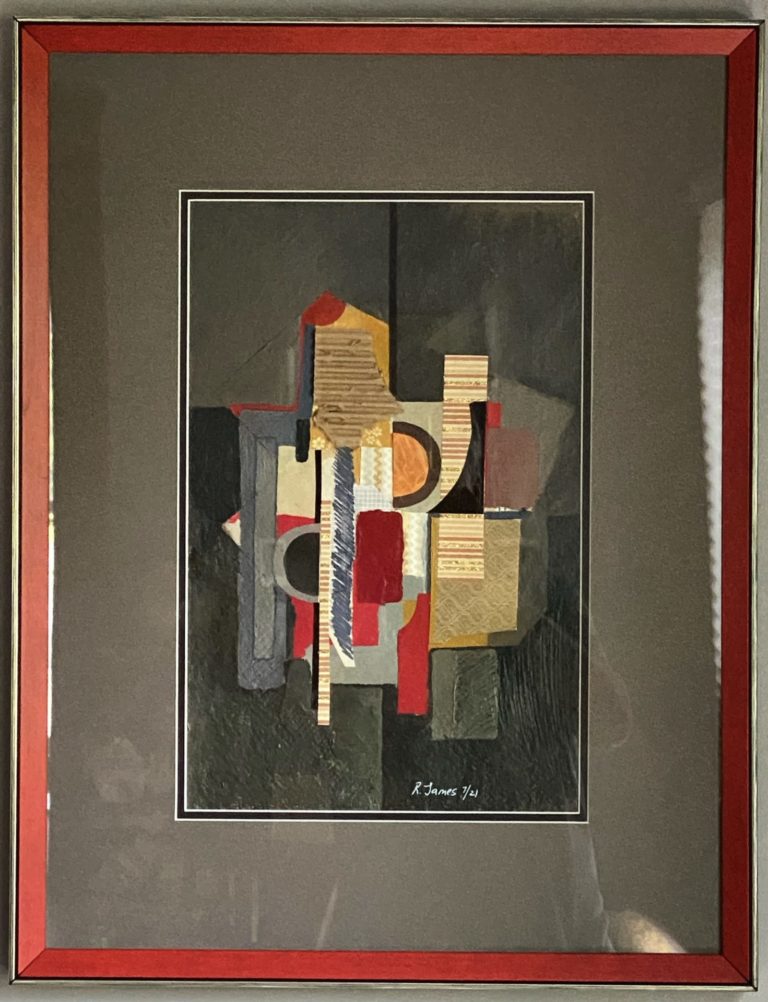 I asked him to try to explain in words normal people might use about what he does.  Here's what he wrote: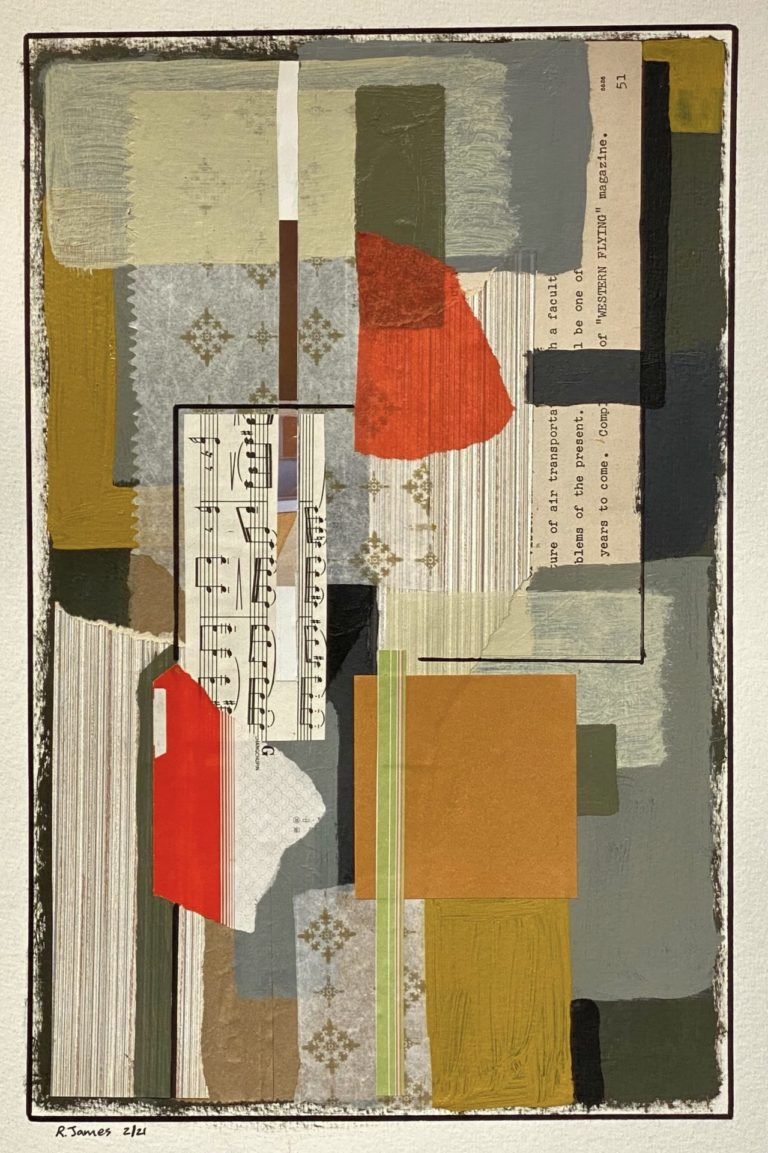 "The word collage comes from the French word 'coller,' meaning "to glue". The process is one of assemblage where the artist glues down different papers and objects onto a surface to create the aesthetic or idea desired. I use a variety of different materials in my collages; found, decorative, and discarded papers of all sorts; found objects, old stamps, cut up magazines, ticket stubs, newspapers, etc."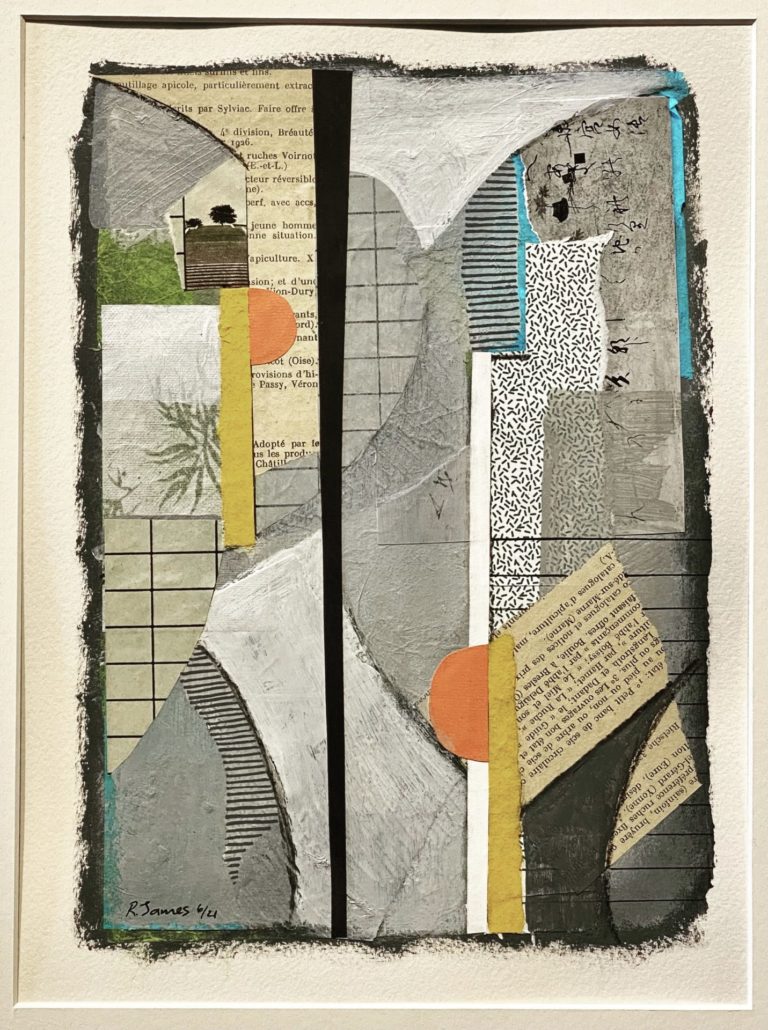 "I use a variety of different adhesives as well, depending on the object or quality of the paper I am gluing down. I use a heavy acrylic gel medium for heavy papers like mat board or pieces of metal; I use a softer gel medium or even a fluid gel medium for thinner or more delicate papers. I routinely use an acid free glue stick."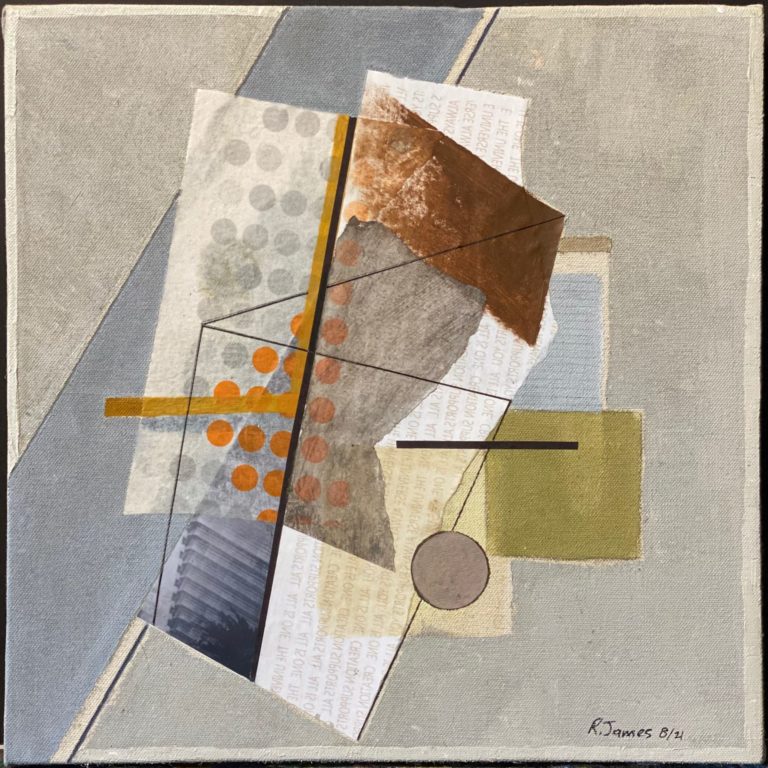 August 28, 2021
"As a collage artist I am interested in taking discarded items and combining them together to create something unique and beautiful. Collage is perhaps one of the most democratic of art forms. It is an equalizing process where what has been discarded, overlooked, or taken for granted is elevated in status as it forms a new and unique reality. It is a process of both deconstruction and reconstruction. Collage is thus a process of transformation."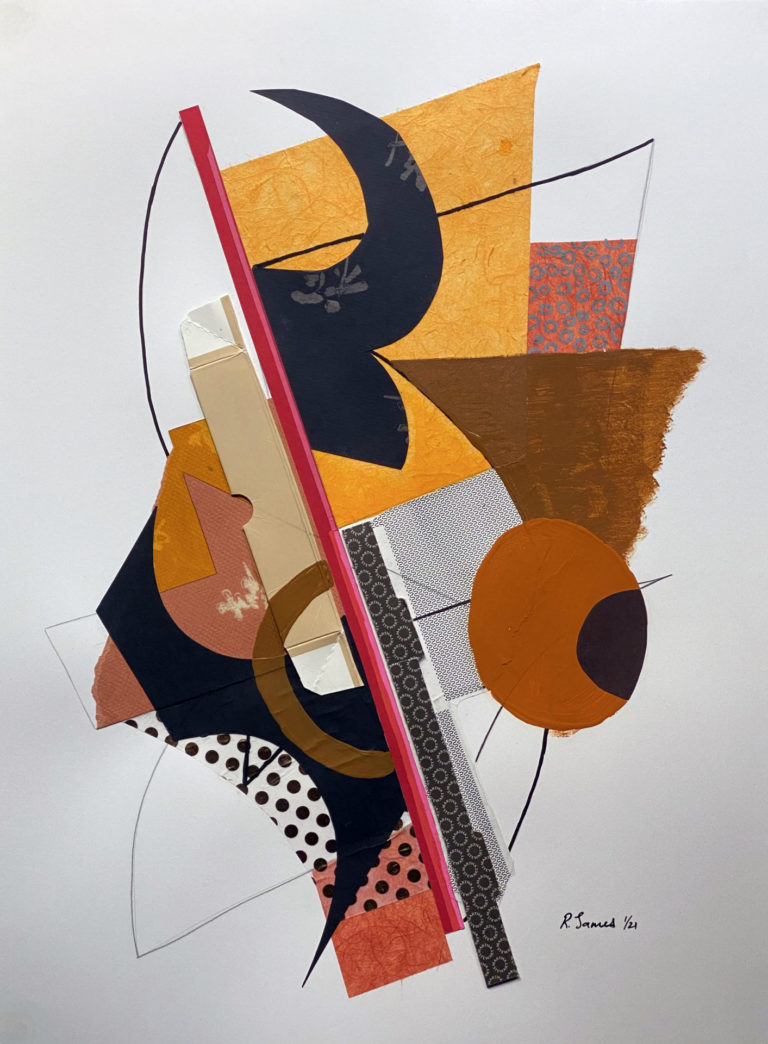 "There are two main driving forces that inform the abstract content of my work. The first and foremost is the materiality of paper and paint. I am in love with the physicality of both, and how they can play together on a surface."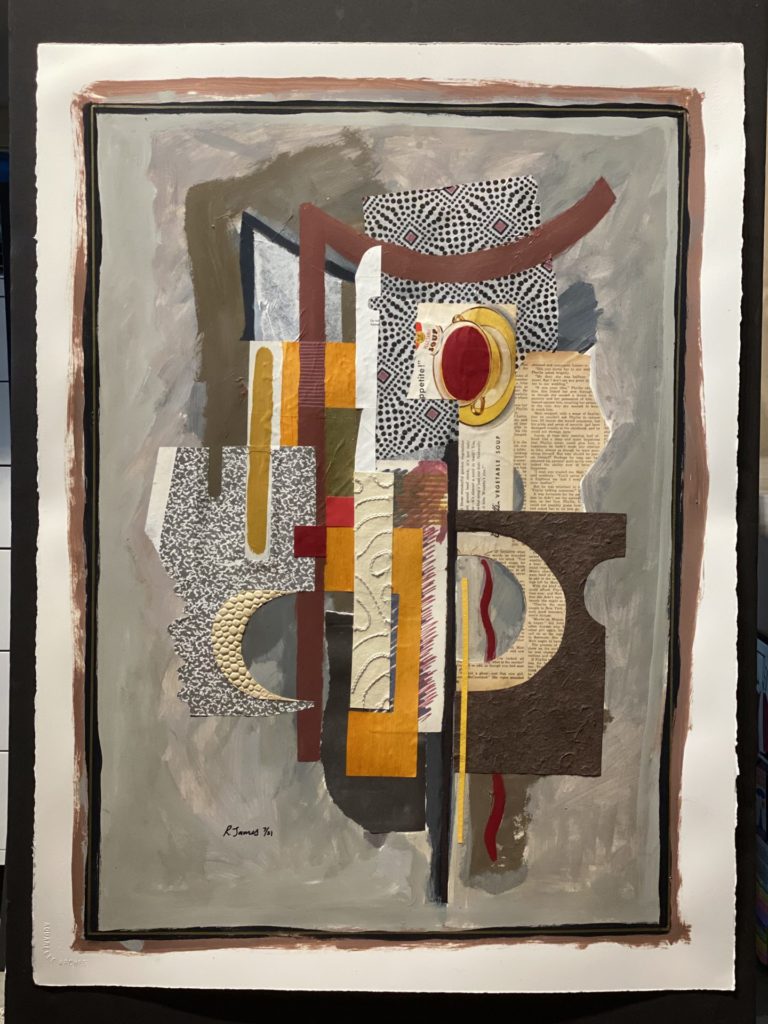 "The second is, as Paul Klee said of art, "to make visible." I am interested in making art about what is unseen and invisible, and thereby make it known. I am interested in the intangible forces that animate and propel humans forward in their journeys; the emotional, psychological and spiritual energies that move through us, and I want to capture those energies with paint and paper for all of us to see."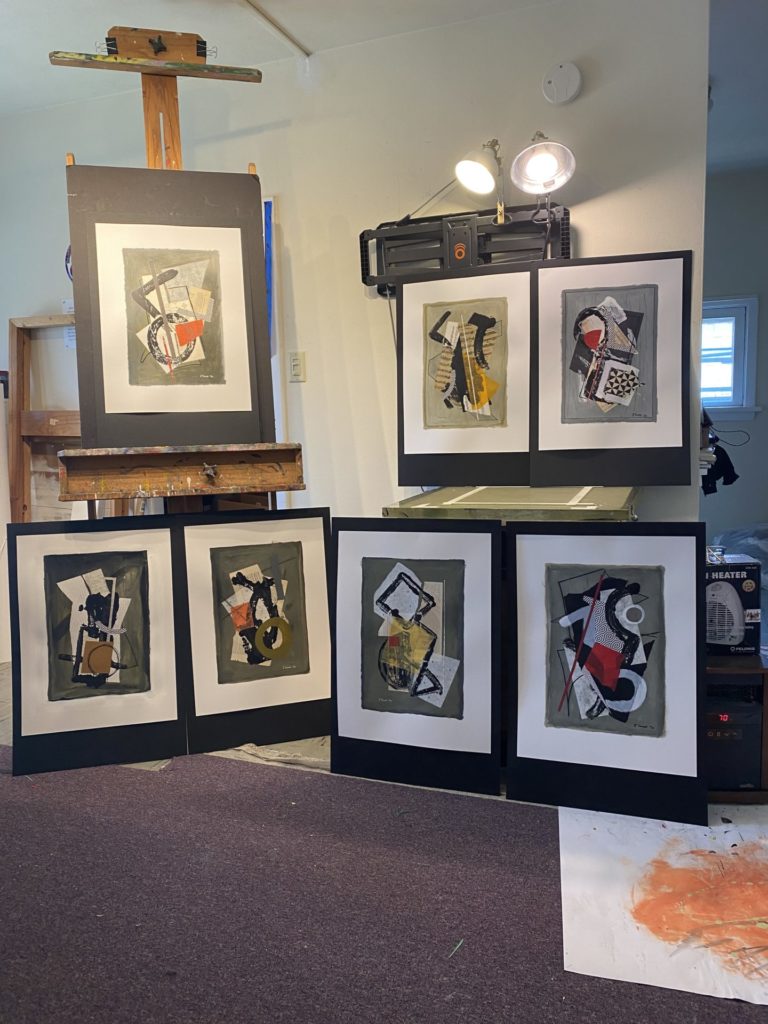 Here are some pieces he's been working on recently.  His work is featured in a couple of local galleries in our blue little Midwestern college town, and he's at the monthly big indoor art walk that is the 78th Street Galleries' 3rd Friday event in Cleveland.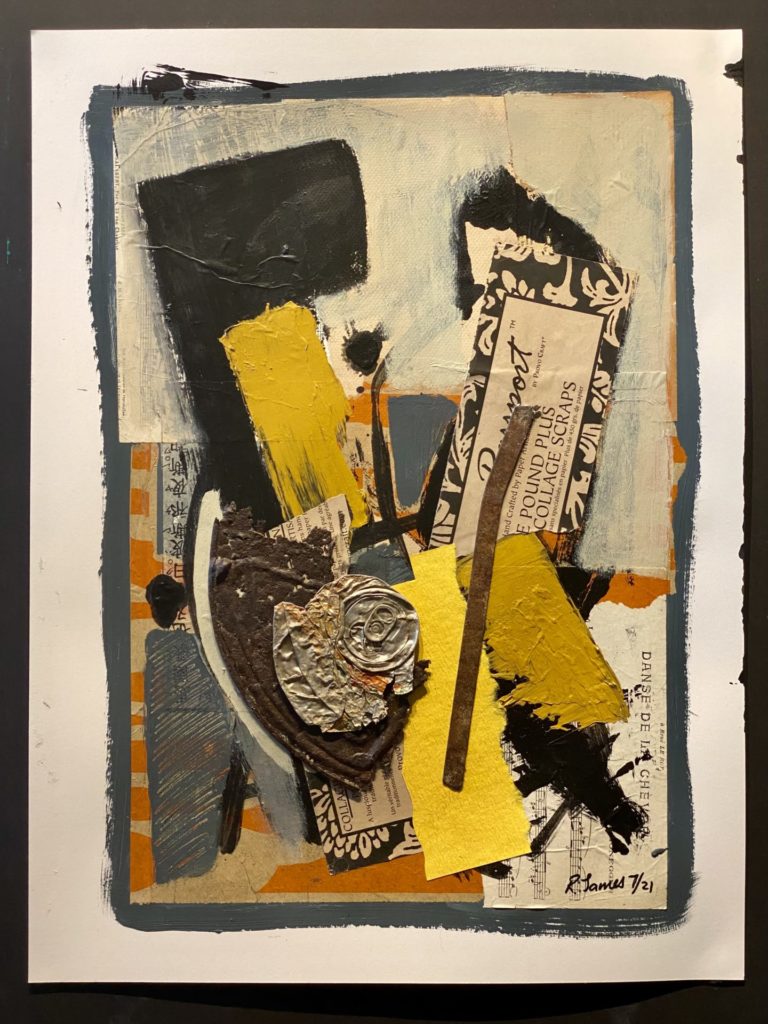 I'll close by sharing a little illustration of what it's like being married to a full-time artist who is trying to make a business out of being a creative type.  We go for walks in the neighborhood, and often something like this happens:
Mr. Argiope, stooping to pick up some random object from the pavement "Oh my God, that's beautiful!  Look at this!"
Me….."it's….a squashed soda can with some rust on it."
Mr. Argiope: "Yes!  It's perfect!  I know I'll use that."
Me: "………"