On the Road is a weekday feature spotlighting reader photo submissions.
From the exotic to the familiar, whether you're traveling or in your own backyard, we would love to see the world through your eyes.
I'm excited.  In addition to adventures with Albatrossity and BillinGlendale, we get to go to Yellowstone!  Did I say I'm excited?  Three days in Yellowstone with PaulB, what a treat!
Albatrossity
Summer of week 6 in Flyover Country birding has some 2021 model-year birds, some older birds, and a vagrant surprise!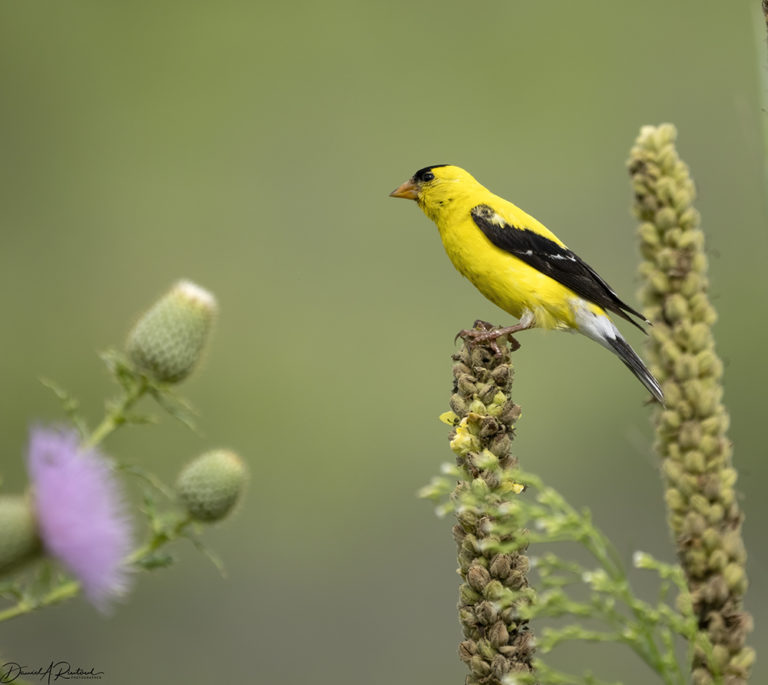 Near Manhattan KS
August 13, 2021
Late summer when the thistles bloom is when the American Goldfinches (Spinus tristis) finally start to think about nesting and babies and all that stuff. They use the thistle down in their nests, and apparently no alternatives are acceptable! This bright male was singing and guarding this thistle patch on a breezy Kansas day, but also feeding on the seeds of that Flannel Mullein (Verbascum thapsus) in between bouts of chasing off other goldfinch rivals.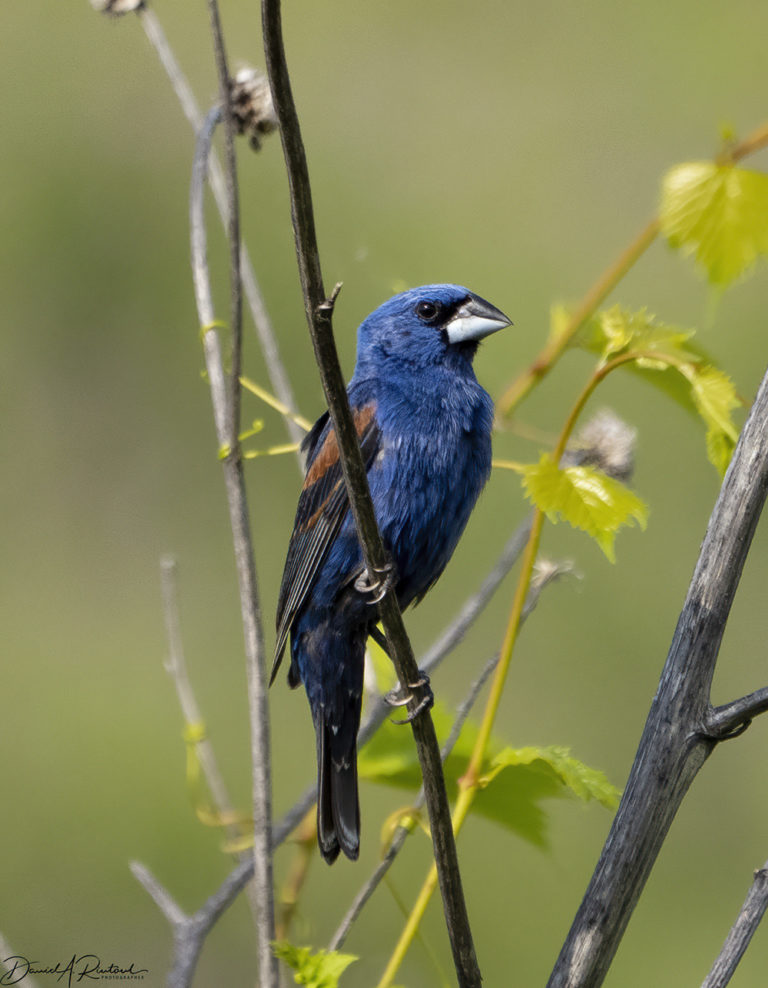 Near Manhattan KS
August 15, 2021
Another bird that often continues to sing in the late summer months is the Blue Grosbeak (Passerina caerulea). These are fairly common here in the summer, but hard to see, even though they are quite colorful. But they are very easy to hear, and the song is quite distinctive, so listening is usually the best way to finally see one. If you've never seen one, and the range map says that they are in your area, learn the song!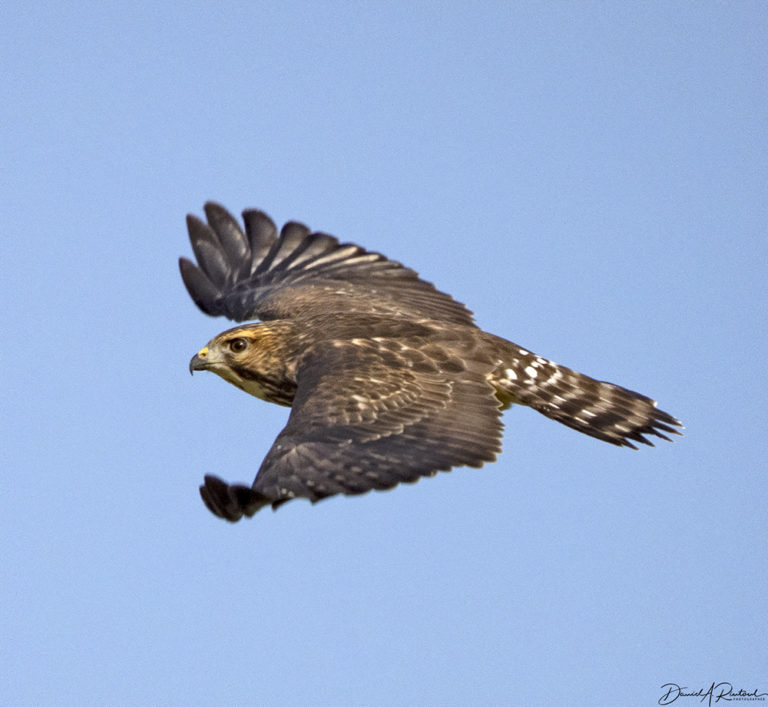 Near Manhattan KS
August 12, 2021
Here's a bird that is very familiar to birders in the eastern half of the country, Broad-winged Hawk (Buteo platypterus). This is a forest-dwelling species, and historically there were no forests here. But civilization brought towns and trees and fire suppression, so Broad-winged Hawks have been moving west across the state in recent years. This is a young bird, hatched out in spring 2021, and it will hopefully add its genes to that westward push next year.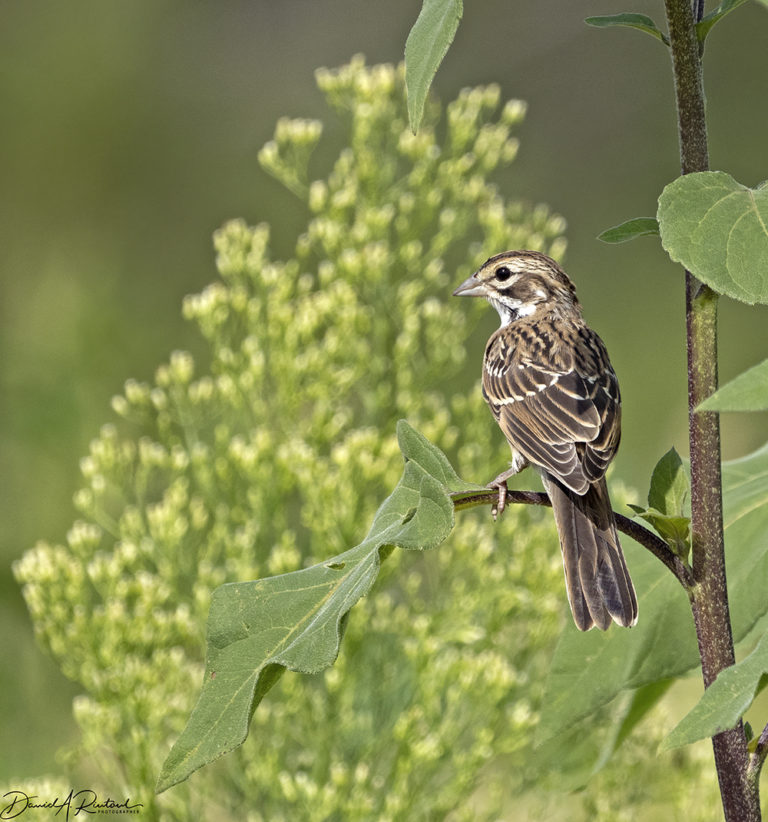 Near Manhattan KS
August 15, 2021
Folks like to complain about the difficulty in identifying the many species of sparrows, or "little brown jobs", aka LBJs. But this one is easy. Lark Sparrows (Chondestes grammacus) have a very striking face, even in the juvenile plumage like this one. They are also fairly large, long-tailed, and the tail has large and obvious white corners when the bird is in flight. You can actually ID this one at 65 mph while driving down the highway, which will impress your friends, but it's actually pretty easy!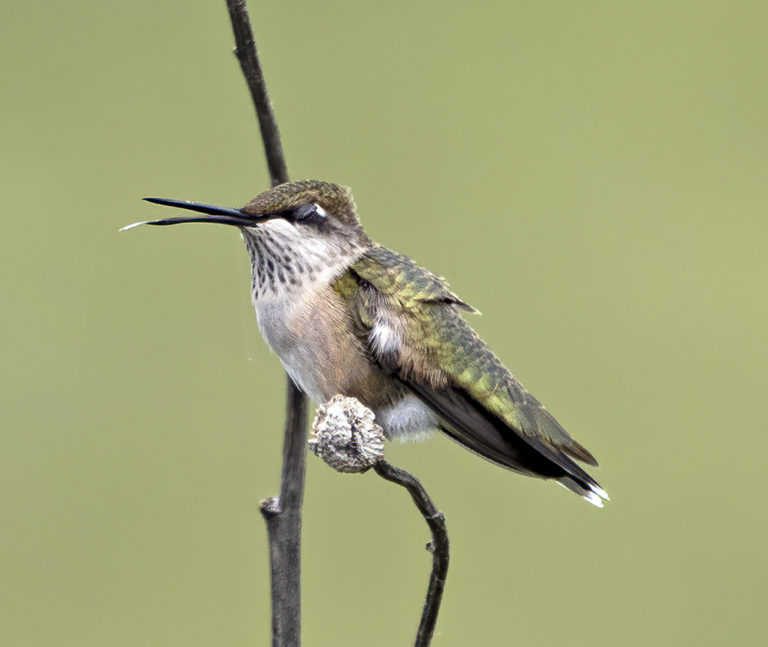 Near Manhattan KS
August 13, 2021
Late summer is the hummingbird migration season, and so far it's been a good one here. This is the standard-issue hummingbird of the eastern US, a Ruby-throated Hummingbird (Archilocus colubris), and it appears to be a young male, judging from the pattern of the new, soon-to-be-colorful throat feathers, as well as the insouciant attitude.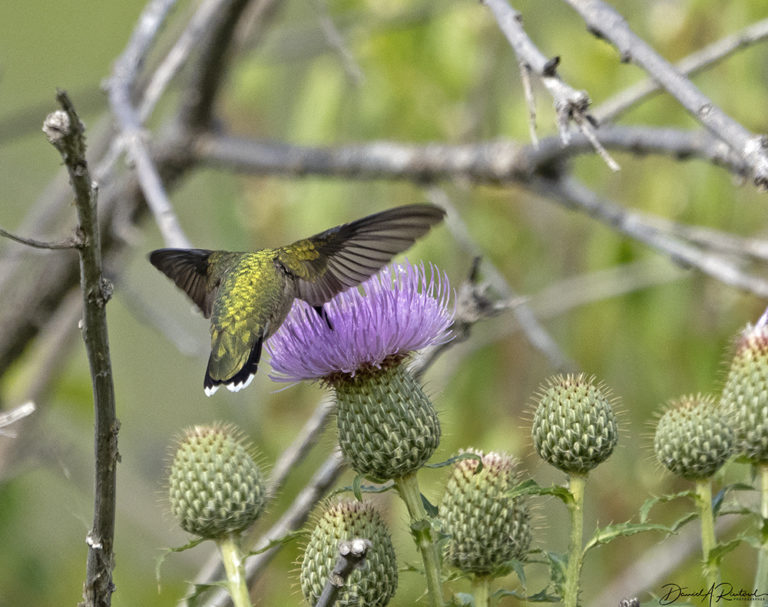 Near Manhattan KS
August 15, 2021
The thistle flowers do more than provide nesting material for the goldfinches. They are commonly visited by nectar-seeking creatures, like this young Ruby-throated Hummingbird. In fact, it was sufficiently territorial about this patch that it repeatedly drove off the investigating American Goldfinches!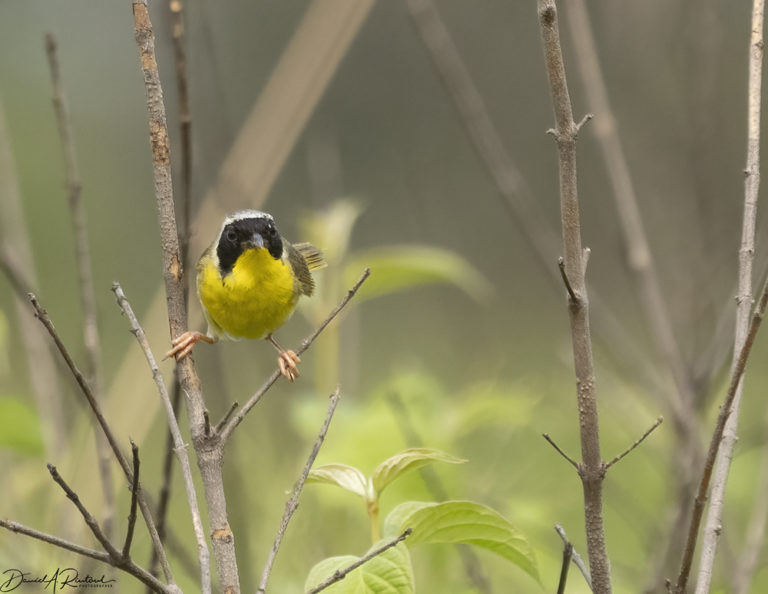 Near Manhattan KS
August 8, 2021
Common Yellowthroats (Geothlypis trichas) are one of our earliest-arriving warblers as well as one of the last to leave, and they provide a perky presence along streams, ponds, and in wet meadows all summer long. This male was pretty sure that I did not have any business being in its territory.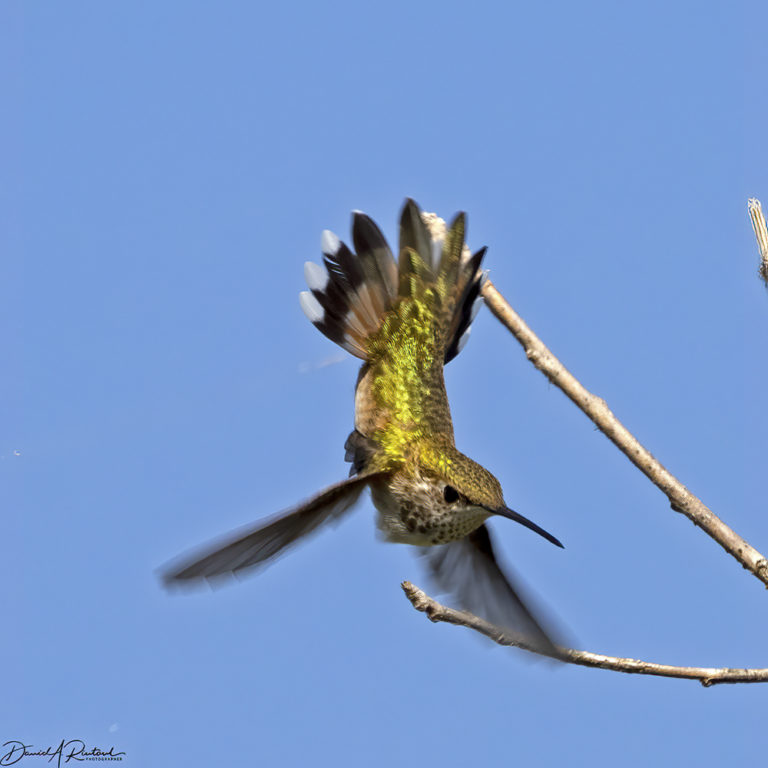 Near Manhattan KS
August 17, 2021
This is an example of how digital photography can help with vagrant bird records. Hummingbirds in general are small and fast, and tough to ID in the field. First-year hummingbirds redouble that difficulty, since the plumage differences among the different species are pretty subtle at that age. So when I saw this bird, and the other 4-5 first-year hummingbirds that it was hanging around with, I presumed that it was just another Ruby-throated Hummingbird. I got several pictures of it, but when I got home and loaded them up onto a larger screen, this one looked a bit off. So I sent some images to a friend in Arizona, Sheri Williamson, who is THE hummingbird expert in North America. She immediately saw, from the patterning on the tail feathers, that this was a vagrant Rufous Hummingbird (Selasphorus rufus, rare but expected in migration every summer and fall here), and not only that, she could tell that it was a first-year female. Sometimes it really pays to have friends who are experts!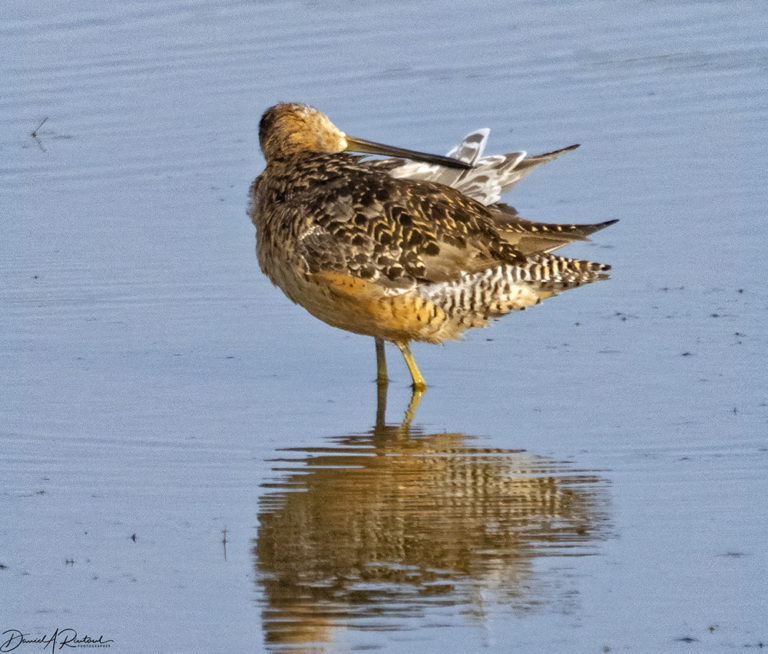 Quivira NWR
August 9, 2021
The marshes at Quivira National Wildlife Refuge have been a refuge for me as well this summer. Here is a calm Long-billed Dowitcher (Limnodromus scolopaceus), preening those precious feathers that protect it on the long migration from the tundra to the coasts of Texas, Florida, and Central America. The other dowitcher in North America, the short-billed Dowitcher, is more of a coastal species in migration, and is rarely seen in Flyover Country. Both species of dowitchers have a distinctive feeding style, like animated sewing machines stitching up the marsh so that it doesn't leak all that water.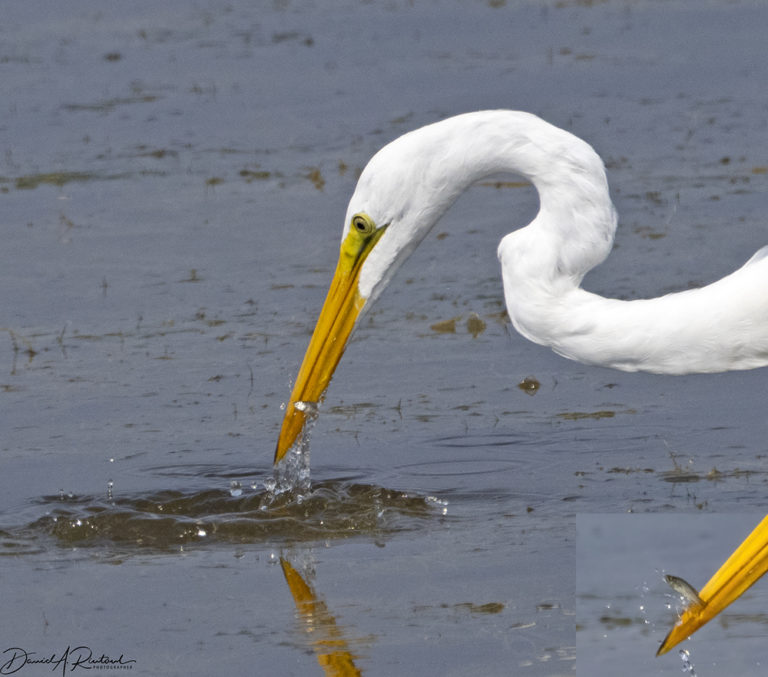 Quivira NWR
August 9, 2021
The late summer will see spectacular numbers of herons and egrets on the marshes here, including many of these Great Egrets (Ardea alba). This one was snagging tiny fish (see the inset picture), which doesn't look like it would be worth the effort! Great Egret is a cosmopolitan species, and is found in both hemispheres in the Americas, in Europe, Asia, and Africa, as well as in Australia, New Zealand, and Oceania. It is also famous in this country as the symbol of the National Audubon Society, which was organized in the early 20th century to stop the slaughter of these birds for their nuptial plumes (aigrettes).