On the Road is a weekday feature spotlighting reader photo submissions.
From the exotic to the familiar, whether you're traveling or in your own backyard, we would love to see the world through your eyes.
Hello everyone. My name is Richard Fox, and I'd like to introduce my work to you all. I am a painter who loves to go out and record the world as dictated by my own idiosyncratic manner and style. I paint what I call 'realistic abstractions' meaning I show clearly what the object or location is, but filtered with colors and lines based on my personal feeling towards the motif. In a sense you can know me based on what I share with you, ideally without explanation. My work reflects my innate impatience and my patience, my desire to get the thing just right but without any fuss. If I can put it all in a phrase I would say I have an obsession of colorfully capturing moments in time.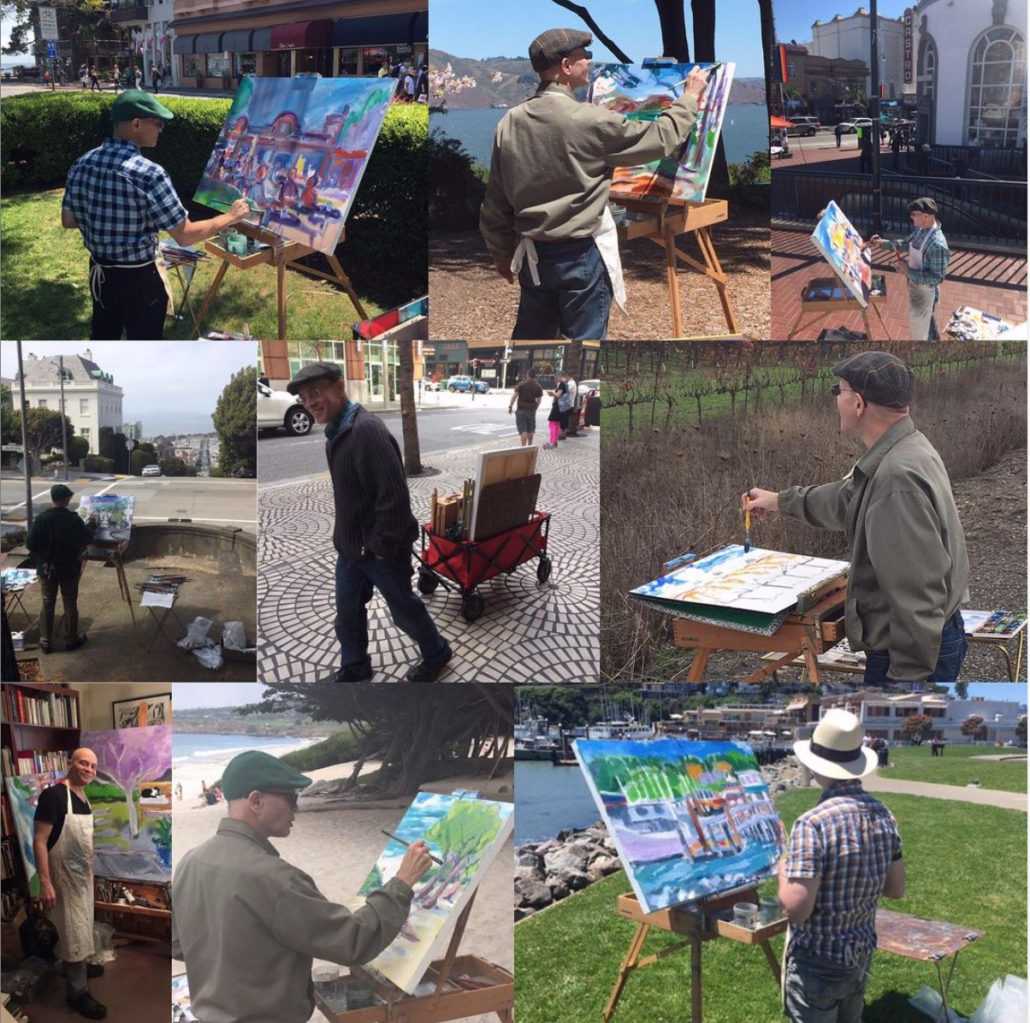 I tend to be very intuitive in my thinking and let the brush rather than my brain do the editing. Watercolor as a medium demands you feel in your innermost self when to put down the brush, otherwise the effect is labored and usually mud-like! Watercolor was my first love and I did the majority of my work in that medium for about 20 years. But after I turned 40 I wanted to complement them with oils to give a fuller statement of my journey; at 61 I have a body of work in both mediums that allows others to see what I saw in my life. One of my big dreams is to have someone take a whole bunch of watercolors—say 40 or so—and show them all at once in a big exhibit. Oils too, but perhaps separately.
On a personal note, I don't have much by way of exposure and frankly that's not good. A painting only lives when it gets people to see them!
Please feel free to peruse my website to see more of my paintings.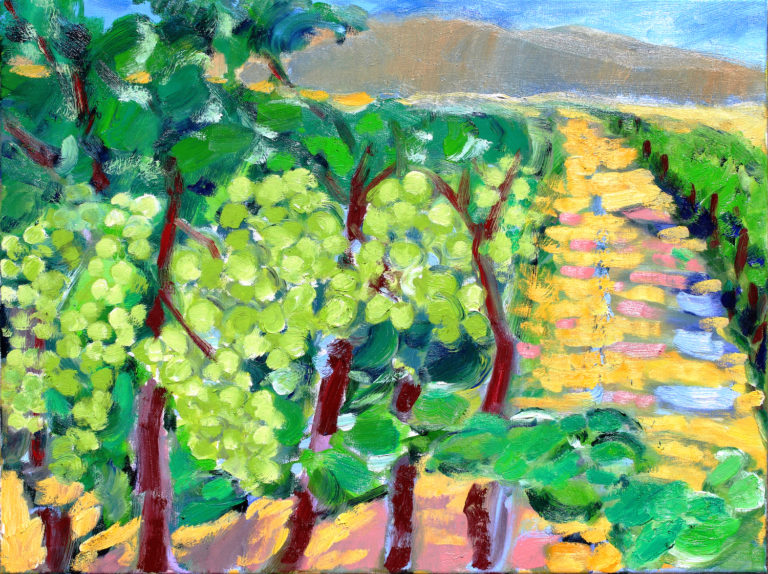 Napa, California
August 1, 2019
"Chardonnay Grapes Vista," Oil on canvas. I moved to my adopted state of California from Brooklyn, New York in 2016. I now live about 20 minutes from Napa, and as a motif the sight of the grapes on the vine enchants me to no end. My work is so different than my New York days, the land and the sea become more prevalent, and the light is just like I imagine heaven would be. (!)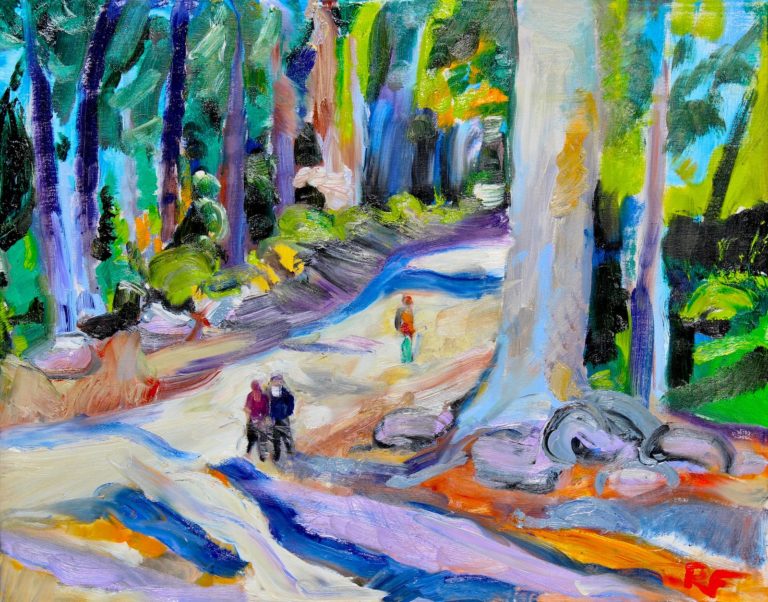 Napa, California
September 1, 2020
"Eucalyptus Grove," Oil on canvas. The warm sun and the deep shadows: people are dwarfed by these giants. I understand the Eucalyptus is not a native tree and perhaps that isn't ideal, but I can only say I love them and I'm glad to have them as neighbors. The rocks and ground took on a blue-purple hue in the shadows, and as you can see I really went to town there.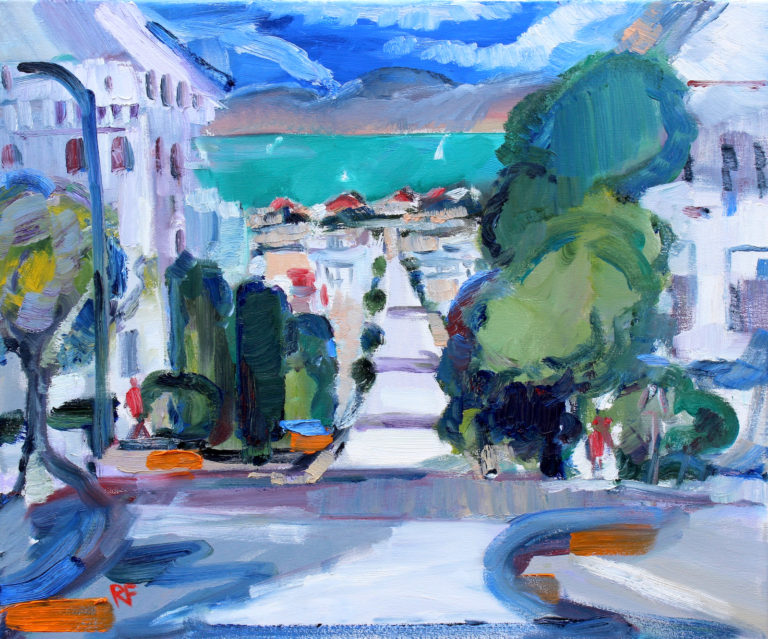 San Francisco, California
March 1, 2019
"Pacific Heights to the Bay," Oil on canvas. This locale in San Francisco is among my favorites and I've painted there a number of times. The hills drop down in a way unlike any I've seen elsewhere, coupled with huge stately homes. It is rather dream-like to me, and I wanted that to come through.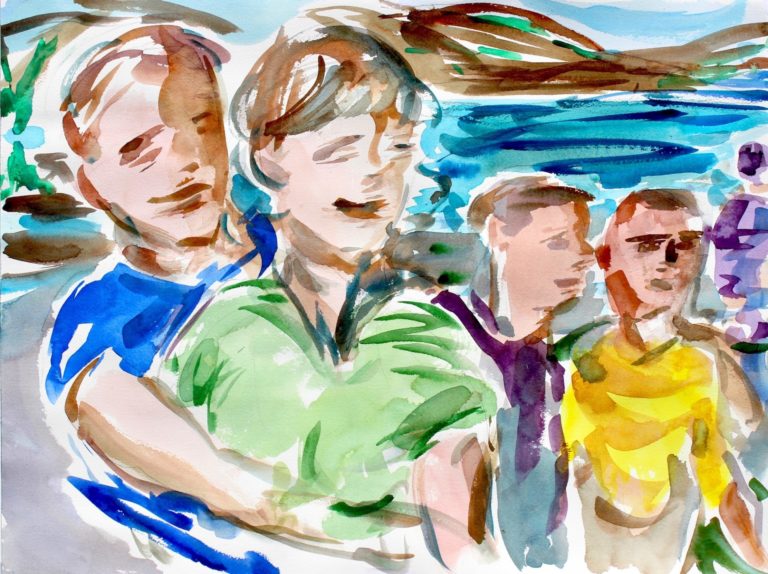 Tiburon, California
June 1, 2020
"By the Bay," Watercolor on paper. I love watching people as they stroll in this lovely town, one of all-time favorites in Marin County. Tiburon has so much by way of beauty—and the color of the water with the rocks used as breakfronts just inspires me. Another moment and these folks are replaced by a whole new set, with a different vibe, and perhaps that's the point of it all, in the end.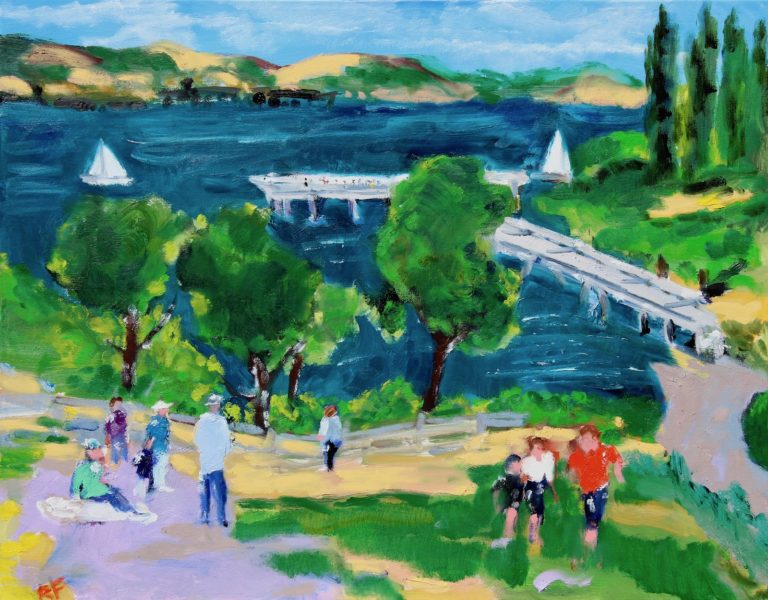 Tiburon, California
July 4, 2021
"Hill at Paradise Beach," Oil on canvas. One of my jaunts in Tiburon took me to this small park on a bluff, and you can see the jetty and the promenade from a nice height. I initially was attracted to these tree characters, who very persistently decided they were the center of interest, thank you, and not the people. The trees seemed to almost dip in the bay, and I just couldn't resist the serenity they inspired.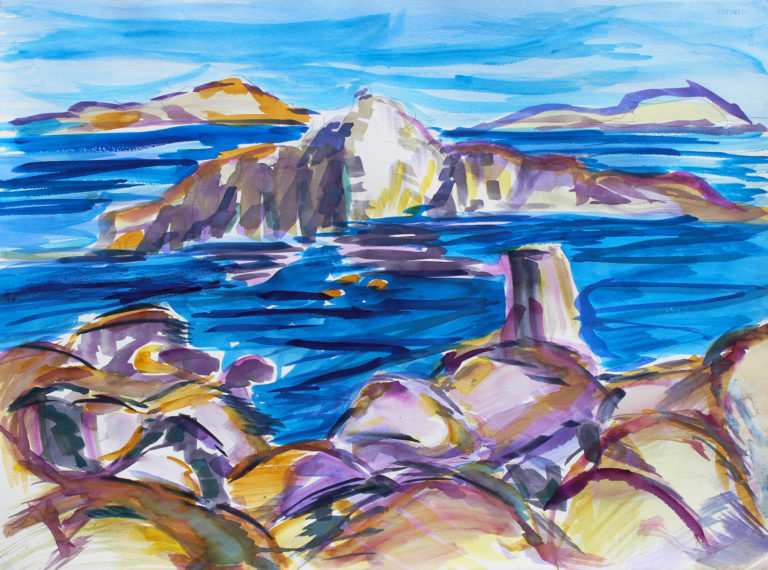 Monterey, California
August 1, 2019
"Rocks and Reflections, Monterey," Watercolor on paper. I miss visiting Monterey, and I have to go back. The rich color of the water and the ancient rocks that inhabit these places are so lovely, and look like natural Stonehenge monuments, if you can imagine. I see them as sentinels keeping watch in good times and bad. I might add, it's hard to convey how windy it can be to paint places like this. I hold onto my hat and my easel, and somehow I manage!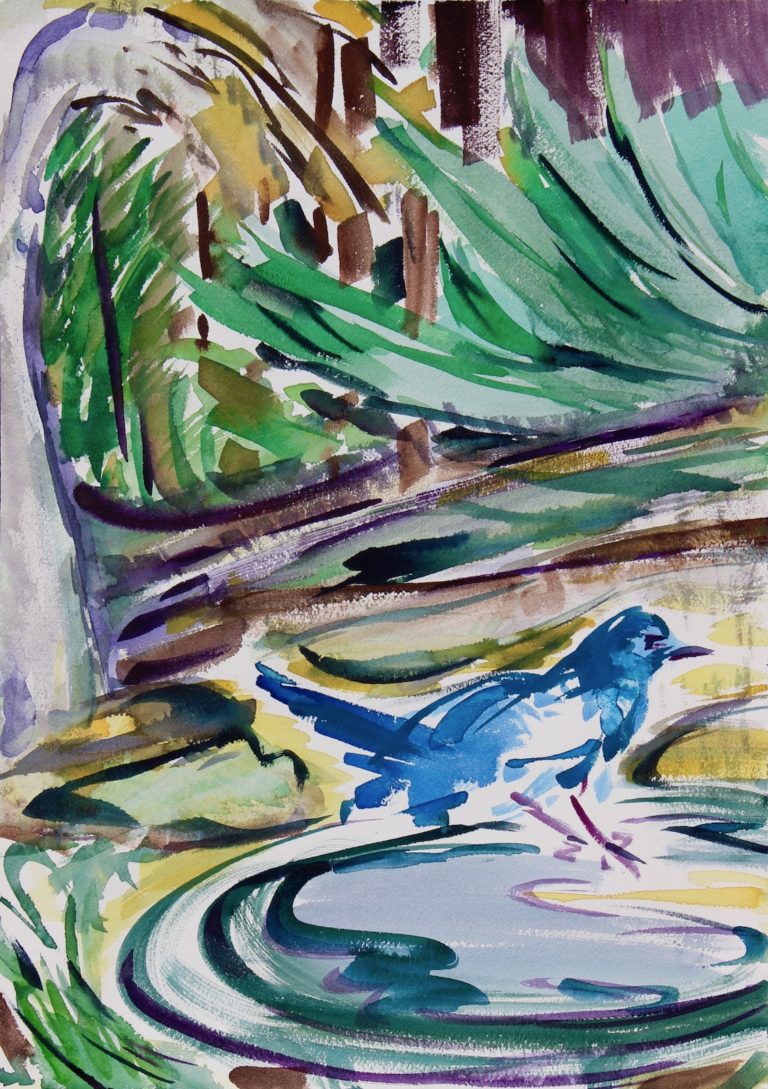 Vallejo, California
May 1, 2021
"Scrub Jay at Bird Bath," Watercolor on paper. Covid has made me turn closer to my home environs as sources of inspiration. Besides the resident feline Emily who lives in the backyard (and who allows me to feed her, very kind of her to be sure), I have a pair of scrub jays who live with me year round and are quite the characters. The sight of them both splashing in my birdbath makes me feel the world is not always a dark place filled with absurdities. They never clean up after themselves, and that's fine by me. Note my huge desert flora displayed majestically in the background, yet another fine character!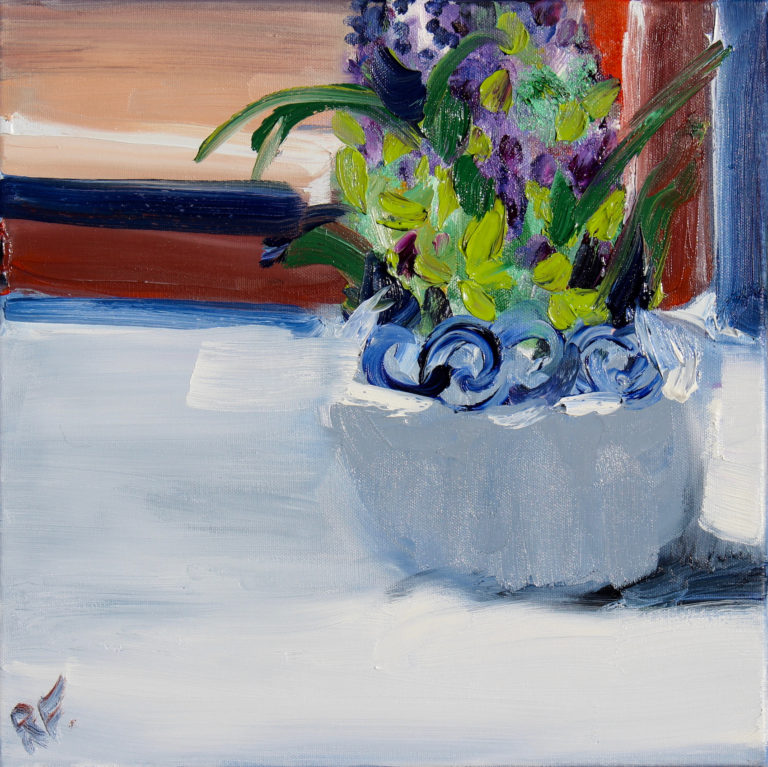 Vallejo, California
December 1, 2020
"Still life with Bowl", Oil on canvas. Another important part of my work are my still life paintings. I got my love of still life from my dad, who was an avid shutterbug of his garden tulips and African violets. They are deceptive, these types of paintings. To get them to work without embellishment and to bring to bear your own stamp so they don't look anonymous and hackneyed, I strip them down to their essence in my mind while composing them and think of them as singing. (Really, I do.) Not like Disney in Alice in Wonderland, but still. There, you now have the secret. My plants—they sing. (!)