On the Road is a weekday feature spotlighting reader photo submissions.
From the exotic to the familiar, whether you're traveling or in your own backyard, we would love to see the world through your eyes.
Oops, forgot to include the schedule for this week!

Albatrossity, cope, BillinGlendale, Dan B and Steve from Mendocino, in that order.
Albatrossity
Late summer in Flyover Country is a great time for photographing birds, since there are often lots of recent fledglings, and they tend to be naïve about humans. Their parents are often in molt at this time of year, so they tend to hide out, embarrassed, until they can show off their fancy new outfits for the trip south. So this week we have some of both, as well as a surprise appearance by an amphibian!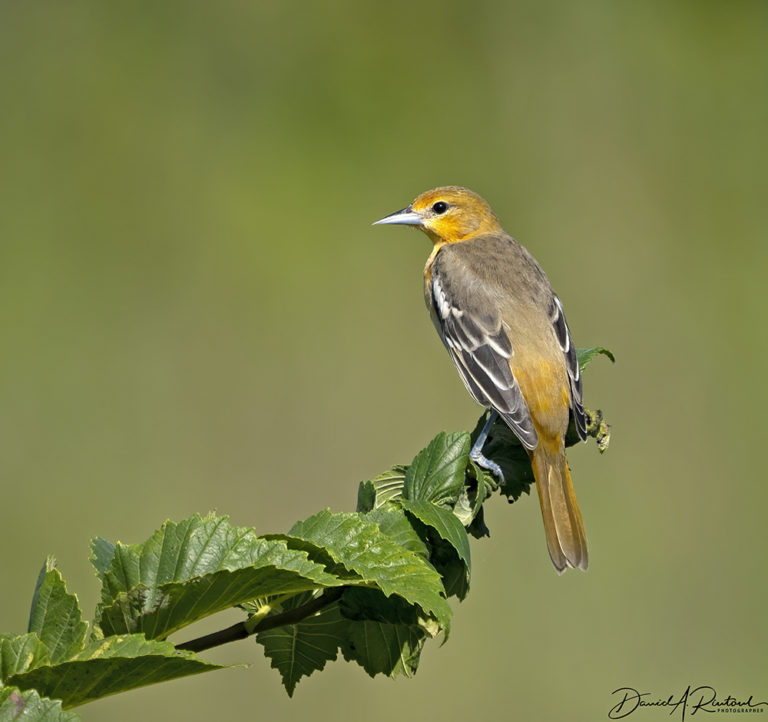 Near Manhattan KS
August 21, 2021
This adult female oriole is a puzzler.
Here in Kansas we get Baltimore (Icterus galbus) and Bullock's Orioles (Icterus bullockii), as well as hybrids between those species. The Baltimore version is found nearly statewide, largest numbers are in the eastern part of the state (where this bird was photographed). The Bullock's are in the western third of the state.
A friend of mine who lives in the western part of the state suggested that this bird was a female Bullock's Oriole, based on "dark-tipped tail, flat gray back, wide upper wing-bar, extensively-white belly, what little brownish/orange it has is concentrated on the face rather than the breast". It could also perhaps be a hybrid female. Additionally the patterning of the dark spots on the scapulars seems to be more in line with Bullock's, based on Figure 337 (p. 657) of the Pyle guide.
On the con side, the eyeline is very faint and there is more brown on the cheek than I would expect to see on an adult female Bullock's. But a Bullock's Oriole would be a great find in this part of the state, and so I have solicited expert opinions. None yet, but hopefully by the time this appears on Balloon Juice!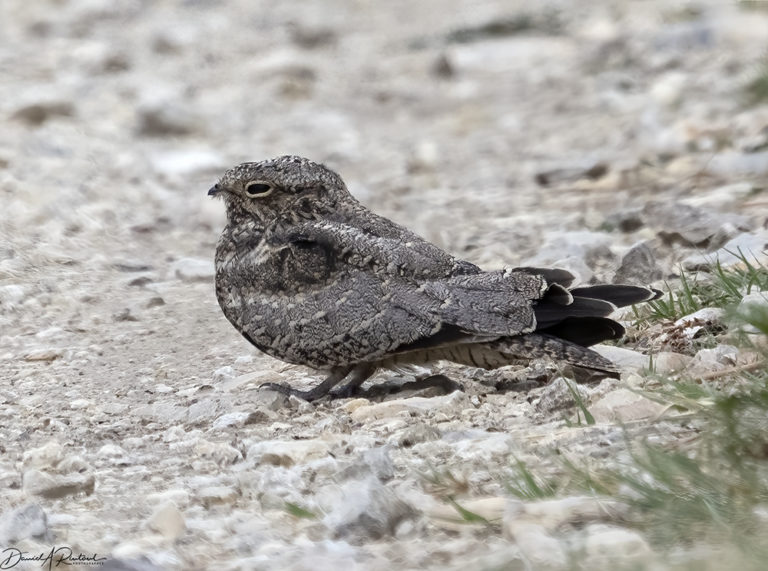 Konza Prairie
August 19, 2021
The population of Common Nighthawks (Chordeiles minor) in this swath of Flyover Country seems to be pretty robust his year; I've seen lots of adults and several youngsters, including this one. The field marks of interest for identifying a hatch-year Common Nighthawk would the the overall gray sameness of the upper plumage, and bright white edges on the tips of the primaries (visible here) and secondaries (not visible here). This is a species in decline across North America, so I wish this one a long and productive life.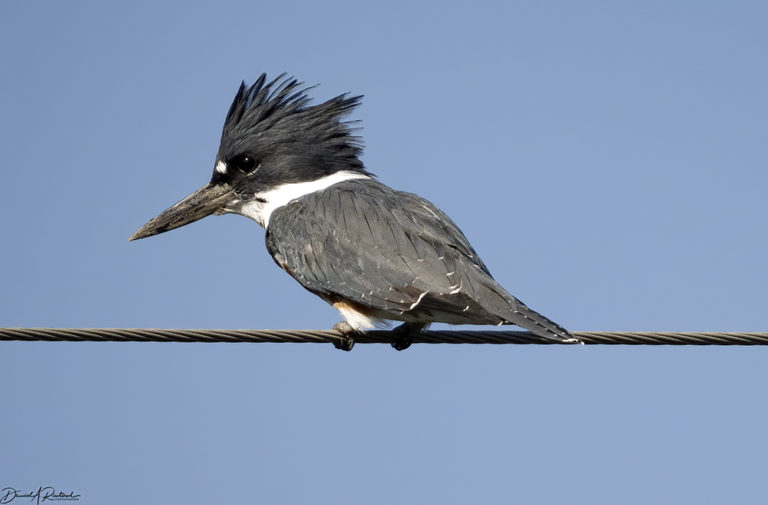 Near Manhattan KS
August 26, 2021
This Belted Kingfisher (Megaceryle alcyon) did not pick the most photogenic perch, but I was happy to get the picture anyway, since I have found this species to be very difficult to photograph. They are jumpy, wary, and usually able to fly off to an inaccessible perch on the other side of a body of water, from which they will fly back to the original perch if you should happen to be able to cross that body of water to get closer. This is a female; you can see just a hint of the rusty belly-band from this angle.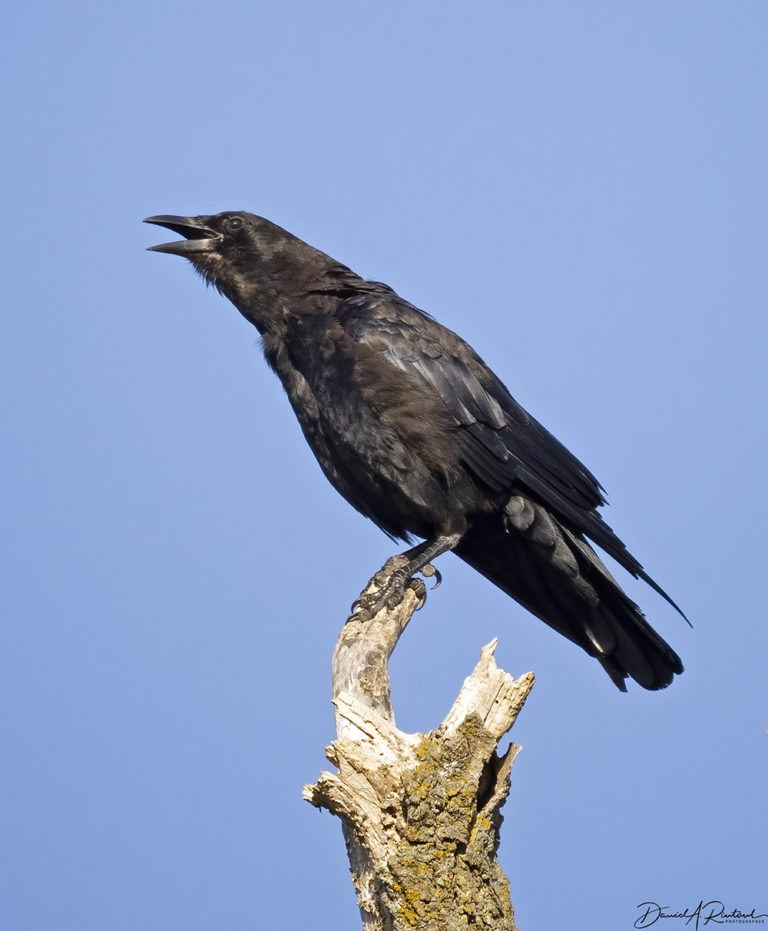 Near Manhattan KS
August 26, 2021
Crows may not be among most people's favorites, but this Fish Crow (Corvus ossifragus) was fun to photograph because he was actually calling, and otherwise it is hard to distinguish this species from the very similar American Crow. If you look at the range maps for this species in just about any field guide (including even the most recently updated phone apps), you will wonder what it is doing here. This is a bird that historically was only found in the southeastern USA, but in recent years has spread north and west, following the big rivers generally. It has only been within the last 5-10 years that Fish Crows have been summertime birds in this patch of Flyover Country, and no one (at least no one I have talked to) can tell you why they have undertaken this relatively rapid range expansion. But they are a fun species to add to the expected avifauna of this part of the world.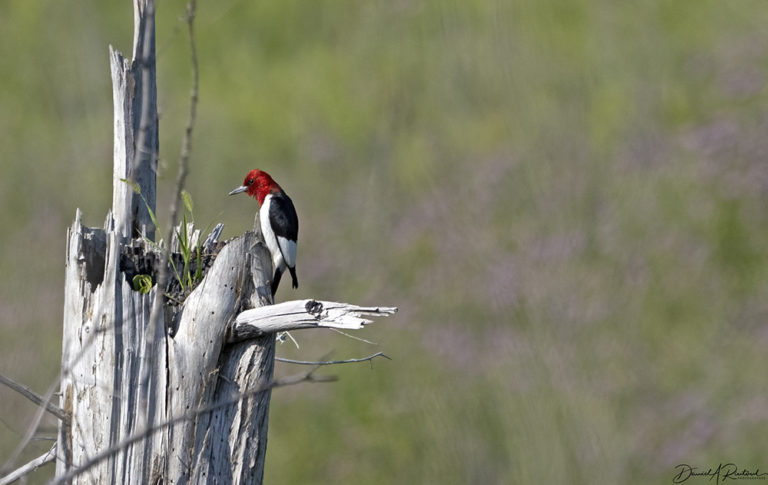 Near Manhattan KS
August 21, 2021
It has also been quite common to find numbers of Red-headed Woodpeckers (Melanerpes erythrocephalus) here this season. This adult bird was pondering the fact that there seemed to be green plants sprouting in this dead snag where it used to feed on bark insects.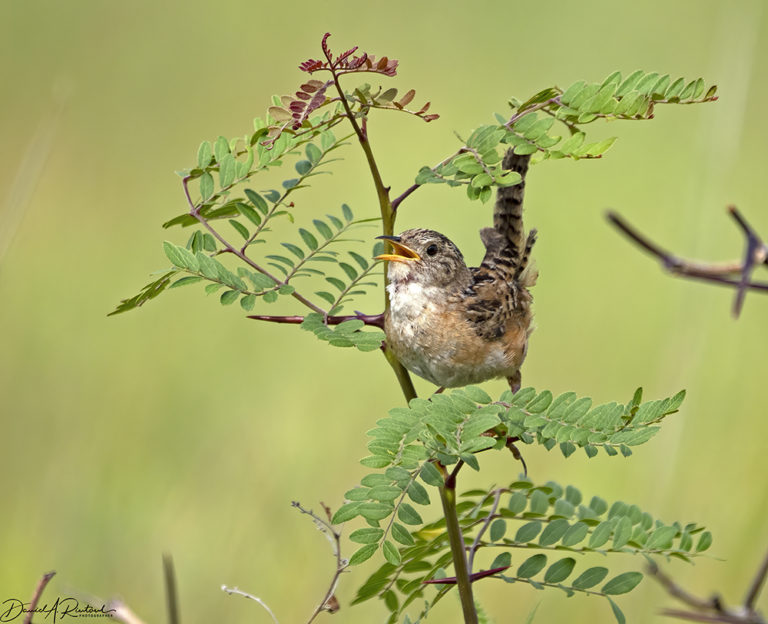 Konza Prairie
August 19, 2021
Sedge Wrens (Cistothorus platensis) don't breed here, but they appear in late summer to chatter and burble in the wet meadows, pretending to nest and defend territories. Some years there are lots of them, in other years they seem to skip us for some reason. I've only seen a few this summer, but this one was very happy to bitch wrenly at me from its impervious locust fortress on the prairie.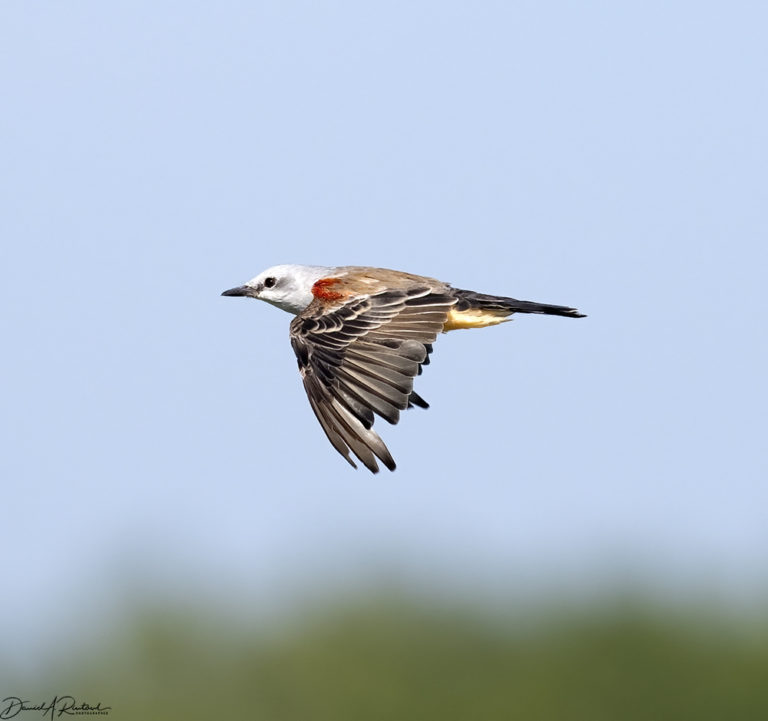 Near Manhattan KS
August 26, 2021
I've put some images of Scissor-tailed Flycatchers (Tyrannus forficatus) in previous OTR segments, but I've included this one because it is another example of how photos can help with tricky bird IDs. I saw this bird had a very short tail, so I imagined that it was a hatch-year bird, which would have shorter tail feathers this time of year. But when I got home, the pictures revealed that this was an adult bird, which had molted its tail feathers and was growing out some new ones. Its age was revealed by the fact that it was also molting some wing feathers (a hatch-year bird will not molt those until next fall). Additionally I was able to ID it as a male bird, based on the deep notch in the outermost primary, which only adult males possess. The function of the notch in this species is not known, but other members of this genus also have those, and in one of them it is known that the notched feathers produce distinctive sounds during the courtship flight.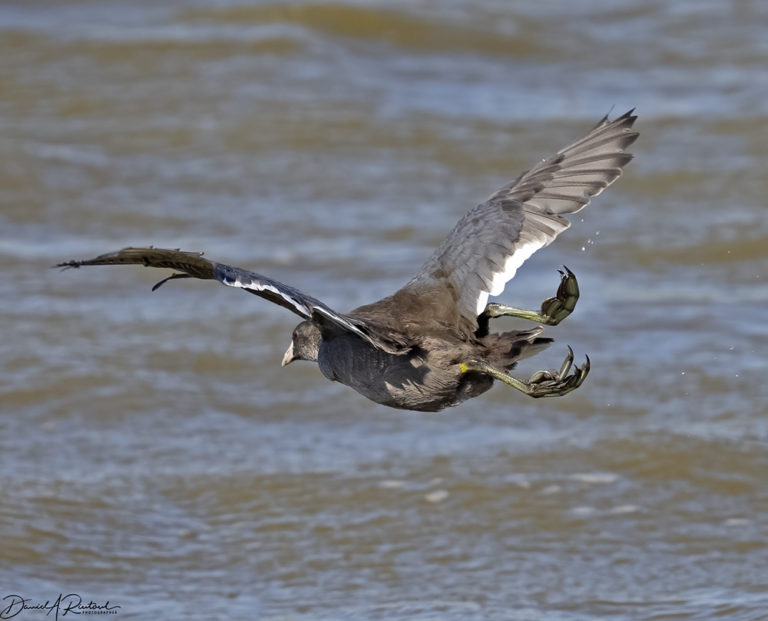 Quivira NWR
August 27, 2021
Another trip to Quivira on a very hot windy day was productive, allowing me to get some flight shots of a bird which I rarely see in the air. American Coots (Fulica americana) are not particularly airworthy (or even seaworthy, really), but this one decided to take off into the wind and quickly thought the better of it. The landing was even less graceful than the flight.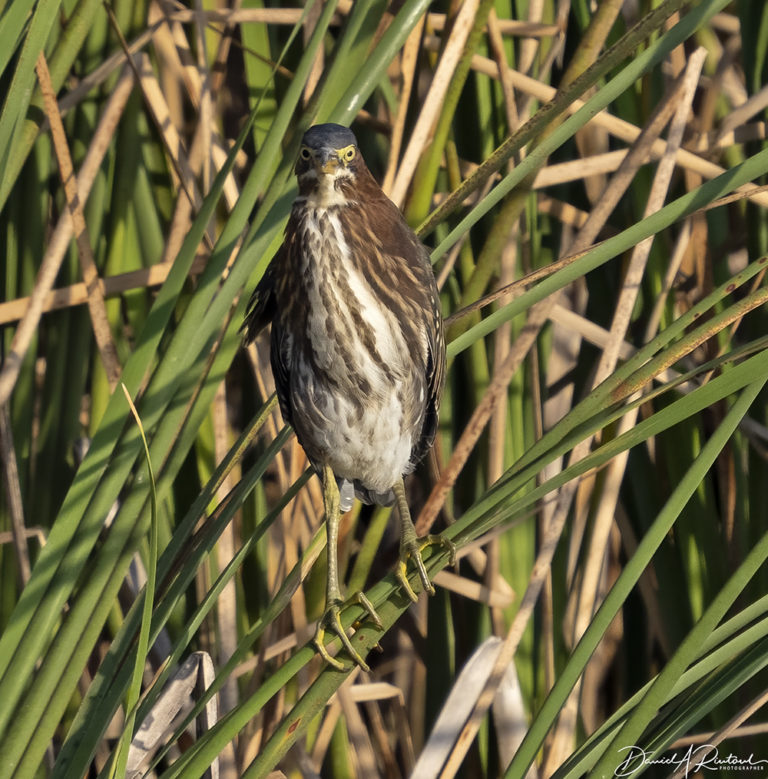 Quivira NWR
August 27, 2021
In the same place where the Least Bitterns were seen a few weeks back, I found this hatch-year Green Heron (Butorides virescens). It glared at me for a while, then emitted a great "skeeeow" noise and vamoosed into the reeds. There are very few herons with beautiful singing voices, alas. But since Betty posted a great shot of a Green Heron a while back, I though you might all like to see its hunting style.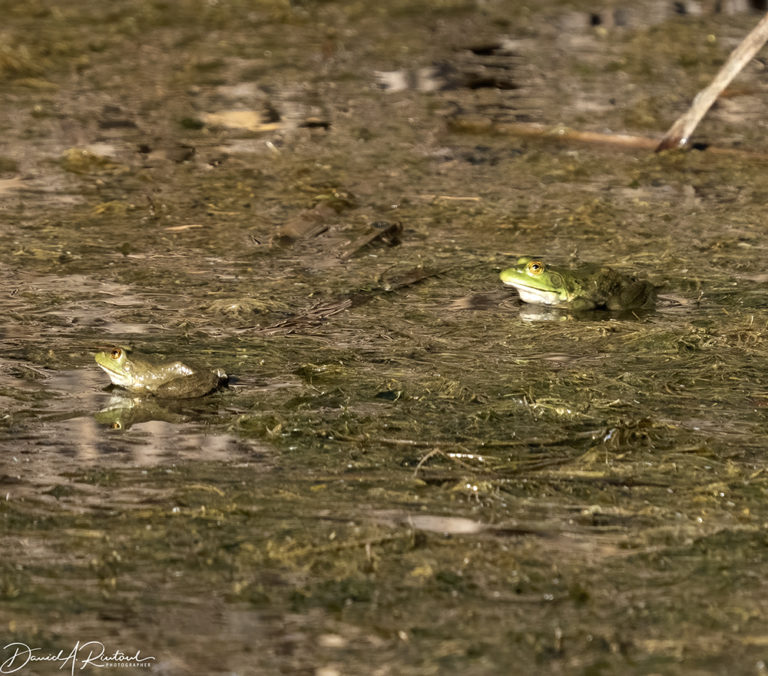 Quivira NWR
August 27, 2021
And interestingly, within a few seconds of the departure of the Green Heron, a whole lot of bullfrogs appeared in the water right below its former perch…