On the Road is a weekday feature spotlighting reader photo submissions.
From the exotic to the familiar, whether you're traveling or in your own backyard, we would love to see the world through your eyes.
frosty
Arches:  Southern Utah near Moab. We stayed at Dead Horse Point State Park.
There are roughly 2,000 arches in the park. They're like gators in Florida – they don't count them unless they're at least three feet wide (three feet long for gators). By a seat-of-the-pants count, we have about 1,975 to go to see all of them.
I expected to see arches, of course, but I didn't expect to see so many interesting rock formations. One thing about the west – because of the limited rainfall, there's not a lot of vegetation and forests to prevent you from seeing how the landscape was formed. It's really easy to start learning about the deposition, uplifts, and faulting in the Colorado Plateau as you drive from park to park in Arizona and Utah.
We spent 1 1/2 days here. Our first attempt was Sunday on Memorial Day weekend. We got there at 9:30 to see a signboard saying "Park Is Full. Come back in 2 to 3 hours." So we did some grocery shopping in Moab, headed back to the campsite, and toured the state park. On Memorial Day we went to Canyonlands, where we only had a half-hour wait at the entrance. The next day we got up early, got to Arches at 8:15 and waited a half hour. On our second visit we arrived at 4:00 with almost no line. My conclusion? The park info and guidebooks say get there early. I say, sleep late and get there around 2:30 or so after the early birds have cleared out. The line will be shorter and you'll still have six hours of daylight in the summer.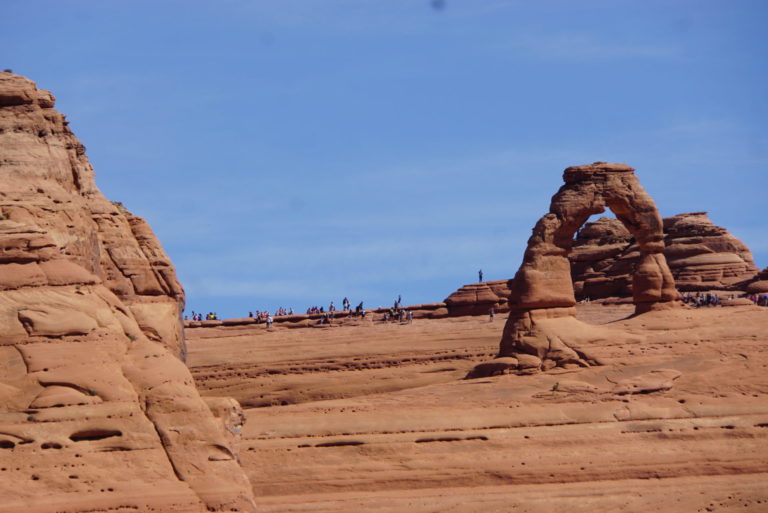 June 1, 2021
Delicate Arch, our first stop and one of the iconic arches in the park. There's a short hike to the viewpoint where this picture was taken. There's also a three mile round trip, three hour hike to the arch … on a trail with no shade and a narrow rock ledge for 200 yards. The people in the picture took the long hike and are waiting in line for selfies by the arch. This struck me as the same as Everest climbers – go on a bit of a hike (or an expedition) to get your picture taken at the destination. I've done it myself some times, but not here.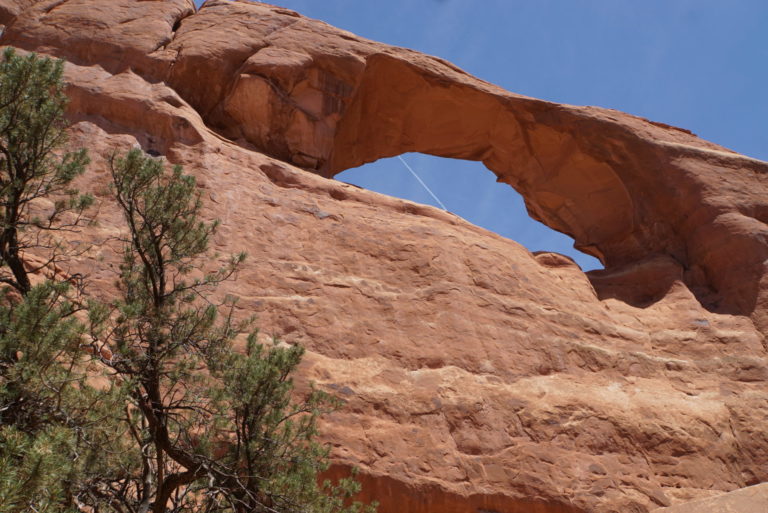 June 1, 2021
Skyline Arch from below. I thought the jet contrail ruining the perfect picture was a nice touch!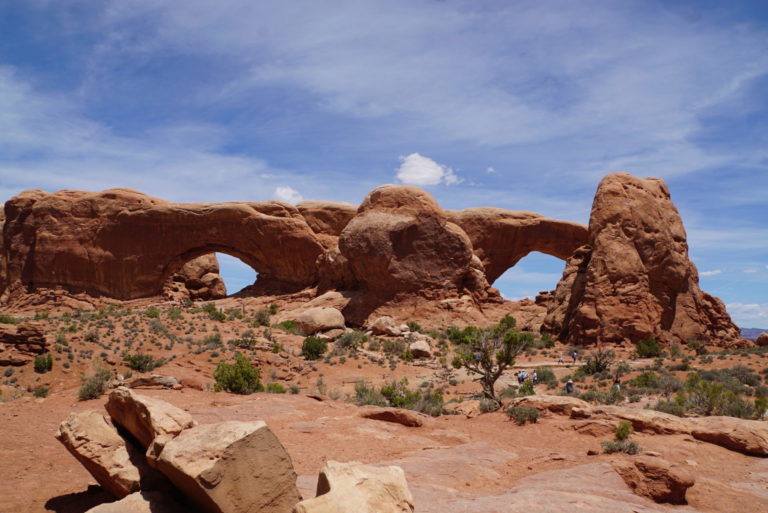 June 1, 2021
The Windows section has several short walks to arches. This is a pair of arches that share one support.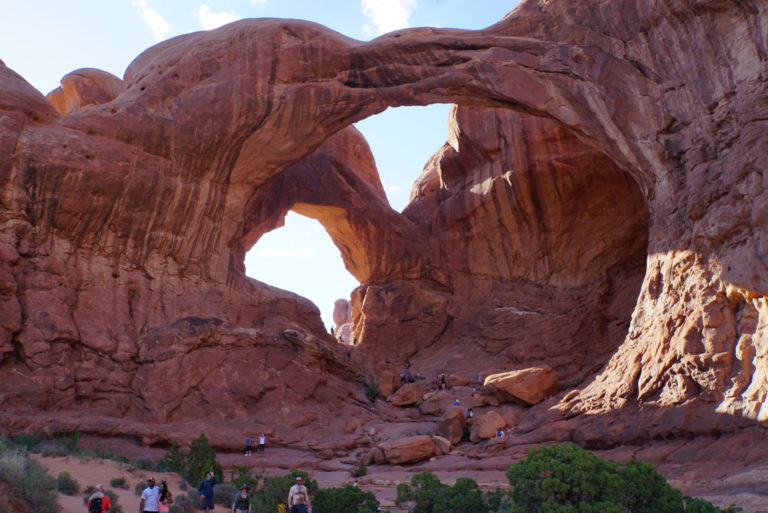 June 2, 2021
Double Arch, also in the Windows section. These are twin arches, one of which is the highest in the park.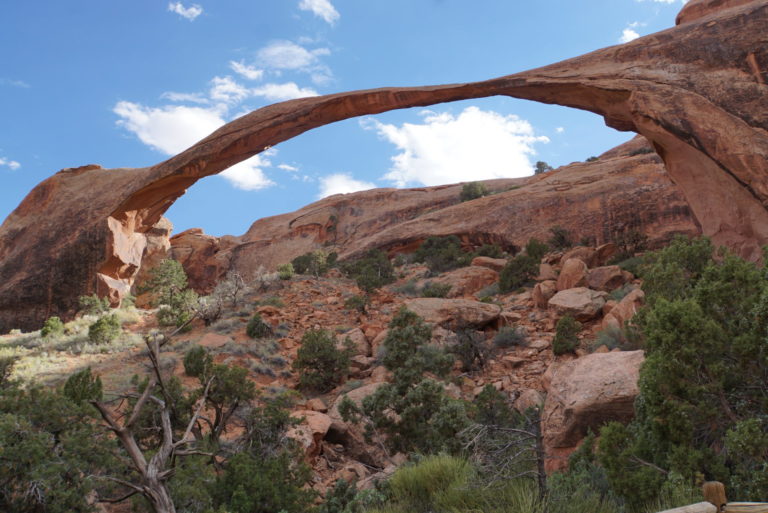 June 2, 2021
Landscape Arch, one of the other iconic arches. Reached after an easy 1.8 mile (round trip) walk. In 1991 a slab 60 ft long, 11 ft wide, and 4 ft thick fell from the underside. I doubt it will last another 30 years.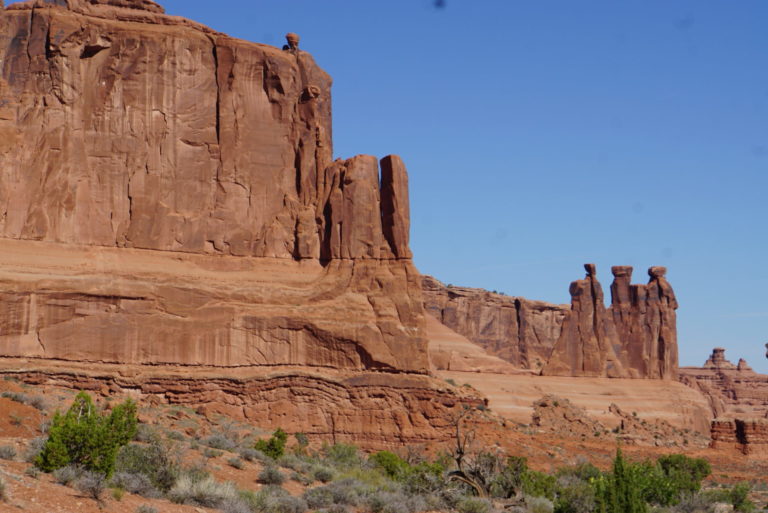 June 1, 2021
Near Courthouse Towers. The arches and the strangely eroded red rock are Entrada Sandstone, from windblown dunes, which is also the formation that eroded into odd shapes in Utah's Goblin Valley State Park. The wavy formation at the base is the Dewey Bridge Formation, sedimentary deposits from tidal flats.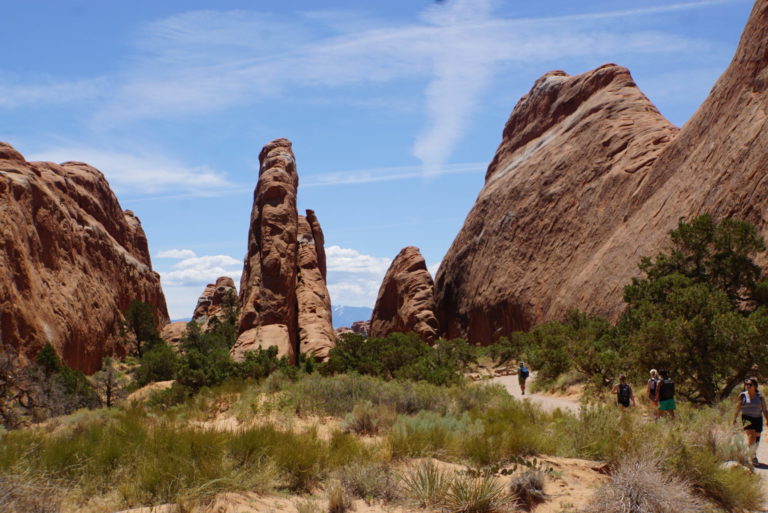 June 1, 2021
Fins at the trailhead to Landscape Arch. Fins are the precursors to arches, before wind and sand has eroded a gap.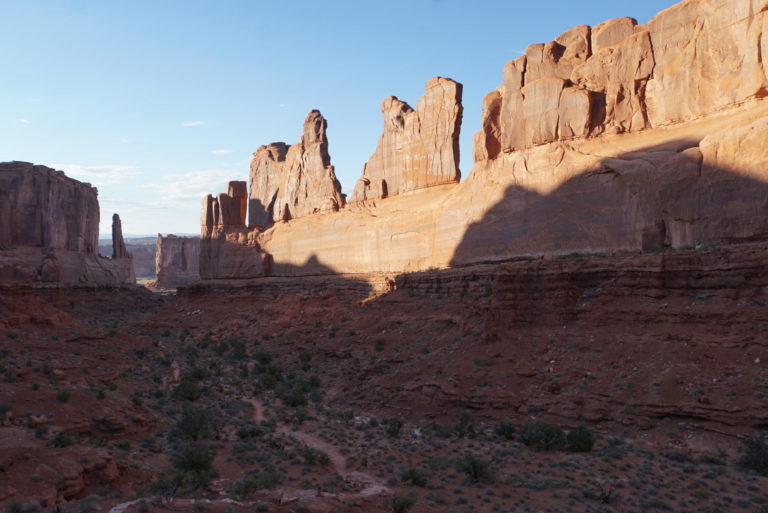 June 2, 2021
Park Avenue, named because of its resemblance to a street surrounded by skyscrapers. The fins are Entrada Sandstone.