It's starting to get cold enough that the mold is being suppressed, so I woke up with clear sinuses to a sunny but partially cloudy fall day, about 35 degrees, and feeling pretty good. I didn't have much on the schedule, so I called up Gerald and told him to tell Breyana to get dressed because we were going to go get some grub.
Picked her up, and neither of us had any firm idea what we wanted, so we just drove around a bit talking and trying to figure out what we wanted. We decided on Italian, and tried to go to a place she had never been before, but it was not open. So we hit up a little Italian market that has all the imported cheeses and meats and tins of italian products, and I got some prosciutto and cheese for her to try, and we then headed to another Italian place she had never been to.
She just loved alfredo, so she ordered that with chicken and broccoli, and she inhaled it: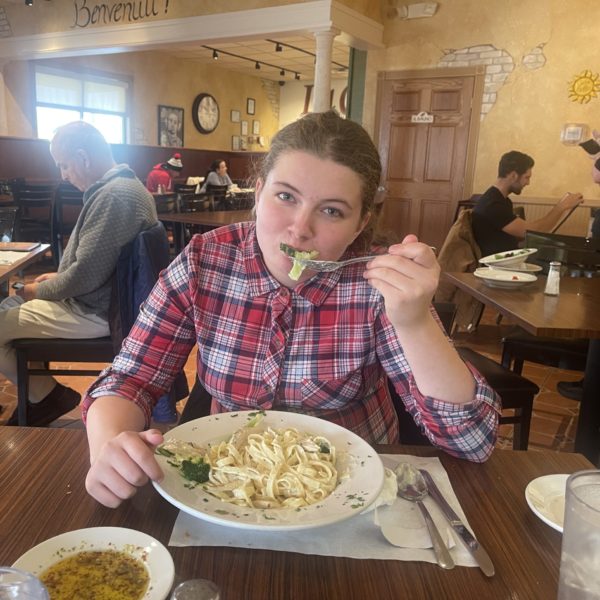 Looking at this picture I am reminded how much she has grown up in just the past couple of years. Crazy. She's becoming less a kid and more of a fledgling person, and it is fun to watch. She's still goofy, of course, and is completely and totally unimpacted by social media and other things that mature kids too early, and I like that.
At any rate, she finished her meal, and I boxed up the other half the lasagne they gave me that was the size of my head, and we stopped for hot chocolate and went home. Next week we are doing a lot of cooking because I am going to their house for Thanksgiving. This will be the first year where I haven't even pretended that I was going to cook at home, which is weird.
Currently watching wheel of time, sipping on mulled cider I made, and eat pistachios. Not an altogether bad day.