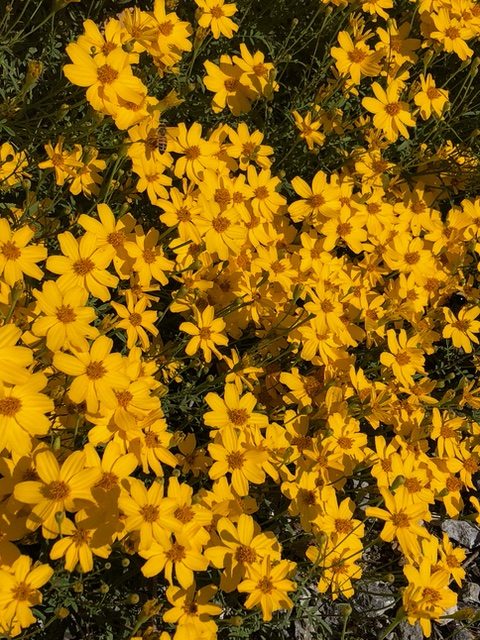 From dedicated gardener & commentor Scout211:
Late November is a time here in rural NorCal when it seems like things start come alive again after the long, dry, hot summer. The dry, brown grasses start to grow again and turn green, some showy plants come alive and the fall citrus trees start to produce. And my vegetable garden can finally tolerate cooler weather veggies.

Summers are too hot for growing salad greens so I get excited for fall when I can grow them again. Last fall I planted one raised bed with greens and it never seemed to be enough for us. This year I planted two raised beds of various greens. So of course this year we have bags of greens filling up our refrigerator. I am not complaining, though. Here are my beds full of ready-to-pick greens. In late November!

The next pic is a close-up of our strawberry tree. I actually thought we had a strawberry bush but after I looked it up, it looks like it's a strawberry tree. Arbutus unedo (I think). They are colorful and kind of fun looking. The fully ripe ones are actually edible but we leave them for the birds.

It's citrus time!
We have 3 orange trees, three mandarin orange trees and a lemon tree. Two of our orange trees are navel oranges (of some kind). Both are still small, but producing well. Our oldest and largest orange tree is a blood orange and produces the sweetest tasting oranges. Our neighbors love it when we have a surplus because it is a neighborhood favorite. We usually pick the blood oranges in January and February.

We have a very young Meyer lemon tree that produces quite a few lemons for such a little guy. Meyer lemons are a cross between a lemon and a mandarin orange and they are both sweet and tart and make wonderful baked goods.

This is a close-up of one of our three young mandarin orange trees. They are all producing but usually only about 6 per tree so far.

Our showstopper, in terms of bright color in the fall and winter, is our bush daisy [top photo]. I am not sure which variety we have but I think it is one of the Euryops, maybe the Green-Leaved Euryops. It has green leaves and stalks (instead of the more common silver-green). The entire bush appears to die in the spring, leaving behind what looks like dead sticks. I cut the whole thing way back when it all turns brown and then by late fall, the leaves turn green again and the bright yellow-orange daisies appear and continue to bloom for several months. The bush is quite large and usually spills out into our driveway so you can easily see the bright orange-yellow flowers from the road.
***********
What's going on in your garden(s) / garden planning, this week?