Adam Schiff will be joining our Midnight In Washington book club for at least part of one meeting!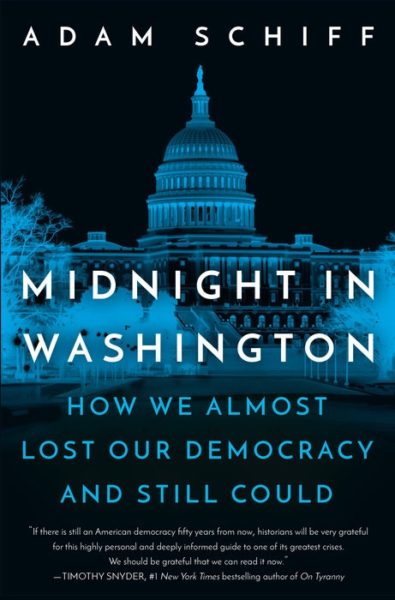 I wrote this comment on the calendar thread last night:
In other good news, spoke with Adam Schiff's chief of staff today, and I need to let him know when our Midnight in Washington book club will be meeting and Adam Schiff will drop in on one of our meetings for 15-30 minutes or so.

Possibly unannounced, and possibly announced beforehand.

He is more likely to drop in if we have a zoom than a post – easier for him to participate.

i am to get back to him when we have a plan.
I seem to be getting all the credit for this, but it all started with a tweet by one of our BJ peeps about the Jan 6 hearings. Here's the story of how it happened.
BJ peep Betty replied to Laura Rozen re: the Jan 6 hearings.
As soon as possible. I know from reading Midnight in Washington how well Schiff and Raskin understand this.

— Betty Perry-Fingal (@PerryFingal) December 2, 2021
Betty was excited because Adam Schiff "liked" that tweet, and immediately jumped on BJ to tell us about it.  I saw Betty's BJ comment in real time and immediately replied that she should tweet back, telling him about our Midnight in Washington book club (starting in January) and inviting him to join us for a Q&A.
And she did!  Go Betty!
@adamschiff I have been delegated by the blog Balloon Juice to tell you we will be having a book club discussion of Midnight in Washington in January, and we would love to have you join us for a Q&A.

— Betty Perry-Fingal (@PerryFingal) December 2, 2021
Long story short, I am to get back to the chief of staff when we have a firm plan with dates & times for the book club.
So you can expect another book club post soon.  If you haven't signed up for the book club but you would like to join us, chime in below and let us know!
If you would like to participate but money for the book is an issue at the moment, several people have offered to buy the book for others.  Two people have the book in their hands already – the receivers are thrilled to have their books and the givers are really happy to be helping someone else get the book.  Win-win!
Send me an email if you want to join the club but this isn't a good time for your to purchase the book. Let me know whether you want a paper book or a Kindle, etc.
Totally open thread.