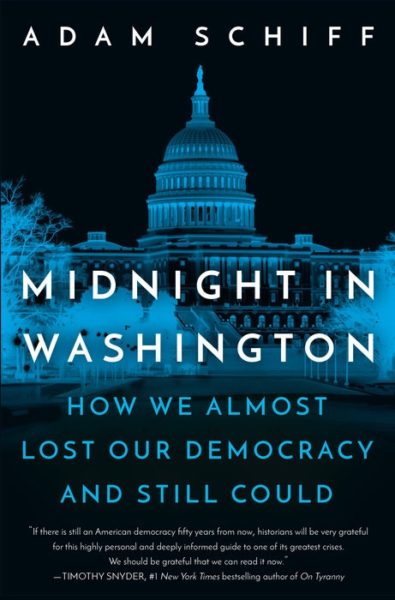 With the announcement that Adam Schiff will stop by at least one of our book club meetings (!) our ranks swelled from 40 to 120!  Remember, we may not know in advance which of our zooms Adam Schiff will choose to attend.
For anyone who missed the previous posts, and to ensure that all the information is available in one place, I'll outline the broad plan here and supply a few details.
Gift books: I have paired each of the 11 BJ peeps who are receiving the gift books with another BJ peep who is gifting a book.  It looks like most of the Amazon orders should be arriving on Saturday.  If things are tight right now with the holidays and you want to participate but the book cost is a challenge, there are still other gift offers available.  Just send me email.
We agreed to start the book club after the holidays, so we are looking at a start date of January 12.
With 120 participants, we can't have wide-open discussions of days and times and all sorts of other book club planning.  So I'll lay out a plan that can be adjusted here or there at the margins. We are happy to have input and feedback but it's not practical to think that we can be voting and making the decisions with some group process.
I chose Wednesday evenings – if that turns out to be a terrible night for a ton of people, we could choose Thursday evenings instead.  But I think those are our best choices.  We can't expect Adam Schiff to stop by on a weekend; he has a family.  He is most likely busy during the day; I understand that he has a job that keeps him kind of busy! :-)  Monday nights and Friday nights are not great, though for different reasons, so those are out.  So I landed on Wednesdays.
? Thoughts on Wednesday evening vs. Thursday evening? ?
Let's start at 8:00 pm Eastern time.  That's 7 pm in the Midwest and 5 pm for the West Coast peeps.
Let's plan for a total of 6 book club meetings, with an option to extend it if the group feels there is more to discuss.
? How often do we want to meet?  Every other week? ?
We will have a mix of book club posts and book club zooms.  I'm thinking of BJ posts for 2-3 of the book club meetings and BJ zooms for 3-4 of the book club meetings – with all of the BJ thread meetings coming first, and then shifting to zoom meetings after that.
? 2 book club posts and 4 zooms?  Or 3 book club posts and 3 zooms? ?
Thoughts on length?  I'm thinking 90 minutes, with an option for an additional 30 minutes if we are still going great guns.
? Is 90 minutes good?  Is 2 hours better? ?
⭐️
Reading the book
Let's all plan to read the whole book before the book club starts, because with 24 chapters (if you include the prologue and the epilogue) it's just not practical to go with a "just in time" approach, reading each chapter just in time for the meeting.
I'm thinking that for this book it's best to go with broad themes for discussion, rather than focusing a meeting on a particular chapter or chapters.
There are no book club guides for Adam Schiff's book, so we are on our own here.
For the past 4 nights, I have listened to the audio book as I am falling asleep, and then I listen again in the night if I wake up for awhile.  The effect is a bit of jumping around – I might sleep through 3 chapters and wake up to a different portion of the book.  But it's giving me a feel for the book, which is helpful for the planning that can't wait until I finish reading the book cover to cover.
⭐️
3 Themes for Discussion
I have tentatively decided on topics for the final 3 book club zooms.
Meeting 4.  What Didn't You Know Before You Read the Book?  What Surprised You?
Meeting 5.  So Many Shocking Betrayals!
Meeting 6.  We're Not Helpless Passengers On a Bad Ride – Making Our Own Shade.
? Do you love these?  Hate these? ?
⭐️
Themes for the other three discussions
What other themes would be good to discuss?
If you have started the book… is there a chapter or section that struck you as a good focus/discussion area?
If someone else suggests a an area that you also think would be good, please chime in.  I'm not looking for an infinite list, or the longest list possible – I'm looking for mutual areas of interest that would be good topics/themes for the other 3 meetings.
? Topics or themes you want to suggest? ?
⭐️
Split between posts on BJ and zooms
Adam Schiff will only stop by the zooms, not the BJ posts.
? Do we want an even split between posts and zooms?  Or 2 posts and 4 zooms??
⭐️
Questions for Adam Schiff
Remember, we may not know in advance which of our zooms Adam Schiff will choose to attend.
And we certainly don't know whether he will just want to listen (surely not!  hopefully not!) or whether he will talk with us or whether he will take questions.
So we definitely need to be prepared with questions for Adam Schiff in advance in case we get that opportunity.
What questions would you like to ask Adam Schiff if we get that opportunity?  Please share any questions you have now, in this thread.  We'll ask again before our first zoom, so we can make the most of this opportunity.
⭐️
?  Has anyone heard of Bookclubz for organizing book clubs?  Never mind.  I am not going to ask 120 people to create an account. ?
What did i forget?
??