On the Road is a weekday feature spotlighting reader photo submissions.
From the exotic to the familiar, whether you're traveling or in your own backyard, we would love to see the world through your eyes.
way2blue
A couple years ago, I mentioned to an Austrian friend how much I'd enjoyed the Prosecco region in the Italian pre-Alps, and she replied that Austria had something similar.  A rural area, not that traveled.  Oh…  I've just now left Südsteiermark in southeastern Austria, near its border with Slovenia.  An area of vineyards and white wines.  With lots of Buschenshank (wine taverns) along the narrow winding roads of the Weinstraße.  We stayed in a little flat on a farm with its own small vineyard, and could wander the nearby roads & trails without needing a car.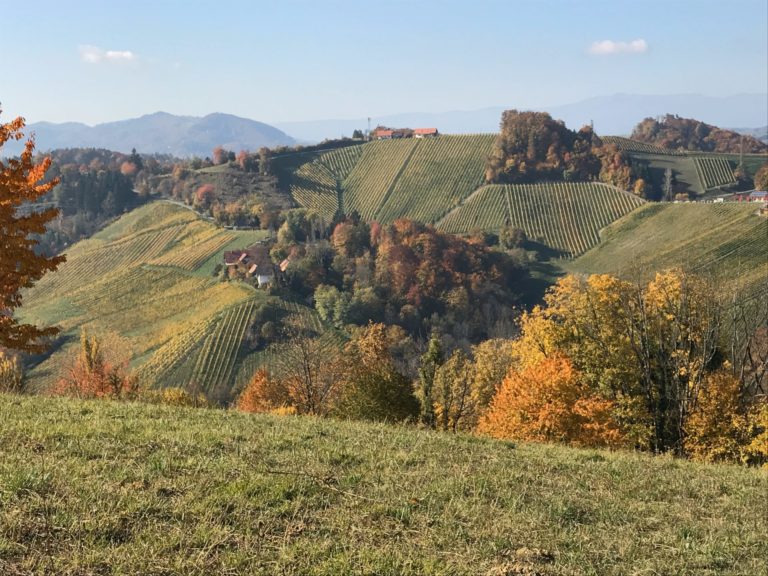 VIEW FROM ROAD NEAR LEUTSCHACH, AUSTRIA
Autumn view of vineyards in the warm October light.  All the vineyards run the vines in rows down the slopes rather than along them.  Making wonderful linear patterns.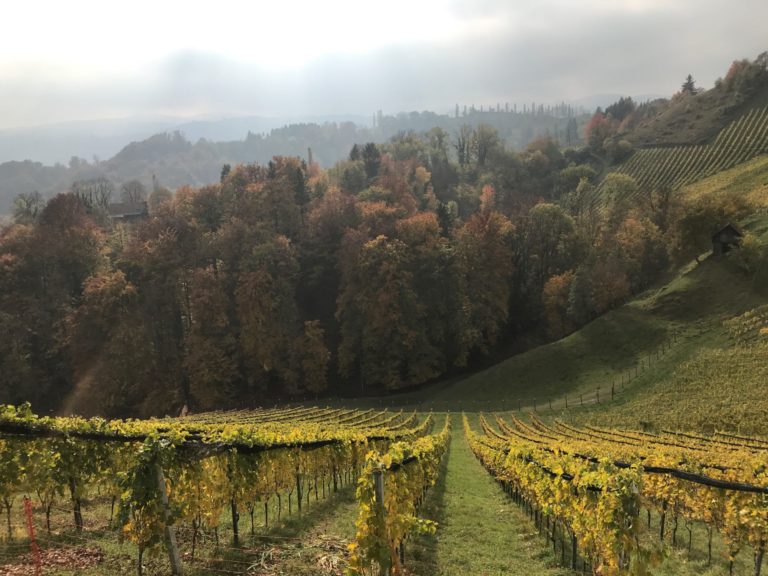 VIEW FROM SABATHIHOF RESTAURANT NEAR ZINNHOF
We walked a path down into a narrow valley, across a stream, and up again to a nearby restaurant for lunch on the terrace.  A bowl of seasonal soup with a glass of Sauvignon Blanc.  The overcast sky softened the autumn colors a bit.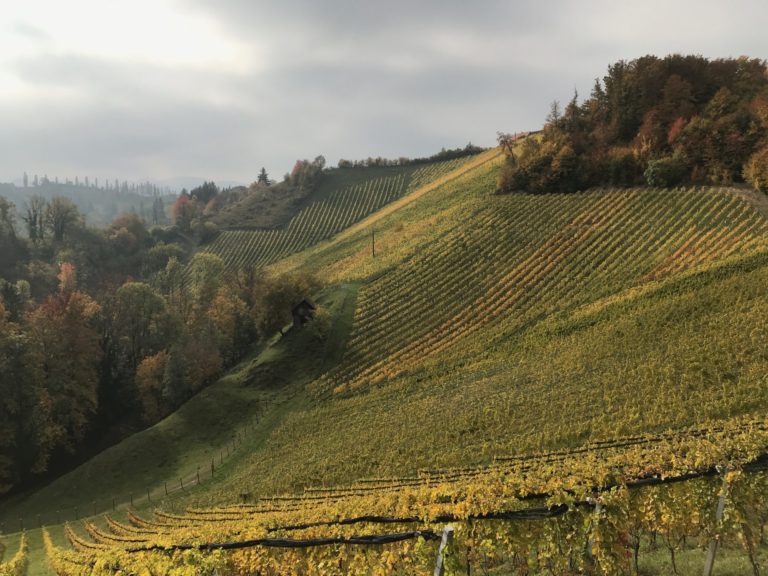 VINEYARDS
And walked back a longer route along the roads.  I was fascinated by the stripe of darker vines, presumably a different wine grape…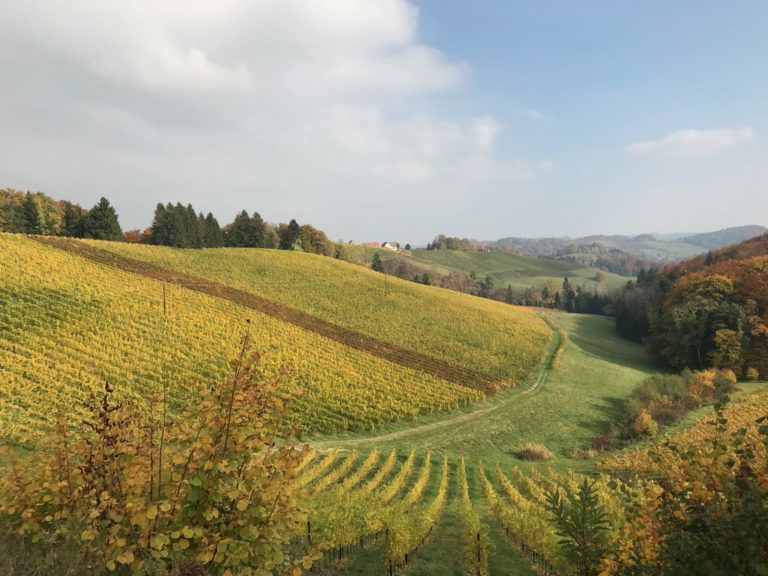 MORE VINEYARDS
Another dark stripe of vines on the way back…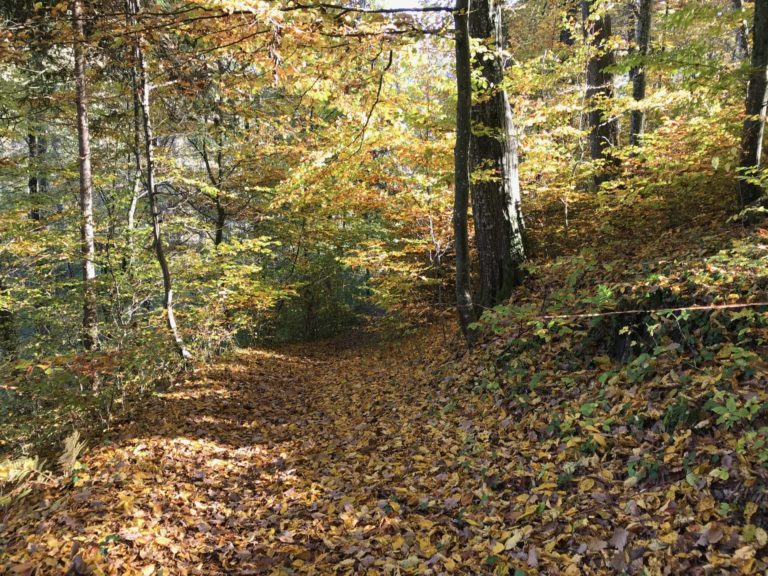 ALONG THE PATH TO SABATHIHOF
We, of course, headed back to the same restaurant for another lunch on their terrace.  This time, Kerbiscremezuppe and a glass of their 'new' white wine.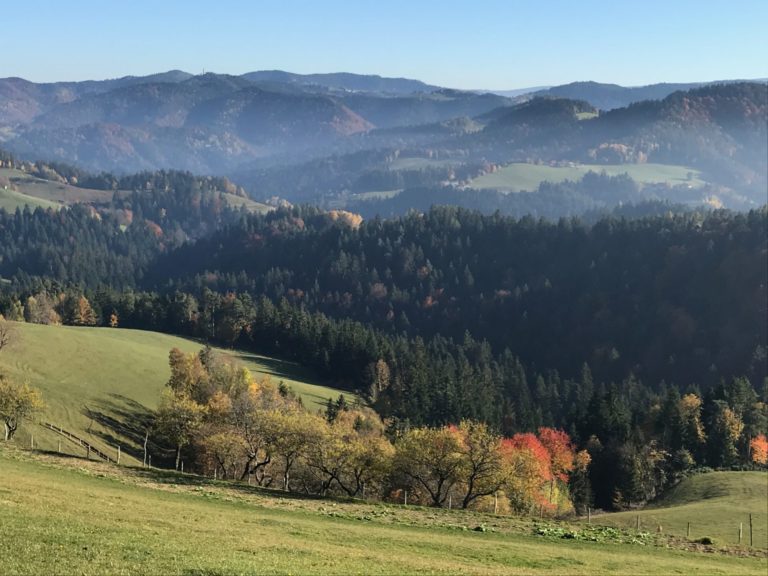 ALONG THE TRAIL TO REMSCHNIGGHÜTTE
Our host suggested a new destination for our afternoon hike.  So we drove to the Remschnigg trailhead—for an easy 2-mile hike to Remschnigghütte along the ridge separating Slovenia and Austria.  This view to the south into Slovenia.  The next day (October 31st) was the last day the hütte would be open, so of course we headed back on Sunday…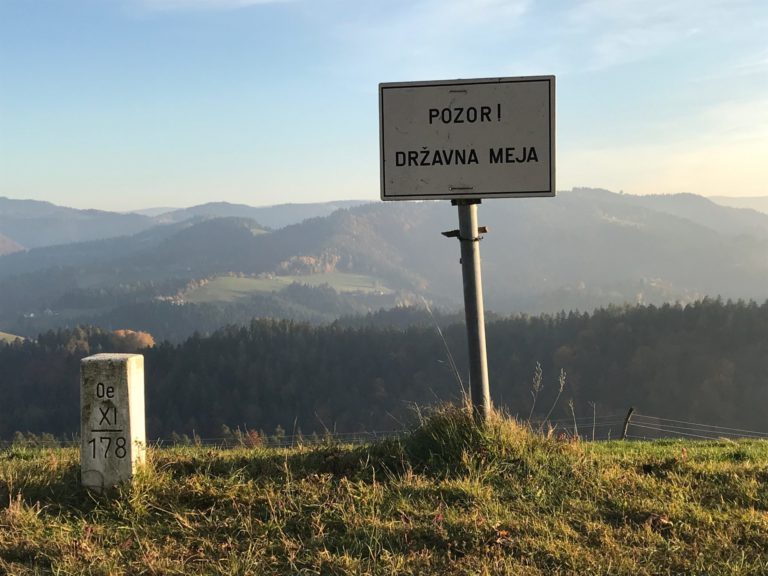 BORDER MARKER ALONG REMSCHNIGG TRAIL
I finally realized that the RS on one side of the markers was for Republic of Slovenia and the Oe on the other side for Österreich.  It was only 4 PM, but already the sun is low in the sky and the shadows are long.  (In part because time had just changed from DST to 'standard' time.)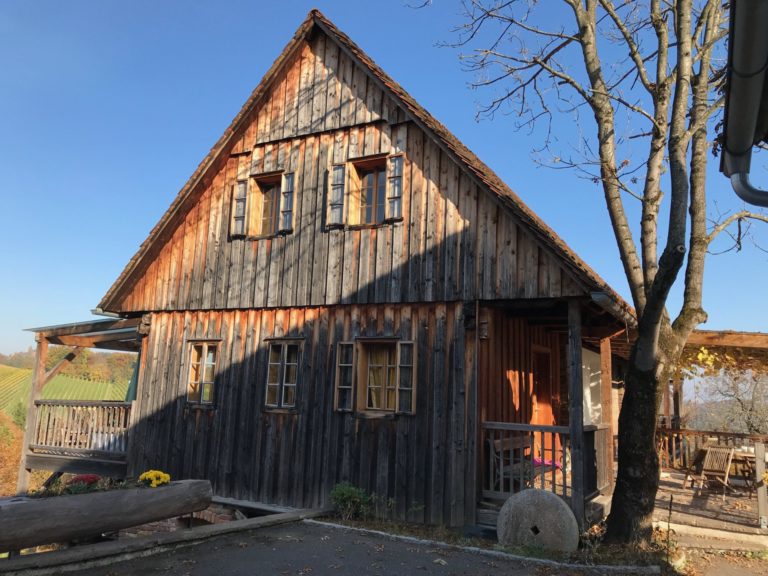 ZINNHOF
Our flat…  Our host & his wife invited us for a tasting of their organic wine one evening.  Lovely.  He'd already left a bottle of their Frizzante Rosé in our little refrigerator (with a picture of a Rotkehlchen on the label, just for Albatrossity)…  Plus the farm just above was also a bakery.  So.  Fresh bread too and heavenly smells as you walked by…