I know I promised a holiday treat post yesterday…but I'm just wiped. Whether it's because of puppy or the Christmas Blues (seriously, Dean singing this makes me feel seen) – I'm just done in. Tomorrow is another day…
So instead of a full-blown recipe exchange post,  I'm just going to post OpieJeanne's Almond Tart recipe (below) and a link to all my favorite holiday treats, some of which I'm actually going to make as gifts later this week to deliver over the weekend.
Here is a link to these cookies and many more.  Pictured above, clockwise: Dark chocolate chip cookies,  spritz cookies and Pecan Balls.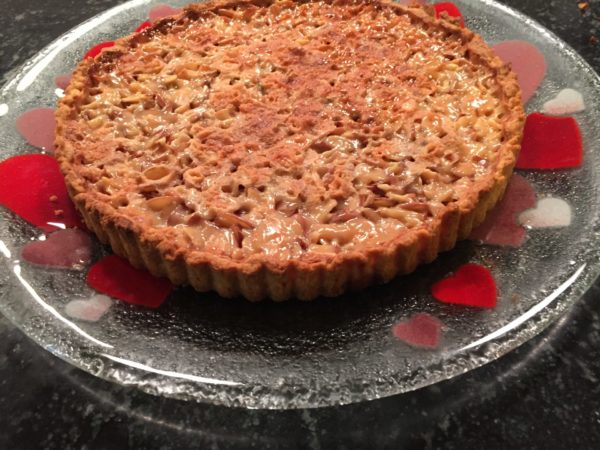 Opiejeanne sent me this recipe and it sounds yummy!
Almond Tart

Pastry:

1 Cup flour
1/2 Cup butter
1/2 tsp almond extract
1 Tbsp sugar
1 Tbsp water (or more, if needed)
1/2 tsp vanilla  (You can omit the almond extract and double the amount of vanilla)

Mix dry ingredients, cut in butter until mixture resembles cornmeal. Work in the water and extracts. Press mixture into a 9″ tart pan, chill for one hour. Bake at 400 for 10 minutes or until golden brown. A food processor may be used for mixing but be careful not to overmix.

Filling:

1 Cup sliced almonds
3/4 Cup sugar
1 tsp almond extract (again, you may substitute same amount of vanilla for all of the almond extract)
3/4 Cup heavy cream
1/4 tsp salt

1 tsp Grand Marnier (or orange Curacao, Hiram Walker Triple Sec, or another Orange flavored liqueur. World Market has airline size Grand Marnier so you don't have to break the bank) I goofed one year and added a Tbsp, and it was very good.

Combine all filling ingredients. Let stand until sugar dissolves, at least 20 minutes. Pour into pre-baked shell*, return to oven and bake 30 to 40 minutes at 400 or until top is brown and the sugar has caramelized.  Serve at room temperature.

Don't panic if the filling leaks through the cookie crust. I highly recommend that you cut a circle of parchment paper to line the bottom of the pan, and the crust will release in one piece, as long as you are gentle. Without the parchment lining, the filling that leaks through the crust will glue it to the pan and you won't get a clean release.

* I lick the spoon after pouring the filling into the crust, as consolation that I have to wait to have a bite of the tart.
And finally, since I feel badly about really coming up short on this post, here's Trixie Belle's 11-week photo from this afternoon (I tell you that, because 4 hours have passed, she's probably bigger already)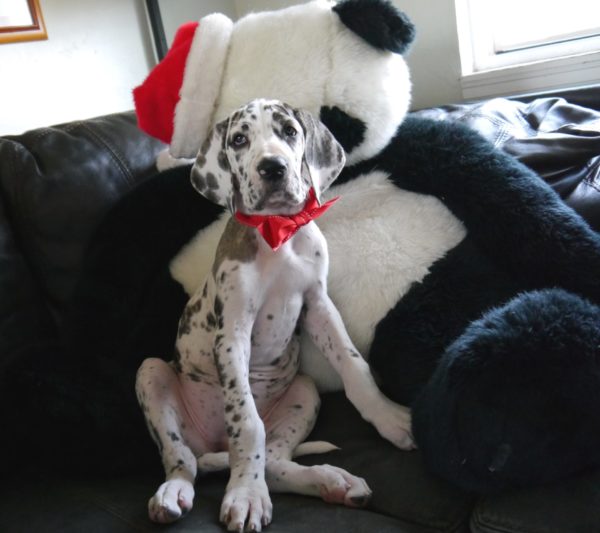 She's just the sweetest thing and doing so well on her training – walking on a leash like a star, crate training is coming along (Scout would really like earplugs) and potty training is doing okay, but she has seemed to regress the last couple of days, so we'll be focused on that this week while I have some extra time with a light workload.  More photos here if you need a fix.
Time to share your favorite sweet treats! Favorite pie? Are you a cake or cookie person? Chocolate or fruit desserts? Hit the comments.