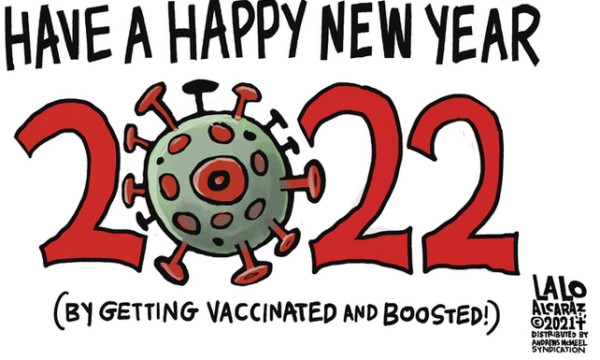 While Americans were out on holiday break, the virus kept spreading. Now people are bracing for the return to work and school https://t.co/rQJrD7uSWi

— delthia ricks ? (@DelthiaRicks) January 1, 2022
Here's an idea: "learning to live with it" means learning to take more precautions and deal with more restrictions when the virus surges, rather than simply pretending it isn't happening while our health system surges past its breaking point.

— Tom Bonier (@tbonier) January 2, 2022
In the United States, since all adults were eligible for vaccination in April, there have been nearly 1,000 deaths a day, >>90% among unvaccinated people pic.twitter.com/a2Jz7QxzP6

— Eric Topol (@EricTopol) December 30, 2021
From a long thread, by someone who's done the (historical) research:
Instead of working, I spent the last few days immersed in COVID preprints and papers. FWIW, I emerged with cautious optimism. If I were assigned to write a "state of COVID" piece, I'd sum it by saying the next 6-8 weeks will be awful, but there's reason for hope after that. 1/14

— Charles C. Mann (@CharlesCMann) December 31, 2021
Compared to that prospect, we've done unbelievably well. It's hard to see, given the awful losses from Covid, but we've been damn lucky. One way to look at the mid-term future is to say that there's a good chance we will continue to benefit from that luck. 14/14 pic.twitter.com/zliFop72qc

— Charles C. Mann (@CharlesCMann) December 31, 2021
======
4.6 billion people — 58% of the world population — got a vaccine to protect from Covid until today.

For the next year I wish that all people who want to get a vaccine can get a vaccine. Everywhere in the world. https://t.co/7ygyUEH6La

— Max Roser (@MaxCRoser) December 31, 2021
Two years ago today. https://t.co/OTVmZnmf82

— Patrick Chovanec (@prchovanec) January 1, 2022
China reports 191 new COVID-19 cases for Jan 1 vs 231 day earlier https://t.co/vjZ2BffoRv pic.twitter.com/fBIMbkUDxL

— Reuters (@Reuters) January 2, 2022
Chinese cities on COVID alert as New Year holiday looms https://t.co/guINPcnLtE pic.twitter.com/ljYmNCWTqO

— Reuters (@Reuters) December 31, 2021
India's daily COVID-19 cases rise by 27,553 https://t.co/oaUSthigi2 pic.twitter.com/V6yEquM7fa

— Reuters (@Reuters) January 2, 2022
India reported more than 27,000 new COVID-19 cases on Sunday, with infections sharply rising for a fifth consecutive day, but the chief minister of the capital New Delhi said there was no need to panic, citing low hospitalisation rates.

The country's largest cities, including Delhi and the financial capital Mumbai, have seen a recent spike in COVID-19 cases, including those of the Omicron variant, which has triggered a fresh wave of infections in other parts of the world.

Although the number of active cases in Delhi has tripled in just the last three days, Chief Minister Arvind Kejriwal said that hospitalisations had not gone up…

Delhi was among hardest hit cities during the second wave of the pandemic in India last year, with hospitals running out of beds and life-saving oxygen, leaving patients gasping for breath.

India has recorded a total of 34.88 million COVID-19 infections, with 27,553 new cases in the last 24 hours, health ministry data showed on Sunday.

The country's total death toll stands at 481,770…
UAE bans foreign travel for unvaccinated citizens https://t.co/mLxZKUVI7M

— BBC News (World) (@BBCWorld) January 1, 2022
France cuts isolation for COVID-positive to 7 days from 10 days https://t.co/Q5HekQmU4T pic.twitter.com/IsPQyxP4se

— Reuters (@Reuters) January 2, 2022
Fear, distress, relief. The many emotions of the pandemic can be found in Italy's pharmacy testing lines. https://t.co/i7Kwkro3kx

— The Washington Post (@washingtonpost) January 1, 2022
UK government seeks to mitigate workforce disruption from Omicron https://t.co/ppwEneZlIU pic.twitter.com/pdZB8EXHEZ

— Reuters (@Reuters) January 2, 2022
The British government has asked public sector managers to test their contingency plans against a worst-case scenario of 25% staff absence as part of efforts to minimise disruption from the rapid spread of the Omicron variant of COVID-19.

With daily infection numbers at a record high and people who test positive required to self-isolate for at least seven days, the government expects businesses and public services to face disruption in the coming weeks, it said in a statement.

"So far, disruption caused by Omicron has been controlled in most parts of the public sector, but public sector leaders have been asked to test plans against worst case scenarios of workforce absence of 10%, 20% and 25%," it said…

The daily number of new COVID-19 infections across the United Kingdom rose to a record 189,846 on Friday, far higher than during previous peaks.

However, hospitalisations and deaths have remained at much lower levels than in previous waves.
Antarctic outpost hit by Covid-19 outbreak https://t.co/F4YXPcWO9M

— BBC News (World) (@BBCWorld) January 1, 2022
======
You can get a more protective AND more breathable mask, for a reasonable price. Check out nonprofit @projectn95. We are here to help. https://t.co/9WIFAxm1d6

— Kristi K Fielder (@really_rabbit) December 30, 2021
#Omicron is giving the world a crash course in its powers. Scientists the world over, led by those in South Africa, are taking notes as fast as they can.
Here @DrewQJoseph & I explore some things we're learning. https://t.co/mL1JuDpeZC

— Helen Branswell (@HelenBranswell) December 30, 2021
… It's time to rethink the way we view our metrics

Brace yourself: Case counts are going to reach astounding heights. Already, reported infections have doubled in just a few weeks. The average daily number of infections is greater than 300,000. (It's likely that our case counts will become increasingly less reliable as well, given both the shortcomings of our testing infrastructure and the growing use of at-home tests.)

But, in large part because the immunological landscape today is far different than what it was two years ago, cases are less likely to result in severe disease than was the case at the start of the pandemic…

This time the crush of cases threatens more than just hospital care

The good news about Omicron is that the overwhelming proportion of cases it causes are mild. The bad news is that it causes so darn many cases, over a short span of time…

We've also seen the impact of Omicron in the disruption in air travel in recent days; airlines simply did not have enough healthy crew members to staff all their flights, resulting in thousands of cancellations. New York City has seen cutbacks in subway service, and first responders ranks have been so thinned by illness that the city has canceled days off for healthy police officers.

These are still early days in the age of Omicron; this kind of disruption will get worse before it gets better. It could have broad implications — on food distribution, on the ability to keep schools and universities open and functioning, on snow removal after storms, on utility system repairs, on public transit.

Paradoxically, the mildest wave of the pandemic to date may be the most taxing to navigate.

The open questions

For one, there's the question of whether Omicron — which already accounts for the majority of U.S. cases — takes over completely, or whether Delta can keep a toehold. Two different variants can cocirculate, though a study out of South Africa this week found that an Omicron infection protects against future Delta infections, suggesting that the newer variant might be able to push Delta out for good.

Experts will also be tracking whether the breakthrough infections and reinfections caused by Omicron can cause long Covid…

Finally, a key question relates to how long we'll be in Omicron's grasp. South Africa's bellwether wave soared to extraordinary heights — then quickly began to ebb. Data from several European countries also suggest that Omicron waves may be short, sharp shocks compared to the waves that have preceded it. But too little is yet known to predict with any confidence whether the experience of a country with a relatively young population, such as South Africa, will hold true in a country with an older population, such as the United States…
Yes, that *is* Baylor's Peter Hotez…
For some vaccine developers, the coronavirus pandemic has had a silver lining in billions of dollars in profits.

But a new vaccine rolling out soon in India is taking the opposite approach: Its developers are getting zilch. https://t.co/W4y4hxuL0n

— The Washington Post (@washingtonpost) December 30, 2021
"Until we vaccinate the global south – Africa, Latin America and Southeast Asia – we're going to have devastating variants" @PeterHotez, fresh off approval of his COVID vaccine in India and beyond, "hopefully this will help start filling the gap." #Velshi https://t.co/tISUfCb52e

— Velshi on MSNBC (@VelshiMSNBC) January 1, 2022
What happened to the Novavax vaccine? The technology behind it is the same as the Flublok flu vaccine. And, it's similar to other vaccines that have been around for a long time, like the hep B vax. But after nearly a year it's still not available in the US https://t.co/Q4ieiw7eaV

— delthia ricks ? (@DelthiaRicks) January 2, 2022
======
Dozens of colleges are moving classes online for at least the first week of the semester amid a surge in COVID-19 cases just as students are about to return from winter break. Some warn it could stretch longer if the wave of infection doesn't subside. https://t.co/OwzETA6N2w

— The Associated Press (@AP) January 1, 2022
New York state reports 85,476 new coronavirus cases, the biggest one-day increase on record, including 49,724 in New York City

— BNO Newsroom (@BNODesk) January 1, 2022
People say Republicans aren't effective. But DeSantis decided to fight vaccinations in a way he never fought Covid-19 — and he succeeded. https://t.co/rXjU5UVxVB

— LOLGOP (@LOLGOP) January 1, 2022
"I know we're suing you to stop a vax/testing requirement that would have reduced the number of Texans who are in the hospital and who need monoclonal antibodies. But can you please pay for doctors and monoclonal antibodies for us? Thanks." https://t.co/QsUa0T2N51

— James Surowiecki (@JamesSurowiecki) January 1, 2022
Working in an ED in Boston on this NYE. Lots of COVID around (no surprise here). Almost everybody has mild disease and is getting discharged. Everybody tonight that has needed to be admitted is being admitted WITH COVID rather than FOR COVID.

— FreckleDoc (@ElissaPerkins) January 1, 2022
Similar to case counts, which are decoupled from severe disease due to the miracle of vaccinations. We need to follow meaningful statistics to determine policy, but that means we need to figure out which ones are the right ones to follow, then measure them. And happy new year!

— FreckleDoc (@ElissaPerkins) January 1, 2022
??????

<To date, 169 Marines have been discharged for refusing the vaccine,>

that's out of 200K Marines https://t.co/BJZl01u6aR

— Eric Boehlert (@EricBoehlert) January 1, 2022
please, and i don't mean to be indelicate, get the fucking fuck out of my military. this is not a political purge, it is a fitness eval. some will pass. others will not. https://t.co/e1Lb14HMPx

— World Famous Art Thief (@CalmSporting) January 1, 2022
The number one cause of death for Border Patrol agents this year was COVID-19 (13 deaths), followed by car accidents (2 deaths). Yet the union fought against the vaccine mandate as "tyranny."

More agents died of COVID-19 than have been victims of homicide in the last 75 years. https://t.co/WJb6C7CvL3

— Aaron Reichlin-Melnick (@ReichlinMelnick) January 2, 2022