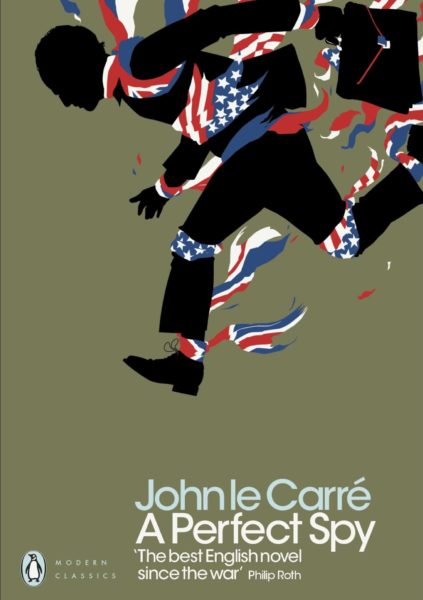 Looking back on the books I read in 2021, one stands out as the best: John le Carré's A Perfect Spy. It is a cold-war thriller and thinly-veiled autobiography that follows a spy named Magnus Pym. Its disjointed narrative explores his life from early childhood to the novel's present-narrated 1986. Like le Carré, Pym is raised by a widower conman, abused at boarding school, and put to work as a spy against enemies both foreign and domestic. Unlike le Carré, Pym never quite learns which way is up; he's had to wear too many faces, for too long. When the book begins, and Pym vanishes, it is less of a shock to everybody than it ought to be. As the story proceeds, we learn why.
I don't want to spoil too much, although you can guess the broad contours just by looking at the cover (and what a cover Penguin has chosen!). It's less about the story than the main character anyway, and his relationship with his father. An early quote, written by Pym about himself, sums it up better than I ever could:
So there's yet another Pym for you, Jack, and you had better add him to my file even if he is neither admirable nor, I suspect, comprehensible to you[…]. He's the Pym who can't rest till he's touched the love in people, then can't rest till he's hacked his way out of it, the more drastically the better. The Pym who does nothing cynically, nothing without conviction. Who sets events in motion in order to become their victim, which he calls decision, and ties himself into pointless relationships, which he calls loyalty. Then waits for the next event to get him out of the last one, which he calls destiny.
A Perfect Spy is a story about a man who's only ever wanted genuine companionship, and about how the whole world, himself included, constantly conspires to keep it from him. It is about what happens when you break a man who was never quite whole to begin with. Along the way, there are some pretty good adventures, but for the most part it's as gloomy as the weather in the English seaside town where Pym writes his memoir. This mood isn't always my cup of tea, but when it works, it works. Apparently it's considered le Carré's masterpiece; it's not hard to see why.
Like many things, this book reminds me of a Mountain Goats song, in particular a line near the end of this one: When you punish a person for dreaming his dream, don't expect him to thank or forgive you.
What were the best books you read in 2021?