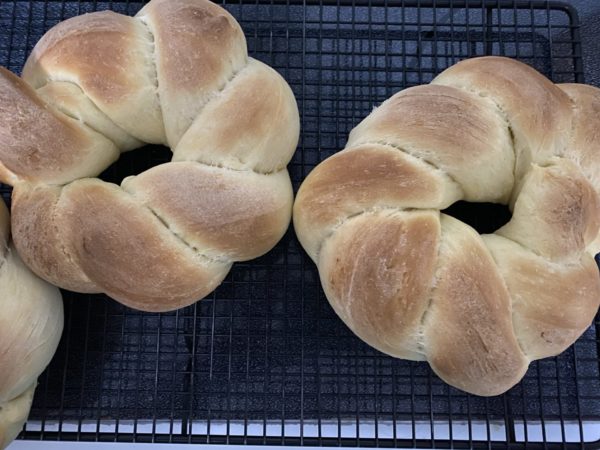 Looks like we cold could use an open thread.
I just put some bread in the oven.  It's not my best effort ever; it's too cold for it to want to rise well and I couldn't let it rise in a sort-of warm oven because I had broccoli quiche in the oven.
There's an old saying about pizza. "Even the worst pizza I ever had was still pretty good."  So that's gonna be my approach to the bread tonight.  Warm bread, how bad can it be?  That's how I feel about Italian food, too.  If I'm in a strange town without a recommendation of where to eat, I always pick Italian.  Even if it's not great, it probably won't be terrible.
What's everybody else up to this evening?  (I made the mistake of going to one of the Wordle clone sites where you can do a bunch of them in a row.)
My deep thought today was to wonder WHERE IS MR. FROG?
Baking anything interesting?  Cooking something interesting?  Thinking about anything interesting?
Update: this isn't a dedicated fundraising thread, but I'm gonna add the thermometer anyway.  We just finished the concurrent angel match and we are starting angel match #7, with all the usual rules.  You might already be all donated out, but if you donate, please add it in the comments here or in the previous fundraising thread.
Look for the thermometer to jump to $19,000 when RaflW adds his $1,000 match.
$19,000!  Not too shabby for the first 36 hours.  (Even if we did have a head start of $3,000.)  Great work, everybody!
Four Directions
MICHIGAN!
I'll add a photo of the bread when it comes out of the oven.
Open thread.