this dog waiting for the ice cream man is too precious
(jukin media) pic.twitter.com/q7V7LVlwSs

— theworldofdog (@theworldofdog) January 18, 2022
Anne Laurie sent me this tweet thread, with a note asking if it was okay to keep sending this stuff. I was crying by the end of this thread, so I replied to her email with, "sure."  LOL
When I was 4, I wrote a letter to the Entomology department at UCB. "My name is Rebecca and I have a bug collection. I read about yours and it is bigger than mine is. Can I see it? Also, I have a question. Do walking sticks have knees? Sincerely, Rebecca" ?

— Rebecca Varney (@RebeccaMVarney) January 17, 2022
Apparently I told her that we'd exchanged letters so he didn't count as a stranger and therefore it was safe. And we went, and I had the greatest day of my young life. I remember snippets. Him laughing because I lost my mind at the foot-long walking sticks. ?

— Rebecca Varney (@RebeccaMVarney) January 17, 2022
He let me hold a live scorpion. As my mom tells it, he commented that they made good pets until she shot him an absolute death glare over my head, at which point he clarified "but only in museums and zoos". I also met a tarantula, a hissing cockroach, and live walking sticks.?

— Rebecca Varney (@RebeccaMVarney) January 17, 2022
Apparently, I promptly declared that I would go to college, and get a PhD, so I could work somewhere like that. He shook my hand and told me it was a pleasure to meet another biologist. ?

— Rebecca Varney (@RebeccaMVarney) January 17, 2022
I'm now following her because in the replies, folks are working hard to find who this wonderful gentleman is…there are some promising candidates. If you have a chance, the replies in the thread are just as inspiring, many folks have had life-changing encounters at a young age that set them on their career paths.
And somewhere in a drawer at UC Berkeley there's a foot-long walking stick partially responsible for my college education. ?‍♀️ If anybody knows who this amazing tour guide may have been, let me know! Otherwise, do outreach and answer the weird questions!

— Rebecca Varney (@RebeccaMVarney) January 17, 2022
A plant lounge – brilliant!
Well, now I'm inspired…
And obligatory puppy pics: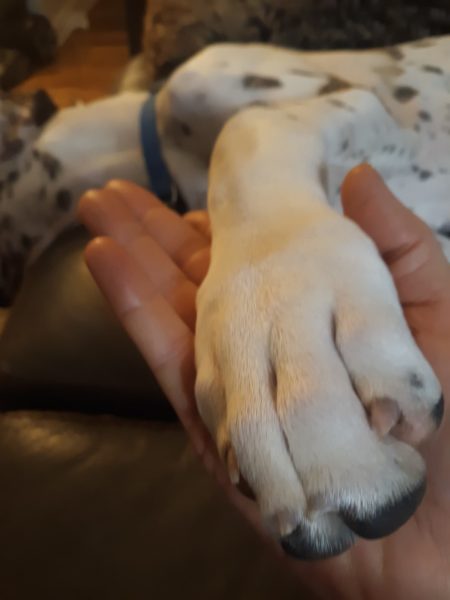 Just for perspective – I can palm a basketball and here is Bixby's paw at a year (!). She sounds like a little kid wearing her daddy's slippers walking down the hall. I don't know what I've gotten myself into here.
She's 15 weeks old and I wish I could tell you that she's anything but sweet, kind and always trying to please, but I can't. She's dangerous…because I KNOW that Great Dane puppies are a handful and she makes me feel like I could handle a houseful. I'm avoiding all rescue sites until sanity is restored.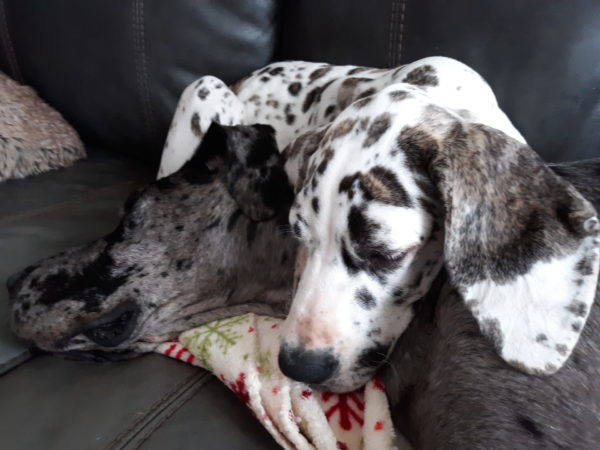 More sleeping puppies here – it takes a lot of energy to grow a puppy to Great Dane size.
I am really enjoying the Acts of Kindness you guys have been sending me. My plan is to post two in each Wednesday post. So keep them coming. I reply with a "thank you" to each one, so if you didn't get a reply email, try again.
Enjoy!